It's nearly Halloween! Time to cobble together a DIY costume, or throw on a whiskers, dab on the fake blood, and rock up as a half dead/half slutty cat.
From murder mystery parties to bowling and mini golf – here's the best Halloween events in London. Apologies in advanced, this feature contains far too many Halloween puns. What can we say – we got carried away (on a broomstick).
1. For a Murder Mystery: Andaz London 
What: Andaz London Liverpool Street is to play host to "Masonic Murders", an eerie evening of cabaret, burlesque and theatre. Held in the surroundings of the Andaz's magnificent Masonic Temple, the event is an hour and a half-long theatre experience chronicling a series of terrifying real life hotel murders.
Why: The temple is over 100 years old and is an opulent combination of Italian marble, checked floors and heavy mahogany throne chairs. The charismatic and twisted characters featured in the show include East London's Jack the Ripper as well as the infamous 19th century hotel killer, H.H. Holmes
When: 6.30 to 10.00pm, Sunday 30th October
Price: Show tickets are available at £20 per person or for £45 including a two-course dinner in the hotel's stylish Eastway Brasserie. Book here.  
Where: 40 Liverpool St, London, EC2M 7QN
2. For a Rooftop Knees Up: Rumpus Room at Mondrian London
What: The Twisted Circus is spinning into town and you are cordially invited to revel in its macabre spectacles. For one night only, the glamourous rooftop bar, Rumpus Room at Mondrian London, will be unrecognisably transformed into a hellish big top.
Why: Acts on the night will range from the gruesome to the titillating to the downright scandalous. There'll be specially created Halloween cocktails including a Pumpkin Fizz and a Trick or Treat. Music from DJ Henry Relph will be setting the mood and a Halloween FX Stage Makeup Artist will be on hand to aid your transformation from Jekyll to Hyde.
When: Saturday 29th October
Price: Early bird tickets priced at £50, include Champagne on arrival and can be purchased here.
Where: 20 Upper Ground, London SE1 9PD
3. For a Secret Party: Mansion Halloween Ball 
What: This year The Mansion Halloween Ball will host a smashing event, held in their secret location in front of a haunted graveyard, in North West London. Just a heads up, fancy dress is mandatory – you have been warned.
Why: Expect world class DJs, endless entertainment and a plethora of performances from around the world. Already renowned for their unmissable parties, The Mansion London will host another exuberant event, filled with poppin' tunes, exquisite live performances and some of London's most extravagant and unusual entertainers.
When: 9pm – 4am, Saturday 29th October
Price: Tickets here.
Where: Location will be revealed to ticket holders 48 hours before the event.
4. For Your Last Chance to Party: Electric Brixton 
What: The world's going to end on the 28th October. A pesky virus has taken control, turning all of humanity into really annoying zombies. Not the useless non-scary ones that move really slowly, but more like the ones that run after you like the clappers, think '28 Days Later'. Specialist virus-zombie scientist confirm that there is absolutely nothing we can do about this. So what's the plan? Cry and complain whilst a really angry zombie bites off our face? Hell no. The answer is party like there's no tomorrow.
Why: Of course with it being the last night earth on earth looking good is essential, therefore fancy dress is a must. But what to listen to on the last night on earth? The End Of The World Party has it covered with everyone handing in their last requests, the top 4 of which will be voted on, with the winner being played when the world ends.
When: 10pm-4am, Friday 28th October
Price: Tickets from £10-£25 on the door. Buy yours here. 
Where: Electric Brixton, Town Hall Parade, London, SW2 1RJ

5. For Sky-High Scares: Sky Garden
What: Halloween at Sky Pod Bar – Sky Garden is set to be one hell of a hot party. Swoop up on your broomstick (or take the lift) and let fear lead the way with hedonistic sky-high scares. Whether you chose to channel a blood-thirsty vampire, ghoulish ghostie or devilish darling from beyond the grave, be sure to pull on your most spectacular outfits and go for gold in the dressing up stakes. The bolder and more bizarre the look the better, as the best get-up will be in with a chance to win a fantastic prize.
Why: Live music will kick-off the fun, courtesy of Juke Joints, and 9-piece band The Soul Jets, famed for their soulful, takes on divas like Amy Winehouse, as well as funk floor-fillers from James Brown, Bruno Mars and Basement Jaxx. Keeping things going well past midnight, as London DJs will take to the decks ensuring this paranormal party proceeds into the night.
When: 6pm-3am, Saturday 29th October
Price: Early bird tickets are priced from £40 per person (access from 6pm) and standard tickets are priced at £50 per person, both include a  cocktail on arrival. Tickets here. 
Where: Sky Garden, 1 Sky Garden Walk, London, EC3M 8AF
6. For an Immersive Experience: The Understudy
What: For a fête worse than death this Halloween, head down to Thames-side The Understudy, which will be transformed into an abandoned fairground from your worst nightmares. Expect a fully immersive visual spectacle playing on the theme of funfairs, sideshows and brutalism, complete with costumes reminiscent of haunting Victorian Circus acts and a line up of Magic Rock's finest brews.
Why: On entering, step into a circus of bygone eras, with staff fully robed as nightmarish ringmasters, bearded ladies, siamese twins, trapeze artists, clowns, ventriloquists and more. The bar team will also be offering a daily Best in Show costume prize as a Halloween treat, with the winner receiving a bar tab prize. Drinkers can expect a special line-up of Magic Rock circus themed brews such as Highwire, Cannonball and Clown Juice, whilst the Apothecary Bar outside will transformed into a Medicine Show pop up, serving up remedial lotions, potions, elixirs and tonics.
When: Friday 28th-Monday 31st October
Price: Free entry
Where: ​The Understudy, Upper Ground, London SE1 9PX​
7. For any Excuse to Play Mini Golf: Junkyard Golf Club
What: Experience Halloween like never before with Junkyard Golf Club's very own 'Day of the Dead' party, at the Truman Brewery, Brick Lane. Junkyard Golf Club will receive the Halloween makeover with spiders, clowns and ghouls floating around the venue for a once in a lifetime crazy golf experience, whilst DJs will keep players going into the night.
Why: Unlock the future with an in-house tarot card reading, watch in marvel of the London's finest fire eaters, and dodge circus performers taking over the space in between courses, all at the city's best crazy golf venue. Expect scary creatures jumping out from hidden spaces around the four courses, which are sure to keep the most fearless clutching on to their (golf) balls.
When: 7pm,  Saturday 29th October
Price: Tickets are priced at £9.50 per person. Available here.
Where: The Old Truman Brewery, 91 Brick Lane, London, E1 6QL
8. For an After the Grave Party: Pop Brixton
What: After a year in which the reaper has been especially active, Pop will transform itself into a star-studded cemetery for this all-singing all-dancing Halloween Soiree, celebrating the dearly departed of the music world.  With a "Dead Famous" dress code, Pop will be giving all your favourite late musicians another 15 minutes, from Bowie to Biggie and Jimi to Jackson, with live acts and DJs spinning non-stop classics from all genres in a night-long tribute to the greatest acts no longer with us.
Why: There will be celebrity face masks and face-painting available on-site to ensure your outfit is on point, while Brixton Port Authority will be doling out two £50 bar tabs to the best dressed man and woman. Plus, watch out for Halloween specials from all the traders, with Pop's newest residents Other Side Fried serving up a "Big L", a meat filled  buffalo fried chicken and hash brown burger.
When: 7pm, Saturday 29th October
Price: Early bird tickets £3. Tickets can be purchased in advance here.
Where: 49 Brixton Station Rd, London SW9 8PQ
What: To celebrate Halloween, Scarfes Bar at Rosewood London will once again undergo a transformation to become the haunted library of a spectral manor house. Taking place for one night only, the event will be directed and hosted by internationally famed cabaret star, Dusty Limits.
Why: Dusty Limits, who will play the role of the ageless host Dante will treat guests to a macabre burlesque performance with a selection of special performers. The bar will be serving up the specially concocted "Eye Spy" cocktail in addition to their other popular favourites in the transformed setting, originally inspired by the atmosphere of a drawing room and the sophistication of a traditional gentleman's club.
When: Saturday 29th October
Price: Tickets available here for £60.
Where: Scarfes Bar, Rosewood London, 252 High Holborn, London, WC1V 7EN
10. For a Deathly Disco: Old St Records 
What: It is a period of uncertainty in nightlife; with venues closing down, yet tubes going 24 hours, and Tim Westwood claiming he should become Night Czar, the Records Alliance embark on finally achieving victory against the evil Galactic Empire. During their last battle, Records spies managed to steal secret plans to the Empire's ultimate weapon, the DEATH STAR, an armoured disco ball with enough power to destroy all of London's most formidable drinking holes.
Why: Joining Old St Recors will be The Zealots, who will be taking to the stage live to fight off the sinister Empire with their unique twist on soul and funk whilst DJ Snips will not rest until Dr Death has been destroyed by the power of their eclectic selection of disco tunes. Downstairs, they'll  be encouraging the most daring pilots on a secret mission into our Jakku, where an old ally, Judge and the Jury take to the stage to celebrate the release of their debut Ghost Town EP alongside DJ sets from Cluekid and Judge.
When: 7pm til 3am, Saturday 29th October
Price: £5 advance/ £7 on the door. Grab em' for a fiver here. 
Where: 350-354 Old St, London
11. For Popcorn and Potentially Scary Scenes: The Grand 
What: The world famous £1 Cinema Club will be bringing 'Scary Movie' to it's huge HD screen this Halloween, and with it more frights than you can shake a mildly amusing stick at. Head to Tesco Express before the big screening to stock up on popcorn and bargain sweets.
Why: Of course, fancy dress is a must (prizes for the best obviously), as well as the specially added blood curdling photo booth, a monster mash dance off, creepy cocktails and hot hogs. Not only this, but with the cinema ticket you also get free entry to The Grand's Halloween Movie Ball, soundtracked by the scariest (sorry for the crappy pun) DJs in London and complete with a mass dance off to The Time Warp
When: Screening starts at 7pm – 9pm, Saturday 29th October
Price: £1. Tickets here 
Where: The Grand, 21-25 St. John's Hill, London, SW11 1TT
12. For Thrills, Spills and Other Halloween-Related Fun: Novikov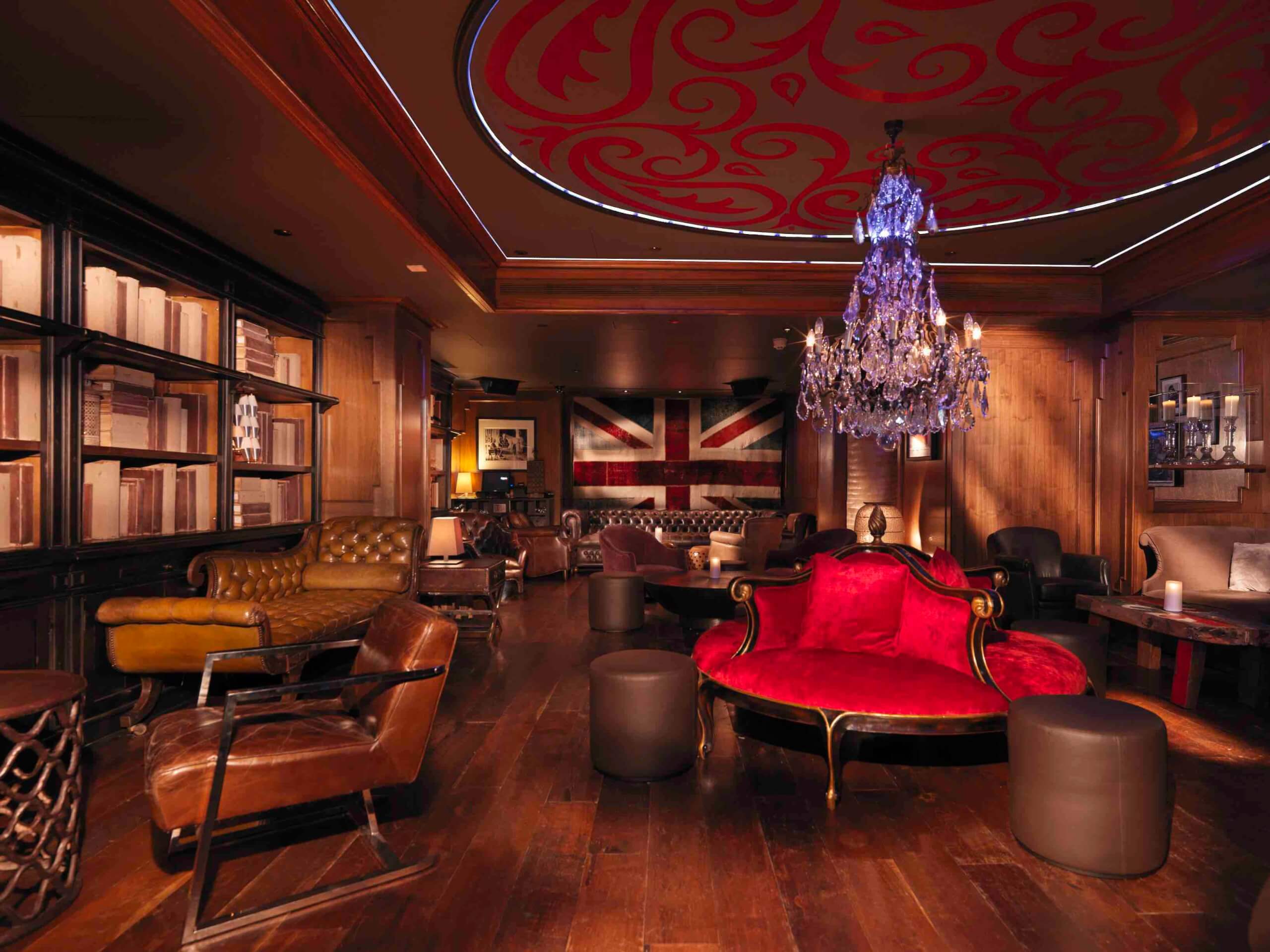 What: There's something afoot in London's West End. Something macabre. Something hypnotic. Something totally unique. On Friday, the lounge bar at Mayfair's favourite haunt, Novikov, host the Halloween party to end all Halloween parties as it invites all who dare to come to the Horror Circus.
Why: A quartet of four extraordinary performers will be on hand to thrill and surprise the assembled throng. World class male contortionist Tommaso Di Vincenzo is not to be missed, whilst Heavy Metal Pete, sword swallower, whip cracker and all round wonderfully twisted weirdo, will drive the audience into a frenzy too. Also taking the stage is vaudeville freak show diva and Queen of the Twisted Cabaret Crown, Vivid Angel, and Bambi Blue, who's just your regular fire eating mermaid, gypsy princess and travelling sideshow-girl.
When: The cabaret will begin at 10pm, and Novikov's resident DJs will play throughout the night. Friday 28th October
Price: Free entry
Where: Novikov Restaurant & Bar, 50a Berkeley Street, London, W1
13. For a Sing-a-long: Lucky Voice 
What: Lucky Voice will be daring you to pay them a visit this Halloween, as they cast aside the sequins and silliness and embrace the dark side for Halloween. The Soho and Islington bars will be transformed into the most frighteningly macabre hospitals for the night. Think spooky staff dressed up as creepy patients, and questionable doctors covered in blood.
Why: The usual props of brightly coloured wigs and fun specs will be taking a more sinister turn –  limbs, fake blood, gore and more (after all, every good singing star needs their alter-ego, right?). Karaoke up a Halloween storm with songs from Thriller, Ghost busters, Phantom of the Opera, Monster Mash, Ghost Town, Bat Out of Hell, Highway to Hell, Creep, I Put a Spell on You, Rocky Horror Picture show songs – the list goes on. And if ever there's a time to indulge in cocktails with names like Gaga Bloody Mary, it's now.
When: Friday, Saturday and Sunday
Price: Prices start from £10. Book through the website here.
Where: Lucky Voice Soho: 52 Poland St, London W1F 7NQ, Lucky Voice Islington: 173-174 Upper St, London N1 1RG
14. For Two Parties: The Jam Tree
What: This Halloween, The Jam Tree are inviting guests to re-live some of the most haunting horror films of our time, in two brilliant and utterly spine-chilling parties, Silence of the Jams (Chelsea) and Nightmare on Jam Street (Clapham), both happening on Saturday.
Why: An array of cocktails will be on offer, with special guest DJs providing a perfect soundtrack of popular hits. Guests will be encouraged to dress the part, and can even pay a visit to a specialist team of make-up artists who will be on hand throughout the evening to perfect the guest's haunting outfits. The Jam Tree will also be giving out prizes to the best male and female costumes of the evening.
When: Saturday 29th October
Price: Free entry
Where: Locations here 
15. For Bowling: All Star Lanes 
What: All Star Lanes will transform into a haunted homage to the dead famous. Everyone is encouraged to don their most gory garments with rewards for those in costume.
Why: You can also ghost those Monday blues on All Hallows Eve as All Star Lanes venues will be hosting local DJ's with 2 games of bowling for £10 per person. Bayswater will be holding the ultimate monster bash, with renowned Electro-Swing DJ Phat Sam as the sound track to the evening. No ticket required, just book a space on the lanes or walk into the nearest All Star Lanes haunt. Head to the lanes to call in a 'Trick or Treat' – get a strike and they'll be rewarded accordingly, but miss the pins and heads will roll…
When: Saturday 29th – Monday 31st October
Price: £10 per person
Where: Locations here
Disclaimer: I, Alicia Grimshaw, apologise for all the Halloween puns.