Is there anything better at Christmas than a box of edible treats? No. The answer is no. Here's our top Christmas food and drinks hampers that will rock your socks off.
Christmas Hampers: the Classic Variety
1. For Festive Nibbles: The Modern Pantry 
The Hamper: The Modern Pantry Christmas Stocking (£50)
The Lowdown: The stocking provides a selection of savoury and sweet treats to be enjoyed over the Christmas period. The stocking includes; berry and liquorice jam, spiced gooseberry relish, fig, caraway and hazelnut cantucci, The Modern Pantry truffles, liquorice and urfa chilli mini Christmas cake and The Modern Pantry Pinot Noir.
Where: Order online 
2. For a Taste of the Sea: Forman and Field 
The Hamper: Forman's Finest Hamper (£119.50)
The Lowdown: It is what it is: a carefully curated selection of Forman's best selling products, presented in a very special black, wicker hamper. Contents include: Forman's grade one smoked salmon, wild smoked salmon pâté, Mrs King's pork pie, Keta caviar, potted lobster, Tunworth, chicken liver and brandy parfait, and Alderton ham.
Where: Buy here 
3. For a Buffet Spread: Loch Fyne 
The Hamper: The Noble Selection (£92.50)
The Lowdown: The Christmas hamper from Loch Fyne includes a luxury range of their finest products: Kinglas fillet, smoked mussels, beetroot smoked salmon, Bradan rost fillet, Arran oatcakes, Scottish chutney, Arran Kilbride cheddar cheese, a Loch Fyne tea towel and a bottle of Muscadet de Sevre et Maine wine.
Where: Buy online 
Christmas Hampers: Special Diets
4. For a Vegan Hamper: Whole Foods Market
The Hamper: Vegan Hamper (£70)
The Lowdown: A selection of some of the very best vegan goodies Whole Foods Market has to offer, including Vego whole hazelnut chocolate bar, creamy Pip & Nut almond and coconut drink, Freedom Confectionary mallows, Essy & Bella sunflower and sea salt chocolate, Deliciously Ella coconut and oat energy balls, and Vita Coco organic cold pressed coconut oil.
Where: Buy online 
5. For a Veggie Hamper: Planet Organic 
The Hamper: The Luxury Christmas Hamper (£150)
The Lowdown: The Luxury Christmas hamper is filled with veggie friendly treats to enjoy over the festive season. The hamper contains sweet and savoury nibble such as; The Organic Collection Lubeck honey marzipan, The Organic Collection French peeled chestnuts, Octo hazelnut raw chocolate, Un Monde Cacao Neapolitans dark rectangle, Evvivo vegan panettone and Raw Ecstasy salt almonds.
Where: Order online 
6. For a Gluten-Free Hamper: Paxton and Whitfield 
The Hamper: Glorious Gluten-Free Hamper (£100)
The Lowdown: A gift of Paxton & Whitfield cheeses, wine and accompaniments, with all contents free from gluten, presented in a branded wooden hamper box. The hamper contains: multi-seed and cracked black pepper cracker bakes, apricot, date and sunflower seed cracker bakes, cheddar pounder PDO, finest English stilton jar PDO, Celtic soft, fig ball, caramelised onion chutney, sweet cucumber pickle, Côtes de Duras White and Côtes de Duras Red.
Where: Buy online 
Christmas Hampers: Sweet
7. For All the Chocolate: Chococo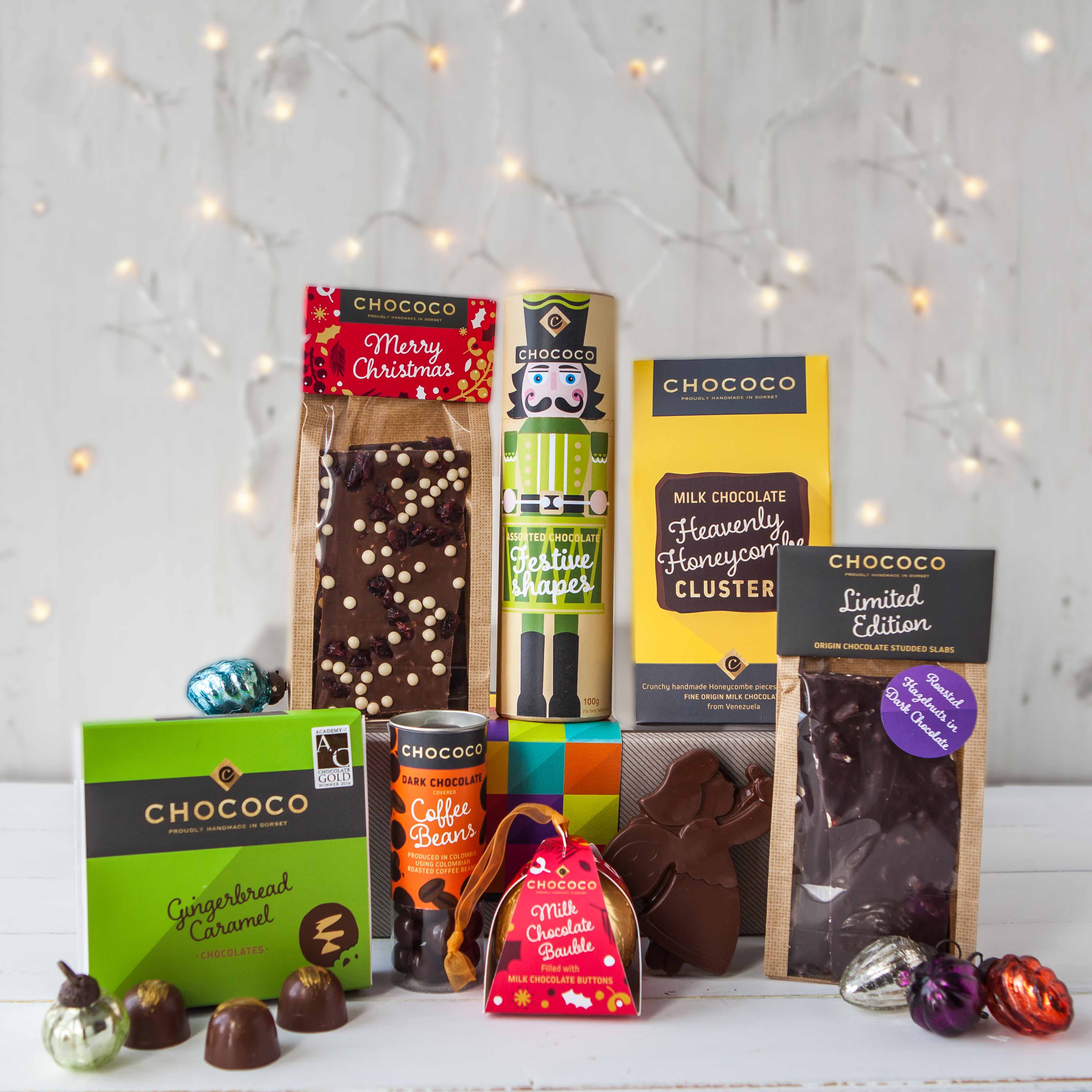 The Hamper: Assorted Christmas Hamper (£49.95)
The Lowdown: The selection includes new contents for 2017: a box of nine award-winning gingerbread caramels; a Nutcracker tube of assorted origin milk, white and dark chocolate festive shapes; festive cinnamon and cranberry milk chocolate slabs; Madagascan 67% dark chocolate slabs studded with crushed roasted hazelnuts; milk chocolate clusters studded with chunks of honeycombe handmade with Dorset honey; a Venezuelan origin milk chocolate angel; dark chocolate covered roasted Colombian coffee beans; and a Venezuelan origin milk chocolate bauble filled with milk chocolate buttons.

Where: Order online 
8. For Tea and Biscuits: Cartwright and Butler
The Hamper: The Rosedale (£170)
The Lowdown: The Rosedale features Cartwright and Butler's top picks this festive season, and features a wide selection of luxurious edible treats such as mint imperials sweets, lemon and tangerine slice mix sweets, goji berries in dark chocolate, fine cut English breakfast marmalade, Yorkshire chutney, apricot preserve, honeycomb in a window tin, tea in carton earl grey, Tea in carton English breakfast, and rosemary and focaccia bread thins.
Where: Buy online 
9. For a Sweet Selection: Petersham Nurseries 
The Hamper: Christmas Sweet Hamper (£115)
The Lowdown: Presented in a Petersham Nurseries branded box and wrapped with their signature Indian ribbon, the sweet hamper contains: cinnamon Zimui biscuits, almond nougat covered in dark chocolate, Villa Marcello, Prosecco Millesimato Brut, dark chocolate bar with apricots and almonds, Petersham Nurseries winter chai tea, Petersham Nurseries orange marmalade or strawberry jam, Panforte Margherita, Antichi Dolci Di Siena, Petersham Nurseries panettone, and two packets of Petersham Nurseries edible flower seeds.
Where: 27-31 King St, Covent Garden, London WC2E 8JB and online 
10. For Italian Eats: Carluccio's 
The Hamper: Il Massimo (£75)
The Lowdown: 
An Italian box brimming with suitably indulgent festive sweet treats including classic Milanese panettone; milk chocolate gianduja- filled stars; traditional amaretti biscuits from the same local baker Antonio used to visit as a child; decadent Florentine hot chocolate; a giant milk chocolate coin; apricot biscotti; candied clementine segments enrobed in dark chocolate; torcetti butter biscuits sprinkled with sugar and a bottle of Santa Sara prosecco.
Where: Buy online 
Christmas Hampers: Cooking
The Hamper: Belazu Hamper (£52)
The Lowdown: The hamper is filled with 11 products, and have won 17 Great Taste stars between them. Packed full of condiment like balsamic vinegar of Modena, Beldi preserved lemons, tagine paste, Verbena harissa paste, Verdemanda olive oil, chilli infused extra virgin olive oil, rose harissa paste, Zhoug paste, black olive tapenade, Chermoula paste, and balsamic pearls.
Where: Order online 
12. For Dessert Making: Ottolenghi 
The Hamper: The Sweet Hamper (£120)
The Lowdown: The Sweet Hamper has been created to celebrate the publication of the Sweet cookbook – full of essential ingredients and equipment for creating recipes from the book. Inside you'll also find delights such as Gianduja, used to make the hazelnut crumble cake, and mixed candied peel used in the chocolate panforte with oranges and figs. The hamper also contains kitchen equipment for the first time; a large bundt cake tin, which can be used to make the prune cake with Armagnac and walnuts, and the rum and raisin cake with rum caramel icing – and a sugar thermometer is also included, to help cooks create flawless saffron and pistachio brittle.
Where: Buy here 
13. For an Italian Kit: Pastificio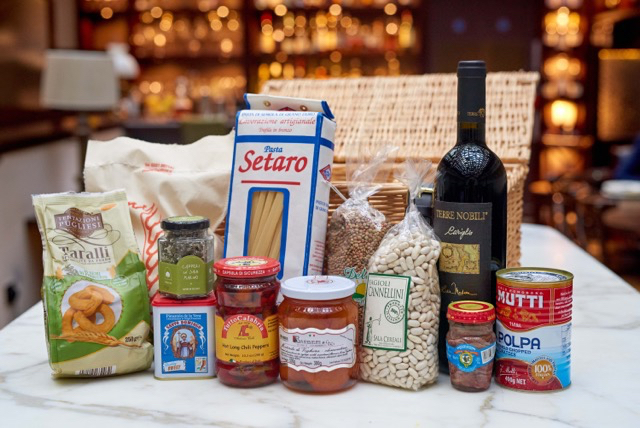 The Hamper: Italian Dry Store Hamper (£120)
The Lowdown: The hamper contains all the Italian greats, including: Del Fino anchovies, Planeta olive oil, 8year old balsamic vinegar, artichokes in olive oil, rose harissa, Ortiz tune (best canned tuna), Gordal green olives, Don Antonio black olives, grissini (Italian breadsticks), and capers.
Where: Order online 
Christmas Hampers: Drink
14. For a Whisky Hamper: Hibiki 
The Hamper: Whisky Hamper (£190)
The Lowdown: Sealed in a beautiful plywood crate, recipients will need to use the '18ct Gold' mini crow bar to prise open the crate and reveal the wonders. The wonder being a 70cl Habiki Harmony Whisky, 6 x horn whisky tots and a set of 8 drinks rocks.
Where: Buy online 
The Hamper: Gin Lovers Letter Box Hamper (£25.95)
The Lowdown: Wrapped in traditional parcel paper, with twine and ink stamps, this special edition hamper includes two miniature glass bottles of Plymouth Gin, distilled at the historic Blackfriars distillery in Plymouth (Sloe Gin and Original Strength), Moore's Biscuiteers Walnut Crunch biscuit rounds, Willie's Venezuelan gold dark chocolate, Willie's hazelnut and raisin chocolate, and Cracking Nuts, deliciously hand roasted cashews, almonds and peanuts, with vanilla, sugar and fair-trade Himalayan sea salt.
Where: Buy online