Feeling the mid-week hump? Never fear, About Time is here. From aerial yoga to beautiful juices, here's ten ways to add your sparkle to your week:
1. For a Perfect Juice: Crussh
What: In a tech and health-retail first, Londoners can be able to obtain the only drink ever designed in response to the behaviour of an app's user base. The dietary and nutritional information of 30,000 Londoners using free-to-use health and lifestyle app Lifesum, has been assessed to identify what is typically lacking in the Capital's daily nutritional intake, resulting in the creation of the delicious supplemental Lifesum Green drink.
Why: Made using coconut water, kale, spinach, apple, kiwi, pineapple, pear and omega-3 oil, and created through a collaboration between London-based fresh juice and smoothie retailer, Crussh and Sweden-headquartered, free-to-use health app, Lifesum the juice, called Lifesum Green, is available from all 30 Crussh stores across the capital. Get involved.
Price: Regular size (325ml) £3.95, Large size (450ml) £4.95, and Full size (650ml) £6.50
Photo credit: We Heart Living
2. For a New Fitness Class: Heartcore St John's Wood
What: Boutique fitness leader Heartcore has just launched their eighth studio in prestigious St John's Wood. The new studio brings Heartcore's hugely popular mix of Pilates, TRX and Barre classes to one of London's most upmarket residential areas. St. John's Wood is Heartcore's eighth studio – and third opening within one year – as the business continues its rapid expansion across some of London's most desirable postcodes.
Why: The St John's Wood studio is Heartcore's most visually stunning to date and features an open, airy, California feel throughout due to the property's soaring ceilings, natural wood floors, large windows, skylights and high-end finishes.  Set across two levels in an impressive former church, come here to get your butt royally whipped into shape by their expert teachers.
Price: £27 per class
3. For a Health Supplement: VITL
What: VITL provides a 28 day supply of sustainably sourced vitamins in tearable daily strips, each strip includes four vitamins that compliment each other to make sure you have all bases covered, to replenish, to fortify, to focus and protect, see the below for a break down.
Why: Gone are the days of searching for the right vitamins off the health shelfs and carrying brown glass bottles in your bag, now your monthly supply of vitamins are tailored by VITL's team of nutritional experts to create the perfect combination and balance of vitamins, delivered to your door.
Price: £39.95 for a 28-day supply
4. For a Delicious Smoothie: Imbibery
What: Sick of spending money out on fancy smoothies? Then make Imbibery's delicious smoothie at home to give your morning a boost! Here's how:
Ingredients
1/2 frozen banana,
1 250ml Imbibery Almond Mylk,
3 Imbibery Spinach Shots,
1/2 avocado,
1/2 cup water,
1T chia seeds
Why: This is an incredibly hydrating smoothie. The spinach helps give your skin that gorgeous glow and as it's cold-pressed, is incredibly easy to digest. Imbibery's Almond Mylk is a great protein source, has no sweetener, and the rich vanilla bean enhances the smoothie's flavor. Along with banana and avocado, you will have ample sustenance. The addition of the chia seeds will help keep you full all morning!
5. For a Healthy Dinner: Hello Fresh x Jamie Oliver
What: HelloFresh have just partnered with Jamie Oliver, who has created some tasty recipes exclusive to the HelloFresh customers. The HelloFresh fresh recipe delivery box service provides amazing recipes straight to your front door with the very best produce of the very best quality – they source their fish from the Queen's fishmonger!
Why: HelloFresh takes the hassle out of preparing meals for the family or for your partner and the effort of lugging heavy shopping bags home.  With all ingredients measured to the exact gram to avoid waste and clearing up hassle, HelloFresh could be the answer to all of our dinner dilemmas. It means that busy commuters and stressed Londoners don't have to worry about their evenings meals at all from doing a food shop, lugging heavy shopping on crowded tubes, trawling through recipe apps or books for ideas on what to cook, HelloFresh does this all for you!
Price: From £4.90 per meal per person
6. For a Spa Break: Mandara Spa, Park Plaza Hotel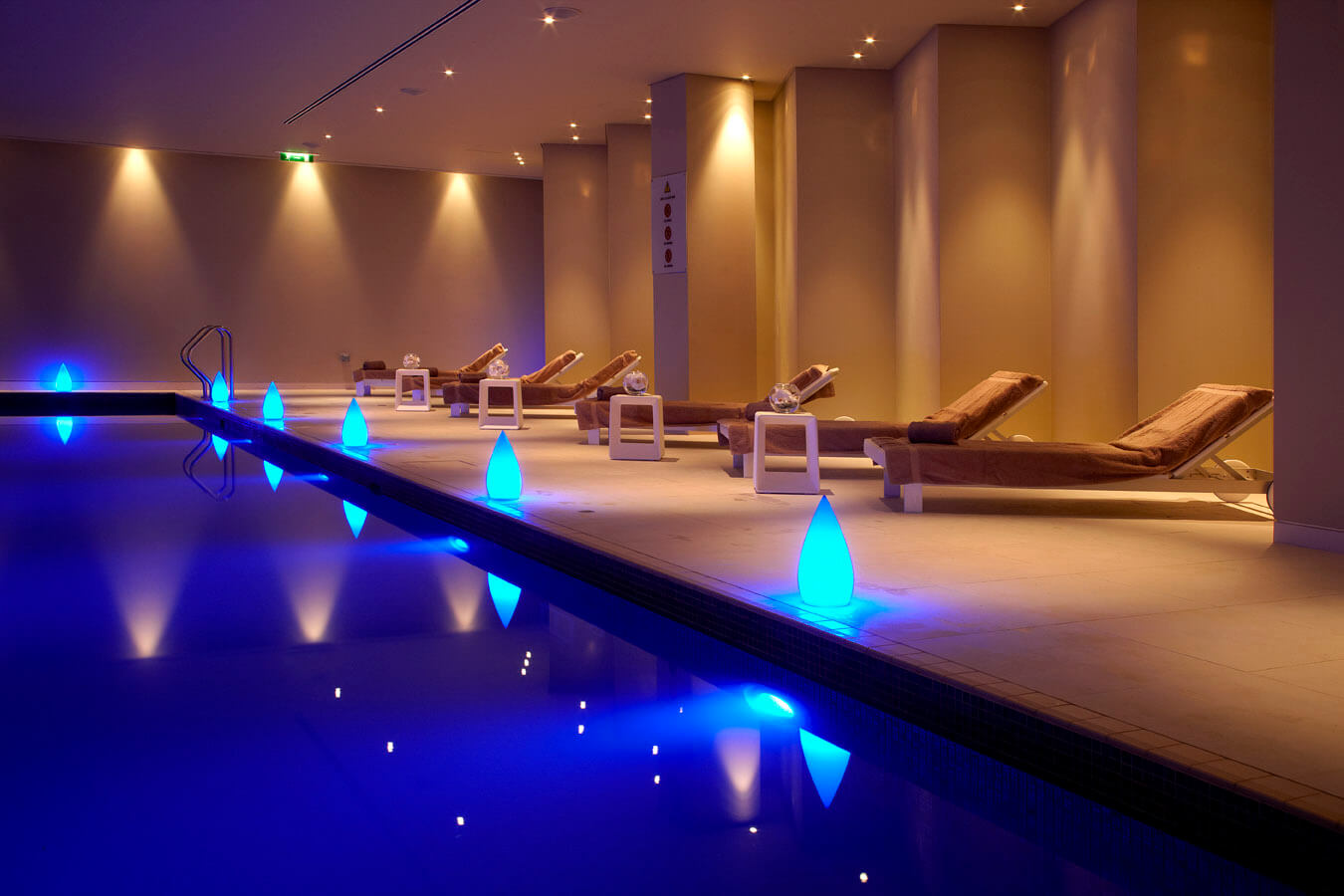 What: The Mandara Spa at Park Plaza Westminster Bridge is the first Mandara Spa in the UK. Inspired by the modern lines of the Park Plaza hotel and the luxurious touch of Asia, Mandara Spa offers guests a unique sensory experience, inviting you to escape your world, and indulge in a Mandara moment. Come here for all your wellness needs.
Why: Because it's beautifully designed, with great treatments. The interiors of the Mandara spa have drawn inspiration from around the world from Mondrian paintings to Japanese Shoji screens, focusing on the lines to showcase the Asian elements. The spa facilities include one double and eight single treatment rooms, two pedicure and three manicure stations. The treatment menu offers Mandara Spa for indulgent body therapy and Elemis skincare for facials and detox therapies. As a finishing touch, select from a range of Bliss nail and waxing services and indulge yourself with a glass of champagne and seasonal berries.
Price: Treatments from £25
7. For Sleeping & More: The Private Clinic
What: Snoring problem? The Private Clinic has over 30 years experience in medical cosmetic treatments. Established in Harley Street in 1983, they have clinics in Bristol, Birmingham, Manchester, Leeds and Glasgow, as well as consultation rooms across the UK. They have pioneered the widest range of minimally-invasive medical and cosmetic treatments,
Why: Their primary focus is to offer the safest, most advanced and effective treatments suitable to your requirements. When it comes to cosmetic procedures, they specialise in natural looking results. Snoring problem? They have been helping people with snoring for over 30 years and offer the latest non-invasive laser and radio frequency assisted procedures – Laser Assisted Uvulopalatoplasty (LAUP) to tackle the most common causes of snoring, including blocked and stuffy nose and excess vibration of the soft palate and uvula.
Price: Consultation price varies – see the website here
What: Superdrug have just launched an exciting online optician service, including glasses and sunglasses. Find your favourite eyewear style – all their prescription glasses over £25 include free lenses, coatings and delivery! We say go Modern Retro – channel an old school contemporary style with our modern retro frames. From tortoiseshell to thick rims and double bridges, we have an eclectic range of vintage-inspired frames to suit your style.
Why: Because who doesn't want a pair of snazzy glasses? Get yourself noticed with a pair of statement spectacles. Whether it is the quirky, bold or colourful look you're going for, they have a selection of frames to suit your fashion flair.
Price: Glasses from £9
9. For Your Coffee Break: DripApp
What: Coffee fiend? Well, this is for you. DripApp is the mobile app for London's best independent coffee shops. Think of it as "the Oyster for flat whites", as users top up with coffees to redeem anywhere in their partner network of 150 independent cafes across London.
Why: DripApp users save up to 50% off their daily hot drinks through prepaid coffee plans, whilst discovering the hidden gems around them. What's more, you'll find loads of fantastic coffee shops you never knew about. Coffee's on us, then.
Price: Credit from £9
10. For an Easy Smoothie: Natural Blender
What: We all know a smoothie packed with fresh fruit, vegetables plus a superfood or two would be a fantastic start to any day. But the simple fact is, not everyone's larder conveniently has bok choy, figs, coconut water, hemp seeds or maca powder to hand.  But help is now at hand. Welcome to Natural Blender – the UK's first online smoothie subscription service. Every Saturday, Natural Blender will deliver 5 new smoothie recipes with the exact amount of pre-portioned ingredients to make 10 nutrition packed smoothies, straight to your door.
Why: The service introduces a variety of superfoods and easy-to-follow recipes, allowing you to increase your daily fruit & veg intake without all the fuss. All the recipes feature an eclectic mix of fruit and vegetables, and superfood boosters to provide protein and healthy fats, like hemp seeds, chia seeds, acai powder, baobab powder, matcha, nuts and seeds. This delicious assortment of ingredients means that you will be sampling a unique variety of blends on a daily basis and breakfasts will never be boring again!
Price: £2.45 per smoothie