Top 7: Summer Terraces You Need to Visit in London This WeekBy Angelica Malin
We don't know how long this warm weather will last, so let's all run to an outdoor terrace and bask in the glorious sunshine. Don't know where to go? We've rounded up the best outdoor spots you should be visiting in London this week. Hello, summer:
1. For a Breakfast Terrace: Rude Health Cafe
The Lowdown: Fancy enjoying a bowl of Rude Health's prize-winning porridge, or a glass of iced coffee with almond milk on one of their long, Instagram-friendly bright blue tables? Now open, the Rude Health Café has injected a much-needed splash of colour and energy to the Putney end of the New King's Road.
Eat and Drink: Rude Health prides itself on producing foods and drinks that only use ingredients people would find in their own kitchens. The same applies to everything that is made and served from the Cafe's kitchen – nothing fake, nothing artificial. Breakfast favourites include sprouted porridge with salted maple syrup, banana and nuts, and bircher muesli soaked in almond milk and berries.
Gimme More: They serve a kimchi and sourdough toastie. Yes, it's actually a thing. Yes, it tastes divine.
Where: 212 New King's Rd, London SW6 4NZ
2. For a 1950's Styled Terrace: Chucs
The Lowdown: Opened earlier this year, Chucs launched their distinctive menswear label boutique and restaurant in Westbourne Grove, Notting Hill. Reflecting the brand's entrepreneurial spirit and the current trend for shopping and dining under one roof, Chucs menswear collection is housed on the upper floor, whilst Chucs' relaxed, Mediterranean style, neighbourhood restaurant is located on garden level.
Eat and Drink: Those in search of classic Italian cuisine, Chucs Westbourne Grove all-day menu includes all of their signature dishes, taken from their flagship venue on Dover Street. Popular dishes include the Chucs burger; scaloppina chicken paillard with rocket and parmesan, and the pizza Bianca with black truffle. Ooft.
Gimme More: They have a special healthy brunch menu at the weekends – think porridge, granola with coconut yogurt and avocado on toast.
Where: 226 Westbourne Grove, London W11 2RH
3. For a French Inspired Terrace: Bulgari Hotel
The Lowdown: A rare find in this popular area of London, Bulgari Hotel's tucked-away terrace provides the perfect place to embrace the Riviera's way of life this summer, in the midst of bustling Knightsbridge. To welcome in summer, Rivea London has launched a new rosé and aperitivo menu in celebration of the months ahead.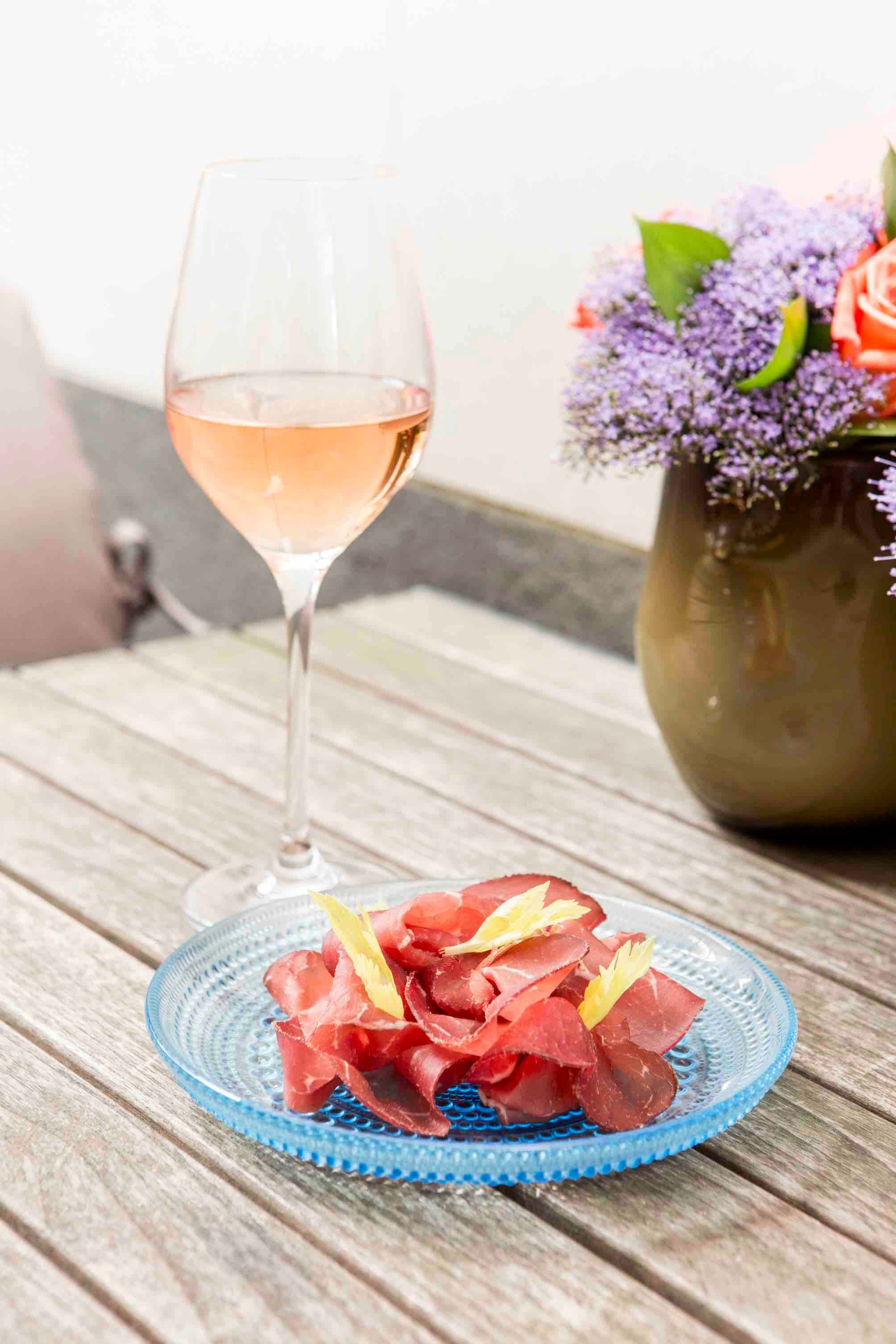 Eat and Drink: Favourite light bites from the Riviera-inspired menu will be available to enjoy al fresco for the very first time. These include; Provence-style vegetable caponata, octopus and confit potato salad, and stone bass carpaccio with pine nuts.
Gimme More: The raspberries and verbena in caramelised puff pastry is knock-your-socks-off excellent.
Where: Rivea London, Bulgari Hotel, 171 Knightsbridge, London SW7 1DW
4. For a Pretty Terrace: L.C at Climpson's Arch
The Lowdown: Since launching L.C at Climpson's Arch back in October 2015, Leandro Carreira's team have excited everyone with their stripped-back, contemporary take on Portuguese regional cooking. Leo's dishes are best enjoyed at the long outdoor tables on their picturesque terrace complete with fairy-lighting and it's very own permaculture garden producing micro herbs and flowers used abundantly in the dishes.
Eat and Drink: On Leo's regularly changing a la carte menu, you'll see starters such as cod tripe cakes with onions and cucumber escabeche, crispy pig ear with apple and fennel, and bone marrow and chorizo baguette. Dig into mains such as octopus with smoked farinheira, salted cod with onions, salted baked potatoes, peppers, garlic and parsley, and grilled bisaro pressa 'esparregado', reflecting Leo's shift towards a more casual dining style.
Gimme More: A regional cheese trolley and grilled soaked brioche with sour caramel and hazelnuts are available for dessert. Boom.
Where: 374 Helmsley Pl, London E8 3SB
5. For a Sky-High Terrace: Pergola on the Roof 
The Lowdown: This summer's biggest roof-terrace success, Pergola on the Roof  have just announced that due to high demand, they will be extending their residency on top of the television centre, White City, until the end of September. Pergola on the Roof has become one of the capital's most talked about destinations, after completely transforming this west-london rooftop into the ultimate summer experience of 2016.
Eat and Drink: There's plenty of choice – such as caribbean food by Rum Kitchen, wild and foraged food by restaurant Rabbit as well as burgers galore from Patty & Bun. Pergola on the Roof will continue to offer their bespoke menus for the entirety of the residency alongside the central bar offering, including a range of cocktails, bubbles, beers, ciders and wines, as well an obligatory roaming drinks trolley.
Gimme More: Taking bookings for six people or more, Pergola on the Roof tables for up to 10 people, as well as 5 giant sun-drenched day beds seating up to 12 people can be hired for a couple of hours, or all day long.
Where: Television Centre – Multi-storey Car Park, Wood Lane, London, W12 7RJ
6. For a New Outdoor Terrace: East London Liquor Company 
The Lowdown: Independent British distillery and destination bar, East London Liquor Company recently opened a new restaurant in Bow Wharf, East London with a fantastic outdoor terrace area. Sitting near Regent's Canal and on the corner of the East End's Victoria park, East London Liquor Company is fast becoming a destination for those who love locally produced, honestly priced spirits with its laid-back atmosphere and sensational drink offering.
Eat and Drink: The distillery's new restaurant has an Italian food emphasis, with a pizza oven and array of delicious seasonal sharing plates complemented by a selection of drinks including amaro, fernet, vermouth, wine, beer and cocktails showcasing East London Liquor Company's award-winning range of spirits.
Gimme More: Gin and Tonic. Best in the area, we swear.
Where: East London Liquor Company, 221 Grove Road, Bow Wharf, London, E3 5SN
7. For a Pop-Up Terrace: Tredwell's x Grey Goose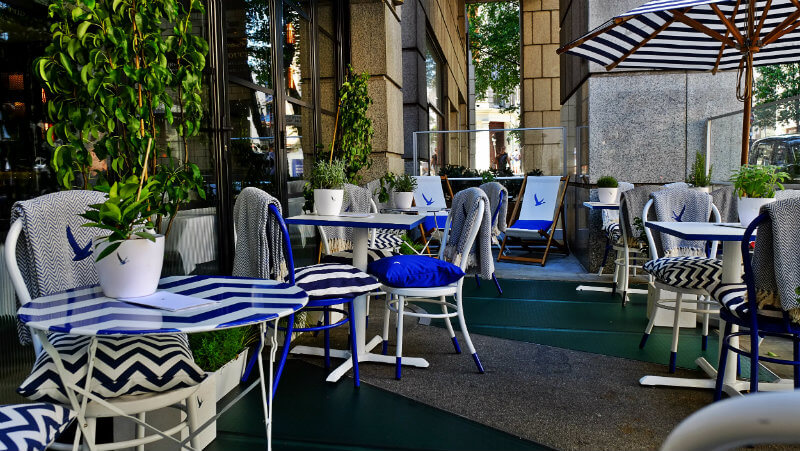 The Lowdown: Tredwell's have teamed up with Grey Goose for a special boozy partnership. The new pop-up is adorned with blue and white striped parasols, fruit trees and nautical inspired décor –  it feels like the South of France in Central London.
Eat and Drink: Sip on all the cocktails, including Bar Manager, Dav Eames' take on the famed Le Grand Fizz – a medley of Grey Goose, St-Germain and freshly squeezed lime juice, or the Le Grand Fizz Pear and Cherry – a summery combination of Grey Goose La Poire, Benedictine and pear.
Gimme More: If you're after an herby tipple, order the Le Grand Fizz Orange and Tarragon, made with Grey Goose L'Orange, freshly squeezed orange, lemon juice, and tarragon and raspberry syrup.
Where: 4a Upper St Martin's Ln, London WC2H 9NY
One for luck.. 
8. For a Waterside Terrace: Chai Ki 
The Lowdown: Chai Ki opened last year, and we'll tell you this for free – it's worth the punt across town for. Located at the up-and-coming Crossrail Place in Canary Wharf, this Indian restaurant recently unveiled its all new waterside terrace overlooking West India Quay. The new terrace offers al fresco dining during the day and in the evening, alongside Chai Ki's dining room and more casual Toddy Shop bar.
Eat and Drink: Feast on signature soul food dishes from Chai Ki's lunch and dinner menus including chicken pear chaat with tandoori chicken tikka, pear, charred gem lettuce and mango thyme dressing, the much-loved miso butter chicken with tandoori chicken thighs, fenugreek 'makhani', crispy spinach and miso 'malai', and coconut prawns with fennel, turmeric, coconut milk, Chai Ki seaweed 'podi', tempered mooli and snow peas.
Gimme More: Seasonal summer cocktails will also be available to sip in the sun including a selection of infused Pimm's Teapots, ideal for sharing; Gentleman's Cucumber Pimm's with cucumber syrup, lemon, lime, ginger ale and Camden Town Gentleman's Wit beer; Toddy Shop Pimm's Royale topped with Prosecco.
Where: Crossrail Place, London, E14 5AR