Top 10: Not-Quite-Summer Things to Do in London This MonthBy Alicia Grimshaw
We've all been there – the sun comes out, you run to your nearest beer garden, and before you've even finished your pint the weather turns and someones says 'can we sit inside?'. It's that time of year where you're unsure if you should be carrying a cag in a bag, or wearing your Birkenstocks.
Let's all remember that balmy April weekend when disposal barbecue sales were at an all time high, and your local park was a hot bed of room temperature cider, Wall's sausages and frisbees. Those sunny days didn't last long, but no fear – we've discovered incredible venues that have ample heaters and blankets to shelter from the shoddy London weather, and bangin' rooftop spots when the sun hits. Time to explore:
Not-Quite-Summer Activities: Eating and Drinking
1. For a New Rooftop Hangout: Sisu
What: Summer has returned to the rooftops of Oxford Street with the opening of Sisu; London's latest cocktail hotspot. The team behind last year's alfresco favourite #NotchLDN are once again serving up some of the best rooftop vibes in town, as the space has transformed into a utilitarian nature reserve where Londoners can escape the bustle of the city in Scandinavian-inspired surrounds with a greenhouse street food restaurant and Negronis on tap.
The Lowdown: Made from upcycled windows and overgrown with foliage, the RetrEat is where you can shelter from the elements and tuck into an international street food menu featuring the likes of miso aubergine tacos, fried chicken waffles, crispy squid with shredded kimchi, Canadian-style poutine (basically chips and cheese with gravy), and cheeseburger sliders with pickled jalapeños. Besides Negronis and Old Fashioned, Sisu is serving Camden Town Brewery beers, Caple Rd cider, wine, plus a range of cocktails. Signature pours range from the light, summery Florodora, a medley of Bulldog gin, fresh raspberries and ginger to the warming Howler with Wild Turkey 81 bourbon, apricot preserve and lemon.
Where: 535 Oxford Street, London W1C 2QW
2. For a Slice of the Hamptons: Pergola on the Roof
What: Pergola on the Roof has reopened with a fresh new look, and it's amazing. There's a pergola (obvs) to shelter from the unpredictable London weather, and there's plenty of outdoor space to lap up the rays when the sun arrives. There's white-washed wood, decking and plenty of eats – New York's The Hamptons has officially arrived in White City.
The Lowdown: Open Wednesday to Sunday, the venue offers everyone their very own piece of US-inspired haven. Relax with a glass of rose whilst eating fresh seafood under Pergola's palm trees, or on one of their bookable thirteen-person day beds, and soak up the summer sun under Europe's largest temporary pergola. Breddos Tacos are dishing out fresh tacos that utilise the best of British produce; 8 Hoxton Square are serving the best of what's in season; and there's burgers by Pergola regulars Patty & Bun.
Where: Television Centre – multi-Storey Car Park, Wood Lane, London W12 7RJ
3. For a Spring Makeover: Dalloway Terrace
What: Dalloway Terrace has re-opened with a blossom filled terrace, a new spring/summer menu, Dalloway Film Club with Hendrick's Gin, and the ever popular Lululemon yoga classes. Lavishly adorned with two large blossom trees, Dalloway Terrace is allowing guests to escape the busy streets of London and lose themselves amidst the tranquil surroundings of the blossom filled terrace. And there's blankets in case you get chilly.
The Lowdown: The spring makeover has been accompanied by a new seasonal menu from Head Chef Hans Louis. New starters include seared hand dived scallops with cauliflower purée, pea shoots and parmesan; chargrilled asparagus, Burford brown egg and hollandaise; and Severn & Wye smoked salmon served with their signature Guinness bread. Welcoming the warming evenings, Dalloway Terrace will also be bringing back #DallowayFilmClub, showcasing an array of movies through wireless headphones and a 30-foot screen. The offering will include a selection of dishes that can be ordered from the Dalloway Film Club Menu paired with a bespoke cocktail inspired by the film being shown
Where: 16-22 Great Russell St, Fitzrovia, London WC1B 3NN
Photo Credit: Claire Menary
4. For an Outdoor Extravaganza: Brixton Beach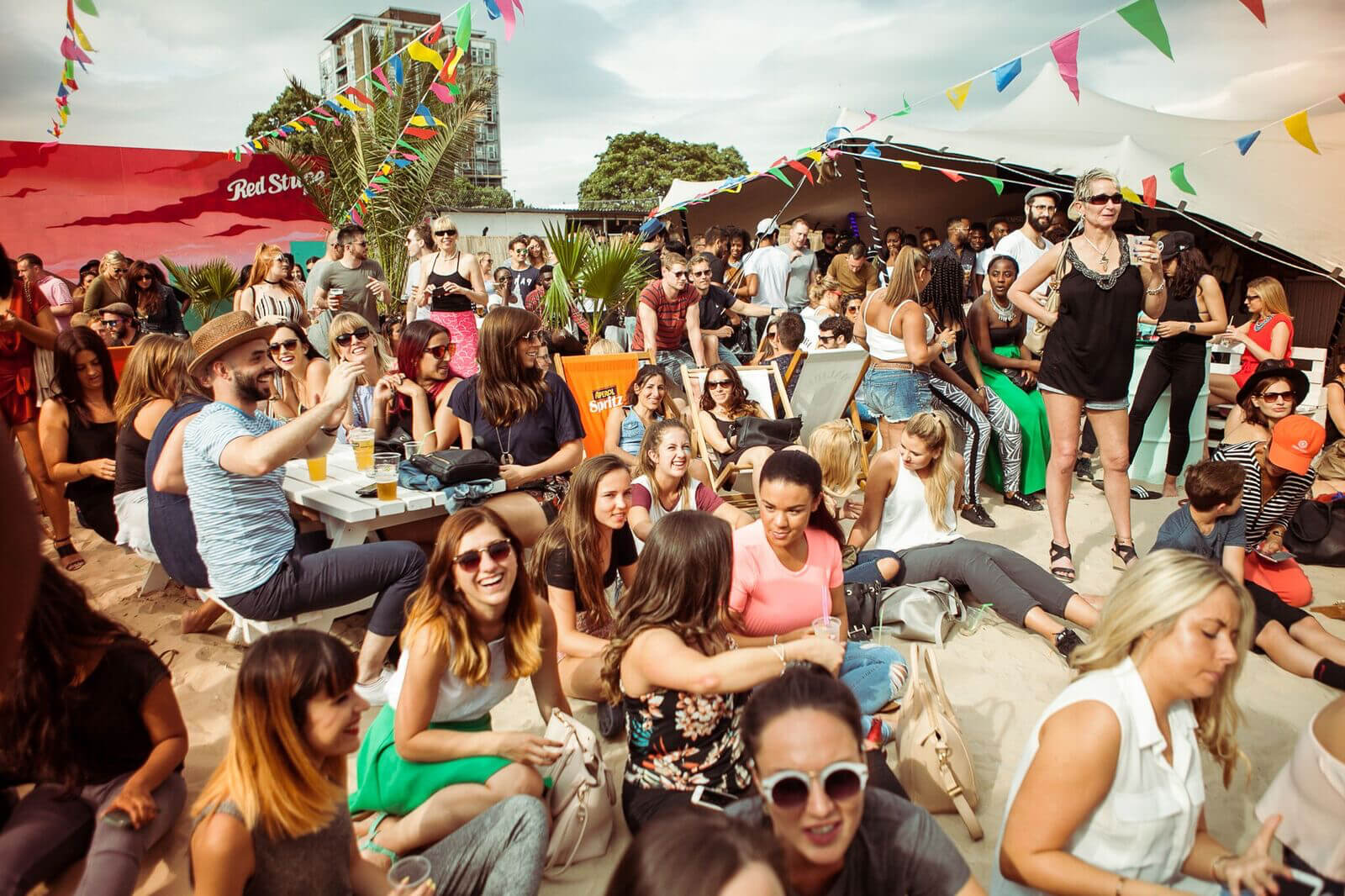 What: Brixton Beach is back! Opening Friday (26th May) and inspired by the vibrant culture of Cuba, Brixton Beach will transport all who enter to a lush and colourful paradise, serving up a winning combination of cocktails, street food and entertainment, creating the ultimate festival atmosphere in South London. The beach party promises an impressive line-up of performances each weekend, including live DJs, traditional Latin American brass bands and exciting cabaret performances. Providing a home for a wide array of musical talent, Brixton Beach will offer everything from house and garage to disco music.
The Lowdown:  The Cuban-inspired cocktail menu will include Caribbean classics such as Rum Daiquiris, Piña Coladas, Cubanitos and Mojitos. The project will host a selection of resident food traders, from some of the UK''s best street food vendors including; mac and cheese experts, Mac to the Future; Brixton's most loved Japanese soul food, Nanban; straight-up, traditional Mexican tacos from Del 74; and STAKEhaus, offering high quality British steak. Salsa the evenings away in The Clubhouse, a covered area inspired by famous nightclubs such as La Floridita and La Bodeguita del Medio, with an ever-evolving series of live music, dancers and cabaret performances.
Where: Pope's Road, Brixton, London SW9 8JH
Not-Quite-Summer Activities: Events
5. For Beer and Beats: Brooklyn Brewery's Mash Tour
What: Every year Brooklyn Brewery's Mash Tour takes a new and delicious form – from concerts, dinners and beer festivals to comedy nights and some seriously standout parties around the world. This year sees the Brooklyn Brewery team taking on one grand undertaking: Beer Mansion, landing in London on Friday 12th May and Saturday 13th May, at MC Motors, Dalston.
The Lowdown: Beer Mansion is a fully immersive beer festival unlike any other. Bringing together some of Brooklyn Brewery's favourite community friends for two days of floor-rattling beats, food, tech, art, games, a pinch of astonishment and of course, beer – the interactive, multi-room experience is a celebration of the wide world of beer and all it touches. Not wanting to keep all the fun to themselves, Brooklyn Brewery has enlisted the help of local brewing friends as well as international sister breweries to serve up their finest beers, including: 40 ft Brewery, Redchurch Brewery, Forest Road Brewing Company, Thornbridge Brewery, Nya Carnegie and EC Dahls. Bringing some bite to the experience, neighbourhood food favourites will also be there – with Voodoo Ray's serving up slices and quesadilla connoisseurs Killa Dilla adding some Mexican heat.
Price: Tickets from £20. Grab 'em here
Where: MC Motors, 28 Miller's Ave, Dalston, London E8 2DS
6. For a Folk Festival: The Nest Collective
What: BBC award-winning promoters The Nest Collective will present the third edition UnampliFire Festival (27th May) as well as a host of weekly Campfire Clubs in unique green spaces, secret parks, community gardens, backyards and urban nature reserves around London (May-October 2017).
The Lowdown: Now in its third edition, UnampliFire festival will be returning to the 17th century Master Shipwrights Palace in Deptford, on the banks of the River Thames, on Saturday 27th May. Music from across the globe will be performed throughout the house's grand rooms, riverside boathouse and around the campfire. Bringing together some of the finest artists in folk, roots and acoustic music from the UK and beyond for one day, the festival promises to be an experience for folk-lovers and novices alike. Previous performers include Martin Carthy, Green Gartside, Cosmo Sheldrake and Seckou Keita.
Price: Tickets from £25.
Where: Master Shipwrights Palace, Watergate St, London SE8 3JG
7. For a South London Festival: Gala
What: GALA is a day festival like no other, combing the best of South London's independent food, drink and music offering for one stand-out event that will kick start the capitals summer. Set in the the scenic Brockwell park with views over the city, GALA will host some of London's greatest food traders and boutique alcohol brands alongside a stellar line up of highly established DJ's and live acts.
The Lowdown: The music is supplied by 'The Holy Trinity of Disco' with Studio 54's mighty Nicky Siano, the legendary Paradise Garage DJ's and South London party-starters Horse Meat Disco for this disco, funk and soul extravaganza. Peckham's own Forza Win will be hosting a pop-up restaurant running three sittings during the day while The Joint, Made Of Dough, Killa DIlla, Bill Or Beak, Chicken Shop, Kricket and more will be on hand to supply plenty of other amazing dishes on the day.
Price: Tickets from £25 – buy here.
Where: Brockwell Park, Norwood Rd, London SE24 9BJ
8. For Comedy, Fun and Food: Underbelly Festival
What: Underbelly Festival is now up and running, and hitting the ground running with a fizzing first month of shows. The festival is home to some of London's coolest, most buzzing outdoor bar spaces, and this year they've expanded their street food and drink offering, including a new range from Tanquery.
The Lowdown: There's interactive madness from South Bank favourites Margaret Thatcher Queen of Gameshows (12th-13th May) and Knightmare Live (21th & 28th May) and all-star burlesque-cabaret mash-up Le Bouge Néon (19th May). Comedy highlights include razor-edged satire from Andy Zaltzman (18th May), and fantastical observations from Sara Pascoe as she delves into the issues raised in her hotly anticipated new book Animal (25th May). For munch, swing by The Laughing Stock for pulled pork baps and other meaty wonders, and Zoe's Ghana Kitchen for killer West African dishes.
Price: Tickets here
Where: 30 The Queen's Walk, London SE1 8XX
Not-Quite-Summer Activities: Fun Stuff
9. For a Night at the Flicks: Rooftop Cinema
What: Save the date because Rooftop Film Club, kings of outdoor cinema, have announced the launch of the world's first 3D rooftop cinema in London this month. The flagship cinema, which sits atop Peckham's famous Bussey Building, will be fully kitted out by 3D technology pioneers, RealD to create an awesome new alfresco viewing experience, which will allow some of the best 3D films to be seen under the stars.
The Lowdown: Fittingly, they are kicking things off with a one-off exclusive screening on 22nd May of Gravity, the critically acclaimed space thriller, starring Sandra Bullock and George Clooney. The Academy Award-winning film, from legendary director Alfonso Cuarón, has been heralded for its spectacular use of 3D. But to make sure guests can fully immerse themselves in Sandra Bullock's epic struggle to get back to Earth, the cinema will also be dressed up and decorated with a cosmic theme to match the movie's stellar setting. Moviegoers can however still expect the usual summery vibes from Rooftop Film Club. There will amazing sunsets and views of London's skyline. There will be comfy deckchairs and signature cocktails, with food from London's best street vendors to enjoy alongside the show.
Price: Tickets are on sale now from £15.
Where: Bussey Building, 133 Rye Lane, Peckham, London SE15 4ST
10. For all the Fun: Roof East 
What: Where else can you watch the sun set over an Olympic Park as you play a round of crazy golf, dance with the stars, hit home runs like Babe Ruth and bowl to a hip-hop beat while sipping cocktails and dining on London's finest street food? Roof East at Straford. (5 points if you answered correctly.)
The Lowdown: Don your skates and flex some fancy footwork with a boogie round London's first rooftop roller disco. Get down to some 80s classics and re-live your Starlight Express days. Given a face lift for summer 2017, Birdies returns with a refreshed course boasting more patience-testing holes and mind-bending hazards than a buggy ride with an angry tiger. London's only batting cage experience will appeal to little leaguers and big hitters. Swing away your stresses in custom-built baseball batting nets. And of course, there's plenty of drinks, snacks and food to go round.
Where: Floors 7 & 8, Stratford Multi Storey Car Park, Great Eastern Way, London E15 1XE