Looking for alternative date ideas in London this week? Want to impress your Tinder date with something quirky? Don't settle for a pint of cider and a Greggs pastry in a beer garden, we've got just the ticket for impressive, fun date ideas. Introducing our new weekly column, which will be discovering the top new ways to date in London. You can thank us later. Phones at the ready, here's ten of the best ways to have fun whilst dating in the capital this week:
1. For Indian Street Food on a Boat: Smoke on the Water
The Idea: Chai Ki, a modern Indian restaurant in Canary Wharf, is planning something special which you don't want to miss. The restaurant is taking to the water for a one-off cruise aboard the Alfred Le Roy – a lovingly restored canal boat.
The Lowdown: The boat will be complete with a bar stocked with CRATE brewery beers, Chai Ki street chaat and a playlist of modern Indian and house tunes. To keep things fun and flowing, there's also Indian-spiced cocktails and coloured smoke and paint canons shooting from the boat, as it cruises down the Limehouse Cut, after departing from CRATE brewery. 
Price: Tickets are priced at £20pp and can be purchased here.
When: The cruise will start at 7pm on 6th April.
2. For a Buffalo Wing Competition: King of Wing at Fu Manchu
The Idea: Not for everyone, but, hey, you'll learn if they're game for a laugh pretty quickly. This legendary spicy buffalo wing eating competition will be taking place at Fu Manchu in Clapham on Friday 31st March.
The Lowdown: Brave competitors with stomachs of steel, London's fieriest all-you-can-eat competition is back: King of the Wing in association with Lagunitas IPA. Wolf down as many red-hot buffalo wings as you can handle in merely 8 minutes. In 2015 a new record was set – a staggering 1.35 kg of meat was consumed within the time limit – and this year chicken-chomping challengers will attempt to beat this hefty total. 30 meat-fiends will eat for glutinous glory and will be in with a chance of winning a generous top prize of a £350 bar tab to spend at The Jam Tree venues.
When: Friday 31st March at 7.30pm – to enter, email: Clapham@thejamtree.com or Chelsea@thejamtree.com.
3. For Getting Dressed Up: Lucky Voice Islington
The Idea: For anyone that's ever gazed into the mirror whilst belting out their favourite star's hit into a hairbrush (that is everyone, right?), private karaoke company Lucky Voice has launched the stuff dreams are made of – the ultimate Fan-cy Dress Shop.
The Lowdown: Containing a host of iconic costumes from throughout the ages, the Lucky Voice Fan-cy dress shop means guests can not only sing their favourite idol's hits, but dress like them too. Inspired by the Japanese trend of 'cosplay' , Lucky Voice conducted research to discover which famous pop-outfit Brits deemed most iconic, and Britney's famous sexy schoolgirl outfit came in at number one. Other outfits will include a replica of Geri Halliwell's Union Jack dress, from 1997's Brit Awards, the white jumpsuit worn by Elvis in 1973, Michael Jackson's red Thriller suit from 1983 and the inimitable bow wig and glasses combo worn by Lady Gaga on tour in 2008.
Where: 173-174 Upper St, London N1 1RG
4. For Chocolate Lovers: Hotel Chocolat x The London Eye
The Idea: This is a chocolate lover's dream – enjoy an exclusive Hotel Chocolat Tasting Experience on the Coca-Cola London Eye where you sip chilled Prosecco, and learn all there is to know about the world of luxury chocolate.
The Lowdown: The perfect experience for those chocolate lovers, you will enjoy a chocolate tasting with a Hotel Chocolat expert at 135 meters above the River Thames over two 30-minute rotations, whilst taking in incredible views of London's skyline from one of the capital's most iconic landmarks. The event features chocolate and truffle tasting with Hotel Chocolat ambassador, two glasses of Prosecco and you will leave with a Hotel Chocolat goodie bag for everyone to enjoy.
Price: £53.95 online per person
When: For more information and to book tickets, see here.
5. For Drinking All the Negronis: Cocktails in the City
The Idea: Love a cocktail? Get down to this three-day celebration of cocktails. Cocktails in the City mixes together twenty-eight leading bars in pop-up form under one roof.
The Lowdown: From five-star hotels to secret speakeasies, get shoulder-to-shoulder with world leading bartenders for an evening of discovery and new experiences. To celebrate their fifth anniversary, a handpicked selection of international bars are flying in for the festivities so raise a glass and join them for the occasion. Campari are in partnership with Hide Bar at the event, who will be serving a range of delicious cocktails including a Rhubarb Negroni. Additional show experiences include tasting tables, secret bars, an al-fresco zen garden and the finest street food.
Price: Entry ticket of £15 includes one cocktail on arrival. Additional cocktails are £7.50
When: 30th March – 1st April. Book here.
6. For Divine Cheese Toasties: The Cheese Bar
The Idea: Are you a cheese lover? Then head down to The Cheese Bar in Camden Market: a permanent site from the people behind The Cheese Truck, which has been roaming the UK for four years.
The Lowdown: A restaurant dedicated to cheese, what more could you want? Unless you're lactose intolerant. There's over 30 cheeses to choose from, which are just waiting to be toasted to perfection. There's also a cheese-based dessert menu, with cheesecake, ice cream and more. We're in heaven. What's more, The Cheese Bar is now soft-open, with 50% off food until the 30th March. Find out more their Facebook page, and their website here.
Where: Unit 93, and North 8AH, 94 Chalk Farm Rd, London NW1 8AP
7. For Japanese Culture: Proud East Pop-Up Japan
The Idea: Want to taste Japan? Proud East is bringing the tastes and energy of Japan to London with their new pop-up, perfect for Japan-lovers and foodies alike.
The Lowdown: Embrace the sounds, tastes and vibes of Japan this March and venture down the blossom-lined paths of Regent's Canal to Proud East. With hands-on workshops, eclectic cinema and the delicate tastes of Japanese fine cuisine, Proud's pop-up fuses Tokyo's dynamic cultural hub with century old customs. It's going to be a total food fest; Proud East's kitchen will be taken over by everyone's favourite Tonkotsu, with a tantalising menu of fresh Gyozo, Crab Korokke, Chicken Kara-age and Tonkotsu's signature dish, their intensely flavoursome and creamy ramen. We love.
When: Monday-Friday: 12:00-22:30pm, Saturdays 10:00-22:30 and Sundays 10:00-21:45 from Friday 7th April.
8. For Mini Golf: Junkyard Golf Club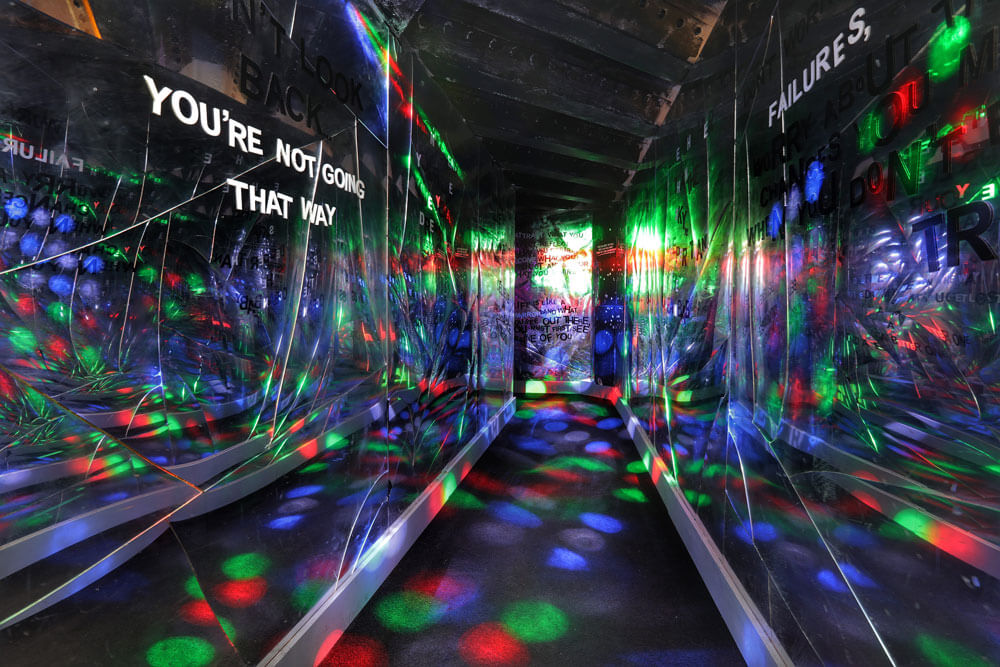 The Idea: Junkyard Golf Club London has reopened following a serious face-lift at the Old Truman Brewery, Brick Lane. Don your plus fours and bring your team spirit.
The Lowdown: Fresh courses are now available, all designed to a whole new level for maximum crazy golf trickery and enjoyment. Add to this upgraded bars, perfect for pre, mid and post-game drinks, cocktails, fairground style snacks and the ever-popular Junkyard Golf Club London is ready to be rediscovered. Eager putters can try their luck on three new courses, and enjoy two new 'bunker' bars, plus four perfectly placed course-side for mid-game refuelling, offer up a full selection of drinks, slushies and party cocktails served in big red house-party style cups.
Price: From £9.50, including booking fee. 
Where: The Old Truman Brewery, Old Truman Brewery, 91 Brick Ln, London E1 6QL. Tickets are now available here.
10. For a Cinema on a Lorry: The Incredible Moving Picturehouse
What: Want to do something different this week? The Incredible Moving Picturehouse rolls into Ealing this Spring with a wonderful programme of the year's best awards contenders for your consideration.
The Lowdown: Experience England's only 'Cinemobile' – an articulated lorry that turns into a 100 seater, fully air conditioned cinema. Get involved at Ealing Filmworks, New Broadway from Thursday 23 March to Thursday 6 April for a unique cinema experience brought to you by Picturehouse Cinemas and St George Developments. Films include Manchester by the Sea and Moonlight. Yes, please.
Price: From £9.50
When: From Tuesday 28th March. Book here.
One for your diary…
11. For Milk and Cookies: Blondies Kitchen x Selfridges
What: Following the success of their Old Street Station pop-up, Blondies Kitchen has announced their first retail collaboration with Selfridges, where they will launch their hugely popular milk and cookie bar on Monday 1st May.
The Lowdown: The new pop up will be launching as part of Selfridges 'Our House' scheme which celebrates tastes of home. For one month only, the brand-new Raspberry & Coconut cookie and Frosted Flakes cereal milk will be available exclusively at the Selfridges' Foodhall pop-up – a limited edition pairing not to miss out on. Their signature Cookie Icon – two classic milk chocolate cookies sandwiched together with an outrageous honeycomb chocolate mousse – will also be back due to popular demand. Gluten-free and lactose-free diets are also catered for with the return of Gluten Who? Peanut butter oats cookie and almond milk by Plenish.
When: Located in the Foodhall at Selfridges from 9.30am on Monday 1st May 2017.