If you loved James McAvoy as Mr Tumnus but were concerned you would never again have the opportunity to see him hopping around shirtless, then fear not. As part of his current West End stint in Jamie Lloyd's revival of Peter Barnes' 1968 play The Ruling Class, the handsome Scot appears on stage half naked at the Trafalgar Studios, starring as paranoid schizophrenic Jack Gurney, heir to his aristocratic (and deceased) father's estate.
Photo credit: Johan Persson
Jack's mental state leads him to adopt various personas, most notably that of Jesus Christ, or JC, as he prefers to be known. He sleeps nobly on a giant cross, the words 'God is Love' scrawled across his chest, and spends vast proportions of the play's early scenes preaching biblical verse to his corrupt Tory relatives. McAvoy seamlessly portrays Jack's pedigree: his toff accent on point and his charm rivalled only by that of Tony Blair. It's a stunning jump for the star and a serious departure from his brooding Macbeth days.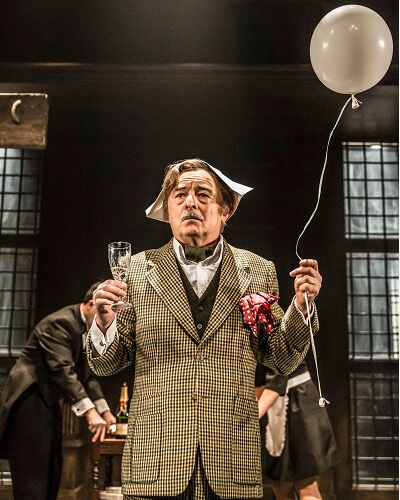 Photo credit: Johan Persson
As you might imagine, much of The Ruling Class is incredibly humorous, channelling a Wildean sense of period comedy that, whilst very much of it's time, still remains relevant today. Digs at various outmoded institutions are plentiful, with members of the House of Lords draped in cobwebs and pervert jibes predictably directed towards the clergy. Yet there's also a more subtle surrealism at work in Barnes' representation of the upper classes that is very much designed to appeal to 2015's classist zeitgeist. Whether you're comfortable or not with this exaggerated study of the 'upstairs' sector of society, there's no doubt that you'll be thoroughly captivated by what that Mr Tumnus can do.
Photo credit: Johan Persson
Until 11th April, trafalgartransformed.com/whats-on/the-ruling-class