Jerry's Girls, a musical revue based on the songs of composer/lyricist Jerry Herman, arrives at The St. James Studio with cabaret crooners and feather boas by the truckload. If you're wondering, just who is Jerry and who, precisely, who are his inimitable "girls", then look no further that this production. Jerry Herman is a multi Tony Award-winning composer and lyricist of some of the greatest Broadway musicals of all time including Hello Dolly!, Mame, Mack and Mabel and La Cage Aux Folles. As for this "girls" – these heroines include Dolly Gallagher Levi of Hello, Dolly!, Auntie Mame Dennis of Mame, Countess Aurelia of Dear World and Mabel Normand of Mack and Mabel. And that's not forgetting the actresses who immortalised these roles for the stage, like Barbra, Ethel, Angela and Bea. (If you are stumped searching for the second names of these musical darlings – consider this show your initiation in Broadway Broads 101.)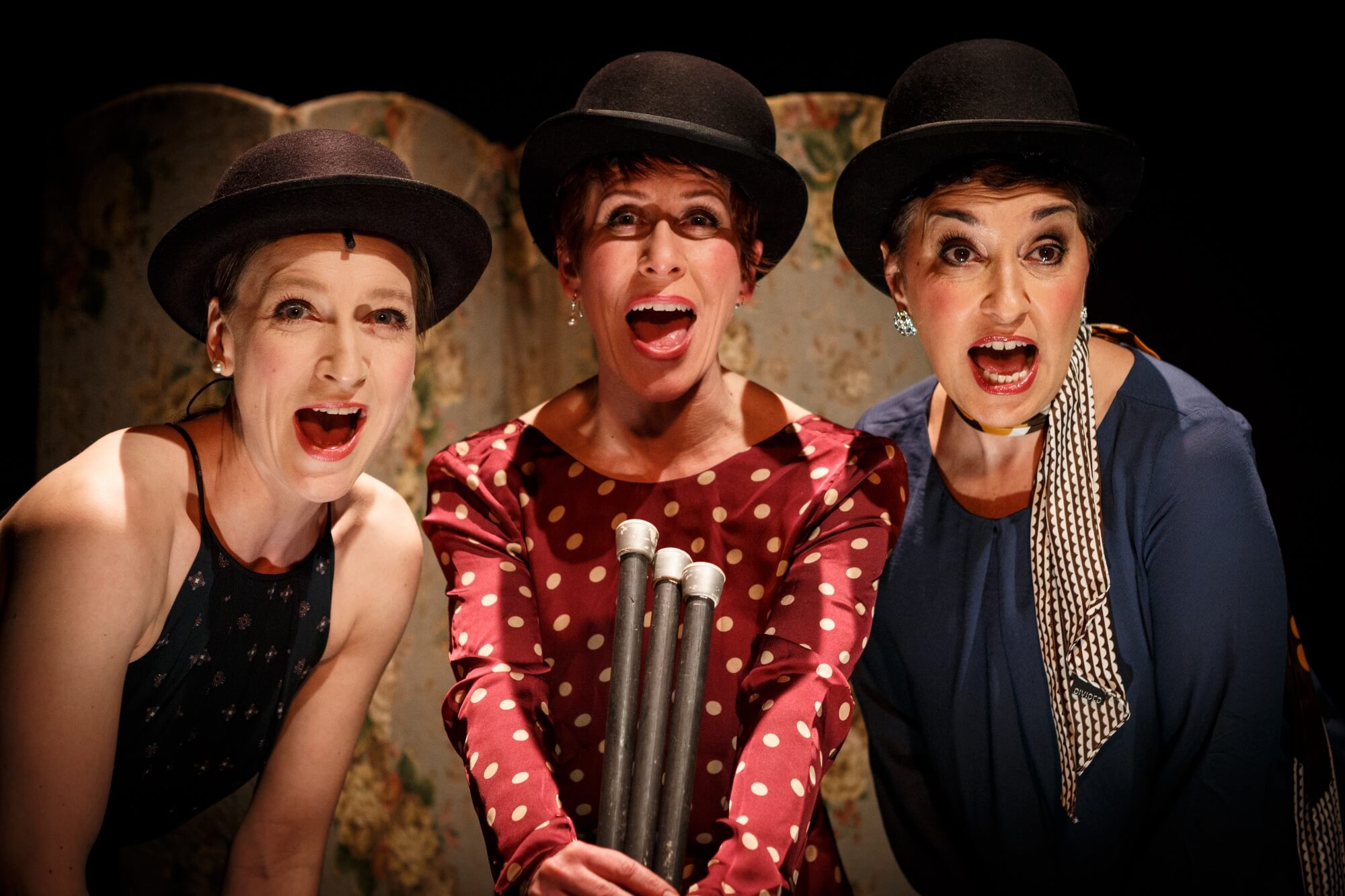 Photo credit: Darren Bell
Jerry's Girls' all-female cast to pays tribute to the song catalogue of Jerry Herman in a setting that is plucked straight out of the New York dive bar scene. Using makeshift sets and limited props, multi-tasking musician Sophie Byrne serve as saxophonist-cum-clarinet player-cum-Christmas tree (it's cabaret; they have limited resources) while sultry pianist, Edward Court, provides welcome bass notes. Two hours of musical entertainment will see you Tap Your Troubles Away, with Matthew Cole's charming choreography accompanied by a percussive mini-bar. Leading ladies (Ria Jones, Sarah-Louise Young and Anna-Jane Casey) show off their broad range of vocal and dramatic ability through a montage of optimistic tunes (Before the Parade Passes By), enchanting waltzes (I Don't Want to Know) and melancholic chanson (I Wont Send Roses).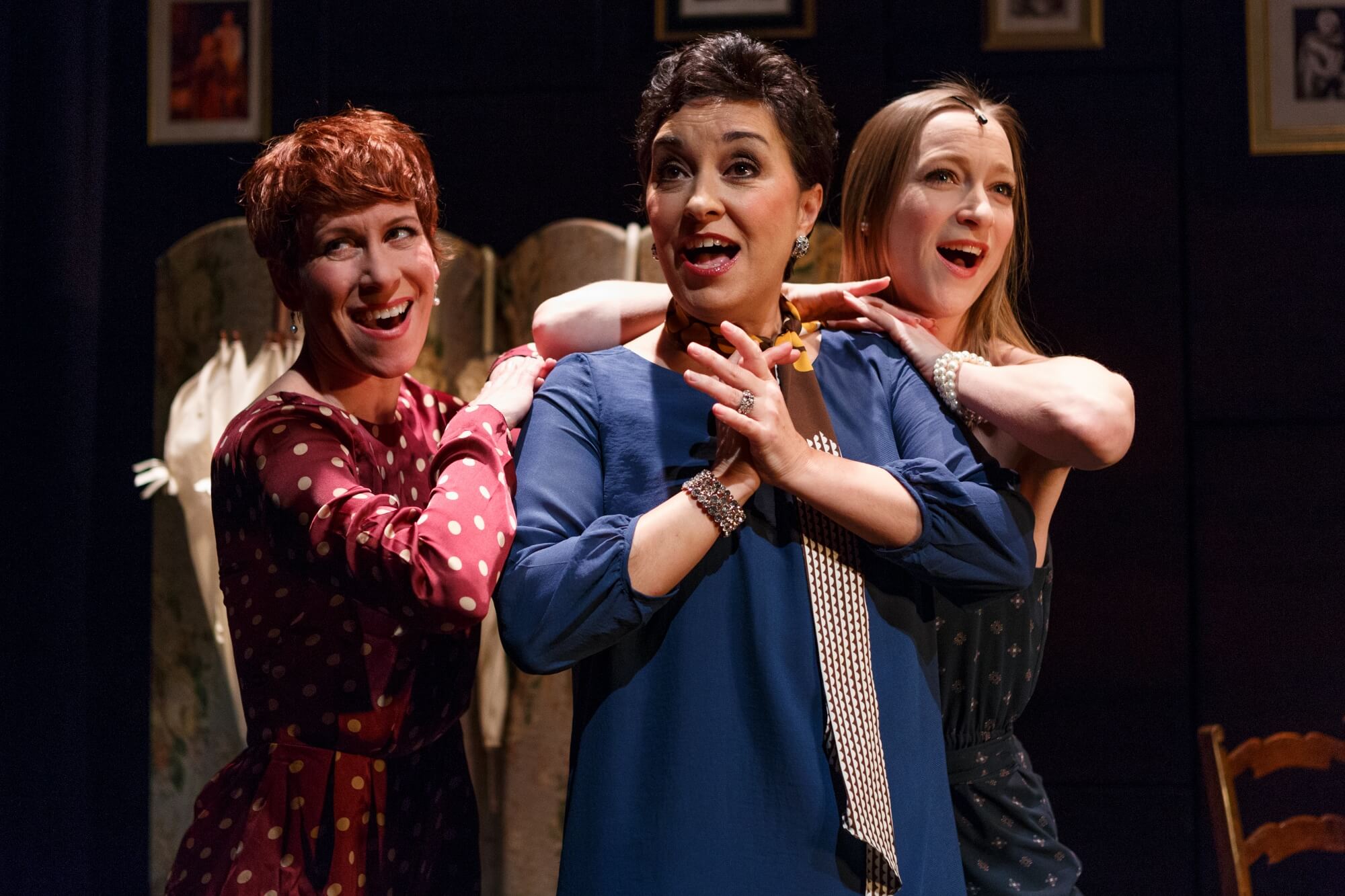 Photo credit: Darren Bell
With hummable tunes and witty lyrics, Jerry's songs of luckless heroines and closeted cabaret singers work particularly well in this musical medley of his greatest hits. Jerry's "new girl", the transvestite chanteuse Za-Za of La Cage aux Folles, delivers a blazing execution of I Am What I Am, a firm footed and stoic performance by Ria Jones. The awkward charms of Sarah-Louise Young bring a certain charisma to the stage, while standout performer goes to Anna-Jane Casey, for her delectable, humorous and intimate renditions of Jerry's choice works. With three great sets of lungs and plenty of raw talent, prepare to be stirred and seduced by this rambunctious revival of Jerry's Girls, directed by Kate Golledge.
Photo credit: Darren Bell
Until 15th March, stjamestheatre.co.uk/studio/jerrys-girls/