Ballyturk, written and directed by Enda Walsh (the man behind the stage adaptation of Once), made its world première at Galway International Arts Festival last July and quickly became the fastest selling show in the festival's history. Now playing a five-week season at the London's National Theatre, Walsh's latest play is a fruitful, harrowing and hysterical presentation of restless uncertainty.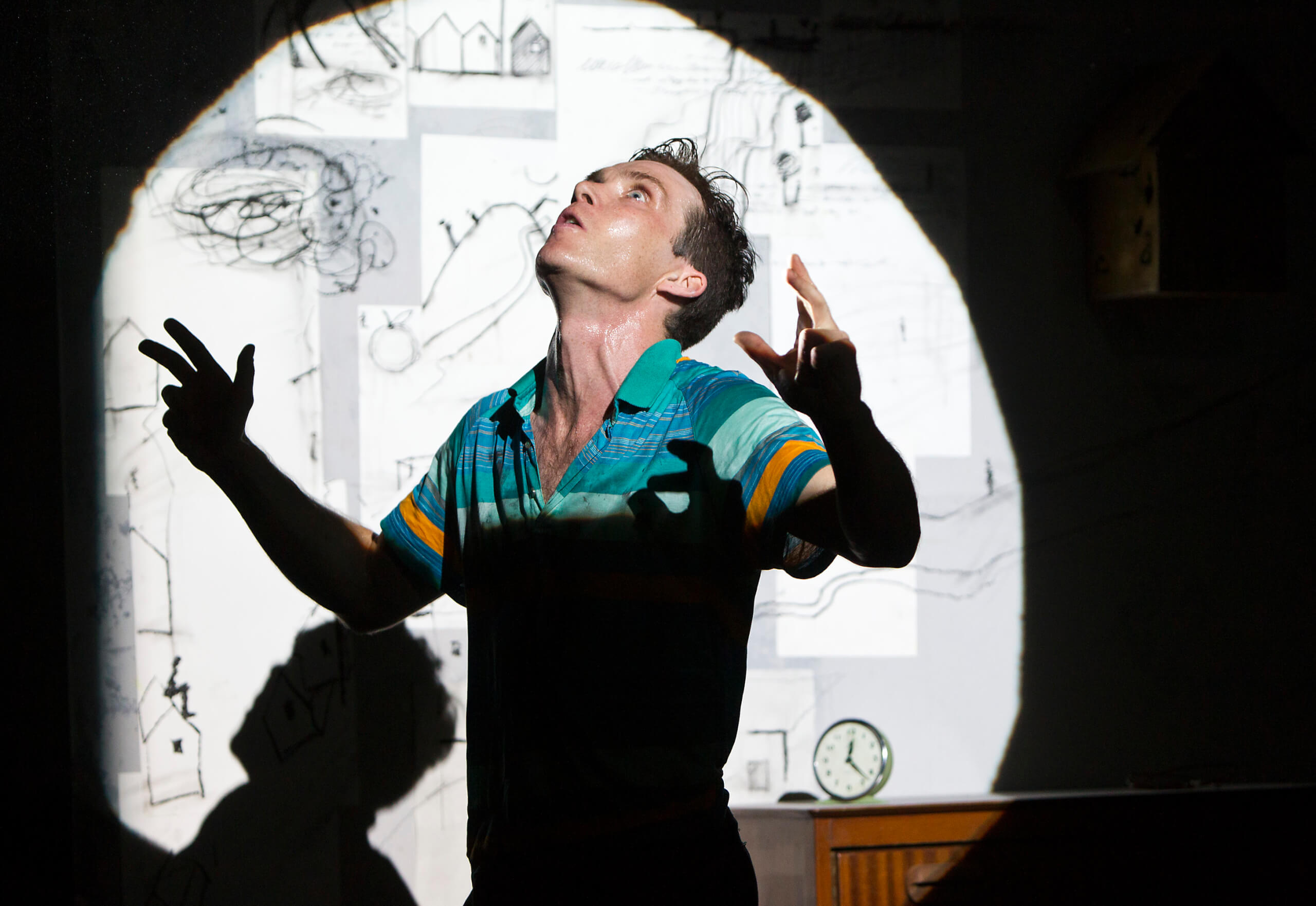 Image credit – Patrick Redmond
Cillian Murphy (best known for his acclaimed screen performances in films such as Breakfast on Pluto and The Dark Knight) and Mikel Murfi (Jimmy's Hall) portray two innocent men, warped in their own reality within the fictive town of Ballyturk. This 90-minute production is spurred on by the manic energy of the two central characters, whilst also harbouring a chorus of village personas. The unnamed men, played by Murphy and Murfi (did we mention this was an Irish production?), conspire in a story of their own making, becoming both confined and liberated by their words.
Image credit – Patrick Redmond
Ballyturk works with and against the 'great tradition' of Irish prose. Monotonous, humdrum and pre-empted lives are presented in a conflict of humour and tragedy. The show has an overtly pessimistic view: die or live in repetitions. However, it is also a production which seeks to addresses the dilemma of theatre through confined space and endless words, the role of institutions in Ireland's past and other quandaries. Walsh highlights the moments of silent action, ludicrous posing and endearing choreography, drawing much of Ballyturk's humour from physical comedy.
Image credit – Patrick Redmond
The plot itself unravels and never quite wraps up again. Be prepared for a haze of uncertainty and question marks left hovering, as this abstract show makes no distinct attempt to state its point. "Where are they? Who are they? What is this room, and what might be beyond the walls?" Ballyturk will undoubtedly speak to a variety of audiences – even if they might not be 100% sure of quite what it is saying.
Image credit – Patrick Redmond
Until 11th October, nationaltheatre.org.uk/shows/ballyturk