About Time: You Enjoyed a Festive Weekend in Carnaby LondonBy Angelica Malin
Looking for something fun and festive to do this Christmas? Why not take a day trip to Carnaby London, our favourite shopping and dining destination in London; there's plenty of new shops, experiences and restaurants to enjoy in the area, making it the perfect day out for all the family. Here's our guide to the best things to do in Carnaby London right now:
Carnaby London has a compelling heritage as the birthplace of Swinging London in the 60s; and today plays host to many global brands, independent stores and world-first concepts. A short walk from Oxford Circus and Piccadilly Circus tube stations, Carnaby is a one-stop shop for shopping and dining in the capital, with over 160 brands across 14 streets, including world-famous Carnaby Street and local favourite Kingly Court.
Carnaby Kaleidoscope Installation
For Christmas this year, Carnaby has had a festive makeover; as part of Carnaby Kaleidoscope Installation, in collaboration with charity partner Choose Love, there's over 600 sparkling 3D and 2D butterflies fluttering down Carnaby Street, Foubert's Place and Newburgh Street. Each butterfly is hand decorated with reflective wings and bright neon patterns and the Carnaby arch shines bright in pink shimmer disks with brightly coloured 3D butterflies perched above.
There's so much to do in Carnaby London you'll be spoilt for choice – and their current Carnaby Kaleidoscope Christmas installation gives it a real festive sparkle! Here's our favourite new and noteworthy shops in the area:
Newly opened for 2021, Queen the Greatest Store is a must-visit for music lovers. In celebration of five decades in music, you can now head to 57 Carnaby Street and immerse yourself into the pop-up – it's the only place in the world where you can purchase the official Queen merchandise! Delve deep into a line-up of limited edition music releases, collaborations and lifestyle products with weekly new product drops. Each month of the pop-up has a special theme; including Music, Art & Design and Magic, with visual installations that act as storytelling from each of Queen's historic decades.
Sticking with the music theme here: the rock 'n' roll legends that are the Rolling Stones are situated at 9 Carnaby Street with their world-first flagship store 'RS No. 9 Carnaby'. The store, created in partnership with Bravado, Universal Music Group's merchandise and brand management company, features all of the hallmarks of the iconic band and includes exclusive fashion label 'RS No. 9 Carnaby'. They've got special limited-edition items for Christmas, including the iconic Rolling Stones tongue with a festive makeover.
A brand new opening for Carnaby London, Motley London brings you exceptional jewellery designed by the best independent designers – so you know you're supporting independents by shopping here. If you're looking for fine jewellery without the fine jewellery prices, this is the place to head.
A celebrity favourite, Annie's Ibiza is the place to visit for unique, curated fashion – the brand supports young, emerging luxury fashion designers together with global brands and mixes them with rare, collectable vintage dress designs. Loved by the likes of Kate Moss, Rita Ora and Paris Hilton, Peggy Gou, celebrities travel here for Annie's unique and one-of-a-kind pieces. Expect bespoke vibrant fashion pieces, handpicked by Annie from an array of designers at her boutique located on Newburgh Street.
Who doesn't love a great pair of trainers? Mallet London is a unique and pioneering brand which pushes the boundaries of style for the modern man and woman. Founded in 2015 by unconventional entrepreneur Tommy Mallet and businessman Evren Ozkarakasli, Mallet is known for its bold yet minimalistic silhouettes with sleek soles. At just 28-years old, Tommy Mallet, recently named Forbes 30 Under 30 Europe for Retail & E-commerce, has built a successful footwear business despite having no formal design training.
War Paint For Men's ethos is to break the stigma that makeup is solely for women – they are all about making men feel comfortable to express themselves full and in any way they like. This is the world's first makeup and wellbeing store committed to and created specifically for all men in the heart of London. The Carnaby Street stores features in-house pop-up barber and a bespoke makeup machine – this is your spot for those products and services in the beauty regime you have been waiting for.
Nobody's Child is an eco-conscious fashion brand for women; they aim for zero-waste capsule collections at accessible prices. So if you're looking for a spot of sustainable shopping, this is the first pop-up shop fo Nobody's Child – the fashion-forward brand that is currently showcasing their new SS22 collection, with beautiful dresses, loungewear and swimwear. Come discover the beauty and quality of the products created by Nobody's Child for yourself.
Honestly, we can't say enough good things about these dumplings. Ugly Dumpling combines Western ingredients and Asian home recipes to elevate and refine the perception of the humble dumpling, from Asian street snack to easy dining experience. Their vision is to create the world's finest ingredient-led dumplings. You can enjoy a Meal Deal from Monday-Friday 12-5pm, which features 5 classic dumplings and noodles for £10. We loved the prawn and chive dumplings (they also have gluten-free versions) and will be coming back for the Nutella and mixed nuts dumplings for sure.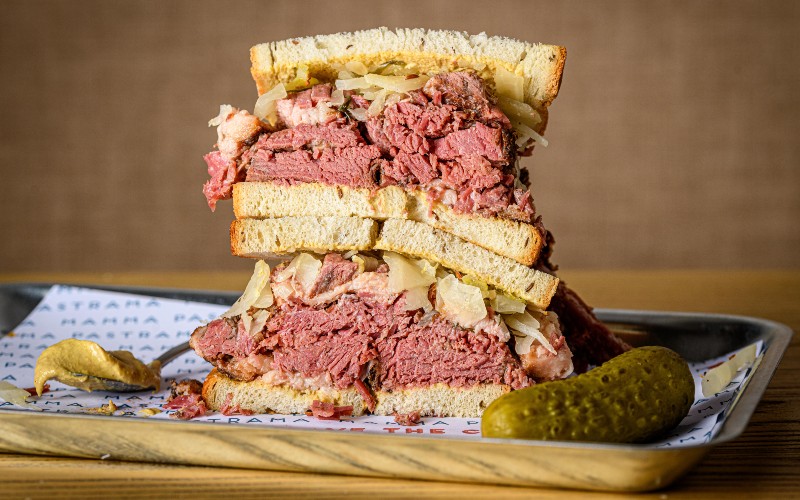 The perfect lunchtime option, Mamma Pastrama has taken on the classic American sarnie and given it a reboot with the magic of chef Jay's cured meats. Expect classic pastrami sandwiches and some rather wacky London takes on the NYC dish. The menu includes the Classic Pastrami, Big Mamma Melt, Pastrami & Kimchi Toastie and a vegan Beet Reuben – and our personal favourite epic Smoked Salmon Reuben. To wash it down, treat yourself to a craft beer from Bethnal Green's BOXCAR brewery, soft drinks from East London's Square Root and coffee from Origin Coffee Roasters.
Inspired from the era that saw Londoners take refuge in the underground, Cahoots replicates the wartime British spirit with drinks and sing-alongs around the piano to boost morale. Sit on reworked 1940s tube carriage seats and enjoy a cocktail from their extensive bar list. Classic cocktails, rum, gin and London ale are available in quirky mugs, hip flasks, vintage milk bottles and tins or share a Cahoots' signature sharing cocktail 'Meet Me Under The Station Clock'. Look out for the underground sign on the ground floor of Kingly Court by the Beak Street entrance.
Polpo are award-winning Venetian restaurants in London, known for their sublime atmosphere, delicious Cicchetti and authentic Italian flair. The menu is small but perfectly formed, with Cicchetti to share, Pizzette and larger main plates. We loved the tomato & fior di latte arancina and potato & truffle crocchette for little bites of heaven, and the Mozzarella, tomato & oregano is a simple, exquisite thing of beauty. You can't miss their famous deep-friend Calamari and everyone's favourite Zucchini fries too. Also: they do a great Tiramisu for pudding, which is always the test of a great Italian restaurant.
If you're looking for a rock 'n' roll stay in the heart of Carnaby, then head to Karma Sanctum Soho, the brainchild of Concept Venues' Mark Fuller. The boutique hotel features a private cinema event space, the best of British cuisine restaurant at Wild Heart Bar & Grill and super trendy bedrooms. What's more, there's a private roof-top terrace, complete with 24-hour bar and jacuzzi. The location couldn't be better for exploring Carnaby Street; expect a level of service and hospitality worthy of a rock star too.
To find out more about Carnaby London, visit their website here and follow them on Instagram here