About Time You Visited: The World's Most Stunning Music FestivalsBy Toby Leston
Introducing: The World's Most Stunning Music Festivals. Year after year festival season rolls around, and fleets of music's biggest names and stages travel in convoy around Europe, invading every country, and setting up in every beautiful space that will have them along the way. So why do we always end up in some car park, wondering whether the heat from the tarmac will dry the cider out of our t-shirts quickly enough to ruin them in a neighbouring dustbowl, while some frontman dribbles incomprehensible shoe-gaze into a microphone? If you're looking for beauty as well as music, here's some prettier suggestions for those looking to buck the trend of attending ugly festivals:
#1 WATER-LOCKED
1. Eurockéennes Festival, France
Where: Lac de Malsaucy, Belfort, France
What: A gorgeous waterside setting in a French nature reserve, this is one of France's biggest festivals and it's perched on a peninsula on the Malsaucy lake. The name literally is a combination of the words 'Rock' and 'Europeans', so I think we're welcome to join the Frenchies for the riffs and the scenery.
Who: The Pixies, Skrillex, The Black Keys
When: 4th -6th July
Web: http://www.eurockeennes.fr/#  
2. Traena Music Festival, Norway
Where:  Traena, Nordland, Norway
What: Near-lost 65km North into the North Atlantic you'll find Norway's smallest municipality – Traena. Here, the small community put on a festival of music and culture, and you have to take a ferry from Bodo to get there. They say themselves "Traena is the final proof that paradise does not have to be in the tropics".
Who: First Aid Kit, Store P, Kyla La Grange
When: 10th -12th July
Web: http://www.trena.net/en/transport
3. Sunscape Festival, Malta
Where: Gozo, Malta
What: A music, art, lifestyle and adventure festival, the island of Gozo (part of the Maltese archipelago) is the home to the first ever Sunscape. While you can catch some great DJ's there, you can also try your hand at anything from yoga to archery, zip lining to kayaking as well as indulge in the unique perfomances, art illusions and film showings that are put on for you, all set to the backdrop of this beautiful Mediterranean island.
Who: M.A.N.D.Y, Guti, Thomas Schumacker
When: 3rd -10th September
Web: http://sunscapefestival.eu/
#2 BEST OF BRITISH
4. Festival Number 6, Wales
Where: Portmeirion, Gwynedd, Wales
What: The striking Portmeiron, an architect's interpretation of a Mediterranean villa, is a beautifully bizarre little place. Nestled between the peaks of Snowdonia, the forests of North Wales and the waters of the River Dywryd, it is the home of Festival Number Six. Widely lauded for it's beautiful surroundings, and even described by this year's headliners London Grammar as "surreal", this is one of the UK's most interesting offerings.
Who: London Grammar, Beck, Pet Shop Boys
When: 5th-7th September
Web: http://www.festivalnumber6.com/
5. Green Man Festival, Wales
Where: Black Mountains, Brecon Beacons, Wales
What: From ceilidhs to Bill Callahan, Wales' wonderful Black Mountains host a little Glastonbury-like festival of music and culture. A wholesome feel with a spiritual and ethical approach, it's a nice one for the very best of folk and electronic music. So if you've outgrown the Eavis family and want a top up of hippy happiness, I'd head towards the Brecon Beacons.  Glanusk Park, where the festival takes place, is a former stately home yet the impressive Green Man statue alone, traditionally burnt on the last night, is reason enough to visit this beautiful festival
Who: Beirut, Neutral Milk Hotel, First Aid Kit, Bill Callahan
When: 14th -17th August
#3 FORTRESS FANCY
6. Dimensions Festival, Croatia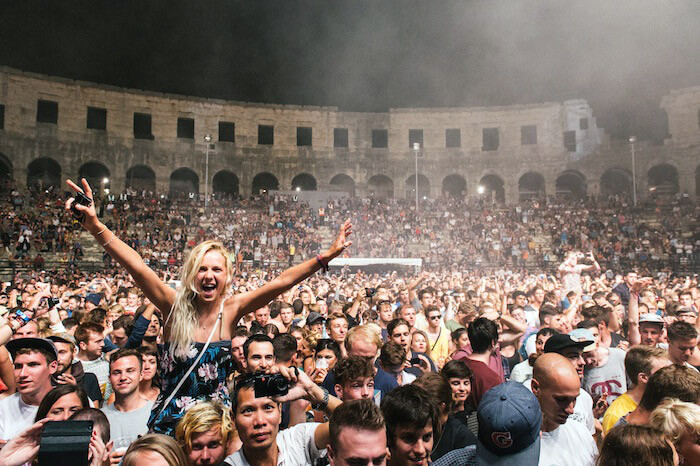 Where: Fort Punta Christo, Pula, Croatia
What: No stone of this 150 year old fort is left unturned, transforming 18th century moats and circular pits into some of the world's most beautiful festival stages. With a focus on House, Techno, Drum & Bass and Dubstep – Dimensions more than holds its own amongst its fellow Croatian dance music event peers. Also worth mentioning, the opening concert takes place in a quite stunning Roman Amphitheatre.
They describe the festival as "The Lost World mixed with a bit of Tomb Raider", and that should be enough really.
Who: Warpaint, Caribou, Jon Hopkins
When: 28th August – 1st September
Web: http://www.dimensionsfestival.com/
7. Exit Festival, Serbia
Where: Petrovaradin Fortress, Novis Sad, Vojvodina, Serbia
What: Named as the Best Major European festival earlier this year, the biggest names in music flood to this fortress by the Danube. Forget the dusty queues of Reading and the mud swamps of Glastonbury, and trade them in for the cobbled alleys of the Petrovaradin with open air stages through every tunnel, ready to put on a show right up till morning. Also, prepare to re-evaluate everything you thought you knew about heat; Serbia is a scorcher in the summer. And if one's not enough, don't miss out on twin festival Sea Dance by the beach in Montenegro just after Exit finishes.
Who: Gloria Gaynor, Jamiroquai, Damon Albarn, Afrojack vs Quintino, Andy C
When: 10th -13th July
Web: http://www.exitfest.org/en 
#4 INDUSTRIAL STENGTH
8. Electro Magnetic Festival, Germany
Where: Volklinger Hutte, Volklingen, Saarbruken, Germany
What: Based in a World Cultural Heritage Site, the Volklingen is a monstrous former steel plant which hosts dance acts and visual/light artists alike.
Who: Fritz Kalkbrenner, Marek Hemmann, Felix Da Housecat
When:  July 19th
Web: http://www.electro-magnetic.de/ 
9. Melt!, Germany
Where: Ferropolis, Grafenhaincichen, Germany
What: Party at the feet of five ginormous mining caterpillars at this electro meets rock festival, in the grounds of what used to be surface mine Golpa-Nord.
Who:  Portishead, Baauer, Bombay Bicycle Club, Clean Bandit
When: 18th-20th July
Web: http://www.meltfestival.de/en.html
#5 BEACHSIDE BEAUTY
10. Unknown, Croatia 
Where: Camp Amarain, Rovinj, Croatia
What: While still relatively new festival, a huge buzz remains around Unknown. Sandwiched between Rovinj – a picturesque, fairytale little town – and the beaches of the Adriatic sea you'll find some of the best live music around nuzzled inbetween the cooling trees and the crystal blue ocean. Not to mention the parties at sea here, get on board for the boat parties.
When: 8th -12th September
Who: Chic Feat.Nile Rodgers, Disclosure, Chvrches, Clean Bandit
Web: http://www.unknowncroatia.com/
#6 ALTITUDE LOVERS
10. Meadows in the Mountains, Bulgaria
Where: Polkovnik Serafimovo, Bulgaria
What: Up in Bulgaria's breathtaking, green Rhodopian Mountains is the quaint Polkovnik Serafimov, 850m above sea level and not too far from the Greek border. This is where Meadows in the Mountains sets up camp, and you'd be hard pushed to challenge it for stunning surroundings. With a combination of expansive views, gorgeous green spaces and a sprinkling of architecture from roman to 18th century Bulgarian, this is a beautiful setting for sure.
Who: Mayan Nidan, Rude Hagelstein, Jazzanova
When: 13th – 15th June
Web: http://www.meadowsinthemountains.com/ 
12. Fuji Rock, Japan
Where: Naeba Ski Resort, Yuzawa-Machi, Niigata, Japan
What: Although the name deceives, and this is not at Mt Fuji's base at all, Fuji Rock does take place in the luscious green forests in Japanese mountains just off the coast of the Sea of Japan. The region is known for it's hotsprings, and with a river running through the campsite grounds this is everything you need from a forrest festival – in a country that's still a bit off the beaten track for the festival circuit. As a bonus, it's within 90 minutes of Tokyo by bullet train. This should certainly be one for the bucket list.
Who: Basement Jaxx, Arcade Fire, Outkast, Jack Johnson
When: 25th – 27th July
Web: http://www.smash-uk.com/frf13/index.html
#7 AFRICAN ESCAPE
13. Gnaoua Music Festival, Morocco
Where: Essaouira, Morocco
What: If there's anyone I trust in this world, it's the location scouting team for Game of Thrones. The show, renowned for it's stunning backdrops, filmed parts of its third season in Morocco's D'Essaouira (or Astapor in the show). But when not playing host to televisions favourite fantasy drama, it also hosts a 4 day music festival in this striking coastal town where many of the concerts are free.
Who: Marcus Miller, Mario Canonge
When: June 12-15th
Web: http://www.festival-gnaoua.net/en/
14. Lake of Stars, Malawi
Where: Sunbird Nkopola Lodge, Mangochi, Malawi
What: By Lake Malawi's edge comes this spectacular, palm-shaded festival, combining Malawian and international artists for three days in September. Foals, The Noisettes, The Maccabees and Get Cape Wear Cape Fly have all played at this African paradise in recent years.
When: 26-18th September
Who: Zone Fam, Agorosso, Peter Mawanga, Piksy
Web: http://www.lakeofstars.org/ 
And hey, if you want to know the best and cheapest ways to some of the best festivals, Compareandfly.com have the answers here.