Cider has experienced something of a renaissance in the past few years; with an abundance of trendy microbreweries popping up around London, providing a wealth of specialist beers and ales to über-cool City kids, it was only a matter of time before cider followed suit. Keen to push out the sugary, fizzy tipple served behind majority of bars in the city, a few campaigners and manufacturers have been working to rectify the situation by providing and promoting the sale of proper, artisanal ciders (i.e. those to have had actual contact with an apple).
After calling the South West of England – aka the birthplace of cider – home for a few years in my early twenties, I developed a taste for the real stuff and now like to think I know a proper glass when I see it. So it was a real disappointed when, returning to London, I was placated with a pint of Strongbow or Magners in place of what I was truly thirsting for.
Needless to say, I embrace this movement wholeheartedly; you no longer need to take a four-hour train ride to the heart of Somerset's lush countryside (although it's certainly worth a trip if you've got a spare weekend) for a glass of delicious, real cider. With a host of pubs and breweries now offering a number of farmhouse varieties (The Euston Cider Tap, Jolly Butchers and Wenlock Arms to name a few) it really is about time you got on board. And what better way to do so than to fully immerse yourself in the traditional cider making ways of our South Westerly brethren!
This Saturday 31st Jan, artisan wholesale company The Cider Box are offering the opportunity to experience that most quirky and distinct of West Country rituals; the Wassail, at The Old Ship Inn on Mare Street, Hackney. The ceremony, which has Pagan roots, seeks to oust evil spirits through a cacophony of music and dancing, all in the hope of encouraging a good apple harvest for the coming year.
Dan Heath – the man behind The Cider Box – started the company with aspirations of introducing Britain to the vast array of real farmhouse ciders his hometown Somerset has on offer. A couple of years on and Heath now regularly hosts pop up 'Cider and Cheese' nights at East London venues, as well as retailing his own range of hot spiced ciders alongside those of his West Country peers. You might also recognise The Cider Box from this year's Winterville; Victoria Park's answer to Winter Wonderland, where Heath hosted a hugely popular stall offering hot mulled ciders and meads.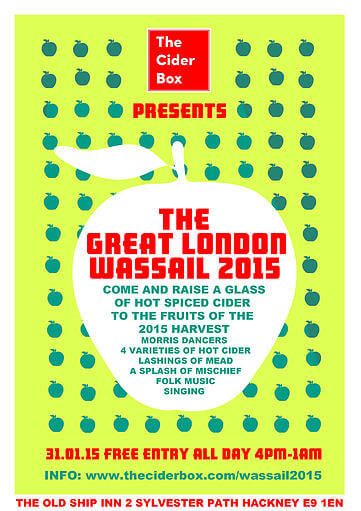 This weekend The Cider Box will be extending their experiential repertoire and bringing the age old ceremony – alongside a range of delicious hot ciders – to The City. Entertainment comes by way of Morris dancers, the crowning of a cider King and Queen, folk bands, DJs, and song and dance. All finished off with the planting of an infant apple tree to produce cider in years to come, talk about local produce!
The Cider Box will also be providing an array of hot mulled ciders throughout the day, ranging from Cranberry and Ginger to Salted Caramel and Buttered Rum, or – if you really want to get into the Pagan spirit – there's a range of flavoured meads available too.
This is perfect opportunity to get fully immersed in a truly British tradition and sample some delicious, authentic ciders at the same time. After experiencing first hand the richness of history and taste proper cider delivers, you'll wonder how you ever stomached its synthetic counterpart.
What: The Great London Wassail 2015
Where: The Old Ship Inn, 2 Sylvester Path, E9 1EN
When: 31st January 2015, 4pm – 1am
How much: Free entry all day