Top 6: Best Places to Watch the Wimbledon Final in London This WeekendBy Francesca Brooking
Looking for some great places to watch the Wimbledon final in London this weekend? The Wimbledon Final is fast approaching (Sunday 14th July) and what an amazing two-week tournament it's been. If you want to watch it go out with a bang then we've got the perfect round-up for you. From big screens, rooftop terraces, restaurants, Champagne and more, here's where to watch the Wimbledon Final in London this weekend: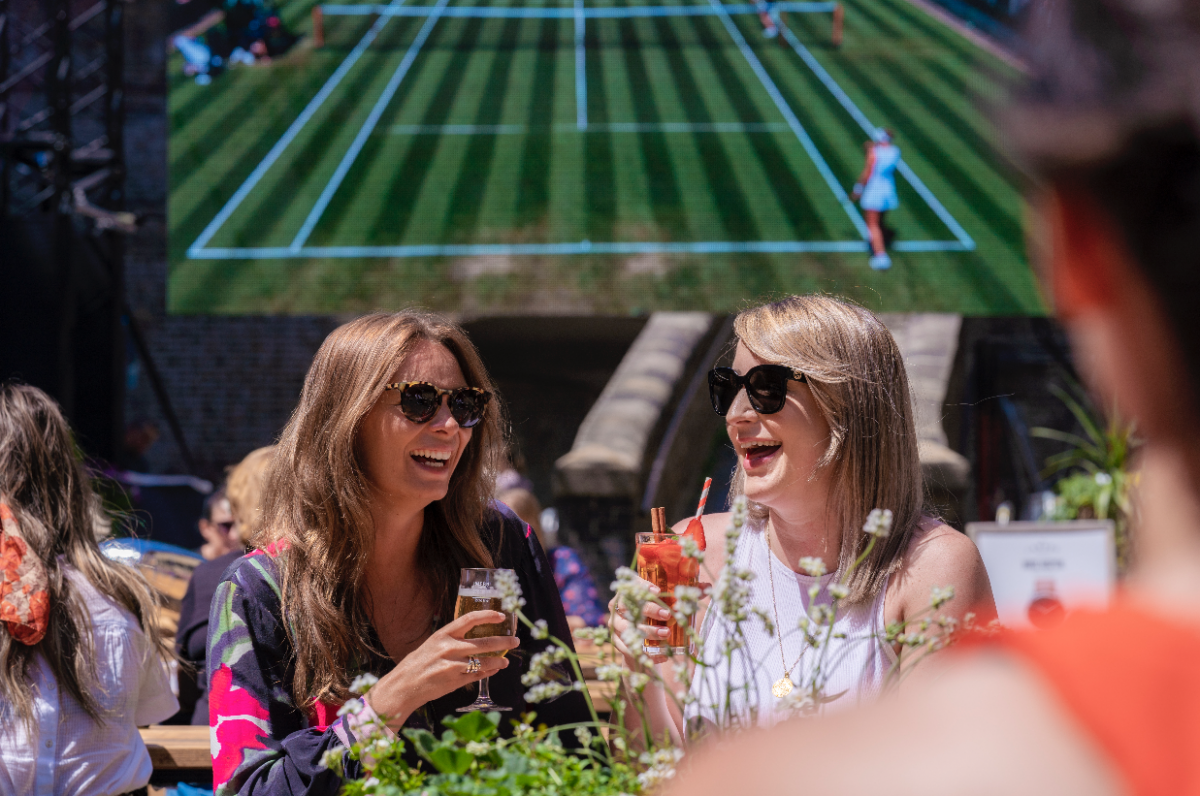 What: One of the best places to watch the Wimbledon Final in London; Camden Market's North Yard has been transformed into Camden's very own Centre Court to celebrate the final. Astroturfed and complete with ball boys and girls providing a restaurant to lawn delivery service, Londoners can sit back, eat, drink and enjoy the tennis action in front of North London's biggest outdoor screen. 
Why: There will be an al fresco table delivery service to complement your outdoor viewing experience. Simply grab a table on the 'green' and place your food orders from any of the North Yard's restaurants via the Camden Eats App then all you need to do is enjoy the tennis while the Market's ball boys and girls deliver your order directly to your seat on the lawn. To tickle your tastebuds, the North Yard's restaurants, cafes and fine food delis have created a whole host of Wimbledon-inspired specials. Just some of these delights include The Camden Grocer serving a 'North Yard Mess' alongside Gusbourne English sparkling wine and craft beer on draught from English brewers, Thornbridge. The Cheese Bar will be serving their London made burrata and seasonal cheese platters while vegans can enjoy a twist on the classic 'Strawberries and Cream' freakshake from Rudy's Dirty Vegan Diner. Promising scrumptious food, refreshments, and tennis, Camden's Centre Court might just be one of the best places to watch Wimbledon this weekend. 
Price: FREE
Where: Camden Market, North Yard, Chalk Farm Road, London NW1 8AH  
What: The Merchant Square season of free outdoor screenings continue with live Wimbledon coverage all week culminating in the final on Sunday 14th July. If you fancy seeing some live tennis why not pop down any day this week, grab yourself a deck chair, blanket or beanbag and a plate of delicious street food while watching the matches unfold. 
Why: Get into the Wimbledon spirit this week in Merchant Square next to the Grand Union Canal. Tuck into food from a street food trader of your choice and treat yourself to a bold, zesty Martini (tipped to be the drink of the summer!) at the Martini Fiero pop up bar. Open from 11 am until the matches finish, it's free to turn up and no booking is required. Seating is limited so make sure you get there early to grab the best viewing spot in the square! 
Price: FREE
Where: Merchant Square, Paddington Basin, London W2 1JS 
What: One of our favourite places to watch the Wimbledon final in London – watch the Wimbledon Final on the big screen at the stunning Madison Roof Terrace this Sunday with the incredible St Paul's Cathedral in the background. 
Why: Without a doubt, the Madison Roof Terrace is one of the best rooftop terraces in London and this Sunday they've made it that extra bit special by giving Londoners the chance to watch the Wimbledon Final on the big screen. Complete with a pop up bar, it's the perfect place to enjoy the match. Afterwards, if you're feeling peckish why not head to the Madison for drinks, snacks or even dinner. To carry on the festivities, Madison will be hosting its weekly Soul House Sessions with a live DJ and musician, Hanlei with Neil Pierce. Attendees can book to enjoy the set Sunday Soul Sessions menu or simply just hang out and enjoy the music. 
Price: FREE
Where: Rooftop Terrace, One, New Change, London EC4M 9AF
What: For one of the more swanky places to watch the Wimbledon Final in London – on Sunday 14th July, The South Place Hotel is hosting a Wimbledon Final screening in their Secret Garden, the Rosé Riviera! 
Why: The South Place Hotel offers a fantastic setting, buzzing atmosphere and a rooftop bar so Londoners can have the best time enjoying the Wimbledon Final. Each ticket comes with a glass of Minuty rosé and a strawberry and cream tart so why not sit back on a deck chair with treats in hand and watch the game unfold. It's an outside venue but as we all know British weather can have its ups and downs so if it's more showers than sunshine, The South Place Hotel is ready with a retractable roof to keep you dry during the fun. 
Price: Tickets from £20. Get them online here. 
Where: 3 South Place, Finsbury, London EC2M 2AF 
What: Seasonal British brasserie, Avenue, is joining in the Wimbledon celebrations with a large indoor screen devoted to the live matches. This Sunday, why not indulge in a bargain sit-down meal and limited edition cocktails while enjoying the Wimbledon Final!
Why: Head Chef, Arnold Ivey has curated a menu of three Avenue classics for just £10 each during the tennis matches. Enjoy a plate of Mussels and French Fries served with slices of crusty bread for dipping. Order a classic dish of Fish and Chips or try the Avenue Cheeseburger with cheddar, bacon, lettuce, tomato, gherkins and hand cut chips. Avenue has also created a series of exclusive Wimbledon cocktails to mark the occasion, available for just £6 during game times. The cocktails include a vodka-based 'Strawberry Ace,' made with fresh strawberries, strawberry liqueur and topped with cream, 'Green Court,' a combination of vodka, cream and mint and chocolate liqueur, and of course the perfect summer drink, 'Pimms Love'. 
Price: FREE entry with all Wimbledon cocktails for £6 and all dishes for £10 during matches. 
Where: 7-9 St James' Street, London SW1A 1EE
What: This year M restaurants have partnered with Lanson, the official supplier of Wimbledon Champagne to bring you the Wimbledon Champagne Happy Hours(s) throughout the two-week tournament. 
Why: Go for a bite at M Restaurants during the Wimbledon Final this Sunday and see all the action on the big screen. The M team will be going all out in traditional tennis whites, popping corks and serving you half price Lanson Champagne during the matches to transport you to the Wimbledon tennis courts themselves. If that wasn't enough, every time a match goes to 'Tie Break', if guests alert the team they will get a glass of bubbly on the house. So, brush up on the tennis rules and head on down to your nearest M Restaurant this weekend for a Champagne-fuelled Wimbledon extravaganza! 
Where: Find your nearest M Restaurant here