As part of our special #WellandTrulyWeek with Well and Truly, who create fantastic gluten-free tortilla chips, we've been discovering some new hidden gems in London. We caught up with Well and Truly's nutritionist Cicely Brown to find out where she likes to eat in London:
So, Cicely, what's your favourite bakery in London?
I don't tend to eat that much bread but I am really interested in The Happy Bread Co that is based in East London that sells fermented, gluten-free and organic loaves – so that's on my list of places to visit.
Favourite place to grab a coffee:
Kaffeine on Great Titchfield Street – I'm no coffee expert, but there is something about the coffee here – it's on another level.
London's best breakfast can be found at:
Lowry & Baker on Portobello is my go to, it's a short walk from home and does the best brunches. It's cosy and familiar there to me now so I'm often there 2-3 times a week.
Favourite Italian restaurant is:
Pizza East never fails to deliver a good meal. I love the relaxed atmosphere, the quality of the produce shines through in the simple Italian dishes.
Where's your favourite area in London to go and eat out?
Soho is fun and buzzing, you can always find a new spot tucked away somewhere.
What's your local restaurant you always go to?
Ukai is a Japanese restaurant on Portobello that is very laid back and the food is really good. We have been there quite a bit recently, I tend to go through phases though, I find somewhere I like and only go there for a while!
Favourite restaurant for lunch?
Has to be Le Coq D'Or in a little town near Bordeaux where my parents now live. They serve traditional French cuisine, naturally, but it is the setting that does it for me. We love to go there in the Summer for long, lazy lunches and drink copious carafes of wine and eat lots of bread.
Favourite street food stall: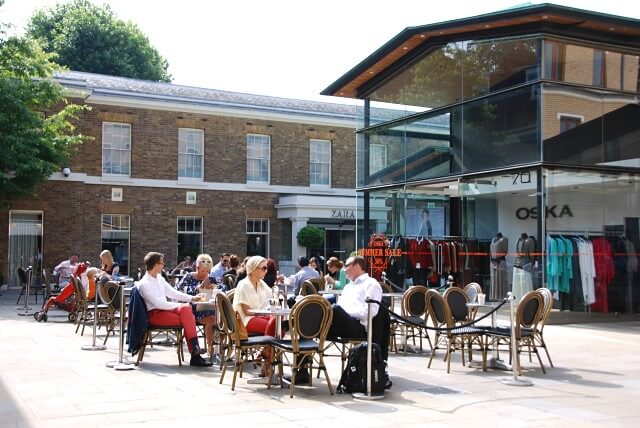 I like going down to the Duke of York Square market outside the Saatchi Gallery on a Saturday and sampling the different food stalls there.
Favourite restaurant for a celebration:
Honestly, when in the company of my family and friends, I could be anywhere and have a wonderful time! It's got to be buzzy and relaxed, fine dining doesn't work for me when there's a big group of you, you want to let your hair done and not feel like everyone's watching you.
Favourite restaurant for dinner:
Dabbous in Fitzrovia was a stand out meal a couple of years ago. The smoked coddled egg was to die for.
Do you have a particular dish from a restaurant that's your go to?
If I have Japanese, I always order Nasu Dengaku which is grilled aubergine with a miso glaze. It's my absolute favourite!
Favourite place to grab a cocktail?
I'm not a big drinker really, but I do enjoy a good G&T in the summer. I'm a bit out of touch with bars in London, but anywhere with an outdoor space and view in the sun would be fine by me.
Favourite place to pick up produce? 
Abel & Cole or Chegworth Valley for the vegetables. Mr Grocer does some great deli bits too and then Provenance for meat and George's Fishery for, unsurprisingly, fish! I feel lucky that there are so many excellent suppliers of all types of food where I live.
Favourite pub? 
In London, the Windsor Castle on Campden Hill. There's also a charming pub just outside Marlow, The Royal Oak, I used to work there when I was growing up so it's a special place for me and I still go back a couple of times a year.