Life Retox: Best Yoga Classes, Events & Retreats in January 2017By Angelica Malin
Fancy trying some new yoga classes in London? We've got you covered. We're all about the life retox in 2017 – adding more into your day, not taking things out. If you're looking for a new way to get fit, have fun and break a sweat this 2017, the capital is full of incredible yoga classes, events and retreats. Here's the ones we love, on a strictly need-to-know basis:
Yoga Classes in London: New Classes
For Glow in the Dark Yoga: The Wellscene
What: Flow in the Dark Yoga (60 minutes)
The Lowdown: Looking for something different? Boutique hotel St Martins Lane in Covent Garden is hosting The Wellscene's residency with a four month schedule of quirky classes. The new special classes include glow-in-the-dark yoga, The Viking Method's renowned Black Light Burpees, as well as The BoxxMethod's Black Light Boxing.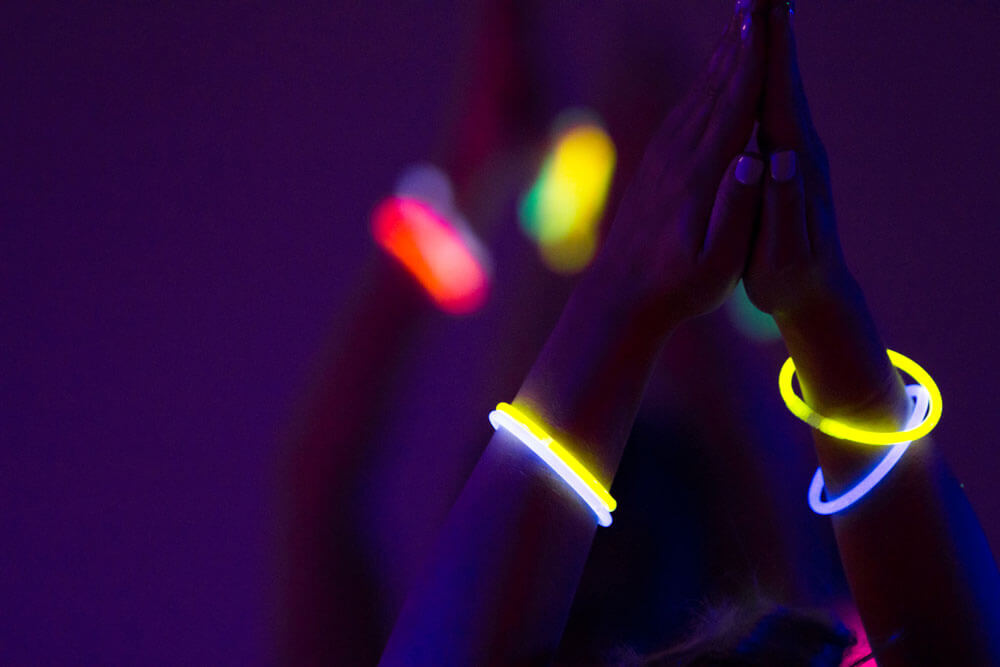 The Class: One of our favourite new yoga classes in London. Kicking off with unique Flow in the Dark Yoga on Thursday 12 January, the 60-minute high intensity workout is different to the typical yoga session as it boasts a glow in the dark graffiti wall, UV face paint and glow sticks. Music will be cranked high as guests bend and flex in the black light. Yes, please.
When: 7.30pm on Thursday 12th January at St. Martin's Lane Hotel – early bird tickets are £20. Book here.
For Calming Yoga: Yin Yoga with Annie Clarke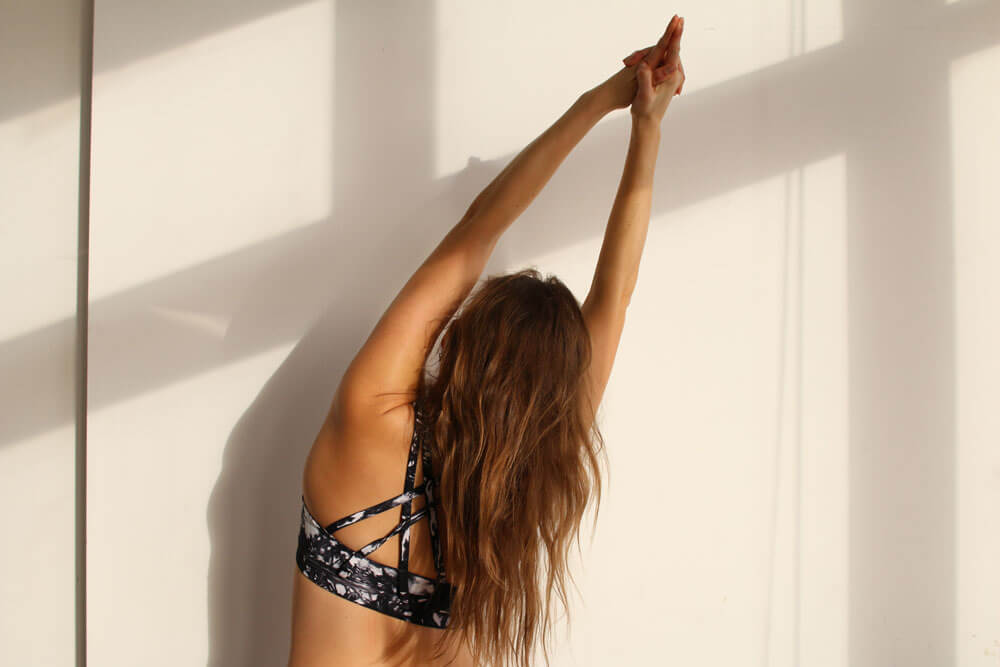 What: Yin Yoga with Annie Clarke (60 minutes)
The Lowdown: We live in a world where yang has overtaken yin, that fast intense energy that we work with in our spin classes, our jobs and even our vinyasa flow. Annie Clarke will help you find your Yin, with a lovely, restorative practice to start your day off right. 
The Class: Yin brings balance back to the body and mind, working with the deep connective tissues of the body. Expect to leave feeling refreshed, balanced and calm – ready to tackle whatever the world throws at you. 
When: 9.15-10.15am on Thursdays from 12th January 2017 at HeartCore Notting Hill – book here.
For Escaping the Office: Anti-Desk Yoga at Frame
What: Anti-Desk Yoga (50 minutes)
The Lowdown: Sitting all day encourages poor posture, straining of the neck and shoulders, as well as the back muscles, not to mention losing flexibility particularly in the spine and hips – this class is all about stretching those areas.
The Class: One of our favourite new yoga classes for stressed-out workers. Expect a combination of different yoga styles to open up your body and focus on relieving tension in the back, neck and shoulder areas. Breathing and movement will allow you to completely switch off from the office and clear your mind; sequences have been designed to bring length to your body and improve posture, and you'll leave feeling great.
When: 12.45pm on Mondays and Wednesdays at Frame Victoria, 12.30pm on Monday at Frame Kings Cross. Book here.
For Slowing Down: Candlelit Slow Flow with Good Yoga Life
What: Candlelit Slow Flow with Good Yoga Life (50 minutes)
The Lowdown: Slowing down is a challenge and this is as much true in normal daily life as it is on the mat – slowing down our bodies, breathing into our skin, lighting up our souls. Get some of this every Monday evening surrounded by the warm glow of candlelight. Start your week slow.
The Class: Join Kelly every Monday evening in Shoreditch for 50 minutes of meditative slow vinyasa flow. You'll practice slowing down, holding postures and transitioning smoothly through a sequence that gradually builds in intensity, heat and strength. Kelly will guide you to flow mindfully, with each movement initiated by slow controlled inhales and exhales.
When: 7.40pm every Monday in Shoreditch at Black+White, 74 Rivington Street. £10 Drop In, £50 Five Class Pass, £70 Ten Class Pass. Book here.
For Breaking a Sweat: Hotpod Yoga
What: Hotpod Yoga (1 hour)
The Lowdown: Hotpod Yoga's innovative, inflatable pods are heated at 37 degrees to help melt you deeper into practice.  The heat supercharges your experience by rapidly warming your muscles and heightening the levels of fresh oxygen around your body. Hotpod Yoga offers a 'real life' approach to hot yoga in a  completely otherworldly setting  -whether your there working off a hangover, clear an over-stimulated mind or open-up an office-bound body, Hotpod Yoga delivers.
The Class: All classes take place inside the pod where the sequences mix active and passive postures to ensure a challenging physical workout while also allowing space and depth to calm the mind.  The recent launch of the newly refurbished Notting Hill studio offers the perfect place to come and experience the rejuvenating workout with Hotpod Yoga.
When: Classes run daily throughout the week and weekend.  Book classes here<
For Special Yoga: Yoga for Lifting at Gymbox
What: Yoga For Lifting (45 minutes)
The Lowdown: Are you a regular lifter? All those weights can have a strain on your body, and it's important to work on your mobility to increase those reps. Gymbox's new class in Victoria, Covent Garden, Westfield, Farringdon and Bank is just for you!
The Class: One of our favourite new yoga classes in the capital; a yoga class dedicated to improving your range of movement by targeting mobility in your shoulders, lower back and hips. Perfect for improving your one rep max.
When: See timetable and book here.
Yoga Classes in London: Special Events
For a Fitness Morning: South Place Hotel
What: Saints and Sinners Brunch (from £45)
The Lowdown: The culturally creative South Place Hotel has just introduced a Saints & Sinners Workout and brunch this January, in partnership with the East End's most vibrant authorities on fitness and wellbeing; 1 Rebel and ROOTED London.
The Class: The day begins at 1 Rebel, Broadgate, with Rumble, a high-intensity immersive boxing session to release aggression on the punch bag. The full on workout will then be followed by a virtuous Vinyasa yoga class by ROOTED London in one of the hotel's serene spaces. After this double shot fitness combination, it'll be time to feed your body with two courses of nourishing food. Choose from indulgent dishes such as Waffles with Chocolate sauce if you're feeling sinful, and for the more saintly, a nutritionally balanced Quinoa bowl or raw Key Lime Pie created by ROOTED London.
When: 09.45 – 14.30 on Saturday 21st January and beyond – book here.
For Yoga and Brunch: Equinox at Kensington Place
What: Reshape Morning (£30)
The Lowdown: In collaboration with Equinox, Kensington Place are offering a series of Vinyasa flow Reshape Morning yoga classes followed by a bountiful brunch.
The Class: Expect a lovely, energising Vinyasa flow class, followed by delicious food. Dishes include the Kensington Place soft shell crab sandwich and waffles or vanilla yoghurt with berry compote. You will also be able to savour a Marmalade cocktail from Chase Distillery and samples by Neat Nutrition – all for just £30 per person!
When: Saturday 14th January – book here.
For a Rehab Brunch: Good Yoga Life
What: Yoga Rehab with Good Yoga Life (£15) 
The Lowdown: January is the time to set those new intentions and prep your body and mind for an awesome year ahead. Come and get detoxed from the inside out with yoga, healthy brunch and super good vibes with Good Yoga Life.
The Retreat: Start your Saturday morning with Good Yoga Life. A 60-minutes fabulous, feel good detox flow to leave you feeling energised all over followed by an intention setting meditation for a maximum power charge into 2017! After class, enjoy super healthy gluten, dairy and sugar-free brunch from Grain & Bowl and veg water drinks from J.F. Rabbit.
When: Saturday 14th January, 9.30am-11am in Shoreditch. Book here.
For Sky High Yoga: Yogasphere at The Shard
What: Sky High Yoga (£40)
The Lowdown: The View from The Shard, the tallest building in Western Europe, has unveiled a programme of wellbeing events that will take place at the attraction throughout January, February and beyond. The series of events will focus on overall wellbeing covering everything from fitness classes with celebrity trainer, Matt Roberts, to sky high yoga and even the odd early morning rave spreading positivity, love, and inspiration for the day ahead.
The Class: One of our top yoga classes in London when you're looking for something different. Yogasphere will be holding yoga sessions each Saturday morning from 21st January until the end of February. Yogasphere's Mandy Jhamat, and Harley Street wellbeing coach Leo Lourdes, will guide guests through a calming mind and body class, with the stunning panoramic views from the open air Skydeck on Level 72 as the backdrop.
When: 08:15-09:30 from 21st January 2017 – book here.
For a New Studio Opening: lululemon Regent Street
What: Sunday Sessions with Will Wheeler (free)
The Lowdown: Canadian athletic apparel brand lululemon is in the mood to celebrate, and London, you're invited. With the 12th January launch of its eagerly anticipated Regent Street flagship store mere days away, lululemon is set to celebrate, with a series of fun and complimentary sweat sessions to kick off the new year. Think spinning on the rooftops and yoga in-store, mindfulness workshops, meditation 'OM the move' and sweat sessions to get those endorphins pumping.
The Class: Looking for free yoga classes in London? We've got it. There's no better way to start your Sunday than by easing your way into a calming and restorative yoga session. Lululemon Regent Street ambassador Will Wheeler is bringing his fun and challenging practice to deliver peace, wellbeing and good vibes to Regent Street, and would love you to join him.
When: 10.30-11.30 on Sunday 15th January at Lululemon Regent Street – book here.
Yoga in London: One-Off Workshops
For Yoga and Treats: Yin + Cake
What: Yin + Cake (2 and a half hours)
The Lowdown: Start your weekend with some feel good yoga with Annie Clarke followed by delicious raw cakes by The Hardihood at the beautiful new studio at Stretch, London. Then roll onto Broadway Market, grab your fresh veg from the farmer's market and kick off your weekend like the wellness warrior you are.
The Class: The morning will begin with a yoga class with Annie, which will take you through a Yin practice, focusing on the connective tissue and targeting the joints that we rarely touch on in more dynamic styles of yoga. This class will challenge you in all the right places both mentally, emotionally and physically and leave you feeling released. After you awaken from Savasana you'll have some time to devour some delectably delicious yet healthy cake by the Hardihood.
When: Saturday 14th Jan at Stretch, Ada Street – book here.
For a Special Collaboration: Trekstock x Frame
What: Trekstock Yoga Series (2 hours)
The Lowdown: Trekstock has teamed up with London's hottest yoga studio Frame, Kings Cross to deliver a monthly restorative yoga series for young adults who have experienced cancer. Classes will be led by experienced yoga teacher Imogen North.
The Class: Each class will focus on making you feel more grounded and comfortable, both physically and emotionally. Through guided postures and breathing techniques, the session will help you to restore and maintain a positive relationship with your body after treatment. Each class is funded by Trekstock and includes an optional juice and a chance to chat with others who get what you're going through, afterward in a relaxed setting.
When: 13:00-15:00 on Sunday 29 January 2017 – book here.
For Something New: Jivamukti Yoga Workshop
What: Jivamukti Yoga with Luis Valentine
The Lowdown: Join certified Jivamukti yoga teacher Luis Valentine at Bhuti London for an experience of Jivamukti yoga. If you enjoy a dynamic vinyasa flow class, incorporating liberating assists, infusion of yoga philosophy and uplifting chanting, this is an unmissable experience.The Class: An extra long two hour classic class doable for all levels with some experience of yoga practice, allowing you to dive deeper into specific aspects of the Jivamukti method. Incorporating the five tenets of Jivamukti yoga: ahimsa (non-harming), bhakti (devotion), dhyana (meditation), nada (sound) and shastra (scripture), the practice will include creative and challenging vinyasa sequences, sanskrit chanting, hands-on assists, an eclectic soundtrack and end with deep relaxation.
When: 7:00 pm-9:00 pm on Friday 27 January 2017. £30 – book here.
For Back-to-Basics Practice: Frame, Shoreditch
What: Back to Basics Workshop with Annie Clarke (2 hours)
The Lowdown: Whether you are brand new to the practice or just feeling rusty, come and brush up on the basics with East London based yoga teacher Annie Clarke who will guide you through an extended practice, breaking down key poses and helping you to find your flow.
The Class: Yoga classes in London don't always have to be fast-paced and challenging. This workshop is all about exploring your practice and finding what works for your body; there will be lots of time for questions too so that you leave feeling more confident in your practice.
When: 2.45-4.45pm Saturday 21st Jan at Frame, Shoreditch – book here.
For a Giggle: Laughter Yoga Workshop
What: Laughter Yoga Workshop + Social (1 and a half hours)
The Lowdown: Laugh away the January Blues at this special workshop in North London. With Christmas and New Year celebrations over, come and join this one-off class to laugh your way into the new year.
The Class: Yoga classes in London don't come much more fun than this. An hour of rib tickling deep belly laughter including child like playfulness, gibberish, improvisation, complete nonsense, meditation and dancing, followed by a Social in the Bar at the venue. Get involved.
When: 15:00-16:30 on Sat 28 January 2017 in Kentish Town. Tickets £8.00 – book here.
Yoga Classes in London: Ultimate Retreats
For a Plan-Ahead Escape: Ubud, Bali
What: Bali Yoga Retreat with Chloë Faulkner (£1977) 
The Lowdown: Looking for an escape? Villa Selat in Bali is hosting leading London yoga teacher, Chloë Faulkner, from 2-9th December 2017. This retreat will be the perfect combination of luxury, learning, adventure and relaxation, the perfect way to wind down your year. Nestled amidst tropical gardens, the retreat rests atop the lush Kendang River valley and offers spectacular vistas of the surrounding landscape and direct access to the magical world of the river below. With a maximum of 10 guests, this is time for you to reconnect, renew, and dive into your essential nature as you immerse yourself in the beautiful surroundings and explore the depths of your yoga practice.
The Retreat: This luxury retreat offers five star accommodation, delicious fresh nourishing food, daily yoga classes, a one-hour complimentary welcome massage and daily unique and authentic Balinese cultural experiences. An invitation to connect to your breath, your body and your self. Twice daily yoga classes, offering a blend of vinyasa, pranayama and meditation on the beautiful tranquil decks of the retreat centre. 
When: 2-9th December in Ubud, Bali. Early Bird price £1977 until 28 April – book here.
For Switching Off: Unplug Experiences
What: Unplug Experiences at 42 Acres, Somerset (from £280)
The Lowdown: Unplug Experiences curate technology-free weekend yoga and wellness retreats in beautiful places around England, for Londoners to escape the city, practice mindfulness and enjoy community. They feel life is too short to live it through a screen, and want to create real experiences with real people. Guests on their next retreat at the beautiful 42 Acres will be treated to yoga taught by the incredible Chloe Faulkner, foraging with a local expert, a gong bath and some long woodland walks. You will come away feeling truly revitalised and inspired to lead a more intentional life.
The Retreat: This is the perfect retreat for those seeking to slow down and unplug with a healthy, wholesome weekend away. There is a 'no screen rule' in all communal areas to maximise the benefits of 'unplugging' and connecting with the world around you. The accommodation is always luxurious and the food both organic and delicious. Yoga is integral to each retreat, but there will always be a variety of additional fun activities on offer which encourage presence and conscious living.
When: 42 Acres, Somerset, April 21st – 23rd 2017. From £280 per person – book here.
For the Goddess Experience: Abundant Goddess & Yoga Retreats Barbados
What: Goddess Retreat in Barbados (£3599) 
The Lowdown: The Abundant Goddess & Yoga Retreat in Barbados is a 7-day escape which incorporates meditation, Emotional Freedom Therapy (EFT) and Neuro Linguistic Programming (NLP) within a programme of daily workshops, activities and yoga classes to give women the space to re-connect with their inner goddess, led by Dr Helen Johnson.
The Retreat: You will get to know the goddess archetypes and how you can tap into their power to be the truest, bravest and most authentic version of yourself. Each day at the retreats is dedicated to a different goddess utilising the luscious surroundings of Barbados: surfing, Caribbean cookery and exploring the island with the goal being to wake up those goddesses that are dormant. Accommodation during the retreat is at The Legend Garden Condos set on the shores of idyllic Mullins Beach on the island's west coast known. The package includes flights from the UK, most meals and accommodation plus three months of coaching with Helen.
When: 29th April-7th May 2017, Mullins Beach Barbados. £3599 per person – book here.