Don't Miss: The British Street Food Awards Final at Hawker HouseBy Iona Goulder
Thousands entered, hundreds competed, and now 17 finalists will cook to be crowned your 2018 British street food champion at Street Feast's Hawker House on 21st and 22nd September. And tickets are only a fiver.
From Edinburgh-based buttermilk-fried chicken to slow-cooked Pembrokeshire pork, and Brummy-born Thai food to Mancunian-made bao, get ready to eat the very best of Britain, all under one roof.  This year's line-up is complete with returning heroes cooking alongside brand-new competitors. With 10 finalists chosen by the British public, plus 7 wild cards brought in by the BSFA team, it's now down to who can cook the killer dish at the finals.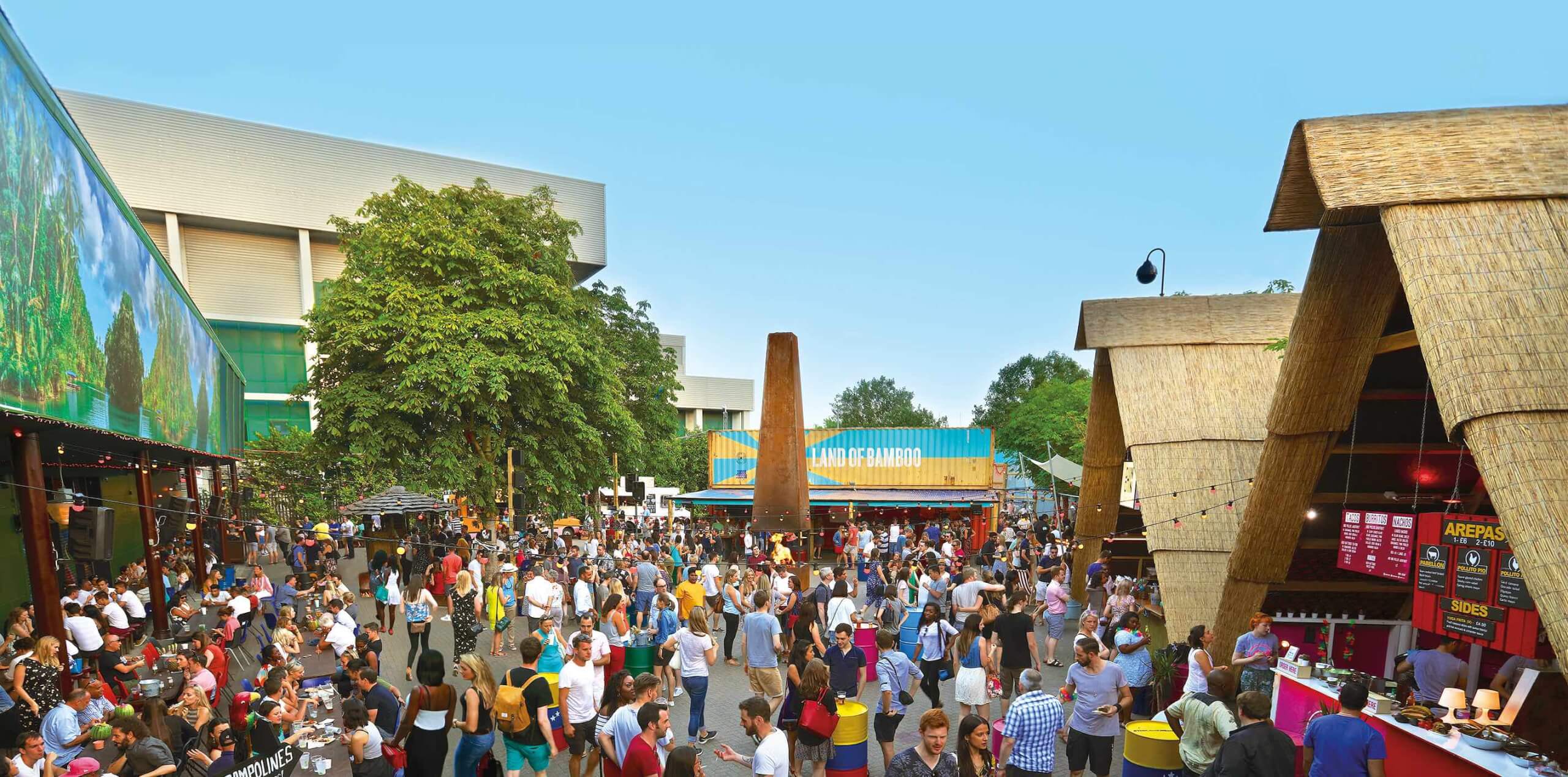 If that's not enough, Street Feast have got Naughty Boy DJing on Friday, and an expert judging panel tasting on Saturday featuring Michelin-starred chef Atul Kochhar from the Million Pound Menu, Michelin-starred chef Richard Corrigan from the Great British Menu, the 2017 winner of Great British Menu Pip Lacey, and chef and food writer Gizzi Erskine.
Plus on Saturday, hip-hop artist Loyle Carner will be parking up his Chilli Con Carner cookery school – an initiative to teach teenagers with ADHD how to cook. All proceeds from their dishes will go towards funding the school.
British Street Food Awards: The Finalists
Tambapanni: Devon
What: Authentic Sri Lankan street food from power couple Anoushka and Dinesh. Expect traditional crispy hopper pancakes stuffed with calamari, line caught tuna, coconut curry sauce and chilli sambol.
Crema Caravan: Edinburgh
What: Callum and Mel bought a vintage Renault van in France, drove her over to the UK and started Britain's first ever crème brûlée van. They'll be raising the bar at the finals with two desserts: vanilla crème topped with plum compote and cardamom crumble, and a Scottish Heather honey infused crème with pistachio palmier.
Photo Credit: Nadia Parekh
The Buffalo Truck: Edinburgh
What: The 2017 winners are back with a vengeance, doing what they do best: killer fried chicken. Chief Trucker Robin says, "This year, we want to stay true to what we serve on the streets, so we won't be making up any one-off competition dishes but rather serving our amazing buttermilk fried chicken burgers."
Jah Jyot: Horsham
What: Inspired from the villages of Punjab, owner Ranie is heading to Hawker House armed with a Northern Indian favourite – The Chicken Masala Dosa. A rice flour and spinach pancake smothered with a rich Punjabi masala, filled with pan-fried marinated chicken pieces and drizzled with tamarind and raita.
Wallace and Sons: Manchester
What: John Wallace was a high-end restaurant chef for 10 years before he took his skills to the street. Expect pillowy bao stuffed with slow cooked pork neck, salt cod or chicken katsu, plus a serious veggie contender – soy braised and beer battered cauliflower with tofu, sesame and truffle dressing.
Buddha Belly: Birmingham
What: 2012 Masterchef competitor Sai Deethwa specialises in traditional Thai street food. Everything is fresh, home-made and packs a Muay Thai kick with secret family recipes – look out for her Thai curry duo of slow cooked beef massuman with spicy chicken panang and lime leaf.
Paternoster Farm: Pembrokeshire
What: Everything the Paternoster team cook has been farmed themselves. They've got their eyes on the prize with the Surf and Turf – cod cheeks pan fried in garlic butter with marsh samphire, served on mangalitza ham and haddock chowder, with crispy pig cheek and sea beet. Ooft.
D'oh Hut: Leeds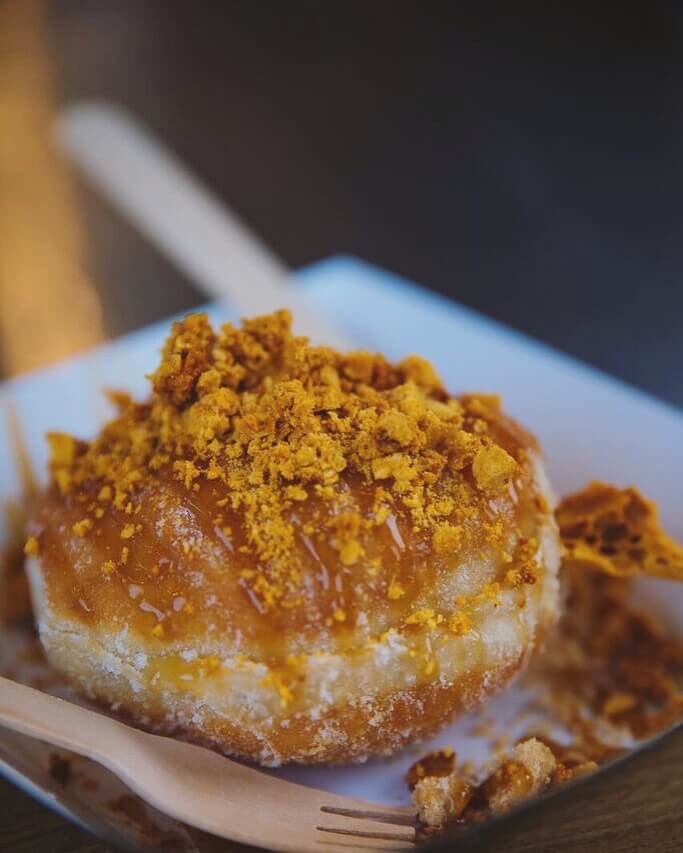 What: The dough is proved on site and the donuts are cooked fresh to order. Their contender is The Creme Pat special: a fluffy warm donut stuffed with Madagascan vanilla bean crème pat, scattered with home-made honeycomb and homemade shortbread.
Assembelly: Pembrokeshire
What: Tom (an ex-Rick Stein chef) grew up on the Pembrokeshire coast and his passion is the sea. He'll be rolling up to Hawker House in a converted horse trailer, serving sensational seafood including the bacon and scallop roll with red pepper puree and aioli, plus popcorn cockles with paprika and crispy seaweed.
Ruby's Street Kitchen: Leeds
What: Try Ifty Patel's fresh take on mighty Mumbai street food. He'll be serving his Indian Fried Chicken spiced with lemongrass, green chilli and house masala, as well as the meat-free and magnificent Mumbai Bad Boy Bangra Burger: a Kor-Indian classic that fuses the onion bhaji and the Korean pancake.
Mangiamo: Leicester
What: Visit Naples via Mangiamo with their crispy wood-fired pizza, baked in a 1959 Fiat 500. We've got our eyes on the aubergine parmigiana pizza – aubergine roasted in tomato and garlic base, Piennolo cherry tomatoes, fior di latte mozzarella, grated parmesan, fresh basil, extra virgin olive oil.
Love Is Churros: Lancashire
What: Hot, crisp, feather-light churros (made with proper Spanish flour), piped full of sweet home-made fillings. They're bringing a vegan competitor to the finals, the Bakewell Churro: an almond milk crème patisserie filling, iced topping, sprinkles of almond and cherry rocks and lashings of cherry syrup.
Ginger and Chilli: Glasgow
What: Derry-born Ronan moved to Glasgow at 18 and fell in love with the city's massive Pakistani influence. His food focuses mainly on Indian flavours but is a celebration of all things Asian. He'll be cooking for the crown with spiced Cullen skink – his Indian take on the famous Scottish soup – and Kati Roll Tacos, fresh paratha stuffed with pulled venison & roasted marrowbone rendang, lemon pickled red onions, Jaipur slaw and homemade Indian chutneys.
ROK Kitchen: Essex
What: Killer Korean barbecue with a kick. Owner Steven cooks with local Essex meat; his competition dishes are bulgogi marinated red poll beef with kimchi-fried rice, and slow cooked pork with picked Chinese leaf lettuce, raddish kimchi and sticky rice.
Parm Star: Manchester
What: The 'parmo' is a North East classic – a deep-fried breaded cutlet – and Parm Star are cranking it up a notch. Try their panko-crumbed fried chicken fillet smothered in creamy béchamel sauce and melted Cheddar and thank us later.
The Peruvian: Edinburgh
What: "As a Peruvian guy living in Scotland for nearly 20 years, I missed the flavours of home", says founder Carlo. He'll now be bringing his South American flavours to London – expect fresh fish cured in lime juice with sweet potato, crispy corn, chillies, onion and coriander, plus 24-hour marinated cow heart grilled over flames.
Patty Freaks: Birmingham
What: These Brummy boys are travelling to Hawker House with  big burger plans in store. Dare to take on the Sweet Freak: a steak patty loaded with peanut butter, Swiss cheese, caramel waffle, maple syrup, chilli jam and streaky bacon in a seeded brioche cream bun. Trust them on this one.
Buy tickets here. 
Hawker House, Canada St, London SE16 7PJ