Happy Monday party people! Our new weekly episode of The AT is out and it's a banger. This week we're talking everything STREET FOOD in London. From our favourite street food stalls to new food markets and special event collaborations, get the lowdown on the street food scene in the capital. We're joined by special guests Vicky's Donuts, Up in My Grill and Yum Bun – some of London's most successful street food vendors – who tell us what it's really like to run a street food venture. Warning: this episode will make you hungry. Listen to episode 4 of The AT on here or click below:
In partnership with our sassy sponsors Meal Pal, everyone's favourite lunch time heroes, we'll be giving you in the lowdown on lifestyle, food and fitness news in the capital every week – subscribe to the show on Acast here and on iTunes here. You can listen to the 4th episode of the new season here. For those that don't know, The AT, brought to you by About Time Magazine, discovers everything it's about time you tried in London and beyond. ​The weekly news and lifestyle podcast explores different themes every week, from unusual things to do in London to cocktail culture, finding the best of the city – we spend our time, so you don't have to waste yours. Here's everything discussed in this week's show:
Street Food News in London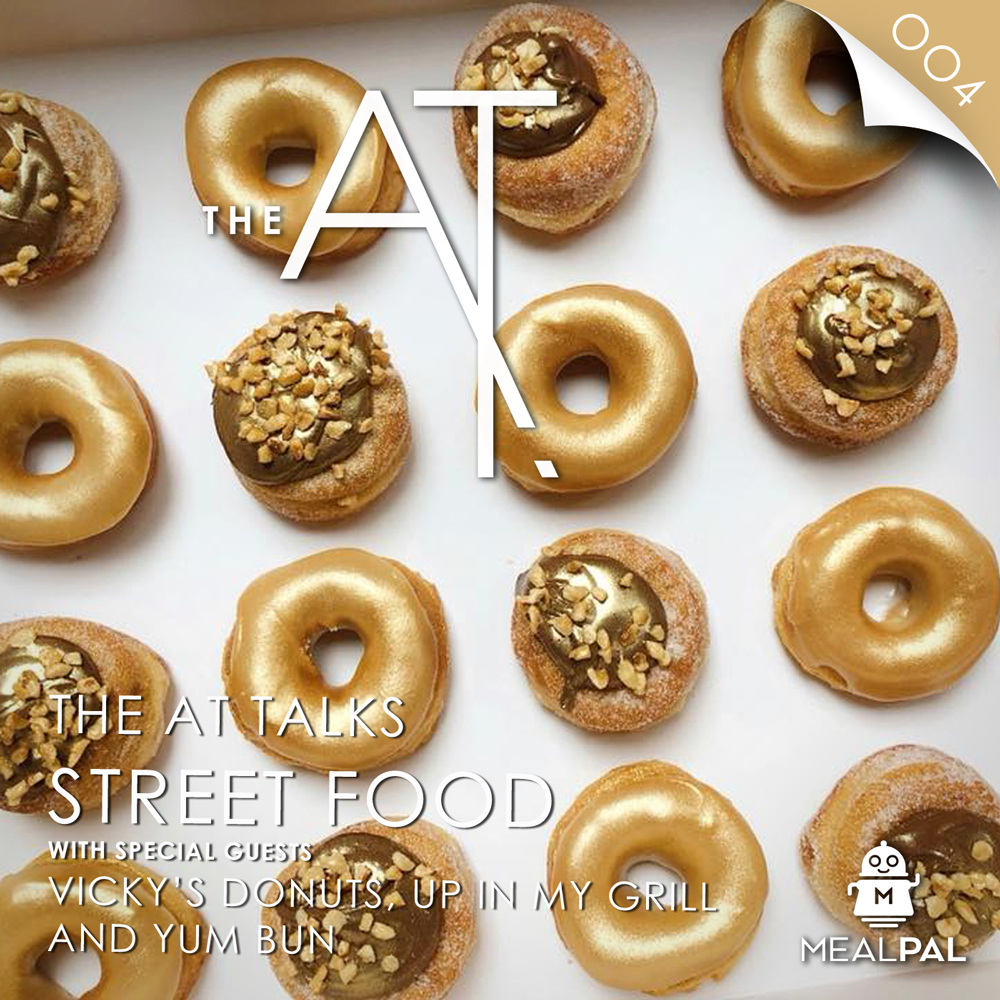 1. Pop Brixton has announced the arrival of its newest vendor: Petare. Having brought an authentic Venezuelan food experience to the streets of London, Petare will be settling into their first permanent arepa bar to Pop Brixton on 16th February, following the departure of Zoe's Ghana Kitchen. Petare will be serving a short menu focused on their signature arepas – traditional Venezuelan corn bread stuffed with South American fillings. Amidst these changes, tattoo parlour Prohibition Ink has also joined Petare as one of Pop Brixton's newest vendors. A 1920's prohibition-era themed tattoo parlour run by owner and lead tattoo artist, Jay Sleight, Prohibition Ink hope to add to the variety and quality of what's currently on offer at Pop Brixton, and join the venue in its local community outreach. 
2. This month sees The Kitchens at Old Spitalfields Market announce two new openings, Monty's Deli, bringing one of the best Reubens in town, plus a real taste of Taiwanese street food with the launch of JiaBa. That's not all, this historic corner of East London also welcomes new traders Lahpet and Ahi Poké to Old Spitalfields Market. Monty's Deli's crowning glory is their much-loved Reuben Sandwich – a hand carved tower of salt beef or pastrami, Russian dressing, mustard, kraut, cheese – served with a pickle, on rye (£9.50). This will join other Jewish culinary delicacies on offer, such as Matzo Ball Soup, Picklebacks, Harbour Pilsner craft lager and a selection of dr.Browns sodas imported from the US.
3. Over the past 18 months SpiceBox​ has been slinging curry on the streets of London and at some of the UK's best festivals. Building a reputation as one of London's finest street food stalls, winning awards, loads of press and some seriously loyal fans. Now it is time for a reboot. To take it to the next level. On Monday 5 February will unveil a significant rebrand. This is more than just some pretty new visuals – it represents a change in gear for SpiceBox as they prepare to launch their first site and become a key leader in the emerging vegan food market. The new SpiceBox​ brand designed by The Clerkenwell Brothers – with the strap line 'Veg With Edge' – strikes a balance of being virtuously vegan and nicely nutritious, but it doesn't feel the need to shout about either.
4. If you're looking for pancakes, head to Camden Market. OSU COCONUTS make 100 % vegan, gluten and refined sugar free fluffy pancakes made with young fresh coconut water. Sweet stacks include the Berry Mad with loaded with berries and signature coconut salted caramel sauce, Cacao Power with bananas, peanut butter, cocao nibs and signature raw chocolate sauce or the Apple Crumble with cinnamon apple slices, coconut salted caramel sauce, apple sauce and sprouted walnut crumble. And for a new trader, after 6 years of trading as a stall in the Market, Crepes a la Carte launches its permanent home in the Market in time for Shrove Tuesday, 13th Feb. Set up by French duo Thomas and Eva, from Brittany, the duo are passionate about taste and food origin is important to them. Their sweet crepes are available from the classic with butter and sugar to the more indulgent bananas and homemade chocolate sauce or homemade salted butter caramel.
5. The first of its kind in the UK, Feast Canteen – a slick canteen for the modern age – is excited to announce pizza champions Made of Dough and rice paper roll specialist Sinchow will be joining Patty & Bun, Breddos Tacos and Salvation in Noodles as the opening lineup of independent eateries. Opening on 14th February, Feast Canteen is reinventing the 'canteen' concept and dialling it up a notch by taking the unused, uninspiring food court inHammersmith Kings Mall and transforming it into a slick canteen for the modern age. With no other food line-up like it in West London, Feast Canteen will see Made of Dough dishing out the finest pizza, Sinchow serving healthy rice paper rolls, Patty & Bun serving their legendary burgers, Breddos Tacos offering their renowned tacos, and Salvation Noodles making authentic Vietnamese noodles with a modern twist. Each of the restaurants will take the top dishes from their menus as well as adding some new additions.
Street Food Events in London
1.  On 14th and 15th February, KERBanist (and Instagram cheese phenomenon) Graham Bradbury will be getting behind the wheel at KERB Counter to cook you and your date a four course Cheese Wheel feast. The star course: your very own grana-padano wheel to dunk extra long (Lady and the Tramp "belle notte" style) fettuccine limbs into and take home after, with toppings on the side, goats cheese mousse, Arancini mozzarella balls, tiramisu cheesecake and Chapel Down bellinis. There will be cocktails, wines and beers at the bar throughout the night and cheesy romantic tunes to keep the mood steamy. If lashings of freshly rolled fettuccine piled up in an endlessly creamy cheese cove isn't enough to get your date drooling we don't know what wheel.
Our Street Food Favourites
1. Other Side Fried – we love these guys. They're at Pop Brixton, and they sell the most outrageous, yet delicious fried chicken burgers. The honey butter burger is a thing of beauty – fried chicken, smoked honey butter, bacon, lettuce and pickles. The bacon cheese burger is another epic bite – fried chicken, bacon, American cheese, O.S.F. sauce, pickled onions, lettuce.
2. Lagom. Over in Dinerama the live-fire cooking trader at Dinerama. Lagom is influenced by founder's Elliot's British and Scandinavian background, and draws from both cuisines. Go for the pork bun – it's super. Dry-brined, coal-roasted pork shoulder, fennel slaw, sour apple, BBQ bun
3. Babek Brothers – They were at Winterville selling their gourmet kebabs, so keep an eye on their website to see where they're heading to next. Their food is next level.
 Special Guests of the Week
This week, we're joined by special guests Vicky's Donuts, Up in My Grill and Yum Bun – some of London's most successful street food vendors – who tell us what it's really like to run a street food venture.
Restaurant Review of the Week
This week, Angelica reviewed the latest menu at Nopi in Soho and Alicia checked out new steak restaurant Boxcar in Marble Arch. Book Nopi here and Boxcar here.
Subscribe to Season 2 of The AT on Acast here and on iTunes here. This season of The AT is kindly sponsored by our very own lunch-time heroes MealPal.  MealPal helps you get a tasty lunch from the best restaurants in your city. Simply choose a meal plan that suits you, whether that's a 12-meal lunch plan for £4.79 a meal, or a 20-meal lunch plan for £4.39 a meal. Download the MealPal app today or check out the MealPal website to mix up your lunchtime.