Día de Muertos (Day of the Dead) developed from ancient traditions among its pre-Columbian cultures in Mexico. The multi-day holiday focuses on gathering family and friends to pray for and remember loved ones who have died, and help support their spiritual journey.
All over London, restaurant and bars are celebrating Day of the Dead in their own delicious ways. From four course banquets to lively fiestas and copious amounts of mezcal and tequila – here's our top picks:
Day of the Dead: Events
1. For a Three Day Festival: Wahaca 
What: Inspired by the traditional Día de los Muertos celebrated across Mexico, Wahaca's festival running from 2nd-4th November will encompass different aspects of Day of The Dead; from rituals and prayer to dance and theatrics, all brought together in the underground tunnels of London's Waterloo.
The Event: There will be live music, Mexican performers and art, and hands on experiences for revellers to enjoy. The festival's labyrinth of tunnels will play host to a Mayan jungle and then into a re-creation of the Cemetery Panteon General in Oaxaca, with performances of poetry and songs where guests will be encouraged to pay their respects to the loved ones they've lost. Music will be curated by Movimientos, with DJs playing late into the night. For those who prefer a different kind of party, Wahaca have teamed up with international sensations Morning Gloryville who will be putting on a Day of the Dead-themed morning rave on Saturday (4th November) kicking off at 7am.
Price: Tickets here 
Where: The Vaults, Leake Street, London SE1
Price Credit: Rah Petherbridge Photography 
What: On Friday (3rd November) at 10pm, El Pastór's tables will be moved out and DJ decks moved in as the restaurant hosts a Dia de los Muertos fiesta takeover. Sam Hart and Crispin Somerville, the duo behind El Pastor used to live in Mexico, and during their time there ran Mexico City's cult nightclub, El Colmillo. For one night only, Sam and Crispin will reprise their own DJ roles with the headline set and will bring a taste of El Colmillo to London.
The Event: One day after Mexico's official Day of the Dead, El Pastór and beloved mezcal partners Mezcal Amores will honour this celebration of the departed with a traditional ofrenda (decorative altar), plenty of tequila, mezcal and cerveza and a very special DJ set. Dinner service before the party will be walk-in as normal, but last-orders will be taken at 9pm to allow for the restaurant to be turned into a fiesta scene by 10pm.
Price: £20 and include a welcome drink. Tickets here 
Where: 6-7A Stoney St, London SE1 9AA
3. For Mezcal and a Mariachi Band: Café Pacifico
What: On Thursday (2nd November), traditionally Day of the Dead in Mexico, Café Pacifico will be hosting a huge celebration including face painting, a live mariachi band and an All Souls Parade that will snake through Covent Garden.
The Event: Party goers can kick the night off with a selection of cocktails mixed up by Café Pacifico's tequila experts and created in collaboration with Casco Viejo Tequila, followed by classic Mexican fare such as fresh tuna tacos, crispy pork caritas and tacos al pastor. Finish up with delicious bites of Pan de Muerto (an egg based sweet bread) served with Casco Espressos – Espresso Martinis infused with Casco Viejo Tequila. If that wasn't enough, Café Pacifico has also teamed up with 1800 Tequila to launch a new 1800 menu, bringing back a selection of popular, yet forgotten recipes from 19th century Mexico.
Price: Free entry
Where: 5 Langley St, London WC2H 9JA
4. For Tequila: Hope and Anchor
What: Young's have pulled out all the stops for the launch of Hope and Anchor, previously Grand Union Brixton, with a Day of the Dead inspired evening, complete with a live Mariachi band, DJs and professional make-up artists for the all-important skulls. An outdoor tequila bar will also be on hand for all your tequila needs alongside a dreamy selection of street food.
The Event: Hope and Anchor's own garden will be decked out with fire pits and tiki huts, and Olmecca will be sponsoring a dedicated tequila bar, serving up an tasty array of themed cocktails. And if tequila isn't your friend, no sweat – there's loads of other boozy brands who will be in attendance to make sure everyone is well oiled.
Price: Tickets are £5 and can be purchase here 
Where: 123 Acre Lane Brixton London SW2 5UA
5. For a Mexican Banquet and Bash: South Kensington Club 
What: A Mexican wave of drinking, dining and dancing will be sweeping through South Kensington Club on the evening of Wednesday (1st November) as they bring you a special Day of the Dead Party.
The Event: From 7.30pm, all social areas of the club will come alive with traditional Dia de Muertos decor, Mexican-inspired food and drinks and Latin live entertainment to celebrate this traditional holiday. Spend a tenner, and your ticket will grant you access to the party upstairs in the Club Lounge with DJs, canapés and an arrival drink, or splash out and feast on a Mexican-inspired, three-course seated dinner with live entertainment in the restaurant for £45.
Price: Tickets here
Where: 38-42 Harrington Rd, Kensington, London SW7 3ND
Day of the Dead: Food
6. For a Guac Attack: Cantina Laredo
What: Celebrate Day of the Dead with a tequila filled dinner on Thursday (2nd November), as Cantina Laredo rings in Dia De Los Muertos with a one-off ofrenda menu, complete with Dia De Los Muertos specials such as The Juan's That Passed Away mezcal cocktail and The Smokey Flower Mezcal Guacamole – a unique Day of The Dead creation made with mezcal and grilled avocados and edible flowers, set to transport guests straight to the heart and soul of Mexico.
Eat and Drink: Cantina Laredo welcomes guests to celebrate the occasion in true Mexican style, filled with an abundance of traditional celebrations, florals, face paint and a four course menu featuring dishes such as; aubergine tostadas served with green habanero mayonnaise; duck tacos with Nutella mole and plums; and butterfly tiger prawn served with Valentina butter.
Price: £55 Per Person. Book here 
Where: 10 Upper St Martin's Ln, London WC2H 9FB
7. For a Competition: Benito's Hat
What: On Thursday (2nd November), Benito's Hat are giving customers the chance to be one of nine lucky winners of free burritos for the whole of November 2017. As it's the restaurant group's ninth birthday this year, it seemed fitting to create nine special tortilla wraps, teaming up with professional illustrator, Bryony Fripp, to design a classic Dia De Los Muertos skull, printed onto the wraps with food dye pens.
Eat and Drink: How do you win? Well, one of these spectacular artwork-dyed tortillas will be placed in each venue, ready for customers to discover their cheeky and creepy prize hiding beneath the foil, should they be so lucky as to have their burrito wrapped up in one. Winners will have their photo taken by a member of the Benito's familia upon discovery of their prize, and will be entitled to free burritos for the entirety of November by ways of a preloaded loyalty card.
Price: Just buy a burrito
Where: Locations here
8. For a Themed Quiz: temper City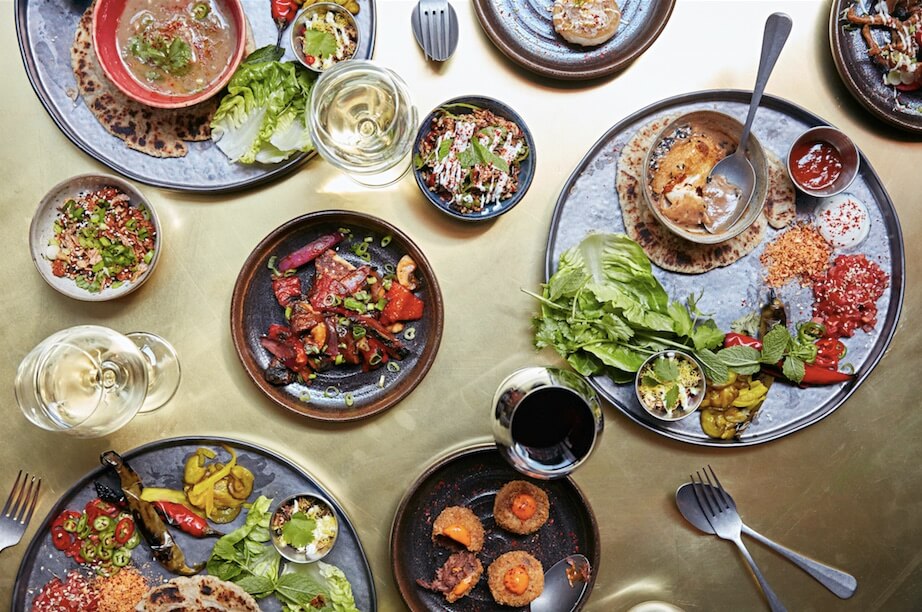 What: On Saturday (4th November) temper City are hosting a Day of the Dead quiz and curry lunch, accompanied by limitless drinks including their famous temper Mary, Prosecco and Mimosas. Fancy dress is encouraged.
Eat and Drink: The lunch menu will offer a selection of temper City's eclectic dishes, including starters of squid and samphire pakora; mutton roll; and crab beignet. Mains include chip shop dashi chicken; crispy katsu egg; fish head curry; and scotch bonnet lamb stew. And for dessert: chocolate and peanut butter turmeric tart. Groups can compete to win a host of prizes – including a £200 voucher to spend at temper City, a cocktail masterclass with head bartender Chris O'Neil and a bottle of wine from temper City's New World centered wine list. Let's get quizzical.
Price: £39 per person. To book email: cityreservations@temperrestaurant.com.
Where: 2 Angel Court, 30 Throgmorton Street, London EC2R 7HJ
Photo Credit: Steven Joyce
9. For a Special Menu: Peyotito Notting Hill
What: To celebrate the Mexican festival on Wednesday (1st) and Thursday (2nd November), Peyotito Notting Hill will undergo a Dia de Muertos takeover. Tuck into a special menu, and a new cocktail menu including signature tipples and drinks such as The Jamaica and Mezcal cocktail.
Eat and Drink: Executive Sous chef Adriana Cavita has created an exclusive set menu, including starters like the black aguachile with sea bass, habanero, avocado pureé, lime and flowers. Main courses include specially prepared barbacoa (24 hour braised lamb with salsa tatemada) or suckling pig with axiote marinade, black bean pureé and habanero sauce. Alternatively, mole de olla, the vegetarian option features beautifully prepared celery root, dry chiles, French beans, potato and fresh corn. Side dishes are also available such as Peyotito's famous guacamole and salsa with tostadas. The menu is finished with churros to satisfy those with a sweet tooth.
Price: The Day of the Dead menu starts from £50 per person for a starter, main and sides. For a further £30 per person guests can add a cocktail pairing menu. Book here.
Where: 31 Kensington Park Road, London, W11 2EU
10. For Dramatic Dishes: Ella Canta 
What: Ella Canta opened earlier this autumn, bringing the colour and spirit of modern Mexico to London, and through the restaurant, culinary superstar Martha Ortiz shares the folktales and customs of her homeland. This re-telling of Mexico's enchanting stories will be seen throughout November, with Ella Canta's Painted Black menu specially created for Day of the Dead.
Eat and Drink: The Painted Black menu will be available from 1st–12th November, and will have a continuous line of black running throughout, a line that celebrates life. The dramatic dishes will combine bold, authentic flavours with contemporary culinary techniques, and will be served alongside a striking collection of cocktails. The six-course menu will include dishes such as seabass with black aguachile, salty mandarin and turmeric sorbet, and quail with black recaudo and caramelised squash purée. For dessert, corn ash sorbet with edible silver.
Price: Reserve a table here
Where: One Hamilton Place, Park Lane, London W1J 7QY