Wouldn't it be nice if there was a handy guide listing the best September events in London? Well, you've just hit the jackpot. There's everything from music festivals to a prohibition knees up. Time to get your diaries out, folks.
The Cultural Agenda: Music
1. For Beer and Bands: Goose Island
What: Goose Island Beer Co. is hosting its LDN Block Party at RED Market in Shoreditch on Saturday (23rd September) with White Lies headlining this music and beer extravaganza. The eclectic music will be accompanied by the finest craft beer line-up, including the new Goose Midway, award-winning Goose IPA, Bourbon County Stout, Sofie, and 312 Urban Wheat Ale, alongside rarer beers from Goose Island's pioneering Chicago brewery.
Why: Goose Island has also teamed up with a variety of local street food vendors to tantalize tastebuds on the day. Goose Island favourites, Smokey Tails from Hoxton Square, will be bringing their classic Midwest themed ribs to feast on, with Greedy Khao offering an authentic Thai menu bursting with flavours and spices. Straight out of Spitalfields, Engine Hotdogs are bringing their famous home made American style hotdogs and Biffs Jack Shack will be bringing tasty and indulgent vegan cuisine to tuck into. Not forgetting the sweet tooths out there, you can get your dessert fix in the form of posh, gourmet waffles from Waffle On.
Price: Tickets here.
Where: 288 Old St, London EC1V 9LA
2. For a Musical Fusion: SEN3 at Birthdays 
What: Two groundbreaking London music scenes collide for a series of standout shows in September at Birthdays, Dalston. Classic grime tracks will be reworked for a live performance by scintillating young jazz band SEN3 who combine their broad musical influences with formal jazz training for an explosive live performance. Think Jaco Pastorius crossed with JME.
Why: Expect a history of UK Grime to be presented over the four dates (4th/12th/19th/26th) with a unique musical twist; from Dizzee to Kano, Wiley to Skepta and plenty in between. Guest MCs will be covering significant tracks making this a memorable night for fans of both genres.
Price: £5. Grab tickets here.
Where: 33-35 Stoke Newington Rd, Stoke Newington, London N16 8BJ
3. For an All Female Line Up: Boiler Room x Budweiser 
What: On Tuesday (5th September), Budweiser has partnered with Boiler Room to bring you an unbelievable line-up of artists at nightclub Bloc, Hackney. The event will be headlined by New York native Princess Nokia alongside South Londoners S4U, BORN N BREAD AND Manara, curated by Princess Nokia herself.
Why: Flying in from New York, rapper Princess Nokia has been making waves globally with her unique blend of tribal beats, with trip hop and R&B. South London's S4U are a collective of creatives, fronted by vocalist Rosita Bonita and producer Prinz George. Together they pull together influences from 90's R&B, avant garde electronica, hip hop and garage, with visuals that vary from lo-fi homages to dance-centric videos for the likes of TLC, to Lynchian fantasies.
Price: The event is free to attend, sign up here.
Where: Autumn Yard, Autumn St, Hackney Wick, London E3 2TT
4. For a Birthday Bash: The Little Festival
What: The Little Festival have announced a series of events that run from September until the end of the year. Things kick off on September 17th with Little Festival Records Intimate Label Party at Gigulum, London, then it is to the much loved Steelyard on Saturday 23rd for The Little Festival's 4th Birthday.
Why: After a summer of festival appearances and parties outside of the capital, The Little Festival are coming home to celebrate four unbelievable years of colour, chaos and incredible music in one of London's best venues, The Steelyard. On Saturday 23rd prepare for yet another unique experience in trademark Little Festival style – more production, props, mesmerising visuals, colour and confetti, accompanied, of course, by a soundtrack of innovative tech house and techno music.

Price: Tickets here 
Where: 13-16 Allhallows Ln, London EC4R 3UL
The Cultural Agenda: Fitness
5. For a Charitable Cause: Power of Boxing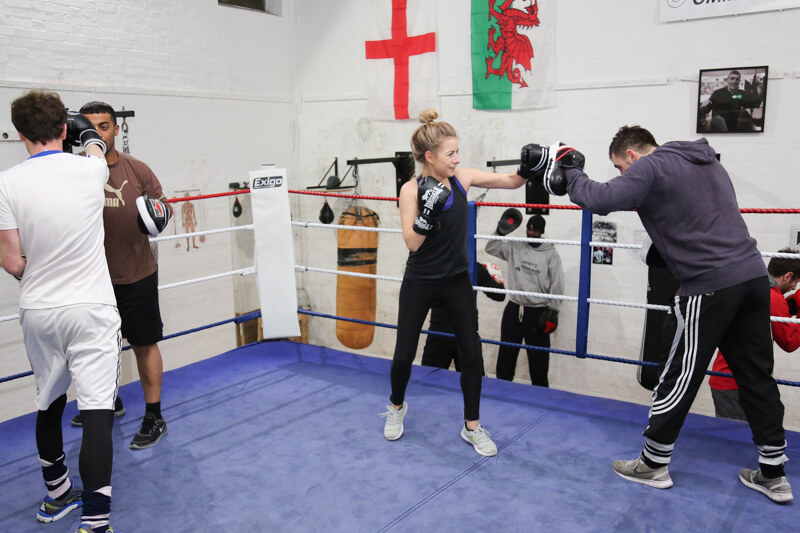 What: The official Boxathon will be starting on Friday (22nd Sept) at 7pm down at Carney's Community Centre in Battersea with all money raised being donated to Fitzroy Lodge, a non-profit making, charitable club. Having existed since 1908, Fitzroy Lodge aims to offer a safe environment for competitive boxers to train and compete in amateur boxing matches following the likes of some of the UK's most successful boxers.
Why: There will be 3 main elements, one of which is getting teams together to do the full 24hrs of boxing training – a mix of circuits, skipping, pad work and bag work. 1) 360 rounds of pads – the public are able to add themselves to a rota to take part in as many rounds as they like. 2) 3 free classes – to take place on Saturday during set times. Instead of paying for each class, participants are asked to make a donation. 3) 24hr boxing – for those that like a real challenge participants are encouraged to get together in teams and complete 6,12, 24 hours of continuous training.
Price: A small donation
Where: Carneys Community Centre, 30 Petworth St, London SW11 4QW
6. For Yoga and Mediation: Wanderlust Festival
What: Wanderlust Festival is a yoga lifestyle festival, taking place in Victoria Park, London on Saturday (23rd September), 7:30am – 4pm. The festival is a one-day celebration of mindfulness, and the team believe that yoga and meditation is for everyone.
Why: The event kicks off with a 5k run, followed by an outdoor flow class and a guided meditation. Nationally recognised teachers will be leading the classes, whilst music will be provided by Arli Liberman and DJ Taz Rashid. And a selection of organic food and crafts will be available for attendees to enjoy.
Price: Tickets here
Where: Victoria Park, Grove Rd, London E3 5TB
7. For a 5K Run: Glow in the Park 
What: Glow in the Park is a stella combo of a sweaty work out, mixed with the up tempo beats from a night out. Forget running 5km on a treadmill – this is the ultimate night time neon 5km experience. Your most outlandish clothes are allowed.
Why: 6 different glow zones, electrifying light shows and energising beats will carry you around the dark course as you Get Your Glow On in the Foam Zone, powder up in the UV Paint Blast Zone and get grooving in the Time Tunnel. The next event takes place on 30th September, and is open to all abilities and ages – whether you dance, jog, run or walk.
Price: Tickets here
Where: Kempton Park Racecourse. Staines Road East, Sunbury on Thames, Middlesex TW16 5AQ
The Cultural Agenda: Festivals
8. For Food and Music: On Blackhealth 
What: On Blackheath Festival is back for another year – taking place on the historic green space of London's Blackheath on Saturday 9th and Sunday 10th September. As well as live music from some of Britain's best loved bands including Travis and The Libertines, festival goers will feast on award-winning street food, guest chefs, pop-up restaurants and the Meantime Craft Brewery Bar at The John Lewis Food Village.
Why: In additional to a stellar music line-up the festival, in partnership with John Lewis also features an incredible food area curated by Masterchef finalist, Tony Rodd. Chef demo highlights include John Torode, the renowned Masterchef judge, Michael Bremner, who has appeared on BBC2's Great British Menu and is the owner and head chef at Brighton's 64 Degrees restaurant, Adam Simmonds, multi-award winning head chef and owner of The Test Kitchen, and MasterChef: The Professional 2016 winners, Jane Devonshire and Gary Maclean cooking up delights.
Price: Tickets here 
Where: Blackheath, London SE3 0UA
9. For a Celebration of Israeli Culture: TLV in LDN
What: From 8th – 11th September 2017, London will host a festival to celebrate and showcase the diverse culture of the vibrant Israeli city of Tel Aviv. TLV in LDN will be a four-day series of engaging events taking place across multiple sites in London.  It will be an opportunity to revel in Tel Aviv's rich cultural landscape, encompassing gastronomy, music, nightlife, arts and style.
Why: The hub of TLV in LDN will be at the Roundhouse, Camden, where Londoners and visitors will be able to indulge their senses amid a bustling festival vibe. The festivities will also include satellite events around the city, showcasing a mixture of talent from both cities across a range of cultural touch-points. Festival highlights will include a live concert of musical fusion, featuring prominent female artists from a variety of backgrounds, including Ester Rada, Marina Maximillian and A-WA. Performances and workshops with Israeli dance troupe Mayumana will also take place, as well as a digital art exhibition curated by internationally-renowned artist Ori Gersht.
Price: Tickets here 
Where: Roundhouse Camden, Chalk Farm Rd, London NW1 8EH
The Cultural Agenda: Special Events
10. For a 1920s Party: The Prohibition Party
What: The Prohibition Party is London's landmark immersive 1920s party, blurring the boundaries between audience and performers. Guests are transported back to a bygone era and invited to enter a surreal and romantic world set in the arches below a central London station. Taking inspiration from the most infamous parties throughout history, Prohibition sweeps guests away to the giddy magic and romance of the glistening Twenties.
Why: Explore secret and intimate rooms where passwords are required to enter, stumble across hidden speakeasies and cocktail delights tucked away in candlelit arches. Throughout the night entertainment includes live bands, DJs on gramophones, silent cinema, dancing troupes and gambling tables. In order to escape the prying eyes of the police, cocktail menus are circulated hidden inside the pages of books, and drinks are served in teacups.
Price: Tickets here 
Where: A secret London location