This Christmas season is nearly here and London is getting ready for a whole host of celebrations. If you're in need of a festive fix, check out our lowdown of the top 12 Christmas events happening in the capital: 
What: On 5th December, The Royal Air Force Benevolent Fund will be hosting a Christmas carol concert at St Clement's Danes, London. 
The Lowdown: Join The Royal Air Force Benevolent Fund for an evening of Christmas classics sung by veterans from across the RAF's storied past and accompanied by the RAF Salon Orchestra. Attendees will not just get the opportunity to sing along but also take part in the charity's campaign 'Join the Search. Change a Life' which appeals to members of the public to help find RAF veterans and their partners who are eligible for, and in need of support. Over a quarter of the capital has a connection to the RAF, and more than two-thirds are related to their RAF connection so it may just be easier than you think to lend a helping hand. 
How to book: Ticket prices from £5-£25. Get them here. 
Where: Central Church of the Royal Air Force St Clement Danes, Strand, Temple, London WC2R 1DH
What: From 6th-8th December, Sea Containers London, the dynamic gallery space will be transformed into a Sea Containers London x Plastic Freedom pop-up shop for sustainable Christmas shoppers. 
The Lowdown: If you're looking for some environmentally-friendly gift inspiration this Christmas then Sea Containers London has got you covered. The space will be transformed into a sustainable haven where guests can purchase gifts for their loved ones or themselves safe in the knowledge that everything they buy will be completely free of single-use plastic. The pop-up will offer a variety of products from limited-edition Self Care Company x Plastic Freedom candles, beautifully curated grooming gift sets to Christmas gift boxes and hessian bows. To top it off, Plastic Freedom has partnered with One Tree Planted which means that one tree will be planted in a chosen location across the world for every Plastic Freedom purchase made. 
Opening hours: Friday: 10am-7pm (with complimentary Prosecco and mince pies from 5-7pm) | Saturday & Sunday 10am-5pm. 
Where: Gallery at Sea Containers London, 20 Upper Ground, London, SE1 9JP
What: Between 12pm-3pm on 14th December, private kareoke company Lucky Voice Islington will be hosting an exclusive Mariah 'Carey-oke' themed bottomless brunch.  
The Lowdown: Celebrating Christmas and all things Mariah Carey, Lucky Voice is giving guests the opportunity to sing along to Mariah's top anthems while feasting on Mimi's favourite food and fizz. Enjoy the some of her favourite meals such as 'Butterfly' Breakfast Bagels, New York-style Pepperoni Pizza and Manhattan Mac & Cheese and wash it all down with a generous glass of fizz and Mariah-inspired cocktails including 'Butterfly Bellinis'. To take it to the next level, Lucky Voice will be stocking its dressing up cupboard with glamourous Mariah-inspired props including sparkly microphones, diamond rings, voluminous wigs, faux furs and glitter galore. Eat, drink and join in the festive fun with a round of party games and the ultimate Mariah Carey singalong. 
Price: £50pp for two hours bottomless brunch and one hour of karaoke. Book your tickets here. 
Where: 173-174 Upper St, Islington, London N1 1RG
What: From 23rd November, Camden Market's North Yard will be transformed into the North Pole and for the first time ever, guests can take a turn on North London's longest ice rink (25m) and experience Santa's Grotto and festive food specials. 
The Lowdown: Camden Market's iconic North Yard is set to be transformed into the illuminated North Pole with an impressive ice rink decked to the nines in fairy lights. After a go on the ice, wander over the cobbles to Santa in the Stables, an enchanted grotto where Santa will be putting on a mini magic show especially for the little ones. Indulgent yuletide specials will be served across the North Yard's restaurants, cafés and delis. Tuck into the  'Triple Ho' vegan Christmas Burger from Rudy's Vegan Diner or head over to The Cheese Bar for their fondue menu before enjoying a boozy hot chocolate from The Camden Grocer. Child-friendly mini menus will be available across all street food vendors. 
How to Book: Camden Market Ice Rink prices start from £6.00. Open from 15th Nov to 9th Jan 2020. 9am – last session at 8.20pm. Santa in the Stables Christmas Grotto prices start from £15.00 for one child and accompanying adult. Open Saturday & Sundays from 23rd Nov – 14th Dec. Daily from 14th Dec – 23rd Dec. 9.30am – last session at 3pm. Book your tickets here. 
Where: North Yard, Camden Stables Market NW1 8AH (nearest entrance on Chalk Farm Road).
What: Christmas at The Yards, Covent Garden is kicking off the festive season with four dates of festive treats for Londoners. 
The Lowdown: Christmas at The Yards has begun and treats to enjoy include live choir performances from some of London's leading choirs and bands and craft and wreath-making workshops for £5 with all proceeds donated to the charity Action for Children.  Complimentary refreshments will be available while stocks last, featuring delights such as mulled wine from Bar Dalla Terra and boozy hot chocolate from restaurant and bar Bill's as well as roasted chestnuts. 
Opening hours: 28th November, 5th December and 14th December. Workshops, complimentary refreshments and live music performances from 5-8pm.
Where: 17 Slingsby Place St Martin's Courtyard, London WC2H 9AB
What: Running for 10 days from 6th-15th December, Tanqueray No. TEN will be taking over London's Bloomsbury House and magically transforming into the Tanqueray Townhouse for gin lovers to enjoy. 
The Lowdown: Tanqueray Townhouse will be opening its doors on 6th December to invite guests into the exciting world of Tanqueray No. TEN gin. During its ten-day residency, the Tanqueray Townhouse will be providing guests with a series of immersive experiences which begin with a sensorial journey up the winding staircase and into this London establishment. World-renowned Magic Circle artists will circle around the Townhouse each evening, performing illusions to excite, amaze and bring a touch of magic to this festive period. A range of delicious cocktails will also be on offer throughout the evening, made from small-batch distilled gin, featuring classics such as Tom Collins, Tanqueray No. TEN and Tonic, Bloomsbury Sour and Townhouse Negroni. During its residency, Tanqueray Townhouse will be supporting The Felix Project, a charity that helps people experiencing food poverty in London. 
How to book: Tickets are £12 per person and include two Tanqueray cocktails. Book your ticket here. 
Where: Bloomsbury House, 2-3 Bloomsbury Way, Holborn, London WC1A 2RL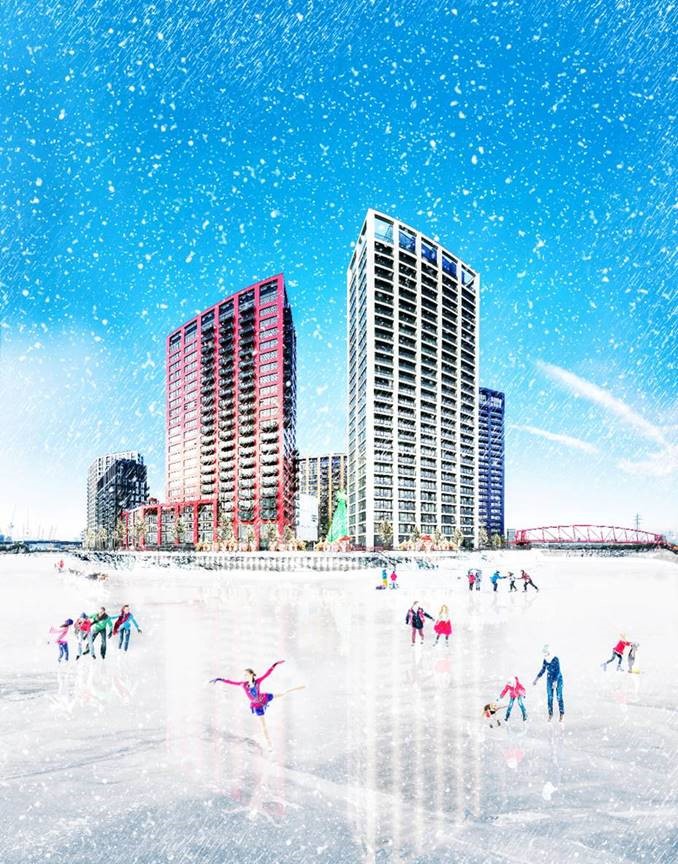 What: City Island is set to become a hub for Christmas festivities this year with its ice rink, four-day Christmas market and a host of festive workshops for the whole family to get stuck into. 
The Lowdown: There's no ice rink in Canary Wharf this year so City Island is taking the reins with its impressive 45-person open-air ice rink in residence from 12th-22nd December. Designed to be a day out for the whole family, City Island will be putting on special skating lessons for children, aided by skating penguins and pre-skate workshop warm-ups with dance artists from English National Ballet. Kicking things off will be a live musical performance by English National Ballet's Sinfonietta Orchestra on 12th December (7-9pm) and a four-day Christmas market (12th-15th December) will accompany the ice rink's opening with a wealth of festive food, drink and gifts. Guests can also take part in wreath-making workshops, seasonal cocktail masterclasses, wine-tasting and buy or pre-order their Christmas trees. 
How to Book: Adult ice skating tickets cost £8 per person and child tickets cost £5 per person. Book tickets here. 
Where: Orchard Pl, Poplar, London E14 0QG
What: BorrowMyDoggy and Save the Children have once again teamed up to try and break the world record for the biggest gathering of dogs and people in Christmas jumpers on 8th December at 12pm. 
The Lowdown: Whether you're a dog owner, dog borrower or dog lover, BorrowMyDoggy and Save the Children are inviting you and your furry friend to take part in a world record attempt for a good cause ahead of Christmas Jumper Day on 13th December. More than 300 dogs are expected to lead the way from Labradors and Spaniels to Boxers and Dachshunds and the silliest and daftest woollies are encouraged on both you and your dog. The event will also include hay bale racing, tombola and Christmas carols sung by the Chelsea Pensioners. Pastries, coffees, dog snack and dog toys will be provided. Ahead of this special day, BorrowMyDoggy will be selling top dog and human Christmas jumpers on their website with prices starting from £15. Dog lovers of all ages can also put pen to paper and design a Christmas jumper of their own. The lucky winner will get their design manufactured especially for them in the shape of a winter woolly for themselves and their dog. To be in with the chance of winning send your entry by 11pm on 17th November here. 
Where: Peartree Cafe, Battersea Park, London SW11 4NJ. Secure your spot by registering here.  
What: On 30th November, Hackney Christmas Market will be returning for its second year and it's set to be bigger and better than ever. 
The Lowdown: Hackney Christmas Market is back and with over 50 independent traders, it will be focusing on conscious gifting, upcycling, ethical attire and much more. Get stuck in with the Christmas decoration-making and gift-making workshops, let the kids run wild and enjoy the all-new Santa's Grotto and Giant Snow Globe while you do some Christmas shopping among the stalls. There will also be delicious street food on offer as well as a fully stocked bar. Live music and performances will be taking place all weekend to create a wonderfully festive atmosphere the whole family can enjoy. 
Opening hours: 30th November – 1st December, 7th – 8th and 14th – 15th December. Open from 11am – 6pm. FREE to attend. 
Where: Bohemia Place Markets, opposite Hackney Central station
What: From 29th November, Royal Docks and Partners are hosting a brand new festive film festival, Dock the Halls, on selected dates with music and workshops for all. 
The Lowdown: London's historic Royal Docks will be getting in the Christmas spirit with Royal Docks, a seasonal film festival that will be taking place on Fridays and Saturdays between 29th November until 21st December. The film festival will feature 13 film screenings all with live music and fun workshops at seven Royal Docks venues. Keeping things seasonal, Dock the Halls will feature films such as 'The Holiday', 'Die Hard' and 'Love Actually' as well as family-favourites such as 'Elf', 'Home Alone ' and 'The Snowman'. There will also be opportunities to join in extra activities for all from mask, gift and puppet-making to live performances. Most film screenings at Dock the Halls are family-friendly and free, making it the perfect event for everyone to enjoy. 
How to Book: FREE entry. Visit the website to find out what's on here. 
Where: Various locations in the Royal Docks. See the website to find out where.
What: From the end of November, guests can get in the festive mood with a Christmas Afternoon Tea at Hilton Park Lane. 
The Lowdown: The Christmas Afternoon Tea offers three tiers of seasonal treats including decadent open sandwiches, freshly baked scones with a filling of your choice (clotted cream, strawberry jam or praline chocolate spread), as well as indulgent themed miniature fancies. Guests can also accompany their afternoon tea with a range of black, white and green teas or a glass of Pommery Champagne. Hilton Park Lane is located next to Hyde Park so it's an ideal pitstop for those visiting from Winter Wonderland. Catch the Christmas Afternoon Tea from 2pm-5pm and weekends from 12.30pm – 5pm throughout the Christmas season. 
How to Book: Price starts at £39 per person or £49 with a glass of champagne. Click here to book. 
Where: 22 Park Ln, Mayfair, London W1K 1BE
What: From 2nd December until 31st January, Gordon Ramsey's Heddon Street Kitchen will be launching its St-Germain Winter Bloom Experience and seasonal cocktail menu to see you through Christmas and New Year. 
The Lowdown: For a limited time only, Heddon Street Kitchen will partner with St-Germain, the world's first French elderflower liqueur, to transform the restaurant into a Winter Bloom Experience. Guests can step inside an exquisite winter wonderland; an elegant and fully immersive floral installation, and sip on a selection of bespoke winter St-Germain cocktails created in collaboration with Heddon Street Kitchen. The stunning floral hideaway promises perfect Instagrammable moments to celebrate the run-up to Christmas in. Beautifully paired a la carte dishes and St-Germain cocktails will be available for the duration of the installation. Look out for cosy mulled Cidre Chaud, Glory of Expedition and Le Grand Fizz. 
How to Book: Reserve your table here. 
Where: 3-9 Heddon St, Mayfair, London W1B 4BE