Looking for the best things to do in London on a rainy day? Read on. The UK is no stranger to bad weather but if you're in London waking up to a rainy day doesn't mean you should stay at home. Even if it's a bit wet there are plenty of indoor activities you can enjoy from the theatre to afternoon tea. So, if you need some inspiration and perhaps some shelter, here's a list of the best things to do in the city when it rains:
The Pelham Hotel has launched an exciting new afternoon tea experience that's a perfect rainy day refuge in the city. Inspired by the 60's fashion icon, Mary Quant and planned, designed and conceptualised by the luxury event planners La Fete, this afternoon tea celebrates fashion in a unique and innovative way. Expect to see edible lipsticks, nail varnish bottles, colourful 'Quant Crayon' sandwiches and a selection of cocktails to wash them all down with. After the afternoon tea, diners can enjoy a visit to the Mary Quant exhibition at the Victoria and Albert Museum to learn all about the 60's Mod experience, and most importantly, the miniskirt.
Where: Pelham London – Star Hotels Collezione, 15 Cromwell Place, South Kensington, London, SW7 2LA
While away the rainy days at the JD Malat Gallery in Mayfair. This gallery showcases a collection of contemporary art exhibitions by artists from a broad spectrum of international backgrounds and schools. It was founded by the internationally recognised French London-based art dealer and curator Jean-David Malat who has worked tirelessly to bring previously unknown artists to public attention. Their current exhibition is 'Urban Scene' by Li Tianbing which runs until June 15th. It will be replaced by the LA-based artist Andy Moses and his 'Echoes of Light' until 20th July. The gallery is free entry so it's perfect for those looking to spend a few hours soaking up some art instead of rainwater.
Where: 30 Davies Street, Mayfair, London W1K 4NB
What better way to escape the rain than to pick up a new hobby or skill? London Drawing hosts a variety of life drawing masterclasses throughout the week that are tutored by talented professional artists. All classes are £10 and suit those who are feeling a little spontaneous as you can drop in without any pre-booking necessary. The location varies depending on the day and the class, and with venues found all across the city, you could say that London is quite literally drawing.
Discover more information about venues here
You would be forgiven if all you wanted to do is eat your weight in carbs when it's miserable outside and where better than Emilia's Crafted Pasta? One of the best things to do in London on a rainy day – the restaurant chain in St Katherine Docks and more recently Aldgate is a comforting antidote to a rainy day. Founded by Andrew, a self-professed pasta enthusiast from birth, he made it his mission to learn about the craft behind authentic Italian pasta and brought it back to the UK much to the delight of us hungry Londoners. Emilia's craft their pasta fresh every morning and dishes to whet your appetite include a 4-hour slow cooked béchamel bolognese with pappardelle pasta and flaked yellowfin tuna fillet with rigatoni.
Where: St Katherine Docks, Unit C3 Ivory House, London, E1W 1AT and Aldgate, 77 Alie Street, London, E1 8NH
A cookery masterclass with the award-winning Theo Randall at the InterContinental, a five-star luxury hotel, is the right balance of mouthwatering and educational. Better still, it gets you out of the rain. Held on selected dates throughout the year, these seasonal masterclasses use only the finest quality ingredients. If you ever wanted to get some tips from a professional chef while being served prosecco and a four-course meal then this is the place to do it. It's advisable to reserve your spot in advance to avoid disappointment.  
Where: InterContinental London Park Lane, One Hamilton Place, Park Lane, London, W1J 7QY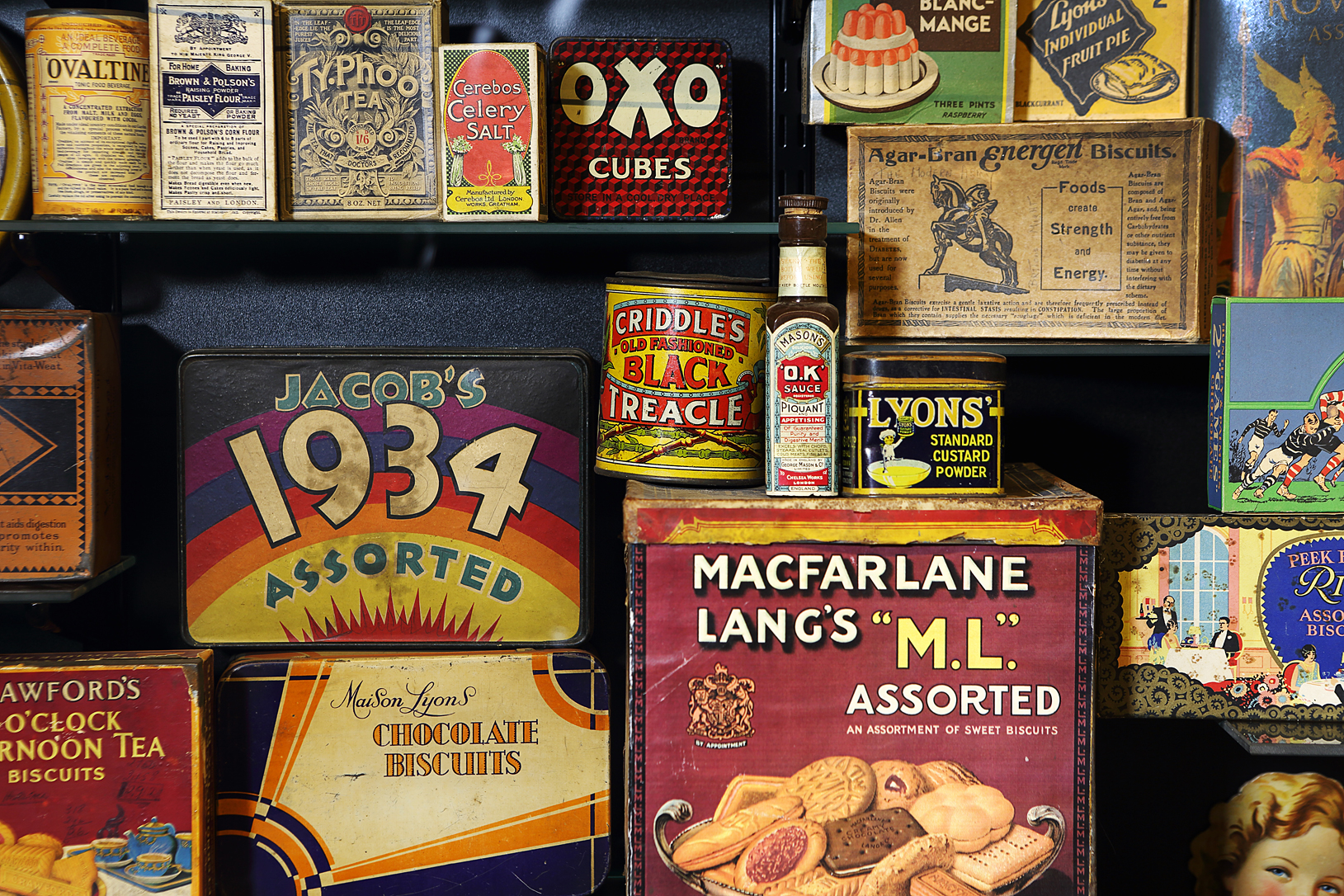 Going to a museum is an old favourite activity when it comes to passing the time on rainy days and London certainly isn't lacking in them. Head to the Museum of Brands for a fascinating insight into the world of advertising and how brands have evolved over the decades. Spot familiar brands and learn about how they recorded the daily lives of ordinary people over the last 150 years. Immerse yourself in a colourful world of contemporary household packaging, technology, fashion and design before taking a trip through the Time Tunnel. The Museum of Brands observes the whims of style, toys, the influence of entertainment and war in a nostalgic celebration of the past.
Where: 111-117 Lancaster Road, Notting Hill, W11 1QT
Photo Credit: Peggy Porschen
The Peggy Porschen Cafe in Belgravia promises to brighten up a dreary day with its unmistakable sugary pink exterior that matches the sweet treats it serves but the real icing on the cake is the garlands of flowers that adorn its doorway. These iconic floral arrangements have made this cafe reign supreme on Instagram since it opened so if there's anywhere worthy enough to get a quick snap or selfie in then it's here. Venture inside and be enticed by the heavenly selection of decadent cakes that can be paired with a crisp glass of champagne if you're feeling festive.
Address: 116 Ebury Street, Belgravia, London SW1W 9QQ
Photo Credit: The Electric Cinema
The Electric Cinema Portobello in Notting Hill is one of the oldest working cinemas in Britain and it offers an ideal hideaway to cosy up and watch a film on a rainy day. It first opened in 1910 and it's vaulted ceiling, squashy red armchairs and front row beds give it the appearance of an elegant old theatre and a comfortable lounge. If you want to grab a pre-film refreshment, the bar opens ten minutes before screening time and you can treat yourself to a selection of cocktails, wine, beer and champagne. For something more substantial, the Electric Diner adjacent to the cinema serves indulgent food till late if you're feeling peckish after an evening film.
Where: Electric Cinema Portobello, 191 Portobello Road, London, W11 2ED
Look up at clearer skies at the Peter Harrison Planetarium in Greenwich. It's part of the Royal Observatory complex which consists of the historical part of the observatory (ticketed) and the Astronomy Centre (free) which is where you can find the Planetarium. Sit back, relax and take a tour of the universe from the comfort of your own seat. Shows to experience include 'The Sky Tonight', 'Moons Beyond Counting' and 'Meet the Neighbours' and each one is led by a Royal Observatory astronomer.
Where: The Royal Observatory, Blackheath Avenue, Greenwich, London, SE10 8XJ
London is well-known for having a vibrant theatre scene so when the weather is not in your favour why not turn your day around and catch a matinee performance at the West End? From musicals to plays there's always something going on. Most matinee showings start between 2pm and 3pm and tend to be later in the week but it's a good idea to check online to find out more information.  
Discover more information about matinees here
And one for luck…
Art 4 Fun lets you unleash your arty side so why not make a day of it when it's raining? You can go along with friends, family or by yourself and get creative with a piece of pottery of your choosing and even design your own glass jewellery. If you have any important birthdays coming up and need some inspiration then a personal, fully functional and microwave-safe gift could be just the ticket. No experience or skills are necessary. Customers can also enjoy a selection of teas, coffees and wine in the Art 4 Fun cafe.
Where: 172 West End Lane, West Hampstead, London, NW6 1SD