Bank Holiday Scorcher: 10 Outdoor Terraces You Need to Visit in LondonBy Angelica Malin
We don't know if you're heard the news, but the bank holiday weekend in London is set to be a scorcher (only a casual 30 degrees). Now is the time to seize every opportunity to bask in the warm London glow, and dine al fresco where you can. Branch out from your local beer garden, and discover 10 new terraces in London. Time to eat, drink and sunbathe:
1. For a Calming Oasis: Petersham Nurseries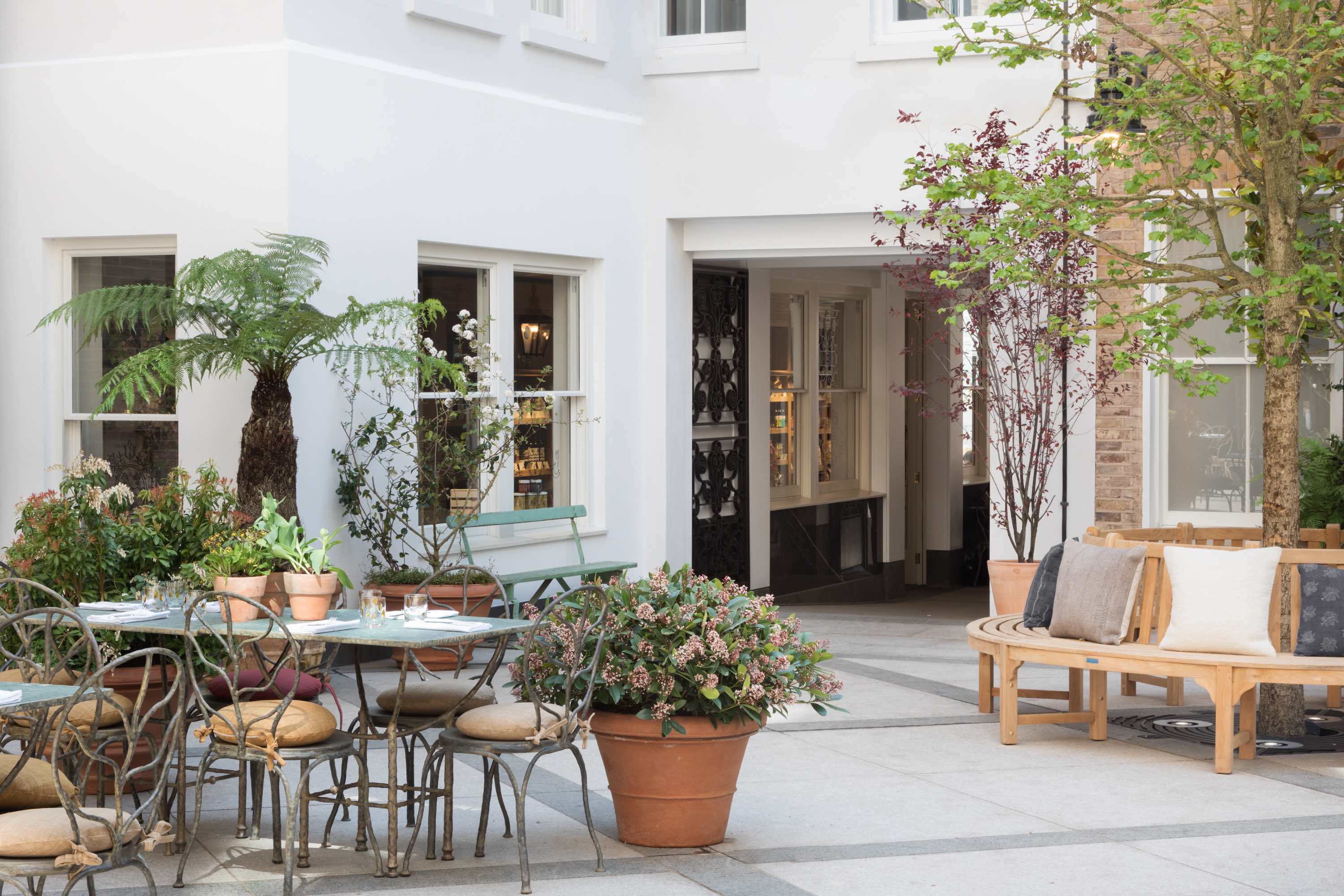 The Lowdown: Petersham Nurseries in Covent Garden is not only home to two restaurants, a homeware shop, delicatessen, wine cellar and bar, but also a secret courtyard. Surrounded by evergreen walls, the courtyard combines English country charm with Italian elegance – and it's the ideal spot to sink a few cocktails.
Eat and Drink: Enjoy seasonal Bellinis with appetisers, handmade pasta and gnocchi, day boat fish from Cornwall, and organic meat from Haye Farm. Desserts include Petersham Nurseries' Original Bean Chocolate with Zisola olive oil and sea salt, and the finest of Italian and British cheeses.
Where: 27-31 King St, Covent Garden, London WC2E 8JB
2. For a Rooftop Terrace: Skylight
The Lowdown: Soaring above London's most unique event venue, Tobacco Dock in Wapping, Skylight boasts three floors of bars, street food, live entertainment, croquet, pétanque, screens, DJs and an unrivalled view of London's iconic skyline.
Eat and Drink: Each level of Skylight is dotted with bars serving an all-new refreshing seasonal cocktail menu alongside spritzes, pitchers, bubbly and wine. Ice cold beers on tap include Staropramen, Blue Moon, Wolf Rock Red IPA and Sharps Brands. The bars also feature Aspal Cyder on tap, the full range of Bacardi spirts and Laurent Perrier champagne by the glass and bottle. And street food traders Yiro and Flip Side are found on the lower level, both cooking up a selection of ultimate summer dishes with a focus on world flavours.
Where: Pennington St. Car Park Entrance Wapping, London
E1W 2SF
3. For Aged-Barrel Cocktails: The Churchill Bar & Terrace
The Lowdown: Inspired by Sir Winston Churchill's travels with the Admiralty yacht HMS Enchantress during his appointment as First Lord of the Admiralty from 1911 to 1915, The Churchill Bar's alfresco terrace has transformed into a maritime oasis featuring vintage nautical compasses, anchors, boat oars and sea shells.
Eat and Drink: Seasonal specials include Churchill's Tot – a whisky and sweet vermouth concoction aged in a wooden barrel, Lord Nelson created in honour of Admiral Nelson who led his fleet into victory at the battle of Trafalgar, Jennies' Bevvy, a gin-based drink inspired by the courage of all women in the Royal Navy, as well as The Winkle, especially designed to honour the Winkle Club formed in 1900 by Hasting's fishermen to provide help to the underprivileged. For every Winkle cocktail served, £1 will be donated to the Winkle Club.
Where: Hyatt Regency, 30 Portman Square, Marylebone, London W1H 7BH
4. For Laid Back Dining: The Coach
The Lowdown: Recently launched The Coach in Clerkenwell has opened its outdoor terrace. Known as the "bear garden," the spot was used for animal fights during the 18th century. Thankfully, the decked garden now offers tables and chairs for eating and drinking, with overhead lighting and an abundance of foliage.
Eat and Drink: Seasonal dishes include asparagus soup; broad bean, pea, pea shoot, red onion, pine nut and cacioricotta salad; and fillet of cod, épinard à la crème, marinated fennel and roasted Datterini tomatoes. Don't miss out on the refreshing apple sorbet and a shot of Calvados for dessert – it's smashing.
Where: 26-28 Ray St, Clerkenwell, London EC1R 3DJ
5. For Small Plates and Cocktails: Bar Douro
The Lowdown: Inspired by the traditional cervejarias and tascas of Lisbon and Porto, Bar Douro's terrace on Flat Iron Square welcomes everyone to perch at bar stools, clustered around upturned Wright's Brothers barrels as tables and share plates of tapas in the London sunshine.
Eat and Drink: There's classic drinks like the White Port and Tonic, served with a sprig of mint and slice of orange, and a selection of petiscos small plates running from Pataniscas de Bacalhau (salt cod fritters) to Folhado de Esparregado (spinach pastry), and seafood specials including octopus with sweet potato.
Where: Arch 35b, Flat Iron Square, Union St, London SE1 1TD
6. For a Japanese Garden: Aqua Kyoto 
The Lowdown: Aqua Kyoto's famous rooftop terrace has turned into a beautiful fusion of Japanese meets English garden, thanks to a little help from Tanqueray Lovage. Complete with hanging foliage, a delicate floral display and a tranquil water feature, the aqua kyoto terrace provides a peaceful retreat from not-so-shoppers'-paradise, Oxford Street.
Eat and Drink: Highlights from the new menu include the Summer Garden, a cooling mix of Tanqueray Lovage, Cinzano Bianco, herbal Suze liqueur, Amaro del Capo (an earthy Italian spirit), and grapefruit juice. The Italian Escape combines Tanqueray Lovage with the citrus flavours of Italicus and Campari, Bergamot and is topped with bitter lemon, and the Waiting for the Sunset with the tropical combination of Tanqueray no.TEN, falernum syrup, floral orget, Fernet Branca, apple juice, lemon juice and finished with coconut flavour liqueur.
Where: 5th Floor, 240 Regent Street, (Entrance 30 Argyll St, W1F 7EB, London W1B 3BR
The Lowdown: Rotunda Bar & Restaurant in King's Cross has transformed its popular canal-side terrace into a tropical Rum Garden, in partnership with Havana Club. The Rum Garden by the water has everything you could possibly want for a day time drinking session; deck chairs, canal-side views, rum cocktails on tap and barbecued meats galore.
Eat and Drink: The menu feature dishes such as miso and mango glazed aubergine; crispy mackerel, sour beetroot with a toasted hazelnut dressing; and Gressingham duck breast with sweet potato purée, crispy plantain and rum-soaked grapes. A range of rum-based cocktails are available including a Chocolate orange rum fashioned, as well as a Breakfast daiquiri and a Spiced chilli pineapple. Buff.
Where: Kings Place, 90 York Way, London N1 9AG
8. For Italian Nibbles: alto by San Carlo
The Lowdown: Located atop the iconic Oxford Street luxury department store, Selfridges, independent Italian restaurant brand, San Carlo has found a new home for the summer. Complete with verdant overhead foliage and citrus trees, alto by San Carlo is the go to spot for superb, seasonal Italian fare.
Eat and Drink: Signature creations include fillet of seabass cooked in black volcanic salt from Mount Etna; truffle and pecorino ravioli; and basil and prawn risotto. There's classic favourites such as Spaghetti cacio e pepe (Roman-style pasta served with pecorino cheese and black pepper) alongside meat dishes created using Chianina beef from Tuscany and fish grilled in a Josper oven. And for dessert, the ultimate crowd pleaser: Coppa Golosa, a giant bowl of chocolate, hazelnut and vanilla gelato topped with crushed Ferrero Rocher and warm Nutella sauce.
Where: Selfridges, Oxford St, London W1A 1AB
9. For a Taste of the Mediterranean: Fiume
The Lowdown: Fiume, which translates as 'river', is set right on the bank of the Thames, with stunning views over the river and a large piazza-style terrace filled with lemon and olive trees. It may not be the sun-baked Mediterranean, but it comes pretty close. 
Eat and Drink: Situated in the highly-anticipated Battersea power station redevelopment, the restaurant offers wholesome, hearty dishes showcasing the vibrant ingredients of the Mediterranean whilst paying homage to the Mezzogiorno region of southern Italy. A tempting selection of cicchetti and antipasti includes saffron and mozzarella supplì di riso, and octopus with cannellini beans, served alongside freshly-made breads. Handmade pastas follow, like burrata tortelli with hazelnuts and sage, and lamb ragout fettucine.
Where: Circus West Village, Battersea Power Station, London SW8 5BN
The Lowdown: Orrery has collaborated with Neom Organics for a South of France inspired rooftop terrace. Take a seat on linen-covered couches, nestled amongst a grove of aromatic lavender, olive trees, with camomile and rosemary shrubs, and take advantage of the bespoke cocktail menu.
Eat and Drink: Orrery's bar team have created a collection of cocktails inspired by the essentials oils in Energy Burst, topped with Moët & Chandon, the champagne of celebration:  The Paloma, a soft refreshing option with grapefruit, ginger, lime, rosemary; Lemon Zest, featuring lemon spiked Belvedere vodka and Moët & Chandon Spritz, Crème de mure, Moët & Chandon, finished with a touch of rosemary. Dishes can be ordered from the a la carte menu at lunch and dinner, with a lighter terrace menu of small dishes including Parma ham, Charentais melon and chilled tomato gazpacho, cheese plates from Orrery's famous trolley, and desserts available throughout the afternoon.
Where: 55 Marylebone High St, Marylebone, London W1U 5RB
One for luck… 
11. For a  Taste of Thailand: Greyhound Cafe
The Lowdown: Looking for a central London terrace? Head to Bangkok-style café, Greyhound. The restaurant's terrace has been transformed into a tropical paradise with swathes of traditional yellow Thai marigolds and technicolour bunting.
Eat and Drink: Divided between small and large dishes, Thai-style 'Single Plates' and a sizeable vegetarian section, the menu at Greyhound Café pays homage to Thai cooking with the greatest hits of Bangkok dishes but with Greyhound's signature twists. For drinks, don't miss Cha Dum Yen, a short cocktail made using Mekhong, Campari and Thai tea syrup, or if you fancy something longer, the Siamese Greyhound is fruity and refreshing.
Where: 37 Berners St, Fitzrovia, London W1T 3LZ