About Time: You Visited London's Best Art FairsBy Suzi Malin
This weekend is the biggest in the art calendar, with the  international art fairs drawing around 60,000 visitors to England to visit these exciting shows. We rounded up the best shows and what exhibits you should be visiting this weekend.
Frieze Masters 
What: Frieze Masters is an art fair that offers a contemporary lens on historical art. The art fair features over 120 of the world's leading galleries, from ancient to modern and a range of different talks are talking place over this weekend.
Where: Regents Park, London.
We've found the must see art at the Frieze Masters exhibition:
 Lucien Freud (1948)

'A walk to the office' – conte crayon on paper. Made to illustrate Sanson's surreal novel The Equilibriad. Freud concentrated more on paintings and did hardly any drawings after 1955 and so this is relatively rare and accordingly priced at a mere £900,00 from Jean Luc Baroni Ltd.
Hendrick Maertensz Sorgh (1649)
A gem by Hendrick Maertensz Sorgh painted in 1649 . Oil on board at Johnny Van Haeften  Gallery. A Kitchen interior, with Christ at Emmaus. An artist whose work has received less recognition than he deserves. The light in the painting is stunning
Annie Liebovitz (1992)
Dazzling photographs at Bernheimer Fine Art photography. See" dyptich "Iggy pop Miami " on left and "Louise Bourgeois New York 1992". The detail is quite mesmerising
Nikolaus Tzefouris (Late 15th Century)
Precious object breathtaking in its  beauty commissioned by a Grekk Orthodax and Venetian catholic family with writing from  both Crete and also Latin inscribed into the gold to add to its charm.
Alfred Sickert (1889)



Executed in oil on canvas from the Fine Art Society.The light in this painting is quite extraordinary as are the colours and tones of the shadows. A painting that you just can't stop looking at -save time, sit down and enjoy this masterpiece!
The Other Art fair and Moniker
What: Curated by the charming Ryan Stanier, a dynamic entrepreneur who radiates energy and bonhomie. He is currently curating a similar events in all over Australia.
When: Saturday 11am-8pm and Sunday 11am-6pm
Where: Old Truman Brewery, 91 Brick Lane, London
 House of Fairy Tales
A number of artists create delightful, miniature matchbox art for silent auction in aid of a children's charity.
Graeme Messer
A rawness and honesty as the artist exposes his memories and emotions .
Matt Small 

Look out for Matt Small's 3D mixed media head which has a bold  impact because the modelling is so well observed.
Also look out for: 
Graeme Messer  – A rawness and honesty as the artist exposes his memories and emotions.
Anthony Crossfield – Photographic technical excellence as bodies merge in lovemaking and gentleness.
1:54 Contemporary African Art at Somerset House
What: After a successful stint in New York this year, 1:54 Contemporary African Art in back at Somerset House once again. Marvel at 38 exhibitors representing more than 150 contemporary artists from Africa and the African diaspora
When: Saturday 12.00-20.00 and Sunday 12.00-18.00
Where: South Wing, West Wing and East Wing – Somerset House, Strand, London WC2R 1LA
Dont Miss: A.Konate. Dramatic and profound piece capturing stillness. Try and see this work without hundreds of people around as it speaks and you don't want noise. He is an important artist of some reputation who deserves space and time.
Ndang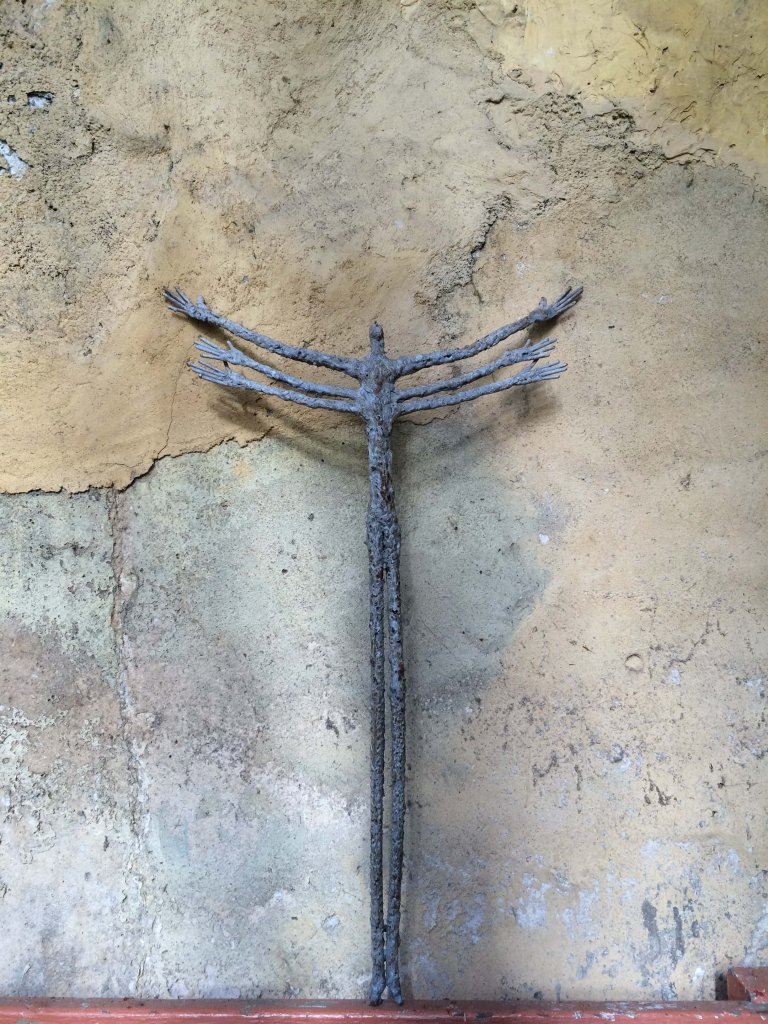 Ndang's spectacular sculptures makes nature come alive. This artist creates magic as he stirs emotion in welded steel. People were queing to acquire his extraordinarily powerful work.
Jebila Okonwu

A piece by Jebila Okonwu. African pop art of bananas made out of cardboard. Andy Warhol would have loved these humorous, lively pieces.
Boris Nzebo
This is a piece by Boris Nzebo. His bold, steel heads are painted colourfully in acrylic and have a power in their simplicity.
Masimba Hwati


Masimba Hwati creates a haunting image using a skateboard. It's  reminiscent of Picasso's work with bicycle handlebars but with a touch of voodoo.