Last year, street food trailblazers KERB put on London's first fried chicken battle and people went crazy for it. Like real crazy. Our social media was blowing up all over the shop; if we had a quid for ever poultry picture we saw, we'd be pretty well off by now.
Fried chicken lovers from north and south of the river gathered from all over to indulge in one giant jumble of fried chicken talent, voted for their favourite and crowned one winner London's 'fried chicken champion'. This summer (2oth/21st July), clear your diaries, as Bucket List is back and this year, it's stepped up a notch.
KERB's Bucket List: The Run-Down
The fried chicken game in London is still as strong as ever, so KERB have picked some of the best bird bosses out there (well-known KERBanists + non-KERB special guests) to go head-to-head under the King's Cross canopy. 8 traders/ 2 days/ 1 winner, and you decide who gets crowned the 2018 KERB Colonel, knocking last year's reigning champ, Petare, off the top spot to claim the golden cock. Or will Petrare's Venezuelan masa-fried wonder win again?​
This time around some of the traders are partnering with Frank's RedHot – the original buffalo sauce gurus – to deliver exclusive menus to The Bucket List, using the iconic sauce to take their dishes to the next, spicy level. Frank's RedHot will also be spicing things up with a hot sauce photo booth, beer pong games (with a kick), a peep board and KERB's favourite American games corn-hole. And that's not all, Frank's RedHot will also be hosting a Buffalo wing eating contest (not for the faint hearted).
KERB's Bucket List: The Traders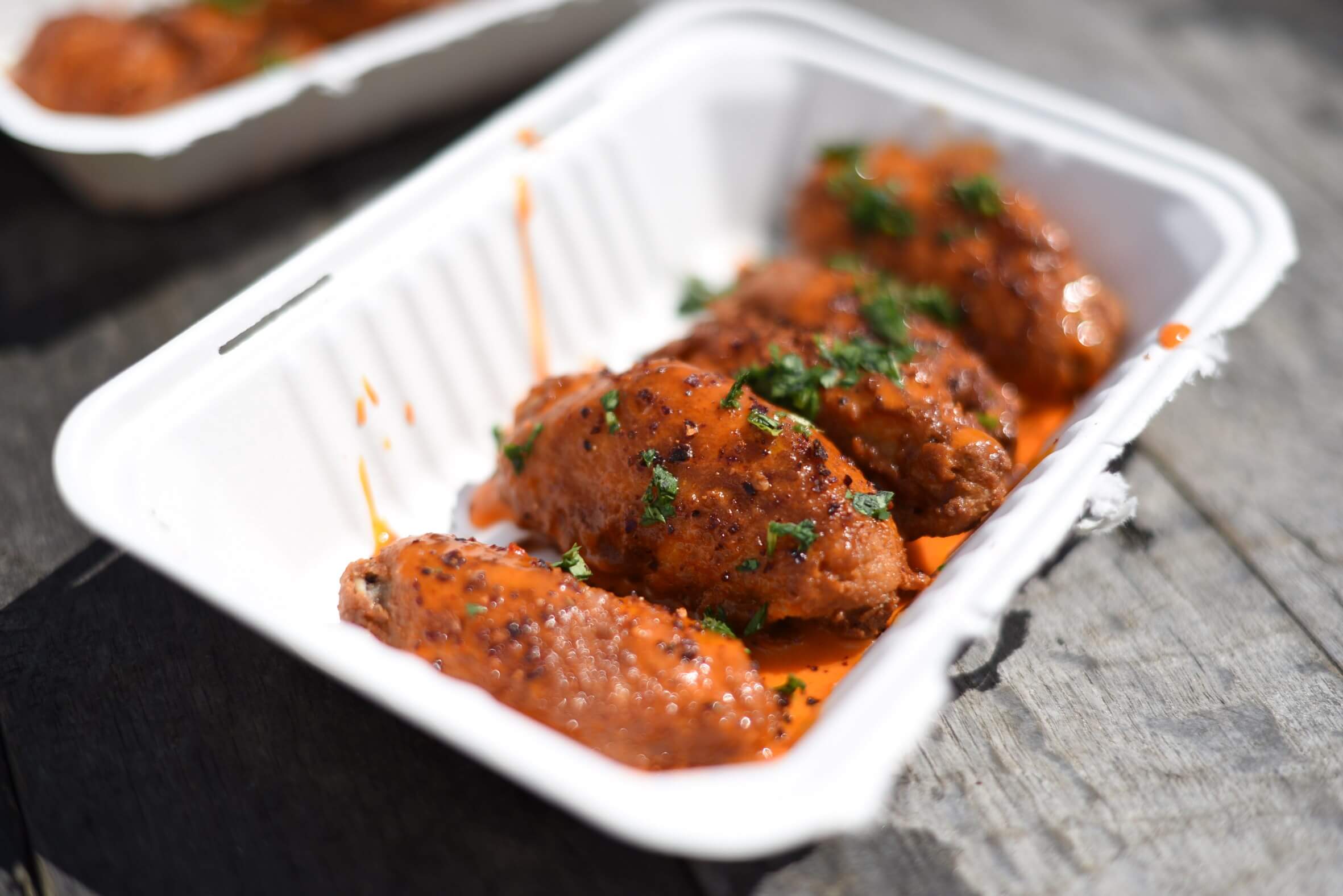 Expect incredible one-off chicken creations from KERB's always on-point traders plus some very exciting new guests. For the first time ever, South London's favourite fried chicken fast food chain, Morley's (established in 1985) will be 'crossing the road' to King's Cross alongside KERB Alumni; Thunderbird (formerly known as BBQ Lab) and street food success story, Butchies.
​
Is the high street really dead? Or will chain shop Morley's win the hearts away from KERBanist Kolkati's Kerelan, Bian Dang's Taiwanese, Mother Flipper's Korean and da ja chicken's Malaysian twisted 2018 entries? It's in your hands. ​
KERB's Bucket List: Eat
Morley's (special guest): South London's favourite Fried Chicken chain.
Thunderbird (special guest): Frank's RedHot Sauce 'Chipuffalo Wings' – Buffalo-Chipotle wings with pickled celery and truffled blue cheese.
Butchies (special guest): Butchies chicken strips with bone broth gravy.
Petare (reigning Bucket List Champion 2017): coming back with that winning guava glaze, habanero mayo, Venezuelan-style masa-fried thigh.
Bian Dang:General Tao's Taiwanese crunchy, hot, sweet and tangy (Frank's RedHot sauce) chicken drumsticks with a side of edamame and Asian Slaw.
Da ja chicken: Fried Chicken with Octo Vinaigrette (the perfect balance of savoury, sweet, sour and spicy), plus Yuzu pepper mayo
Mother Flipper: Korean Wings – soy glaze, spring onion, Korean chilli flakes, black sesame seeds (1 piece per person ie one drum or one flat)
Every ticket holder receives a portion of fried chicken from each Bucket List trader to load up their bucket, and a free bottle of Frank's RedHot sauce. Tickets are £30, available here.
West Handyside Canopy, King's Cross, N1C