About Time You Saw: Women on the Verge of a Nervous BreakdownBy Gilly Hopper
Celebrating women centre stage at the Playhouse Theatre, new musical comedy Women on the Verge of a Nervous Breakdown, verges on fabulous with Tamsin Greig as the show's leading lady.
The acclaimed film by the same name, written and directed by Pedro Almodóvar and starring heartthrob Antonio Banderas (yum), provides a sidesplitting base for this witty and frantic musical parody. Set in sunny Spain, the show centers in on TV actress and singer Pepa (Tamsin Greig) as her life slowly goes down the crapper. What do you do when your lover dumps you by voicemail (still marginally better than a Post-it a la Sex and the City), your best friend confides that she has been sleeping with a Shiite terrorist and you've missed your period? Make gazpacho of course. (For those not au fait with the 1980s film, gazpacho, laced with sleeping pills, pretty much fuels the story's narrative.)
Through a flurry of panic, hysterics, and torch songs, Pepa's day goes from bad, to worse, to Christ. Her lover leaves her. She meets his wife. And his son. And his new girlfriend. As the labeled 'dumpee,' Tamsin Greig shines in her ability to scurry through the shows cheesier moments, and cling to her character's core concerns. In her truthful presentation, Tamsin grounds the show in moments of empathy, and is to be commended for her credible depiction of a woman on the verge.
While this lighthearted musical adaptation dips into moments of clarity and self-reflection, it is largely overrun with outlandish caricatures of female figures. Take cheating Ivan's eccentric ex wife, Lucia, feverishly played out by Hadyn Gwynne, or Pepa's best friend, Candela the exuberant ditz, played by the rambunctious Anna Skellern for example. Both equally loveable, if a smidge less relatable than Pepa's character.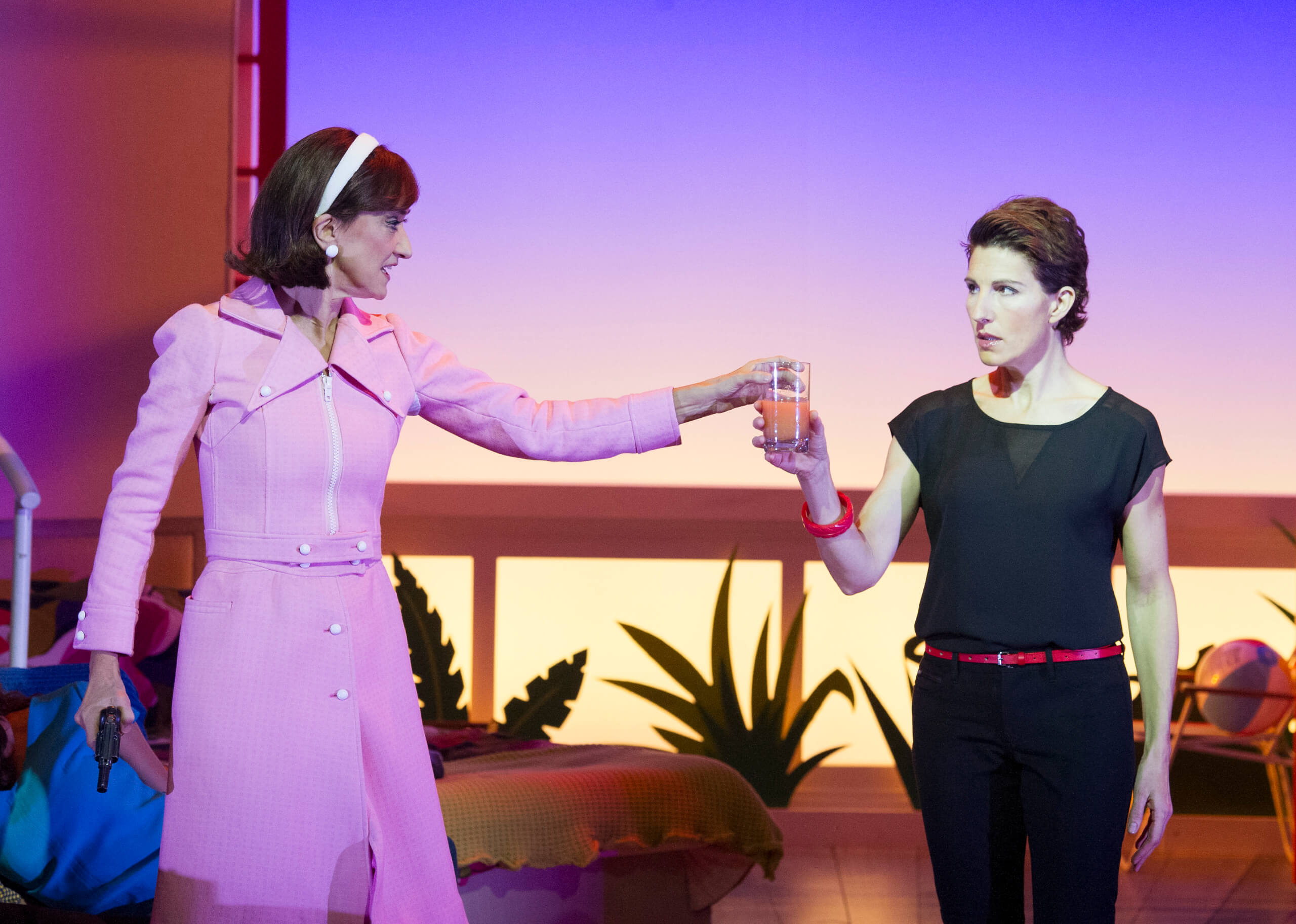 Taxiing around Madrid to a soundtrack composed by David Yazbek and Jeffrey Lane (the duo behind West End hit musical Dirty Rotten Scoundrels), toe tapping numbers include "Model Behavior," "On the Verge," and "Yesterday, Tomorrow, and Today." Choreography for Act One's "Tangled," in which Ivan and Pepa become interwoven in their telephone conversations, made us long for the days of telephone cords, old-school voice messaging and other 80s throwbacks. If you've ever been rejected, heartbroken or even the tiniest bit jealous of another woman, you're in for an evening of very relatable theatrics.
Photography by Johan Persson
Until August 22nd, www.playhousetheatrelondon.com/women-on-the-verge-of-a-nervous-breakdown