Rape and f**king are the most frequently uttered words in this vicious sex comedy.  That said, The One  – the first of writer/ director Vicky Jones' oeuvre – is a play that moves at a frenetic pace with absolutely no filter. Seeing someone's inaugural work in reverse order – this is the last of all her writings I am to encounter – is a little strange. Rallying on, the self-indulgent, witty and flawed twenty-to-thirty-something central character is the thread that runs through all of Jones' acclaimed works (Touch and Fleabag) and is unshakeably Jones' greatest accolade. Her voice has not changed dramatically from then to now, but Jones' pacing and dramaturgy has: a little bit at least. But back to the beginning, back to The One.
In short, this play is funny, provoking and warped; The One covers a lot of ground in its speedy one-hour ten-minute run time. Jo is dating Harry (John Hopkins) who is her former college professor. They are waiting, rather lackadaisically, for news that Jo's sister is giving birth. They wait, they flirt, they fight, they drink, they repeat and repeat. It's hard to tell if she or he is the greater masochist.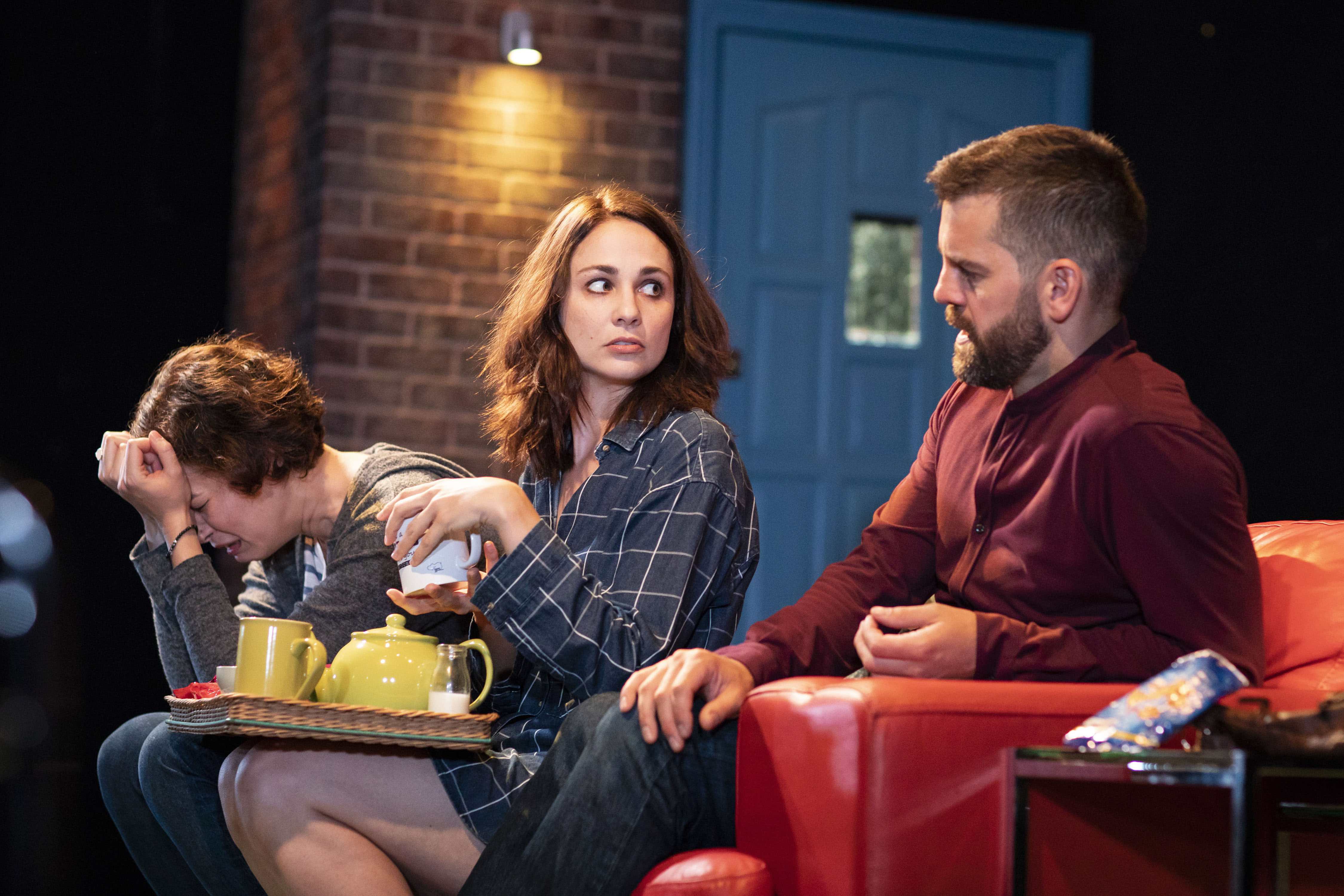 On stage, a lot of things are going down and neither we, nor the players themselves, seem to know which way is up. Vicious and hilarious dialogue seduces the audience and Jones' writing of Jo is particularly well etched. Performed with shrewdness and chide, Tuppence Middleton makes us susceptible to her games and gullible to her lies (and hard truths). Directed by Steve Marmion, the play moves at pace – notated by bottles of wine tipped upside down side of stage as one scenes swells into the next. Some devices seem a little obvious – take a complication in the form of colleague and former lover, Kerry (Julia Sandiford), knocking at the door as one example.
At certain points, the audience gasped and muttered begrudgingly under their collective breath – something that, on one level, read as a thoroughly engrossed but also as a belittlement of the play as no more than soap opera. Still, The One is an insatiable play that exposes the perverse depths we can go when pushed to the limit.
Running at the Soho Theatre until Saturday 25th August. Buy Tickets here. 
21 Dean St, Soho, London W1D 3NE
Photo Credit: Helen Maybank