Now in its 121st year, The BBC Proms knows what it's at. Although still very much anchored in the classical music scene, the festival has mixed up its programme, which now features a surprisingly contemporary mix of pop-culture names including, Family Guy's Seth MacFarlane, David Attenborough and Benedict Cumberbatch (we've taken some liberties with this one). While Terry Wogan is still a fixed feature of closing night festivities, the allure of The BBC Proms is broadening and it's increasingly varied programme has caught our eye. This summer The BBC Proms – the largest classical music festival in the world – returns to the Royal Albert Hall (and neighbouring venues) from 17th July until 12th September,  and we're itching to go! From late night showcases in conjunction BBC Radio 1, 1Xtra et al, to DJ sets as well as daytime lectures and learning events, here's what you need to know…
In short, 2015 is the year of Nielsen and Sibelius, Bach and Boulez, Sinatra, Sondheim and Bernstein. A total of 76 proms will take place at the Royal Albert Hall with performances by leading international orchestras, artists and conductors; that breaks down into 12 late-night proms, 58 evening events and 6 matinee concerts. That's a lot of ground to cover. Don't worry; we've made it simple for you.
So, what is 'Promming'
On script, 'promming' is "an essential part of the character of the BBC Proms and a great British tradition." Fundamentally 'promming' means that you (and up to 1,349 others like you) will be standing in the Arena or Gallery areas of the Royal Albert Hall – enjoying world-class performances for just £5.00 (while also finding new and innovative ways to shift your own body weight from one foot to the other.
How does one 'Prom?'
Well, you've got two options –
Option 1: Buy a Promming season ticket (£200) covering the whole season (plus the last night of the proms) if you fancy going every night. With designated queuing at doors 1 and 2, you're sure to get the best spots and the cost works out at less than £2.25 a night. There's also the option to purchase a season ticket for the first or second half of the season (proms 1-38 or proms 39-75 respectively for £120). OR you can buy a Weekend Promming Pass (which will cost you between £9-27.) Additional perks of the pass? Guaranteed entrance until 20 minutes before each concert. Splendid.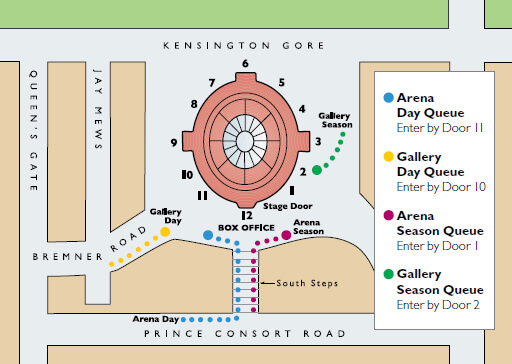 Option 2: Day queuing; i.e. a window of opportunity to buy a ticket for performances taking place on that day. It's one ticket per person and you must pay in cash – £5 a head. There are two standing areas to choose from – the Arena and the Gallery – so you'll need to decide which area you'd like to get tickets for before joining the queue. Promming tickets will be sold from Door 11 (Arena) and Door 10 (Gallery). The Arena assures a close up view of proceedings. Located directly in front of the stage , this space can accommodate a larger crowd. Alternatively, the Gallery, positioned at the top of the hall offers a birds-eye view (yes, ok you're FAR away from the stage) and superb acoustics (particularly for larger symphonic works.) A word to the wise (and more specifically to the vertically challenged) – wear platform shoes to ensure clear views of the stage.
*A limited number of Arena tickets will usually be sold to the day queue from two and a half hours before each performance. Remaining tickets will be sold 45 minutes prior to the performance to those still queuing at respective queue points.
Dates for the diary:
Proms Lecture: 'Unlocking the Mysteries of Music in Your Brain'– 18th July Royal College of Music 2.30PM
Opening weekend, don't miss American neuroscientist Daniel Levitin's proms lecture exploring the nature of musical memory. As the Aurora Orchestra prepares to perform Beethoven's 'Pastoral' Symphony without printed scores on the 2nd August, 'This Proms Extra considers the brains extraordinary ability to recall millions of musical notes over a lifetime, probing the concept of "learning by heart."'
Fiddler on the Roof – 25th July Royal Albert Hall 7PM
The Jewish-themed, all-American musical, Fiddler on the Roof, starring Welsh bass-baritone Bryn Terfel as Tevye, will be performed by Grange Park Opera at this year's festival. Conducted by David Charles Abell, Abell has researched period orchestrations thereby enhancing Jerry Bock and Sheldon Harnick's 1964 score. With popular hits including 'If I Were A Rich Man' and 'Matchmaker,' the BBC Concert Orchestra will amplify Bock and Harnick's depiction of the romantic exploits of Tevye's daughters and the changing landscape of pre-Revolutionary Russia.
Late Night with BBC Radio 6 Music – 5th August Royal Albert Hall 10.15PM
Presenter Mary Anne Hobbs explores the borderlands between classical music with pioneers of a new generation who draw on contemporary electronic influences. The Berlin-based piano and keyboard virtuouso Nils Frahm, recognised for his unconventional approach to an age-old instrument, has been called to perform at 'electronic events like Mutek, Boiler Room, Primavera and Decibel, as well as more traditional venues such as the Royal Opera House. Joining Frahm is music duo A Winged Victory for the Sullen, made up of Star of the Lid's Adam Wiltzie and pianist Dustin O'Halloran. The pair make their proms debut Wednesday night, 'blurring barriers between classical and contemporary music.'
Late Night Sinatra – 7th August Royal Albert Hall 10.15PM
Conducted by John Wilson, Late Night Sinatra celebrates the centenary of music legend 'Ol Blue Eyes.' Don't miss this after hour's sequence of big tunes and nostalgic numbers with sumptuous singing from Family Guy creator  Mac Farlane and tenor Jamie Parker. For those who tuned in to Graham Norton to catch Seth's renditions of umpteen Cyndi Lauper songs… we can only assume you have already purchased your tickets.
Late Night With… BBC Radio1 Xtra – Wednesday 12th August Royal Albert Hall 10.15PM
UK rap and grime music takes over Prom 37 in the next instalment of Late Night With… series. Exploring the urban music scene, rappers Wretch 32, Croydon born 21 year old Stormzy and duo Krept & Konan (due to release their major label debut with Virgin EMI this July) join presenters MistaJam and Sian Anderson on stage. Conducted by musical agitator Jules Buckley, the Netherlands based Metropole Orkest – known for its musical versatility – is a surefire match for the evenings performances. The jazz and pop orchestra have previously shared a stage with acts including Emeli Sandé, Dizzy Rascal, Brian Eno and Basement Jaxx.
Sherlock Holmes – a Musical Mind – 16th August Royal Albert Hall 3.30PM
Drawn from TV and film scores associated with him including works by Paganini, Tchaikovsky and Wagner, Sherlock Holmes – a Musical Mind, comprises of a series of musical excerpts reflecting the personal tastes of Sherlock Holmes. Conjuring up the world of the inimitable Baker Street detective, special guests include BBC series Sherlock co-creator Mark Gatiss. Adding a female perspective, mezzo-soprano Christine Rice, explores the repertoire of Sherlock's nemesis, the opera singer Irene Adler.
Last Night of The Proms – 12th September
Royal Albert Hall 7.15pm
Hear Puccini opera arias, Shostakovich's Piano Concerto No 2, as well as Proms staples – Rule Britannia (Arne), Elgar's Jerusalem, and Thorpe Davie's arrangement of Auld Lang Syne, conducted by Marin Alsop, closing night at the RAH.
Proms in the Park – gates open at 3pm; entertainment from 5.15pm
Proms in the Park reaches out to all four nations in the UK on the last night of the concerts in London, Glasgow, Belfast and Swansea. Hyde Park serves as the alternative outdoor London-based location with hosts Sir Terry Wogan and Tony Blackburn to guide you through proceedings. Special guests include The Jacksons, The Mavericks, Beverley Knight, Matt Cardle and the West End cast of Memphis The Musical while the big screen link-ups to all the happenings at the Royal Albert Hall. Rest assured pomp, Pimms, patriotism and a plethora of performances will be in constant flow. Arrive early to save your picnic spot. All tickets cost £39.
Sweet music to my ears… 
If propositions of 'promming' have whetted your appetite for a little more than just musical fair, then make The Ampersand Hotel your next pit stop. Serving a limited edition Musical Afternoon Tea (Sat 18th July – Sun 13th September),the menu boasts a selection of savoury gougeres, white chocolate scones, a gingerbread double bass, and passionfruit and mango rum baba. The perfect addition to any pre-concert experience, this Musical Afternoon Tea is sure to strike a chord with prommers.
Afternoon Tea is served from 2.30pm to 5.30pm
From £32.50 per person