Like one rolling torch song for change, Jason Robert Brown's inaugural musical, Songs For A New World, burns with fervour. 20 years since its' off-Broadway debut, Jason Robert Brown's score retains its sense of novelty and freshness, mixing classic musical theater sounds with pop, rock and R&B influences.  From the composer and lyricist behind the hailed hit The Last Five Years (yep, the film version starred Anna Hendricks and Jeremy Jordan…. glad to see we're all on the same page!), JR is a triple-TONY award winner and a man whom I consider the big cheese in contemporary musical theatre.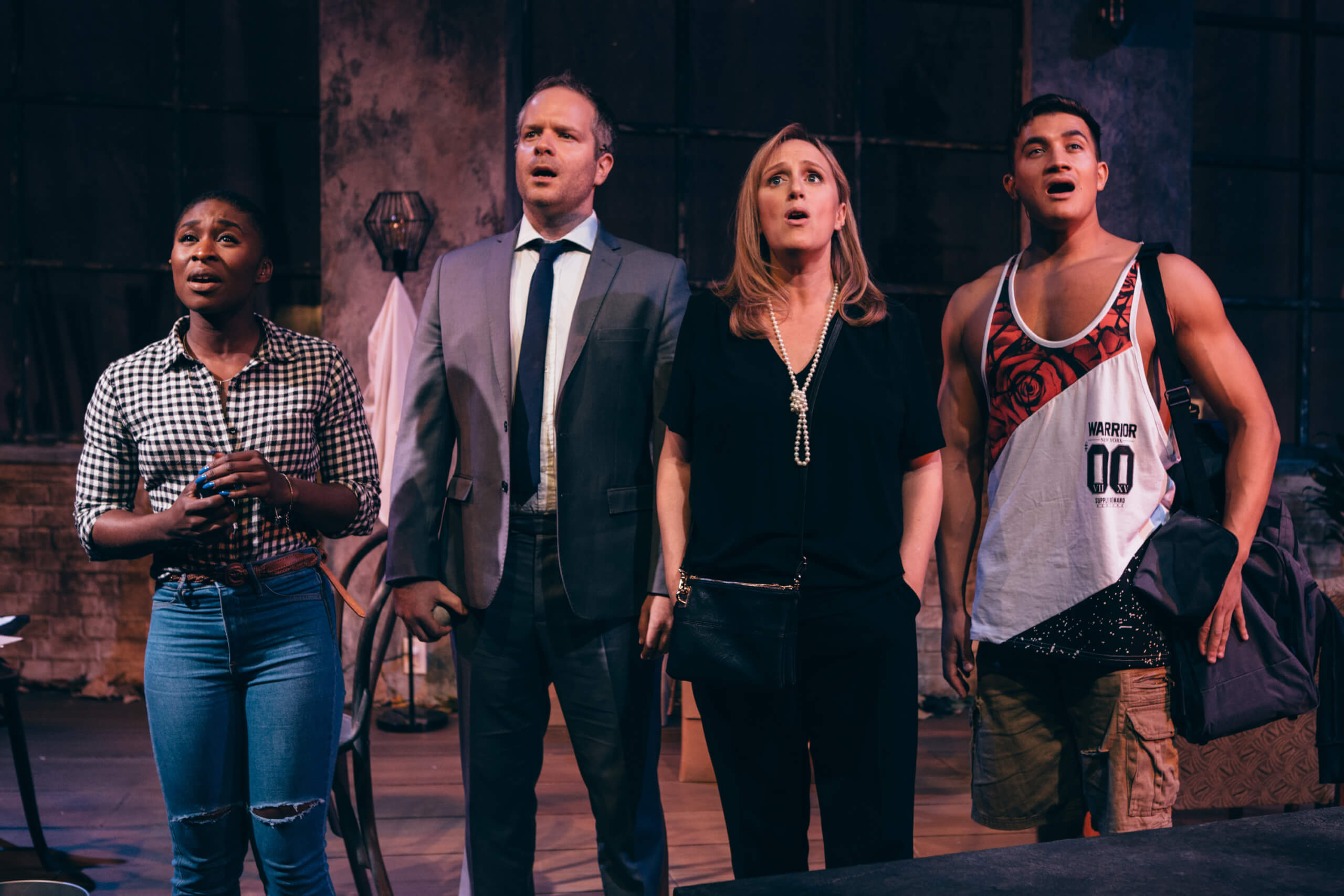 Playing for a limited three week run at The St James Theatre, Songs For A New World, directed by Adam Lenson, threads together the frustrations, longings, compromises and hopes of four people who are seemingly disjointed from one another. Blending time, place and tone, the players' outwardly disengaged storylines solidify as their lives unfold before us in this 90 minute showcase. Postulating what it means to be alive, the sung through musical explores our world at both macro and micro levels. Ranging from the ambiguous to the specific, songs move from moment to moment as a cacophony of voices, overlap and intersect with fluidity. Life changes in the instant; Jason Robert Brown's reflexive libretto pays tribute to this notion and the the malleability of the human spirit and psyche.
"It's about one moment. It's about hitting the wall and having to make a choice, or take a stand, or turn around and go back." Jason Robert Brown
To highlight this production's singular moments of genius would prove a redundant chore, given the almost constant flow of hit songs and compelling character studies observed on stage. With bold casting, opting for a tonally varied ensemble, the quartet gel and jar to create evocative vocal contrasts. Woman 1 (Cynthia Evro) shows off her ruthless riffing capabilities in " I'm Not Afraid" with prowess, fearlessness (how apt), and sheer determination. As Man 1, Dean-John Wilson (Here Lies Love, From Here To Eternity) is superb, seducing audiences with a paired-back performance and some stellar R&B vocals. Man 2 (Damian Humbley) epitomises "the suit", in his soulful rendition of "The River Won't Flow" – Humbley's falsetto is riveting, and was instantly well received by the audience.
The ever-stunning Jenna Russell (Woman 2) was surprising in her paired back portrayal and assessment of Woman 2. Perhaps protecting this more easily judged of characters (a gold-digger, kept housewife) from excess scrutiny – Jenna's unassuming depiction provides Woman 2 with vital interjections of humanity into this potentially vampish role. Whether half-heartedly contemplating suicide ("Just One Step") or performing cabaret standard "Stars and Moon," Jenna gives Browns' words real charm in this layered performance. As the Germanic imposter and one in a long line of Mrs. Claus's, Woman 2's "Surabaya Santa" points out that event Saint Nick has domestic problems to overcome; deciding who's naughty and who's nice Nick is apparently "judgy", he works nights, and is layered in fat… Brown's missile like lyrics are comical and quick, making the seemingly removed relatable, relevant and human.
Manning the production, Musical Director, Daniel A Weiss, leads the four principles alongside a five-piece band in this compelling, not to be missed production. The house were in raptures opening night, proving again The St. James Theatre's consistency and sturdy following grows ever stronger, continuing to deliver 'grade A' American musical theater to thirsty UK audiences. Songs For a New World will rally the spirit and sooth the soul.
www.stjamestheatre.co.uk/book-tickets/?event=25281
Photography by Darren Bell