About Time: You Enjoyed the Last of the Summer Fun in LondonBy Iona Goulder
Will this heat last? Are we all conditioned to run to a beer garden while the sun still shines? 100%.
But there's a time limit on summer in the UK – you just don't know when you're going to have to dig out your anorak and start stock piling umbrellas. Summer ain't going to last, but hey, let's bask in the hot weather until the rain sets in. From outdoor screenings to boozy supper clubs – here's how to enjoy the last of the summer fun in London:
1. For a Spanish Supper Club: Campo Viejo x EatWith 
What: For three nights only (30th August – 1st September), foodies can share an evening with Campo Viejo at Casa Campo Viejo, sampling the vibrant lifestyle of Spain through food, wine and conversation.
The Lowdown: The immersive evening, created in partnership with EatWith, will bring people together around good food and wine. Renowned Spanish chef Xabi Bonilla from San Sebastián will draw on 20-year's cooking experience to create a contemporary five-course meal inspired by Campo Viejo's culinary culture and reflects the heartbeat of modern Spain. And attendees will also take part in an escorted wine blending session as well as uncovering other colourful surprises.
Price: £30 per person. Buy here.
Where: 9 City Garden Row, London N1 8DW
2. For Late Night Street Food: KERB Camden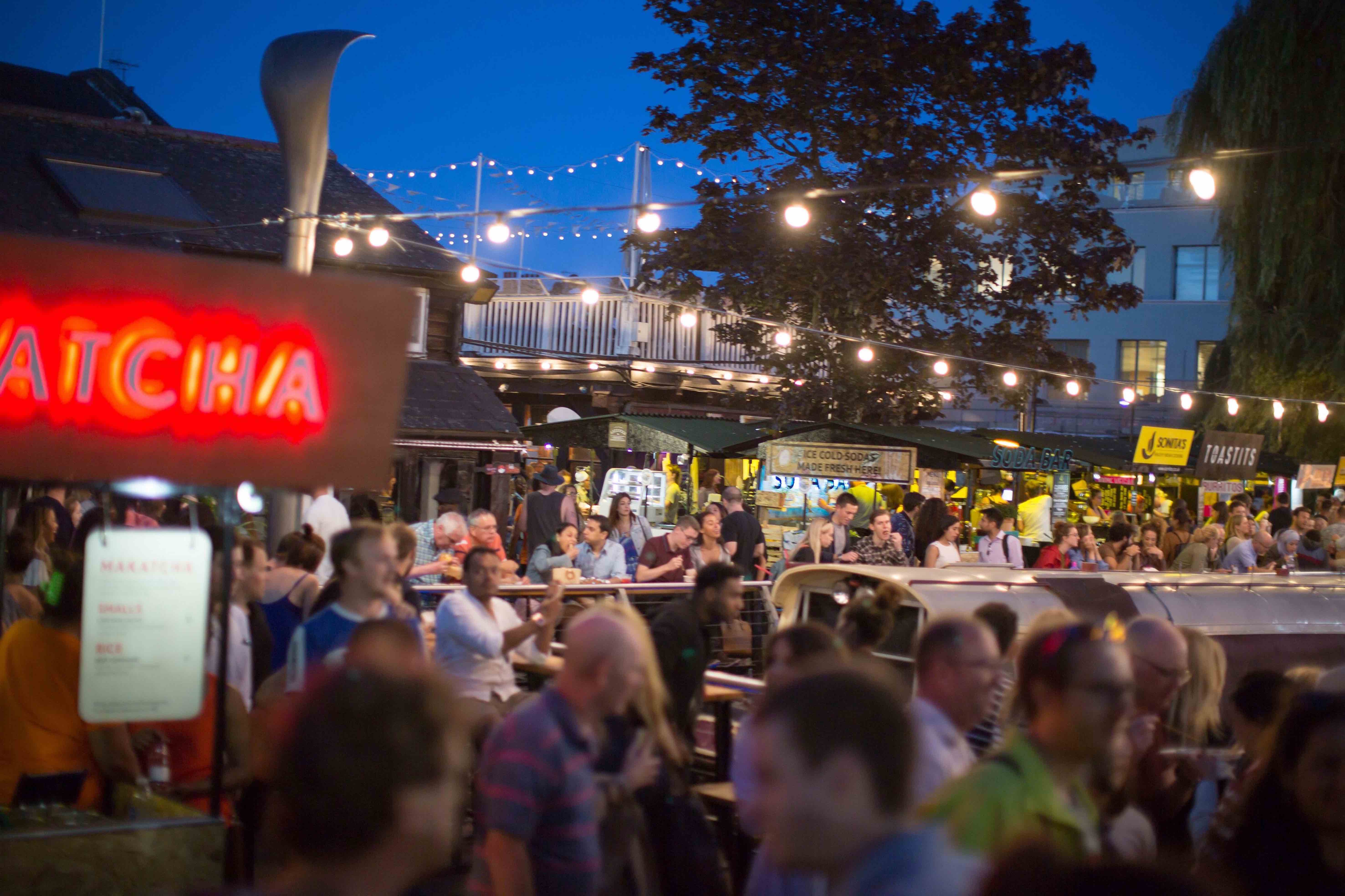 What: Running for two more Fridays this summer (24th and 31st August), KERB Camden are staying up late and hosting a series of sunset sessions with big name DJs. As far as Friday nights go, this one pretty much has it all: street food, music, booze, all outdoors in one of London's most iconic locations.
The Lowdown: All 34 of KERB's well-known and much-loved traders have been given an extended curfew, so Londoner's can have their pick from one of this city's biggest and best street food line-ups. Anyone for Only Jerkin jerk chicken nuggets, Oli Baba's halloumi fries, The Cheese Wheel's Grana Padano dunked hand-rolled pasta or Club Mexicana's vegan tofish tacos? All this alongside a brilliant selection of local beers and signature KERB cocktails from two on-site bars. This is an unmissible chance to see Camden Market at night, chomp down on some serious street food talent and unwind after a busy week's work to soundtracks perfectly spun for a balmy London night.
Price: Free entry.
Where: Camden Lock Pl, Camden Town, London NW1 8AF
Photo Credit: Jason Bailey 
3. For a Wine-Fuelled Supper Club: Jam Shed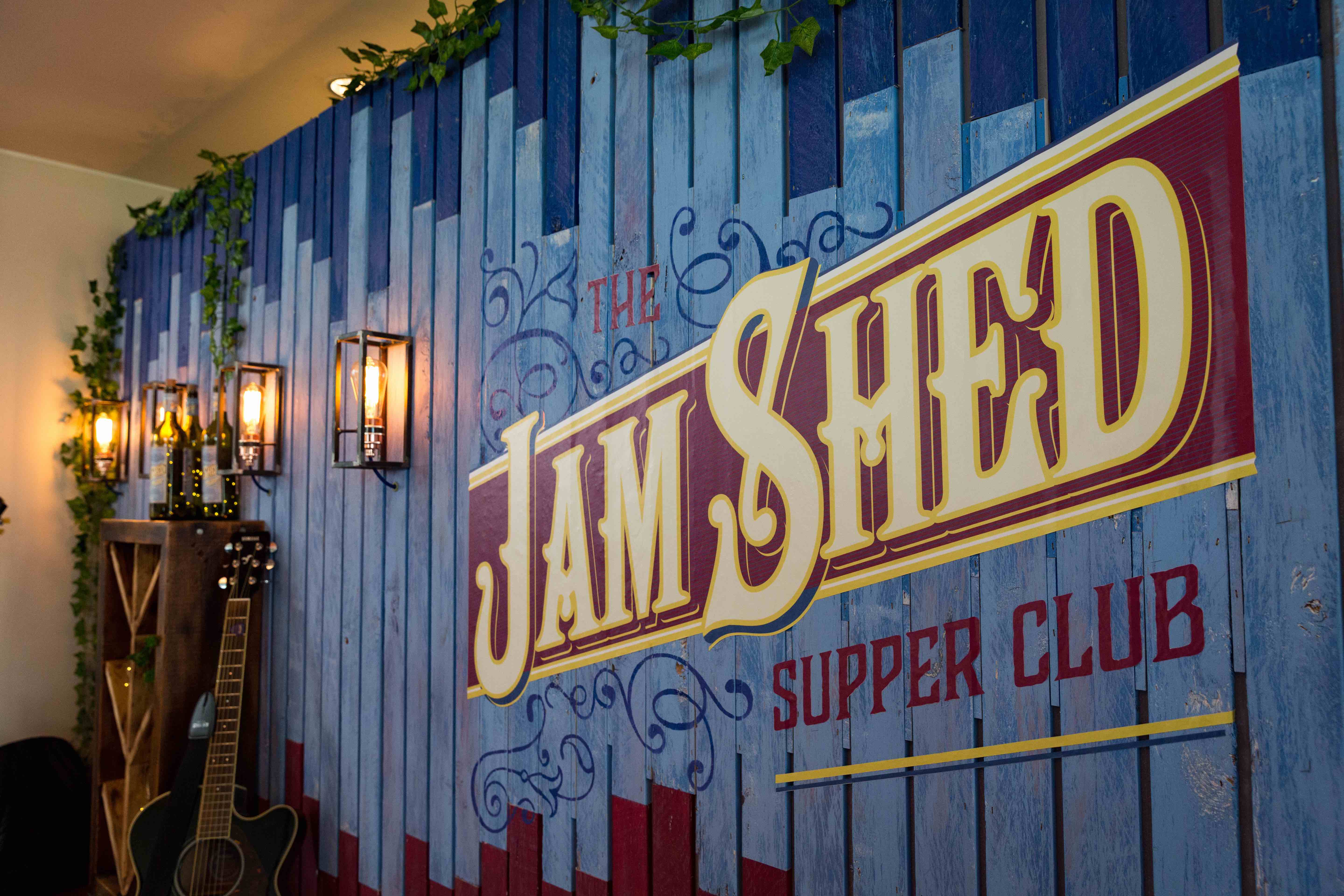 What: Overlooking the Thames, Masterchef contestants Steve Kielty, Nawamin Pinpathomrat, David Crichton, Alexandra Jorge, George Kallias, and Emma Spitzer are taking it in turns working their gastronomy magic to bring you a night (and menu) like no other.
The Lowdown: On the bill for August and September are Alex Jorge, George Kallias and Emma Spitzer, all creating a range of sharing dishes and small plates incorporating the fruit-filled flavours of Jam Shed wine into a variety of food including; Thai-spiced Jam Shed pork, BBQ Jam Shed glazed brisket and Jam Shed ripple ice cream.
Price: Tickets for the event cost £45 and can be purchased here  or by calling 020 3879 9555
Where: Southbank Centre, Belvedere Road, London SE1 8XX
4. For an Outdoor Cinema: Nomad Cinema x East Village
What: East Village E20 has teamed up with The Nomad Cinema to bring an outdoor pop-up film festival to the neighbourhood for the third time this August Bank Holiday (24th and 25th).
The Lowdown: Make the most of the last warm summer evenings with screenings of the Marvel smash hit Black Panther, family favourite Paddington 2 and the all-round phenomenon, The Greatest Showman. All screenings at East Village are silent with wi-fi headsets on an LED screen, and you may bring a picnic, as well as alcohol (note: no glass is permitted in the screening area).
Price: Tickets are available from £5.00 for children under 12 and £8.00 for adults. To purchase, buy here.
Where: East Village, London E15 2ER
5. For a Boozy Marathon: Run Bacchus 
What: Run through England's green and pleasant land with wine on hand at this year's Run Bacchus (9th September), Britain's answer to the Marathon du Médoc. The event combines two of the world's finest pleasures: running in the great outdoors and fine wine, held within Dorking's Denbies Wine Estate.
The Lowdown: Choose to take part in either the marathon, half-marathon or five-mile run/walk, all while enjoying Denbies premium range of English wine and locally produced food at refreshment stations along the course. The 26.2 mile course (which includes 12 'refreshment' opportunities) is a two-loop run around the beautiful pre-harvest vineyard where grapes are bursting off the vines as well as the stunning National Trust countryside.
Price: Sign up here 
Where: London Rd, Dorking RH5 6AA
6. For a Burger Party: Street Feast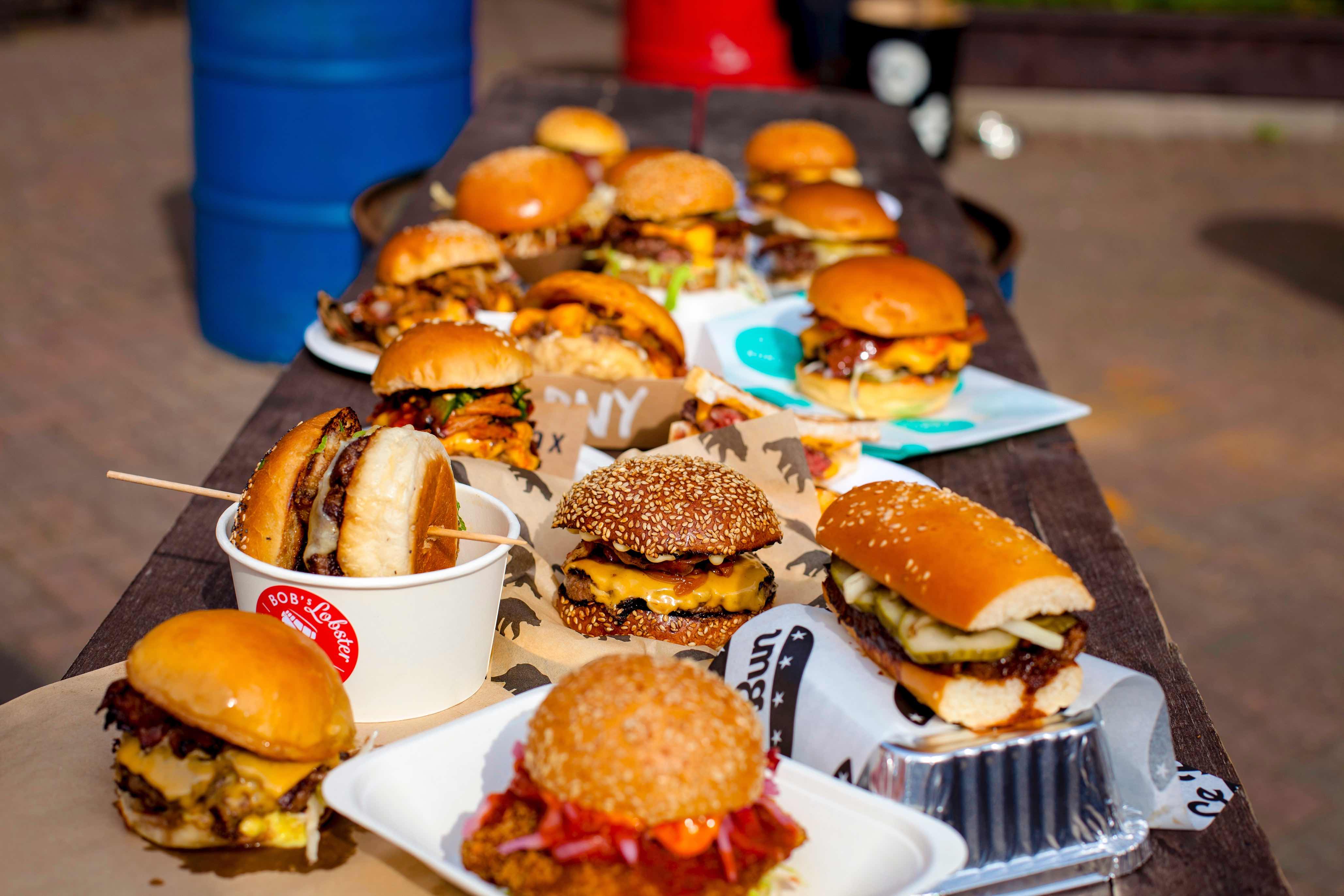 What: The biggest patty party of the year is back for its sixth year running – Thursday 30th August is the official 2018 National Burger Day Party with Mr Hyde.
The Lowdown: For one day only, over 2,000 hungry Londoners will head to Hawker House, Canada Water's huge indoor/outdoor mega-market, for Street Feast's best burger bash to date. They've invited 17 patty powerhouses to create a one-off special for the day; expect Burger Day veterans, brand-new names, meaty collaborations, a VEGAN debut (ooooh, hello), two delicious desserts and a one stop chip shop.
Price: Tickets are £15 and include an icy-cold Budweiser plus a MacPickleback shot.
Where: Canada St, London SE16 7PJ
7. For a Three Day Party: Pop Brixton 
What: It's all about Notting Hill Carnival on August Bank Holiday weekend, with Pop Brixton bringing the party South of the river with a weekend-long series of parties to get revellers in the carnival spirit.
The Lowdown: Live sets from the likes of the Just Vibez crew and Manu & Ando will set the carnival vibe on Friday 24th and Saturday 25th August, with the celebratory atmosphere continuing with a hip-winding after-party on Sunday 26th August. Across the weekend, be sure to fuel up at one of Pop's many resident street food traders, with Mama's Jerk bringing the heat of the Caribbean to Brixton with their homemade Jamaican fare, whilst Pop's resident bars will be serving up drinks to keep the party going.
Price: Free entry
Where: 49 Brixton Station Rd, Brixton, London SW9 8PQ
8. For a Rooftop Cinema: John Lewis x Samsung  
What: John Lewis Oxford Street has partnered with Samsung to launch a new Sunset Cinema series, taking place on their Oxford Street Roof every Wednesday until 26th September. Buy a ticket, sit back, and live your musical big screen dreams with feel good classics such as Grease and Dirty Dancing, and iconic showstoppers such as Chicago, Dream Girls and more.
The Lowdown:Each screening is certified Ultra HD Premium picture quality and a world-first 100% colour volume for ultimate viewer satisfaction – and for a fully immersive experience, everyone will  receive noise cancelling headphones for the chance to sing-along to their favourite musical film plus complimentary gourmet popcorn from Joe & Seph's.  

Price: £15. Buy here.
Where: 300 Oxford St, Marylebone, London W1C 1DX
9. For Music and Philosophy: HowTheLightGetsIn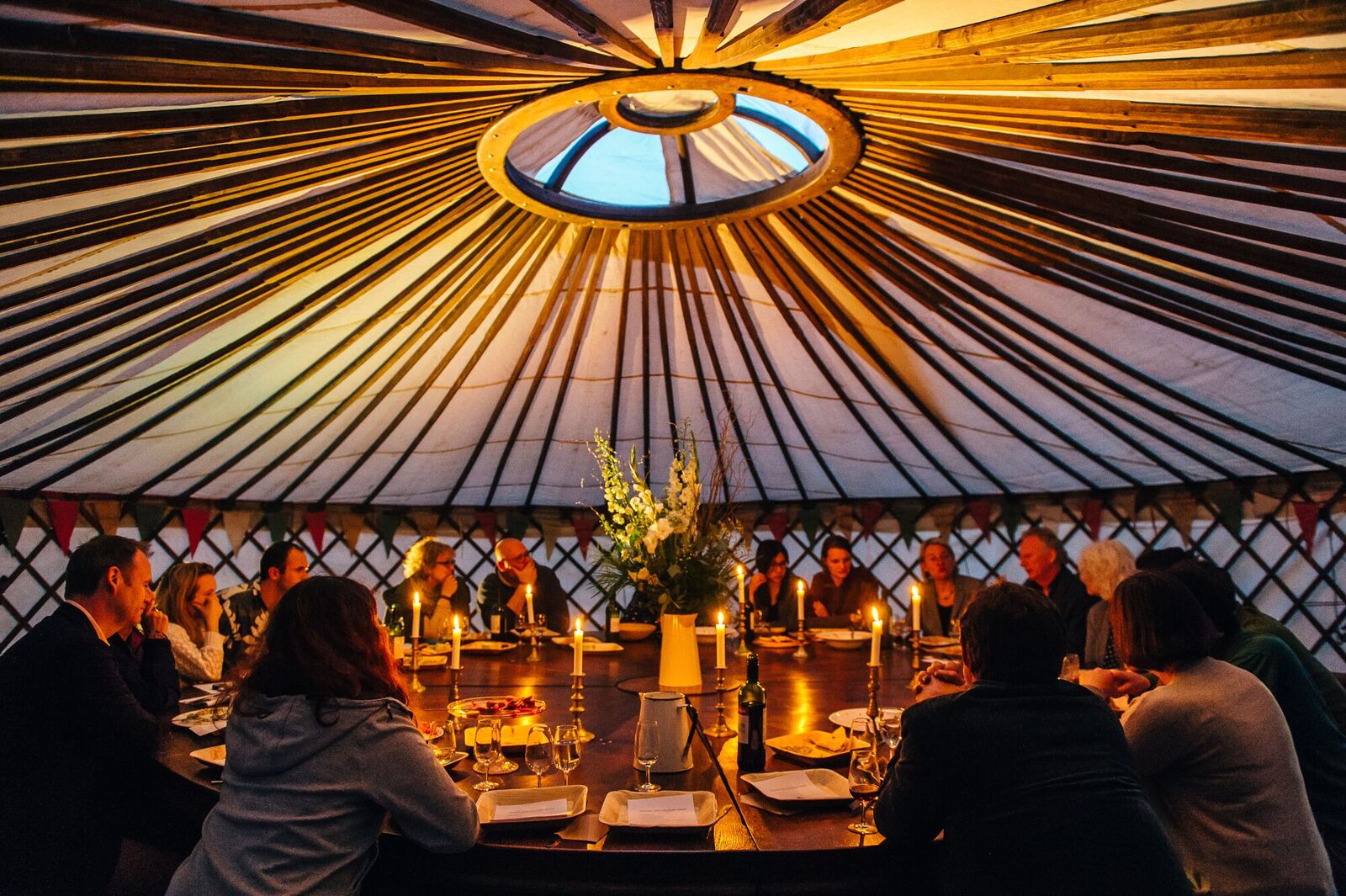 What: Described as "Europe's answer to TED" (Total Politics), HowTheLightGetsIn, the world's largest music and philosophy festival is heading to Kenwood House on Hampstead Heath, for two days only (22nd-23rd September). Attracting the world's leading thinkers, this year's festival will feature Nobel Prize winners alongside former Cabinet ministers, Turner Prize winners, Man Booker Prize nominees, award-winning journalists, academics and leading public figures going head-to-head on the biggest issues affecting the world today.
The Lowdown: Festival debates will span Big Bang cosmology to contemporary feminism, Trump's Foreign policy to creative freedom, tribal politics and the purpose of morality, in over 50 debates and talks, including: Cognitive psychologist Steven Pinker joins the festival line-up on the back of his recent bestseller Enlightenment Now, and Banksy's former agent Steve Lazarides debating elitism in the arts with Turner Prize-winning architect Paloma Strelitz.
Price: Buy here.
Where: Hampstead Ln, Highgate, London NW3 7JR
10. For Carnival Vibes: The Sun Tavern 
What: For the second year in a row, The Sun Tavern has come to the rescue of those who want to celebrate Notting Hill Carnival without actually schlepping to West London, bringing their own Carnival vibes to the Bethnal Green venue on Sunday 26th August, 5pm-2am.
The Lowdown: Whilst listening to The Sun's resident Jazz band playing Ska & Reggae along with their usual crowd favourites, help yourself to free Jerk Chicken wings from Hackney's own Caribbean Kitchen. Guests can also enjoy The Sun Tavern's Umbrella Brewing's Ginger Beer, priced at just £2 per bottle! This fiery blend is the ultimate refreshing drink, with rich molasses, sharp citrus and a hint of malt – the perfect match for moreish Jerk Chicken Wings.
Price: Free entry.
Where: 441 Bethnal Green Road, London E2 0AN