Spice fiend? Enjoy getting a kick from the face melting madras down at your local curry house? If you answered yes to one of those questions – get down to KERB does Alchemy, as part of Southbank's Alchemy Festival 2017. We're never one to shy away from lime pickle, and a generous dashing of hot sauce. We live for the spice, and so when we heard the news about KERB's latest spice wonderland – we just had to share this hot, hot news with you, dear reader. Here's all the info:
KERB does Alchemy: The Lowdown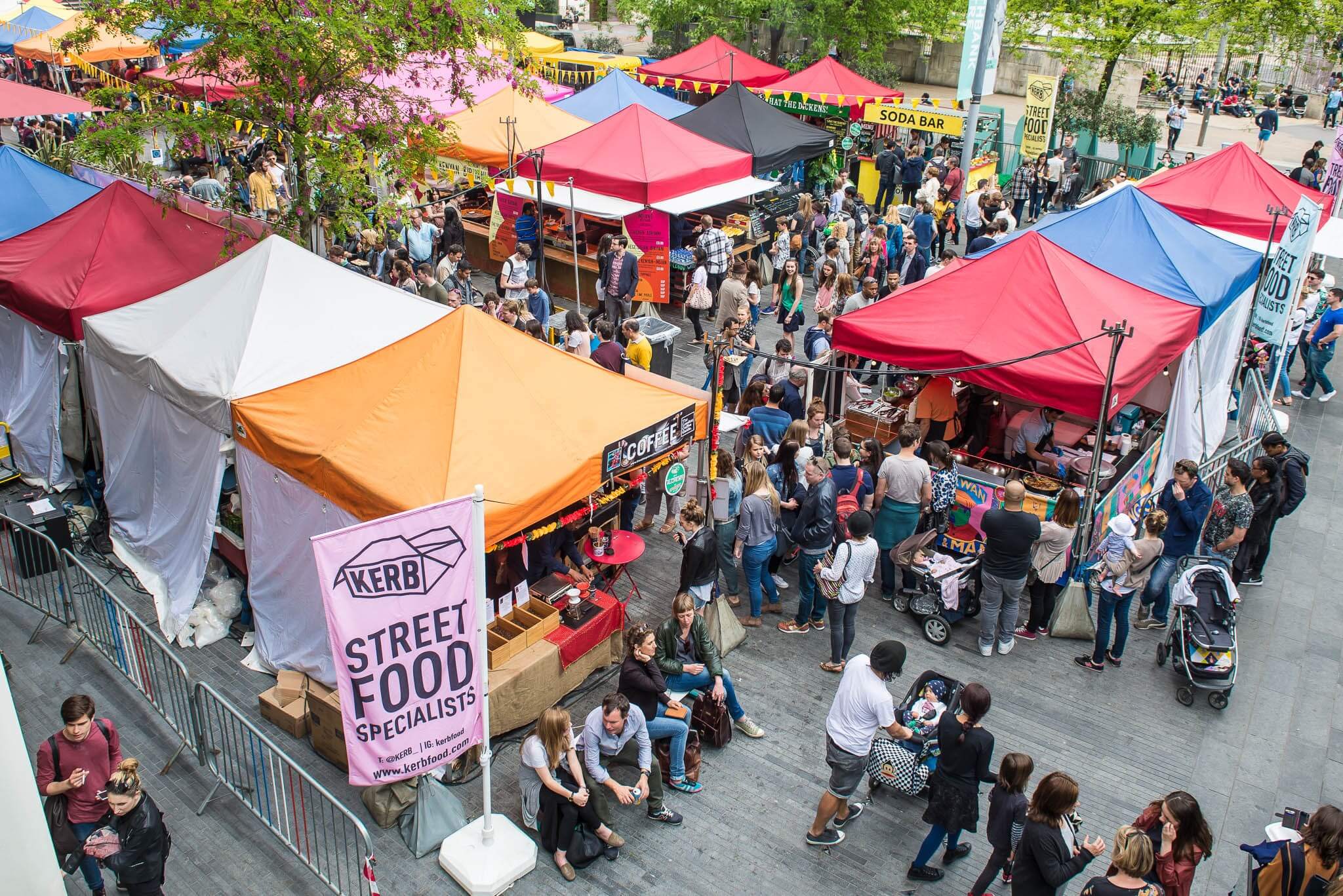 Hot on the heels of the The Bucket List fried chicken extravaganza (shout out to Petare for scooping the top prize for their masa fried pieces with guava glaze and habanero mayo), KERB are setting up shop on the Southbank for their spiciest one yet, KERB does Alchemy.
Opening on 18th May and running until 29th May, KERB are transforming the SE1 concrete into a rambunctious raft of spice and heat (bring some Gaviscon), featuring a whole roster of KERBanist traders who will be cooking up street food dishes from across India, Pakistan, Nepal, Bangladesh, Afghanistan and Sri Lanka.
KERB does Alchemy: Eat 
All your favourite KERBanists will be creating one-off themed dishes and cranking up the spice. Always powerful Baba G's are back with those bhaji-bursting lamb jalfrezi towers, (double-stacked); newcomers, Kolkati are Alchemy-debuting their sweet masala parathas, and Sri Lankan Kothu Kothu will be luring you down with those clanging soundtrack fresh kothu roti.
One's to watch: Kerbside legends Anna Mae's with their mac 'n cheese stuffed Mac'Waari naans; Blu Top's cinnamon cookie-clamped mango lassi ice cream sandwiches from their little blue van; Nonna's cardamom roast banana cashew crunch gelato and coconut cacao sorbet; everyone's favourite, Vicky's, chocolate chilli pudding donuts; and hand-squeezed pomegranate rose sodas from Square Root.
Returning guests who are back for some more heat lovin' include Numra Siddique's hash brown-pimped Pakistani  'Bun Kababs' are back on board, along with Curry Cookhouse's veggie pakora stuffed naans, festival hero Peckish Peacock's fresh almond-milk mango lassis, Meera Joshi's Chaatit masala chip butties, and fresh jelly coconuts from The Indians Next Door. It's going to go off.
As if that's not exciting enough, KERB are bringing in street food royalty Rola Wala, The Cheeky Indian, Indian Street Kitchen and Khao! to mix it up more, with plumb drizzled lamb laavash 'Beijing Booties', garlic prawn crumble topped khao-suey, tandoori Malai tikka tacos, and Keralan chickpea naan rolls.
KERB does Alchemy: Drink
The KERB Hop Bar and KERB Cocktail Bar will be serving up ice cold Kingfisher lagers, hoppy Beavertown IPAs, special guest taps, some brand new spice-quencher concoctions and those infamous post-work Punjabi Pimms. Don't forget: Happy Hour – week days from 5pm-7pm.
For more information, visit KERB's website. Royal Festival Hall, SE1 8XX