About Time: You Attended KERB's Southern-Style Street Food FestivalBy Alicia Grimshaw
A taste-tastic explosion of hot sauce, fried goods and saucy lil numbers, KERB are raising the roof once again with their biggest hoedown in town, Noshville. Block out your diary (8th, 9th and 10th June) and head to Granary Square, King's Cross for a celebration of Deep South food, drink and live music.
This year there's some mad creations going down – we're talking about cereal inspired tacos, s'mores/doughnut hybrids and fried chicken hot dogs. Count us in:
Kerb Presents Noshville: What to Expect
KERB have partnered up with cult condiment brands French's mustard and Frank's RedHot sauce, and have given their KERBanists a creative challenge: to come up with American themed dishes using French's mustard and/or Frank's RedHot sauce.
Join street food trailblazers KERB in the urban enclaves for three days of outrageous flavour: red hot Buffalo dogs, Nashville-fried chicken burgers, apple pie doughnuts, Cactus Jack's Cajun Lemonade, alligator nuggets, line dancing and live Bluegrass and Roots music from Maverick Festival, all under the King's Cross sky.
Kerb Presents Noshville: Traders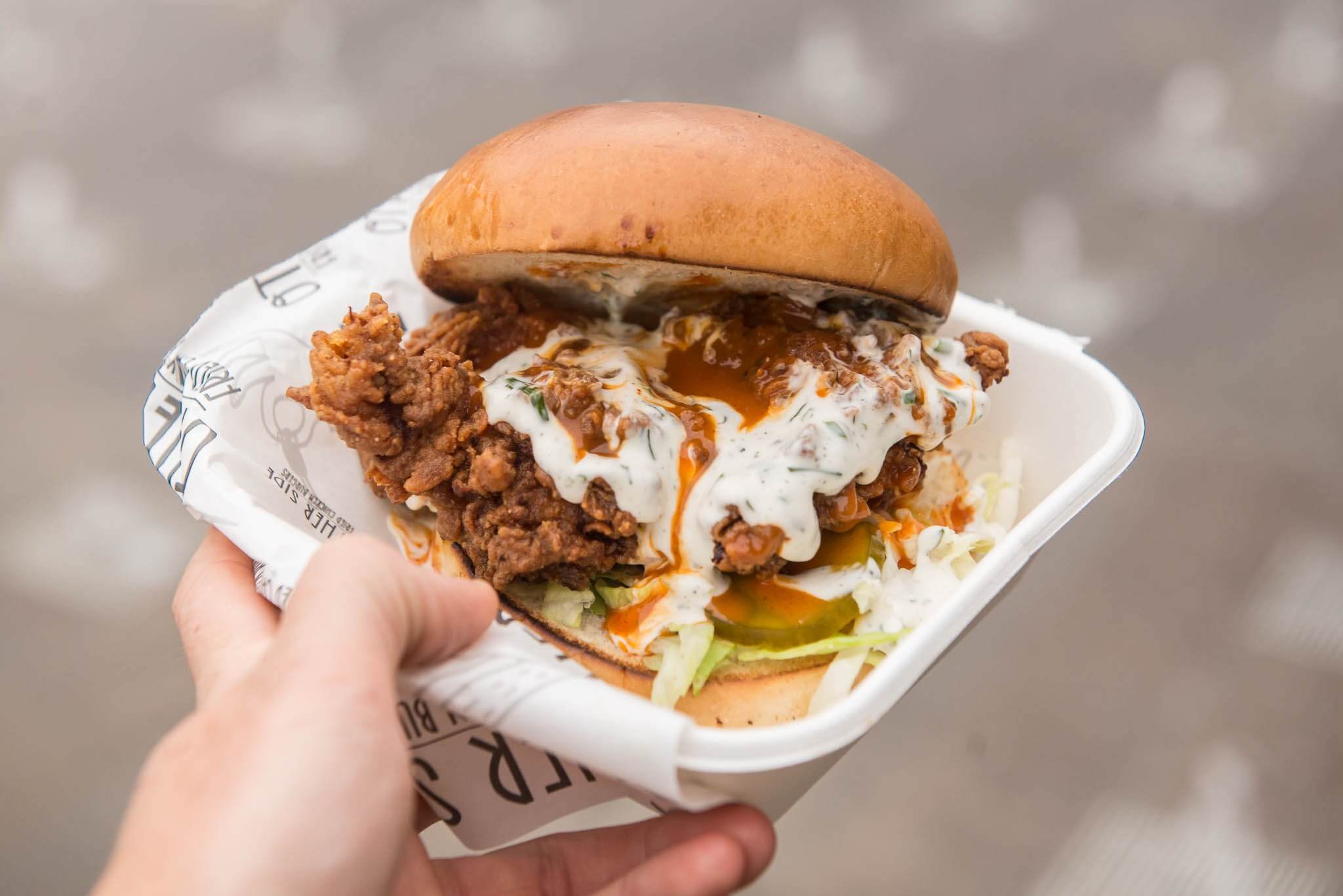 Other Side: Nashville fried chicken burger with pickleback mayo and French's mustard.
Oh My Dog: "Buffalo Dog" – fried chicken hot dog with heritage breed frankfurter, buttermilk fried chicken, Frank's RedHot sauce, pickled celery, blue cheese and chives. You can also order your hot dog loaded on waffle fries.
Growlers: "Bayou Biteback" alligator meat nuggets (good grief) – they bite back – with Frank's RedHot sauce, key lime mayo and a shot of pickling liquor.  "The Ranchero Notorioso" steak and blue cheese prego stuffed with French's mustard, bourbon maple syrup and deep fried onion rings, and sweet potato pilgrim fries with charred marshmallow and chocolate sauce.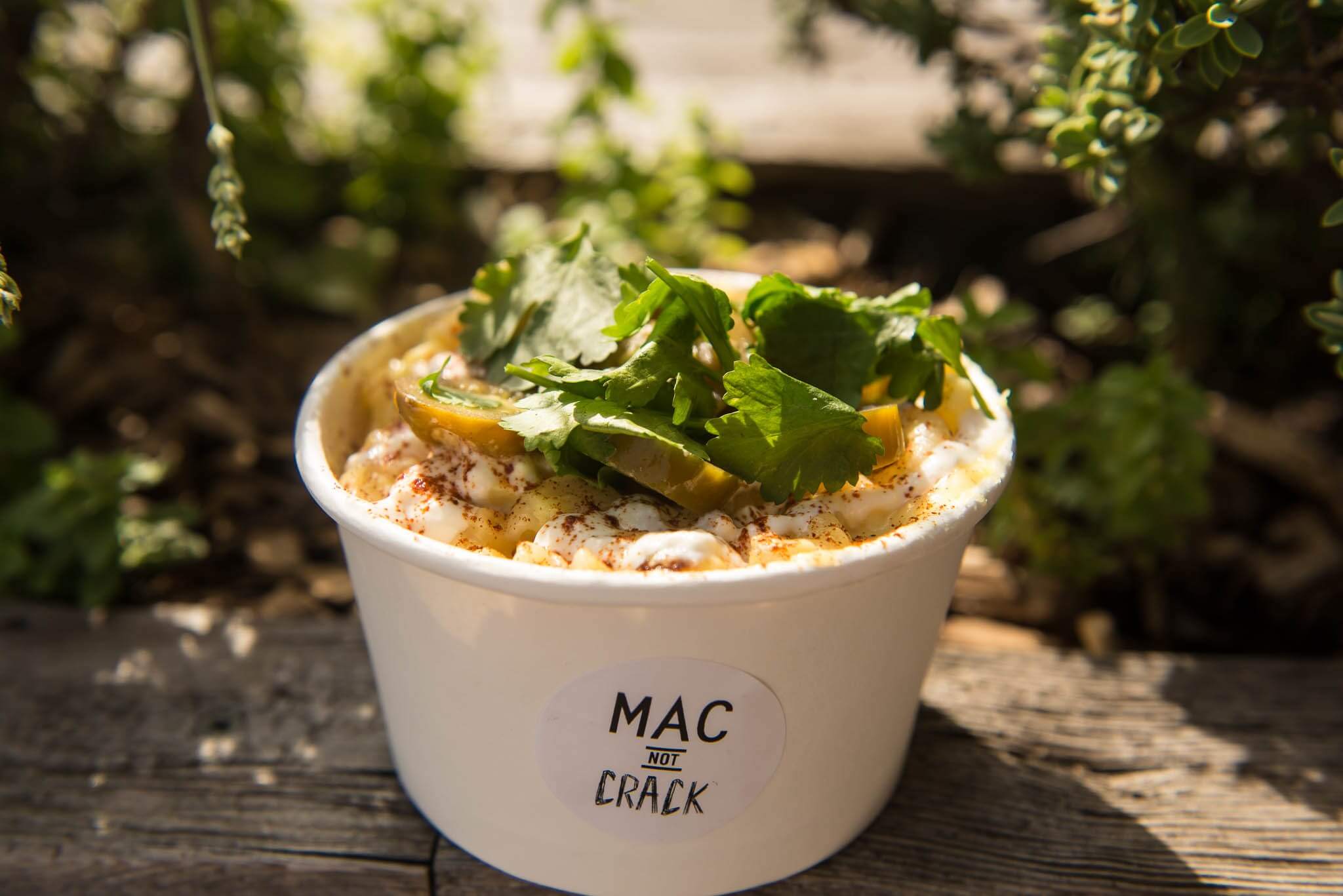 Anna Maes: "Macshugganer" – grilled mac 'n cheese Reuben sandwich with Frank's RedHot Russian dressing, smoked pastrami, sauerkraut and swiss cheese.
Da Ja Chicken: Frank's RedHot sauce x slammin' sriracha or honey French's mustard fried chicken wings with skin on bacon 'n cheese fries.
Taco Dave: Texas-style beef chilli nachos with Frank's RedHot-infused nacho cheese and pickled jalapeños, and there's also crunchy nut cornflake fried chicken tacos. Blimey.
Prairie Fire:"The Notorious P.I.G."  marinated pulled pork with housemade smoked sausage, smoked bacon and Frank's RedHot infused BBQ sauce with "locked and loaded" molten cheese, and brisket-topped fries.
Born and Raised: "Chicago Big One" –  Frank's RedHot sauce and tomato base sourdough pizza with Coble Lane pepperoni, spiced ground beef, peppers and mozzarella (vegan option available).
Special Guest Black Bear Burger: Aged beef double bacon cheeseburger with Frank's RedHot sauce and garlic mayo or French's mustard and onion jam.
Special Guest PB&J Society: Homemade peanut butter jelly sandwiches with fillings including  almond butter, cinnamon-spiced banana, flaked almond and honey grilled sourdough toastie; original deep roast crunchy peanut butter with fresh berries and blackcurrant jam; and the "French 'n Fancy" with vanilla bean cashew nut butter with fig jam and fresh berries in toasted challah bread.
Vicky's Donuts: Toasted marshmallow and dark chocolate "S'mores"with Graham cracker crumbs and milk chocolate shavings, apple pie filled doughnuts with vanilla glaze and pie crust crumb topping, and Snickers stuffed with choc chips and chocolate drizzle.
Kerb Presents Noshville: Drinks
KERB bar cocktails feat. Dolly Parton's Melon Margaritas, Cactus Jack's Cajun Lemonade, NoshvillePicklebacks, Mint Julips plus a selection of London's best craft beer on tap and Square Root London's hand-squeezed fruit sodas.
For more information, visit KERB's website here.
Free entry. Granary Square Kings Cross, London N1C 4BH
Photo Credit: Beth Marsh