Street food trailblazers, KERB, are throwing a massive house party on Friday (12th October) and there's high chance it's going to be a messy one. Join them, along with some of London's biggest street food names under the King's Cross canopy, to celebrate their 6th birthday. Expect a night of steamed lobster dumplings, house party-style cocktails, incredible one-off KERBlaboration dishes plus KERB bar cocktails, old-school party games and more. And tickets are only £6.
KERB's 6th Birthday Party: What to Expect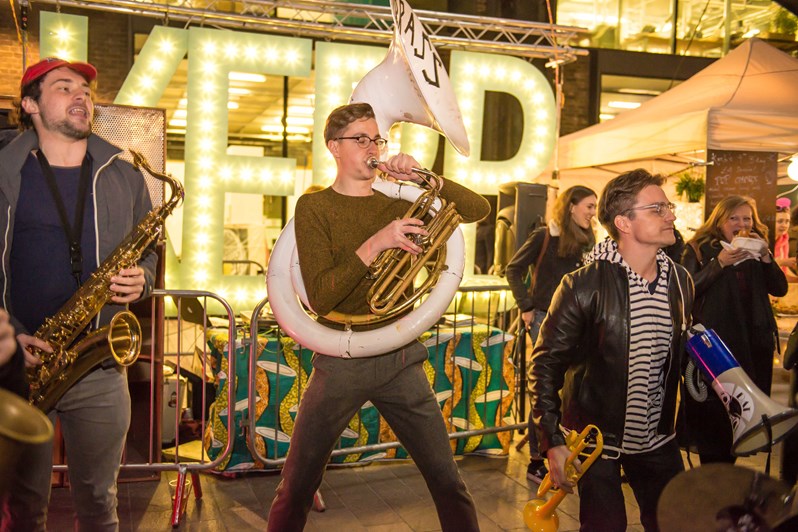 KERB's House Party will not only be a chance to celebrate KERB's birthday, but more importantly the traders that have joined them along the way. This year's line-up includes some of their best new inKERBator stars (Wheelcake Island, Biff Jack Shack, Smokin' Lotus, Growlers) plus old school KERB legends (Baba G's, Club Mexicana, BBQ Dreamz, Spice Box, Luardo's, Donostia, Born & Raised), cooking up one-off dishes and KERBlaborations you won't find anywhere else on London's streets. The weird and the wonderful, the outrageous and the old school, the nostalgia with the new; at a time when street food is getting ever bigger, KERB's House Party is bringing it back to what it's all about – that indomitable trader imagination, collaboration, and having fun.
KERB's 6th Birthday Party: KERBlaborations
Wheelcake Island x Da ja: Taiwanese fried chicken wheel cakes! Daja's Taiwanese fried chicken stuffed inside a liquid cheese-filled Taiwanese wheelcake and a slow-cooked spicy gochujang beef and bone marrow one from two of KERB's star 2017 inKERBator graduates.
Spice Box x Biffs Jack Shack (The Spice Shack): Vegan dream team! Biff Burrow's deep fried sugar cane-speared jackfruit wingz take an Indian spin; dunked in Spice Box's special vindaloo or masala sauce, with a side of spicy chips
BBQ Dreamz x Smokin Lotus: Filipino Chinese dumpling fusion! Old time Filipino favourites join forces with last year's Asian BBQ sensation, Smokin Lotus, to bring you smoked lobster and pork sui mai, served with a smoked pork ju, vinegar pearls, sesame dust and micro cress.
Baba G's x Donostia (KERB Alumni): Indian tapas from two of KERB's biggest street food legends. Featuring: Punjabi pintxos, spiced tiger prawns with Piquillo peppers and squid ink alioli; onion bhaji, pickled figs and grated Mancheg; lamb jalfrezi sliders with smoked basque cheese; and braised Iberico pork cheek with chana masala and more.
KERB's 6th Birthday Party: KERBanists
Luardos: Taqueria Tacos! Featuring Simon Luard's legendary top-10-KERB-dish-of-all-time, beer battered fish taco, plus blackened chicken thigh, black bean butternut squash and carnitas fillings.
Growlers: Look out for duck and rice layered 'Quack Attack' (duck, rice, port gravy, broad beans, crispy chorizo) and 'What The Duck' (duck, rice, port gravy, grilled mushrooms, pickled red cabbage and Portuguese salsa)
The Mighty Baba Gs: Keep your eyes peeled for this one – more info coming soon!

Club Mexicana: The pioneer of vegan street food. Get ready for Meriel's beer-battered tofish burger with deep fried capers, pickled cabbage and tartare sauce; Mexican fried chick'n burger with mustard mayo, annatto glaze and dill, and the Birthday Burger: Al Pastor crispy cauliflower with deep fried avocado, Mexican slaw and jalapeño queso sauce.
Photo Credit: Amplifeed creative
Born and Raised: Hawaiian special wood-fired pizzas plus more.
For more information and to book ticket, see here. 
West Handyside Canopy, London N1C 4LW