About Time: Food and Films at The Gaucho Film ClubBy Iona Goulder
If there's only one thing better than watching Pulp Fiction, it's eating Pulp Fiction. No, they haven't started releasing edible DVDs, although I would probably enjoy that too, I'm talking about The Gaucho Film Club. A unique cinema experience which combines watching cult classics with eating Gaucho food to match the film. The rule is, if it's on the screen, it's on your plate or in your glass.
This was the first screening for the Chancery Lane branch of Gaucho, which is welcoming the film club after its popularity elsewhere. The screening atmosphere is pretty relaxed with about 30 or so people at tables for two in a semi-circle around a decent sized screen, with the restaurant given over totally for the event.
This film is made for this sort of event, not only is it completely brilliant and one I don't mind watching again and again, but it's full of references to food. It's quite the operation for Gaucho, every so often I glanced behind the screen to see the chefs preparing to perfectly time their dishes with the relevant moment in the film. Perfectly timed was exactly what they delivered. Just as Samuel L Jackson and John Travolta interrupted an unfortunate young man halfway through his Kahuna Burger, we were served our very own Kahunas complete with a delicious relish and bun. I swear Samuel and I were eating at the same time.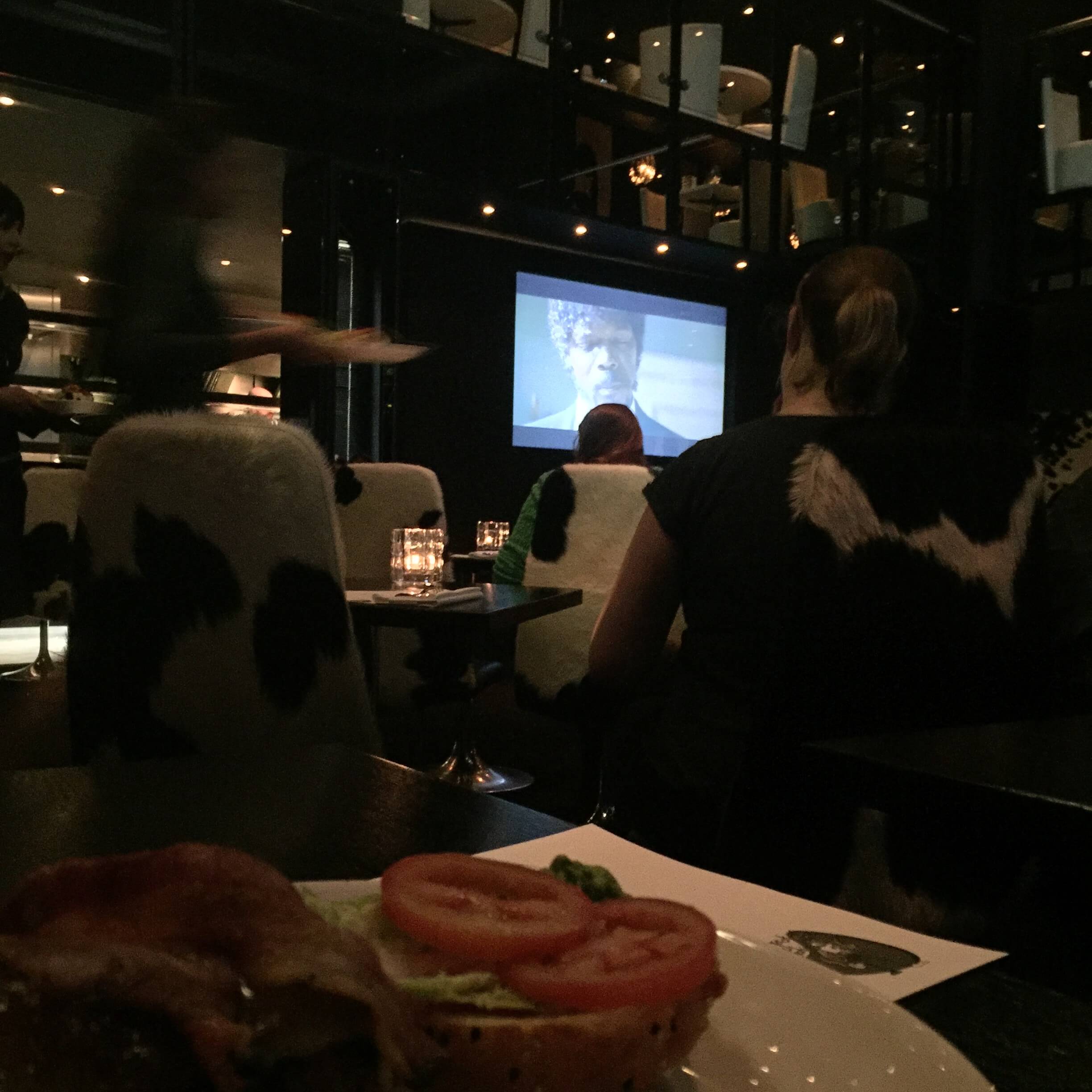 This continued throughout the film.  Jameson Whisky at Mia Wallace's house, steak, chips and THAT $5 milkshake at Jack Rabbit Slim's diner and even (sugar) lines of cocaine and a fruity blood red injection for…well you can guess what scene that was for. As you would expect from Gaucho the food was all delicious and they went the extra mile to ensure it was just like in the film.
A couple of things to note. We were lucky to be given a double table on the back row. For such a long film (2.5 hours) I think sharing a small single table with fairly upright chairs may have become uncomfortable. And talking of space, you'll need plenty of it – in your stomach. The list above was followed up by not one but two desserts (a blueberry pie and pancakes) and we left feeling more plump then pulp. That said, it certainly provides value for money at £55 and my advice would be to eat nothing before you go, you certainly won't want any more after.
All in all this a really innovative idea from Gaucho that's perfect for film and food lovers. I'm intrigued to see where they take it next but as long as they keep combining great films with delicious food, it's sure to be a popular offering. So if you're at a loose end one weekend do check out their site here and remember, as spoken in Pulp Fiction; "Any time of the day is a good time for pie."