If you're looking for a recent guide, discover the best ways to celebrate Rosh Hashanah in London 2017 here.
Everyone has a time of year they find magical. The warmth of June, the first leaves of Autumn, the cozy, mulled wine-fuelled month of December. For me, it's the month of September, where Jewish festivals take over and the month is taken over with family, feasting and fantastic excuses to eat too much Challah bread. I simply love Rosh Hashanah in London; the apples, the honey, it's all so sweet.
If you don't know, Rosh Hashanah is Jewish New Year and marks the official start of the Hebrew calendar. Rosh Hashanah is a time of sugary indulgence; traditionally one eats apples and honey to ensure a 'sweet' new year. Jews also eat pomegranates, as they contain 613 seeds (apparently) which represent the 613 Jewish commandments in the Torah. Whoever counted that had too much time on his hands. Enough bible banter, if you're looking to celebrate Rosh Hashanah in London, here's how to do it in style:
Rosh Hashanah in London – EAT: London's Best Apple Dishes
Go on, let us tempt you…
1. Apple Galette from Spring Restaurant, Somerset House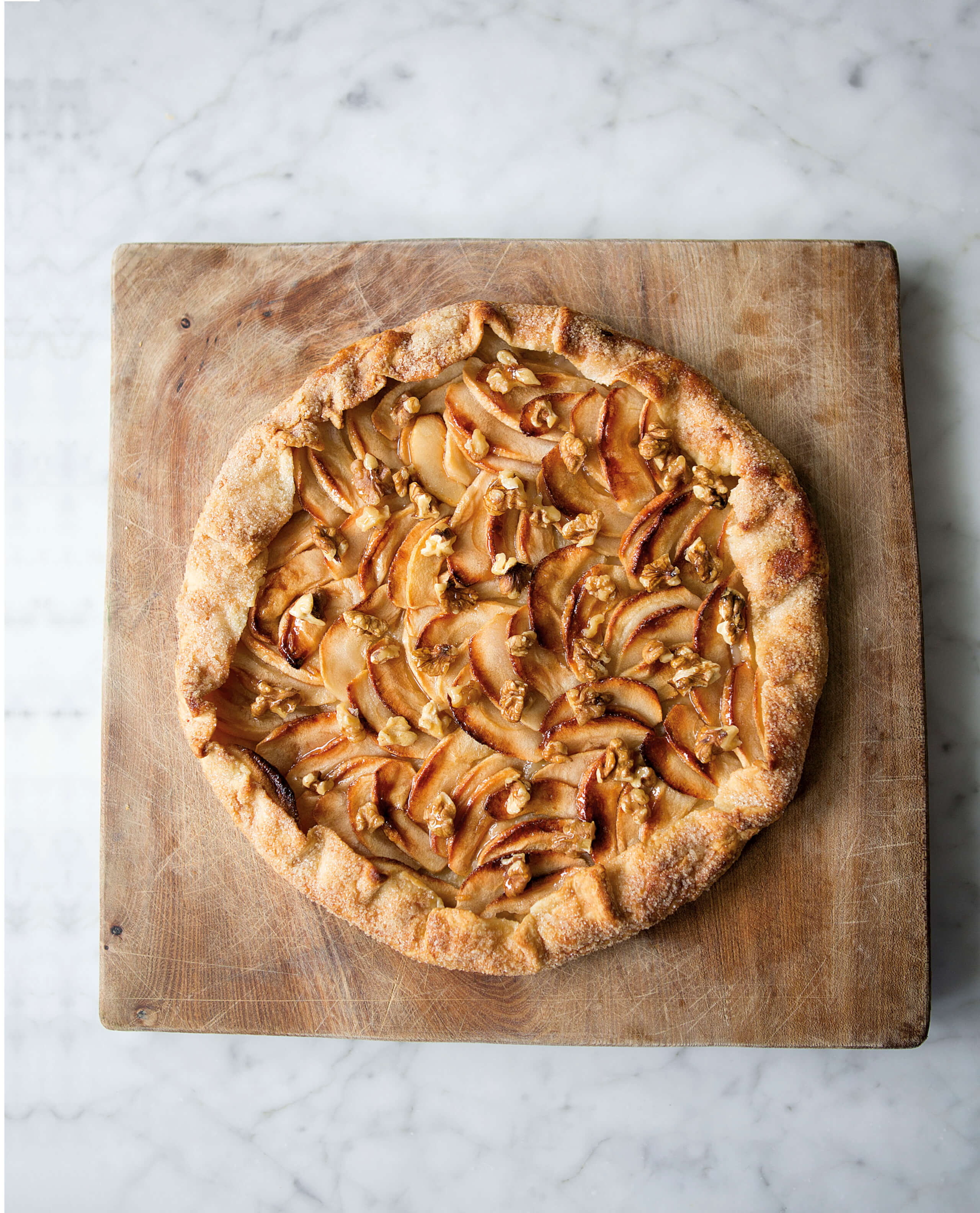 The newly opened Spring Restaurant by Skye Gynell is absolutely beautiful; it oozes warmth and elegance, within a stunning dining space set in the New Wing of Somerset House. Their food is focused on sharing seasonal produce with heartfelt and wholesome cooking. The Salon in Spring is great for lunch; their indoor atrium garden brings the outdoors in, with tables flanked by flora and fauna designs and an abundance of natural light from the atrium's glass ceiling. There's always a delicious sweet tart on the menu, which is seasonal and changes weekly. The Apple Galette (£4.50) is a firm favourite – classic, simple and understated, just like the restaurant. The secret to it is the very fine crisp pastry, the firm braeburn apples and the scattering of walnuts. It is served slightly warm from the oven with a cool scoop of vanilla ice cream.
Photo credit Skye Gyngell's book, 'Spring' – Spring by Skye Gyngell (published by Quadrille, £25) – photographed by Andy Sewell
Where: Somerset House, Lancaster Place, London WC2R 1LA
2. Apple Crostata from Café Murano, Covent Garden
Angela Hartnett has recently opened the second Café Murano in Covent Garden – it takes a simple and seasonal approach to Italian cooking, the kind that made the original in St. James's a critical hit and local favourite. The menu has been developed by new Head Chef, Richard Lloyd, formerly sous chef at Hartnett, Holder and Co. in collaboration with Angela, and is inspired by recent travels around the regions of Italy. This Italian baked Apple Crostana (£6) is inspired by her travels, and is absolutely delicious. A brilliant pudding for those of us still chasing our 5 a day (ahem) using fat slices of Bramley apples, a crispy pastry it is served with cream and a generous dusting of icing sugar. The restaurant is in the heart of Covent Garden, within the new 'Opera Quarter', and is perfect for pre-theatre dining at only £21 for a three-course set menu.
Where: 36 Tavistock Street, London, WC2 7PB
3. Apple Pie at West Thirty Six, Notting Hill
Situated in the heart of Notting Hill, just off Portobello, West Thirty Six is an all-day townhouse serving brunch, lunch, dinner and cocktails. The unconventional restaurant, bar and cocktail lounge benefits from four enviable outside terraces, perfect for catching the last summer rays. The restaurant's menu comes from chef John Pollard formally of Soho House and focuses on local produce that is cured, smoked and grilled on site.
Within each floor, room and space offering something different, secret and surprising. Their apple cinnamon pie with custard (£9) is fantastic – the huge pie dish is brought to the table piping hot and diners are served their piece individually. Don't leave without trying one of their fantastic cocktails.
Address: 36 Golborne Rd, London W10 5NR
4. Apple Beignets at The Richmond, Hackney
If you're heading East, try the The Richmond, in Hackney. A much-anticipated new opening, it houses East London's first raw bar and serves natural wines and simple, delicious cocktails until late. The restaurant was the lovechild of Brett Redman, an Australian chef and restauranteur, and Margaret Crow, a prominent fashion stylist. The pub has been transformed with modern interiors, a glass-topped bar and amber lighting to give it a warm, homey feel. The food focuses on comfort dishes, and raw ceviche, such as tuna tartare with aubergine, harissa and mint. Don't leave without trying their amazing puddings – from banana tart with crème fraiche and macadamia to Apple Beignets with ricotta sorbet (£7), the desserts here are world-class.
Where: 316 Queensbridge Rd, London E8 3NH
5. Apple French Toast at Source, Battersea
This charming neighbourhood restaurant in Battersea, just by the Thames, has a wrap-around terrace overlooking the river and great views. If it's nice weather, bask in the sunshine whilst sipping a flat white, and if it's not, hide inside with some of the best brunch plates in town. Husband and wife team Johan and Elsa De Jager opened SOURCE in Battersea at the end of 2013; the restaurant name is inspired by London's only natural spring, located directly under the restaurant, which allows them to filter their own natural spring water. The menu aims to showcase the best of British ingredients and adapts seasonally, featuring only top quality produce from handpicked suppliers. Their Brioche French toast with apple, hibiscus and smoked toffee (£10) for brunch is totally dreamy.
Where: Ransomes Dock Restaurant, 35-37 Parkgate Rd, London SW11 4NP
6. Compote de Pommes at Hampstead Creperie
The best crepes in London come out of a van. The same does not apply to men. This is a London institution for the pancake-loving crowd; the crêperie, open since 1980, always has a queue, and rightly so. The secret is in the salty butter on the outside; a little hint of savoury on the oh-so-sweet inside. The stand is open until 11pm – come here for the Compote de Pommes – fresh crepe with honey-apple compote and a dash of cream (£4), it's the absolute perfect post-dinner treat in Hampstead.
Where: 77 Hampstead High St, London NW3 1RE
Rosh Hashanah in London – DRINK: London's Best Apple & Honey Cocktails 
In the spirit (oops) of Rosh Hashanah, the team at About Time accidentally consumed an entire bee hive to find London's best apple and honey cocktails. Here's the sweetest, best cocktails we found in London:
1. The Honey Cocktail: Pennethorne's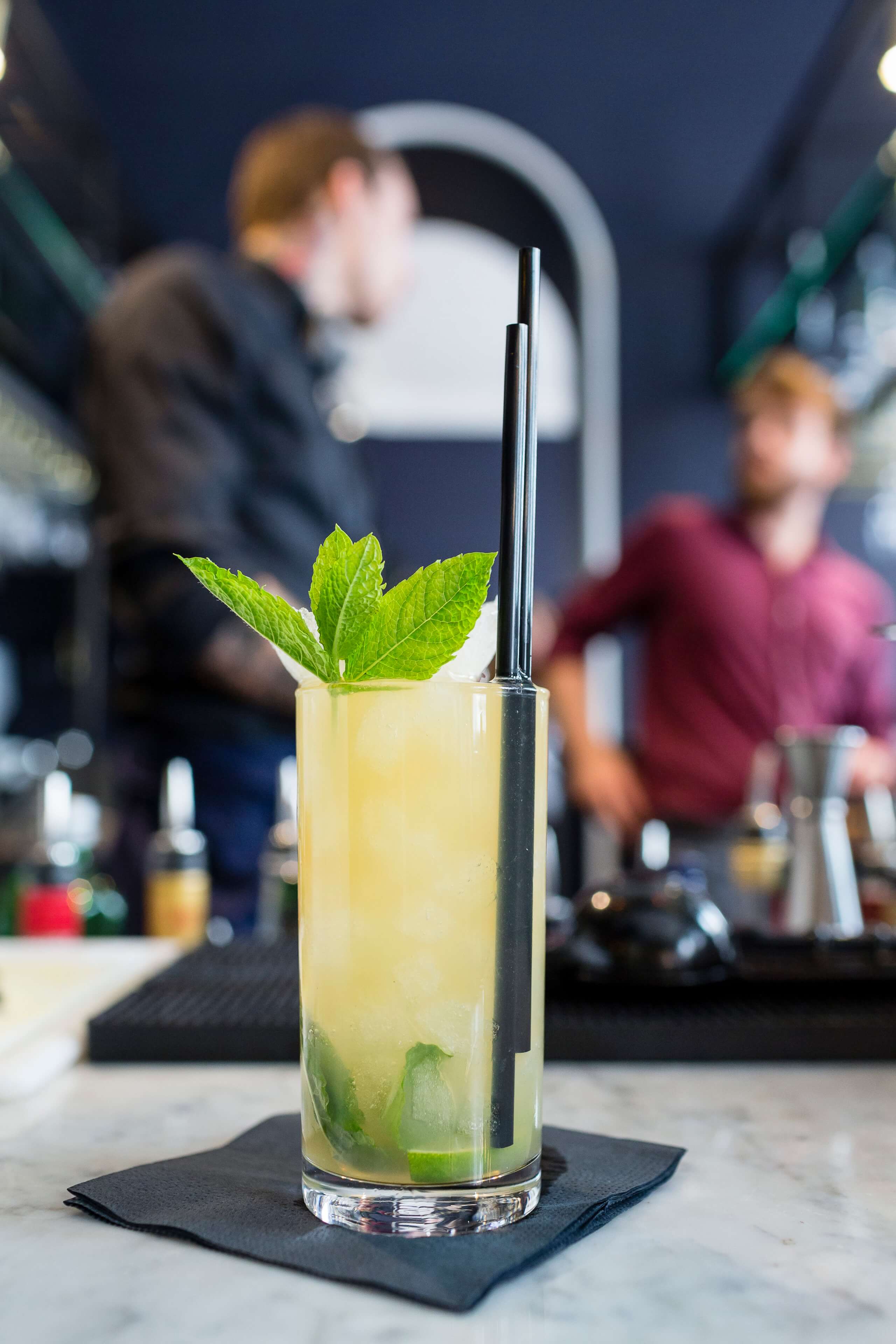 Pennethorne's is the latest opening at the beautiful Somerset House – it's an all-day cafe serving fresh pastries, deli style lunches and evening meals, plus great coffee and cocktails. The cocktail to drink is their English Mojito (£7.50) with rum, strawberry, apple, mint and sugar. A refreshingly British take on your classic cocktail, the English Mojito is the perfect thing to sip in the last of the English sunshine. Come here for brunch – the smoked salmon and cream cheese bagel is perfect with coffee and a good book. For dinner, expect great small plates and sharing platters, inspired by the European travels of Sir James Pennethorne, a 19th century architect. Whether for evening cocktails or morning pastries, Pennethorne's is fantastic.
Where: Pennethorne's Cafe Bar, New Wing, Somerset House, Strand, London, WC2R 1LA
2. The Smoky Cocktail: Holborn Dining Room
The Holborn Dining Room at Rosewood London is quite the gem; a grand brasserie with serves up seasonal, locally sourced British cuisine, it's absolutely amazing for weekend feasting. Rosewood has recently launched a weekly Slow Food & Living Market in the hotel's grand inner courtyard. The weekly market, open every Sunday, is endorsed by Slow Food UK and is the only dedicated Slow Food & Living Market in London with 30 different merchants. Come and try their new cocktail – the Big Apple (£11) includes smoked Vodka, fresh lemon juice, Monin Orgeat syrup and apple juice and then garnished with an apple crisp. It's smoky, full of flavour and just sweet enough: apple perfection.
Where: 252 High Holborn, London WC1V 7EN
3. The Apple & Pear Cocktail: Amuse Bouche
Amuse Bouche is a Parsons Green hotspot known for great champagne at great value prices for London. If serving up London's finest and best value Champagne isn't enough, then the awesome cocktails on offer will convince you. And the food is great, too – Claude's Kitchen at Amuse Bouche has quickly become a local favourite with a short and sustainable menu which changes weekly. For cocktails, try the cinnamon, sour apple and sweet pear crush (£10), which is made with Chase vodka, ginger syrup and sweet and sour fruit purees. The cocktail is, apparently, super healthy – full of fruit and the cinnamon is excellent for balancing out blood sugar. Drink up.
Where: 51 Parsons Green Ln, London SW6 4JA
4. The Good Cocktail: Rotunda Bar
Rotunda in King's Cross is a laid-back bar with classic British menu, plus it has a great terrace with deck chairs. Try the Bee-Low Deck (£7.95) with Amaretto, Sailor Jerry spiced rum, orange juice, honey and lime juice. It tastes delicious, and what's more, £1 of each drink is donated to The Honey Club, a social initiative working to create a bee caring community in the King's Cross area. Rotunda is great for a light lunch or to spend an evening relaxing, enjoying some great cocktails. Don't leave without trying their food – the fricassèe of English asparagus with sprouting broccoli, Jersey Royals, hollandaise sauce and shaved radish is the stuff of dreams.
Where: Kings Place, 90 York Way, Greater London N1 9AG
5. The Floral Cocktail: Fera at Claridge's
Inspired by changing of the seasons, Michelin-starred Fera at Claridge's is a creative and natural take on modern British cuisine. Chef Simon Rogan's high-end eatery at Claridge's offers elaborate tasting menus in an art deco space – it's a beautiful space for a special meal. Their seasonal cocktails are works of art – try the mix of apple marigold, cider honey and sparkling wine (£15) – it's fruity, fresh and utterly divine. At Claridges, thanks to a remarkable new invention, you can try exclusive wines without actually opening the bottles, so it's the perfect opportunity to try something rare and special. You also have to try the desserts – the Bramley apple cake with cinnamon ice cream and pecan will knock your average kosher honey cake out the park every time.
Where: 49 Brook St, London W1K 4HR
Rosh Hashanah in London – TRY: Something New
Volunteer with Challah for Hunger, a fantastic organisation that brings people together to bake a difference through baking and selling challah. Join a team at JW3 to make dough, braid, bake and sell challah. All are welcome, and no prior skill is needed, because you'll learn as you go. The money raised goes to Tzedek and North London Action for the Homeless – a charity with a soup kitchen in Stoke Newington. We guarantee you'll go home with a full stomach and heart.
When: 10th September – volunteering runs from 6-9.30pm and includes dinner and a fun qui – information here
Head over to JW3 for their festival celebrating the Jewish new year through the arts. Help them to build a gigantic goat puppet for the new year parade and learn about goat, ram and shofar. Make some noise and learn the theory and practice of shofar blowing on jumbo Yemenite shofarot. Bee creative and make honeycomb greeting cards, design your own pomegranate papercraft and relax with soft play and funky tunes. Plus, enjoy weaving round challah as we celebrate the yearly cycle and the 'wheel of time'.
When: 13th September – for ages 2-9. Children must be accompanied by an adult – information here
What: Melting Honey Hot Stone Massage (£95) at Lemon Tree. A new body treatment from Clarins; honey is melted over hot stones and used to massage stressed bodies. The treatment lasts one hour and is supposed to calm, relax and sooth. You'll be ready to be served between toast straight after.
Where: Lemon Tree, Fulham – here
This piece first appeared on the Jewish News – read it here