Looking for places to watch the England v Sweden match in London this Saturday? Here's our pick of the best spots to watch the football in style this weekend:
1. For a Local Spot: St John at Hackney Brewery
The Run-Down: One of the hottest new openings in east London, St John at Hackney Brewery have all the bases covered for Saturday's game. They got a massive screen outdoors, a big screen indoors and Cypriot inspired small plates and sharing dishes to help with the pre-match munchies. Call ahead and reserve a table to make an afternoon/day of it.
Drink: Beer. Beer from not just the good folks at St John at Hackney Brewery, but also Gypsy Hill, Northern Monk, North Brew Co, and Boxcar. And there's a top wine selection too.
Why Go: A lovely spot with summer vibes to boot.
Where: 16 Bohemia Pl, London E8 1DU
2. For Sunshine + Ice Cream: Camden Market
The Run-Down: North Londoners, catch all the action on Camden Market's outdoor screen. One of the best alfresco screens in the area, there's deck chairs, a special World Cup bar as well as pizzas, and other street food bites.
Drink: Plenty of booze to keep everyone cool and well oiled. There's beer on tap, iced cold cider, glasses of house wine and non-alcoholic bevs.
Why Go: Because Chin Chin Labs have created a new #ENGSWE ice cream: blow torched handmade marshmallow, served in a England red hand rolled cone, topped off with Sea Buckthorn infused ice cream.
Where: ​Camden Market, Camden Lock Place, London NW1 8AF
3. For a Posh Option: Market Hall
The Run-Down: Not just for the footy laaaaaaads, Market Halls in Fulham is a light and airy space showing the England game on one mega screen. A step up from your local Spoons, Market Halls houses a range of street food traders who'll be dishing up pokè bowls, cheese boards, and 'avo' babs throughout the game.
Drink: There's a concise cocktail list made using British craft spirits including East London Liquor Company, as well as a range of wines supplied by Bibendum, a specially curated list of independent, craft beers (including their own house lager 'Market Helles' developed with North Cornwall brewers Harbour), and a robust selection of non-alcoholic drinks, including a Market Halls Pink Grapefruit Soda which has been created in collaboration with Square Root.
Why Go: Don't think there's anywhere in London where you can watch the game whilst wolfing down a pokè bowl. Fancy, eh?
Where: 472 Fulham Road, London SW6 1BY
4. For a Simple Affair: Crystal Palace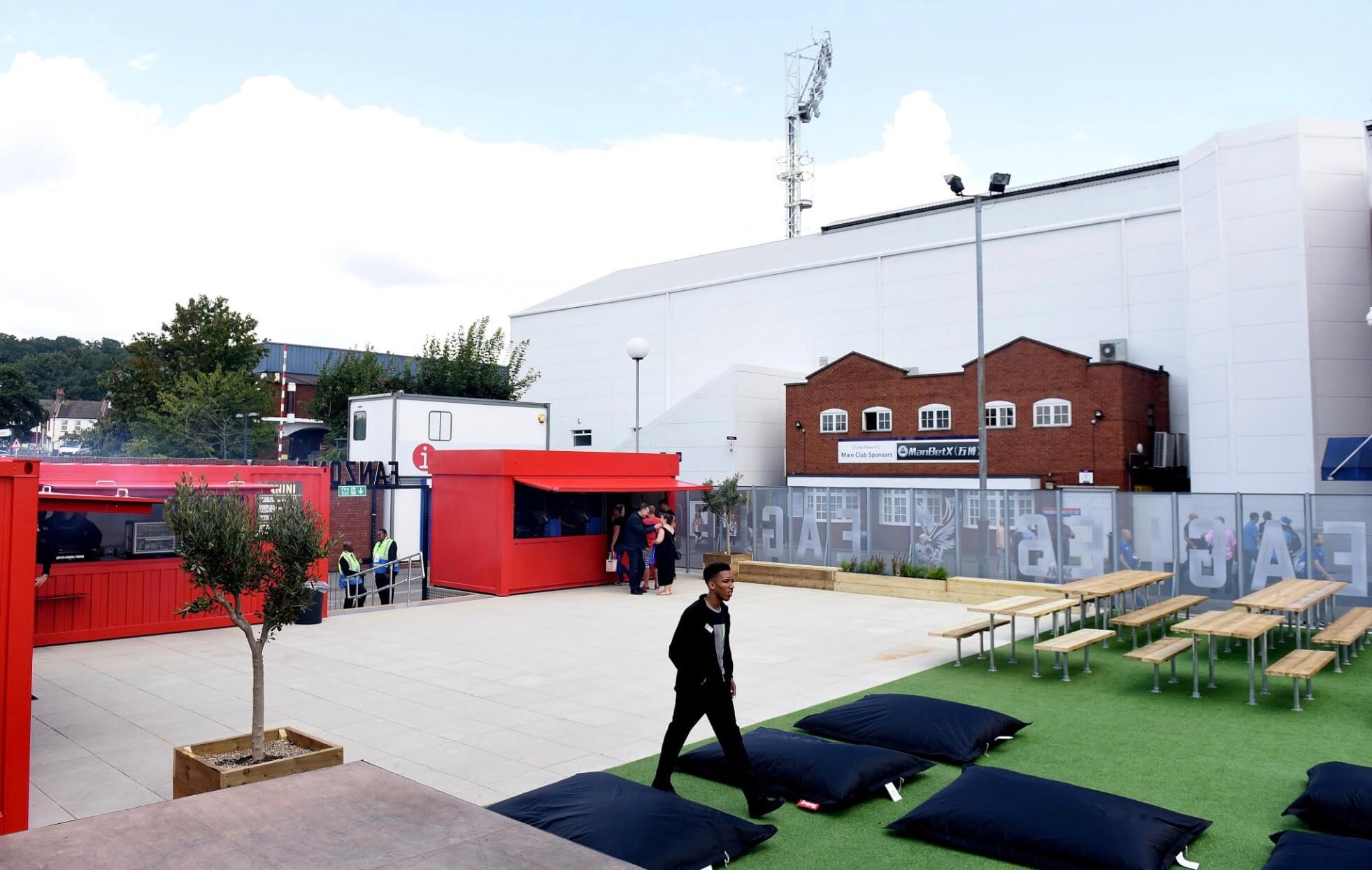 The Run-Down: Crystal Palace will be screening the match live on a giant outdoor screen in the Fanzone at Selhurst Park. Tickets are a tenner, which includes a complimentary drink – and for eats, they'll be a special Three Lions Burger (we have no idea what that burger entails, but we're sure it'll be lovely) and gourmet hot dogs galore.
Drink: It's a simple affair: lager, wine, cider and soft drinks.
Why Go: Family friendly – and it's outdoors meaning you don't have to battle through the ceiling-fan mugginess.
Where: Selhurt Park, London SE25 6PU
The Run-Down: Bounce are not just content with just showing the football, they're going all out. Think a brass band and singing section, half time show, A WORLD CUP DISCO, DJs before, at half time and after the game, and huge 12ft screens dotted around the venues.
Drink: They've got beer, wines aplenty, and if you're feeling fancy, cocktails like the Up in Smoke with Zacapa 23, Antica Formula vermouth, Mr Black, Green Chartreuse, orange and chocolate bitters.
Why Go: Grab a hot dog or chicken/vegetarian wrap and a beer for £6. And it's probably going to be one of the liveliest joints in town.
Where: Locations here