This weekend sees a whole host of fun events taking place in the capital. We know you don't like trawling through massive lists – so here's our pick of 5 things we think it's about time you tried this weekend. Happy exploring, London:
Friday 11th November 
What: Emerging talents in the London nightlife scene, Tokyo Lounge are taking over at Fu Manchu, the late night Chinese dim sum bar and nightclub in Clapham on Friday. The night time party atmosphere at Fu Manchu is always electric, eclectic and exciting, and showcases some of the hottest new DJs.
Why: This is the first evening in Fu Manchu's winter series, and will unfold with an array of exciting DJ sets from Knapp Brothers and Iago, and will end with a lively headline set from Jonny Tawn of Jive Talk who will be filling Fu Manchu with vibrant disco flavoured vibes. Stock up on prawn wontons and pork buns before showing off your moves on the dance floor.
Price: £8. Tickets here.
When: 15-16 Lendal Terrace, London, SW4 7UX
2. For a Fitness Event: Transition Zone
What: Get 'waisted' with the team at Fulham based fit destination Transition Zone for a one night exclusive fitness event combining three classes back to back: a 30-minute barre workout hosted by Paola's Bodybarre, a 30-minute HIIT circuit and a 15-minute Yin Yoga session.
Why: For a muscle toning, body blitzing, calorie torching workout followed by healthy snacks to refuel post-workout. They'll be Prosecco cocktails and a gift voucher from Sweaty Betty to top it all off – the perfect way for fitness lovers to spend a Friday night.
Price: £30, available here.
Where: Transition Zone, 17 Heathman's Road, Parsons Green, London SW6 4TJ
3. For a Chick Flick: The Grand, Clapham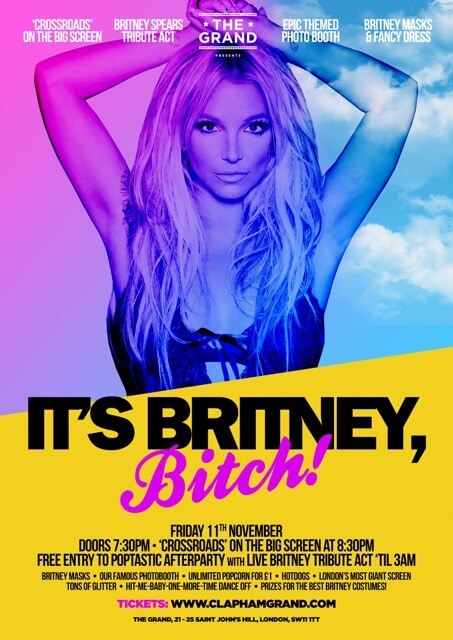 What: The Grand, Clapham will be screening quite possibly the best coming of age film since Dazed and Confused on Friday. That's right, Britney Spears 'I'm not a girl, not yet a woman' road-trip movie, Crossroads is making its debut at The Grand's much lauded £1 Cinema Club.
Why: As well as the usual £1 Cinema Club quirks (glitter, dance-offs, more glitter, hot dogs) there will also be a Britney tribute act with full dance troupe performing, as well as a 90's Vs 00's afterparty celebrating the best of Britney throughout the ages. What an icon. What a woman.
Price: £1, obviously. Grab your tickets here.
Where: 21-25 St John's Hill, London SW11 1TT
Saturday 12th November 
4. For Discounted Gymwear: Lululemon
What: Lululemon are hosting a special two day sample sale extravaganza in Mayfair. Open from 11am on both Saturday and Sunday, the pop-up shop will be a chance for you to pick up some Lululemon goods at rock bottom prices.
Why: Because there's going to be a shed ton of sassy workout gear on sale. Anything from yoga leggings to running tops, and a whole array of women's active wear.  Don't miss out on the vast selection of menswear and accessories.
Price: Free entry.
When: The Music Room, 26 South Molton Lane, Mayfair, London W1K 5LF
Sunday 13th November 
5. For Mini Golf Matchmaking: Swingers x Bumble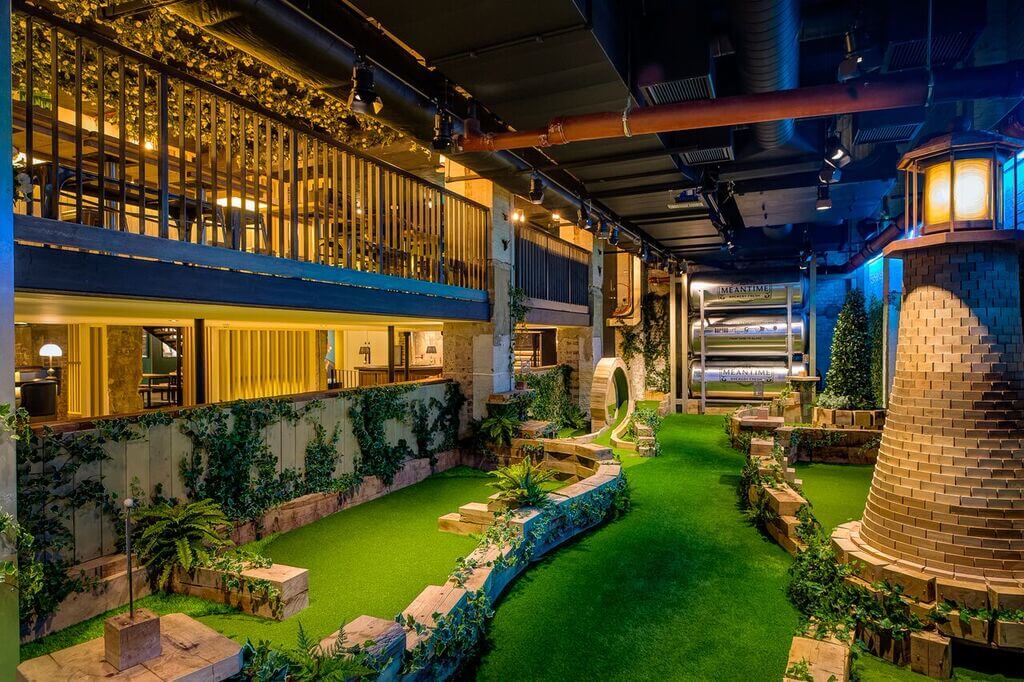 What: On Sunday, Swingers Crazy Golf will be hosting their very first dating event in partnership with Bumble, the location-based social and dating app.  It's a bit like Tinder, but the lady speaks first. Who are you kidding – of course you know about Bumble.
Why: Swinging – more specifically, crazy golfing – is the ultimate way to date. There are no awkward silences and there is no desperately scrabbling for something to say. Instead it's all about the putting, the cocktails and the hilarious conversations that will inevitably arise. Swingers x Bumble will kick off with drinks and mingling on the Swingers gin terrace from 6pm before guests are teed off in small groups from 7pm. A round of crazy golf and welcome cocktails to get guests in the mood are included with each ticket purchased.
Price: £18, tickets available here 
When: 8 Brown's Buildings, (Between St Mary Axe and Bury Street), London EC3A 8AL
One for next week… 
For Meditation and Music: The Gathering 
What: The Gathering are back with their second event taking place next Tuesday (15th) at Cecil Sharp House, Camden. Founder, Will Williams will be joined by guest speaker Ruby Wax and songwriter/producer Ethan Johns for an evening of carefully curated live music, tasty food, a relaxing guided group meditation and unlimited Pukka teas.
What: An integral mental health campaigner, Ruby Wax's discussion will both educate and alleviate when she takes to the stage. Meanwhile celebrated rock producer Ethan Johns can lay claim to working on some of the biggest albums of our time, collaborating with the likes of Sir Paul McCartney, Kings Of Leon, Ryan Adams, Ray LaMontagne and many more across a career already spanning twenty years. If you crave high energy, want to be culturally​ inspirational (minus the hang over) – head down to The Gathering next week.
Price: Early bird tickets are £29.50 – buy them here.
Where: 2 Regent's Park Rd, London NW1 7AY