Breaking news: the sun is shining. And we're hot. Not even our office fan is helping. If you're looking for ways to escape the heat, or enjoy the warmer climes on a shaded terrace – we've listed 10 (mostly boozy) ways to cool down in the capital.
Cool Down With: Frozen Skyr Ice Cream
1.  28-50 Wine Workshop and Kitchen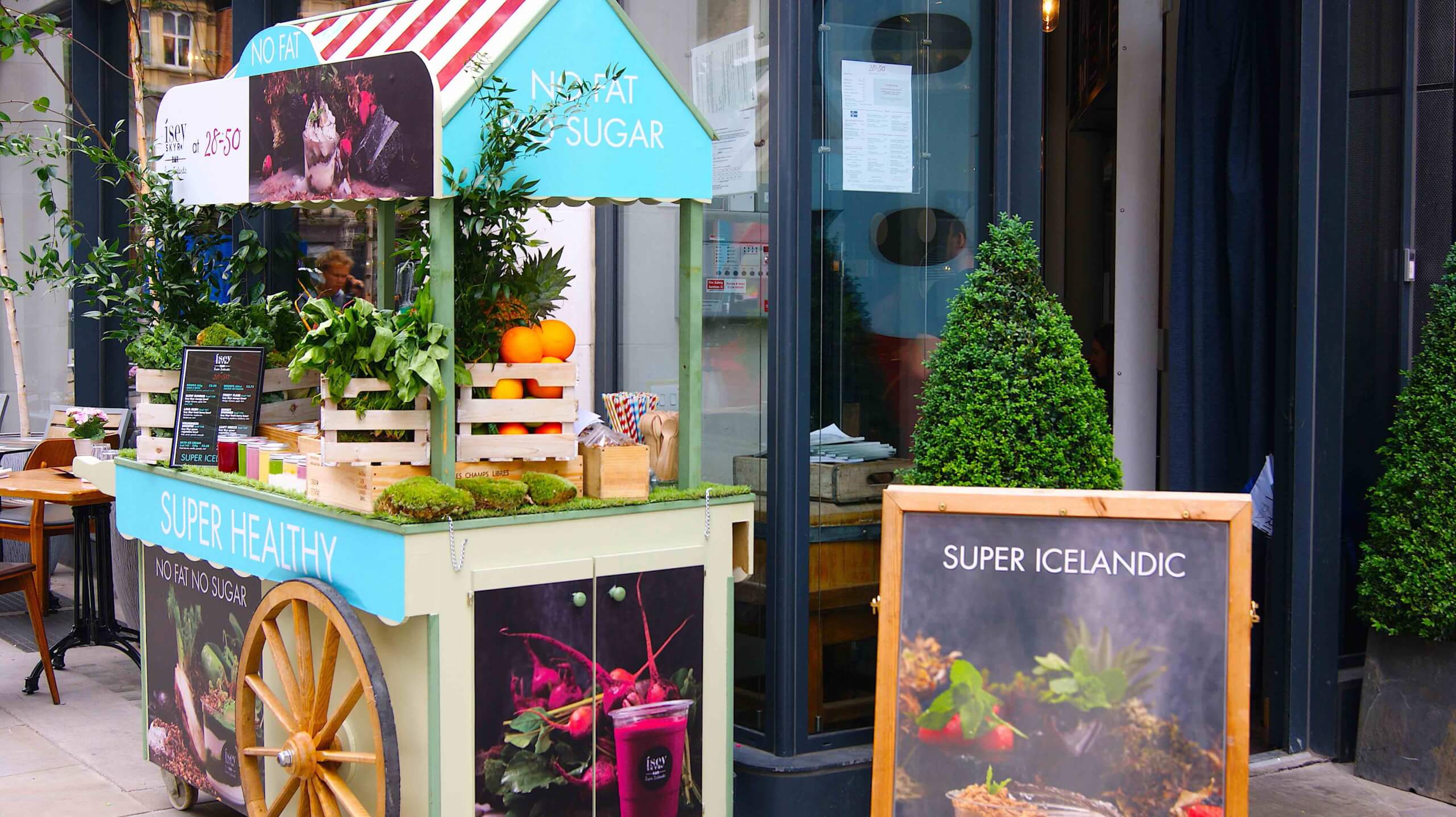 The Lowdown: Chef Aggi Sverrisson has opened Ísey Skyr Bar at 28-50 (apparently it's London's first dedicated skyr bar) located on Marylebone Lane. Stationed outside 28-50 Wine Workshop and Kitchen, the pop-up serves fresh boost blends, sweet and savoury skyr pots and frozen skyr 'ice cream'.
What to Expect: Boost your mood and start the day right with freshly blended skyr smoothies; enjoy a Sunset Shimmer (Ísey skyr, strawberry, raspberry, blueberry and mint) or go vegan with Lava Spark (beetroot, ginger, avocado and lime). Looking for an afternoon cool down? Top 8oz of skyr ice cream topped with fresh berries, granola and mint.
Where: 15-17 Marylebone Lane, London W1U 2NE
Cool Down With: Champagne
The Lowdown: Recently named City Hotel of the Year in the Hoteliers' Hotels Top 100, the shaded walled garden at The Goring provides the perfect calming oasis to cool off from the hustle and bustle of London. If you want to get away from the heat, and the tourists – The Goring's beautiful, plant-filled private garden is just the place.
What to Expect: Enjoy a refreshing glass of bubbles on the veranda or terrace, and dine al fresco with light lunch options including caviar, bar snacks, salads and sandwiches, or indulge in a traditional afternoon tea with bubbles, finger sandwiches and fruit scones.
Where: 15 Beeston Pl, Westminster, London SW1W 0JW
Cool Down With: Frozen Cocktails
3. Diplomático Palm Terrace at the Bloomsbury Club Bar
The Lowdown: Bloomsbury Club Bar's outdoor terrace has been transformed into a rum inspired, seductive, cool, palm-decked sanctuary offering the ultimate refuge from the muggy London heat.
What to Expect: Venture through a palm-leafed canopy to discover a fern-lined cocktail terrace complete with its own Diplomático bar and vintage travel artefacts, before sussing out the cocktail menu. Lock your lips around the Frozen Dauqiri – a cooling blend of Diplomático Planas, fresh lime and cane sugar, or the signature Mango Botucal with Diplomático Mantuano, mango syrup, Amber Picon and Fernet Blanca
Where: The Bloomsbury Club Bar, 16-22 Great Russell Street, London WC1B 3NN
Cool Down With: Dim Sum and Air Conditioning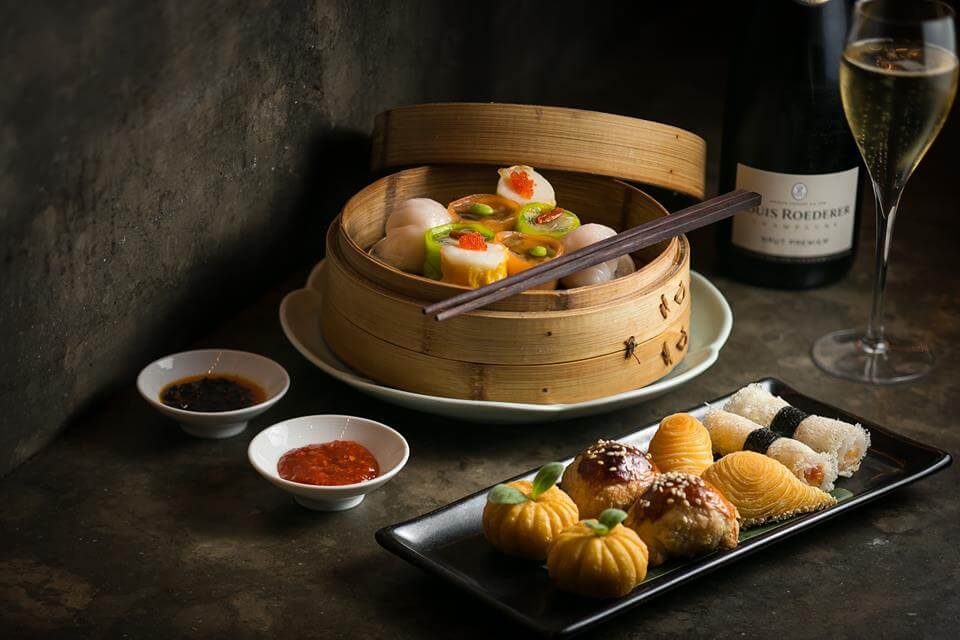 The Lowdown: Escape the sweltering central London heat and head down to Hakkasan's basement haven (powerful aircon makes us very happy right now). Every Sunday, Hakkasan run Dim Sum Sundays; a sharing menu of comforting dim sum and main dishes with traditional Pipa music, between 1pm-5pm.
What to Expect: The menu has been created by Chef Goh Wee Boon – Hakkasan Hanway Place's Chef de Cuisine – and celebrates seasonal ingredients in both the food and the cocktails. Dim sum includes; duck and yam bean dumpling, golden seafood and cheese roll, baked venison puff, and smoked duck and pumpkin puff. And to really cool down, opt for the Hidden Fortune cocktail with Grey Goose La Poire vodka, pear liqueur, Aperol, lemon, agave and Angostura bitters.
Where: 8 Hanway Pl, Fitzrovia, London W1T 1HD
Cool Down With: Rum Cocktails and Boat Tours
The Lowdown: Hop on board the Wood's Navy Rum Boat and discover the city by water, and all-new rum cocktails. Navigate London's weaving canal network and learn the naval story behind Wood's Navy Rum on the summer boat tours, and take a front row seat to soak up the charming sights of the city with a Wood's cocktail in-hand – all with that lovely river breeze blowing through your barnet.
What to Expect: Alongside boat tours and live music, there's also a chance for you to try your hand at mixology. The masterclasses feature how to make the Wood's Greenheart Grog. Themed on the traditional sailors' 'grog' concoction invented for sailors in 1740 to mix their daily 'tot' of rum, this is a simple and refreshing cocktail, and  is a blend of Wood's Navy Rum, pink grapefruit juice, lime, honey and ginger beer.
Where: 2 Highgate Rd, London NW5 1NR
Tickets for the daily tours can be booked here.
Photo Credit: Grant Anderson 
Cool Down With: Ice Cream
The Lowdown: To celebrate the warmer weather, Godiva has added to its Wonderful City Dreams collection with anew selection of summer treats. As well as its famous chocolate dipped strawberries, the chocolatier has introduced a new range of its infamous Chocolixir, and soft serve ice creams.
What to Expect: There is nothing quite like summer in the city of London; the soft serve and chocolixir recipe, crafted by Chef Jean, takes inspiration from the sights and smells of the glorious British countryside and sun-kissed strawberries. The ice cream features a white chocolate base, strawberry puree, violet drizzle and violet petals.
Where: 87-135 Brompton Rd, Knightsbridge, London SW1X 7XL
Cool Down With: Japanese Inspired Cocktails
The Lowdown: Yauatcha City and Tanqueray No. TEN have transformed the east terrace of Yauatcha City into a lush floral garden surrounded by all sorts of greenery and botanical knick knacks. It's the ideal spot for post work drinks in the sunshine.
What to Expect: Hakkasan Group Head of Bar, Eder Neto and World Class bartender Ali Reynolds, have created a bespoke cocktail menu of Tanqueray No. TEN Gin and Teas exclusive to Yauatcha City including the likes of the Tanqueray No. TEN Gin and Classical Beauty blue tea, served with Fever-Tree naturally light aromatic tonic garnished with strawberries. And for eats, there's dim sum and snacks such as golden truffle croquette, Berkshire pork belly mantou and salt and pepper anchovy. One of the best places to drink outside in London, for sure.
Where: 1 Broadgate Cir, London EC2M 2QS
Cool Down With: Alcoholic Sorbets
The Lowdown: Aster in Victoria has collaborated with Swedish brand, Absolut Elyx, to create an Absolut sorbet cocktail menu that will cool you down like nobody's business.
What to Expect: Capturing the essence and taste of the warmer months, the Absolut sorbet cocktail menu three features refreshing flavours including coconut and passionfruit, apple and orange, and cherry and pineapple. Best enjoyed on Aster's outdoor terrace.
Where: 150 Victoria St, Westminster, London SW1E 5LB
Cool Down With: Gelato
The Lowdown: Bathed in sunshine and with cracking views over the Thames, the beautiful piazza-style terrace at Fiume has been decked out with lemon and olive trees, and rustic terracotta pots planted with aromatic rosemary and lavender.
What to Expect: The menu showcases the vibrant ingredients of the Mediterranean whilst paying homage to the Mezzogiorno region of southern Italy. However, if ice cream is the only thing that appeals in this hot weather, a Gelato Brioche is a must try. This decadent dessert sandwiches two scoops of pistachio and hazelnut gelato in a soft, sweet brioche bun for the ultimate summer cool down.
Where: Circus West Village, Battersea Power Station, London SW8 5BN
Photo Credit: Johnny Stephens Photography 
Cool Down With: Iced Coffee
The Lowdown: Gail's are bakers; baking loaves, buns and pastries on a daily basis. But if you really want to sulk off when the weather gets too sticky, Gail's powerful air conditioning and delicious iced latte will do just the trick. Best £3 you'll spend.
What to Expect: Gail's developed their signature house blend to suit their favourite time of day: morning. The coffee is roasted by Union Hand-Roasted Coffee in East London, and their iced lattes are made with either soya, oat or semi skimmed milk. If you're feeling fancy, try their iced chocolate – it's the bees knees.
Where: Locations here