This week in the capital is a corker. From a tech talk to an Austrian inspired supper club – here's the best things to do in London this week. Happy exploring, kids:
1. For a Foodie Experience: PROPERCORN x Bompas and Parr
What: PROPERCORN has teamed up with the mad brains at Bompas and Parr to create the Institute of Flavour, popping up this Friday (17th June). The Institute of Flavour is a sensory, willy-wonka style seasoning factory in Soho where you can make your own flavours. There's over 125,000 flavour combinations to be created, with flavours ranging from violet to black truffle and yuzu.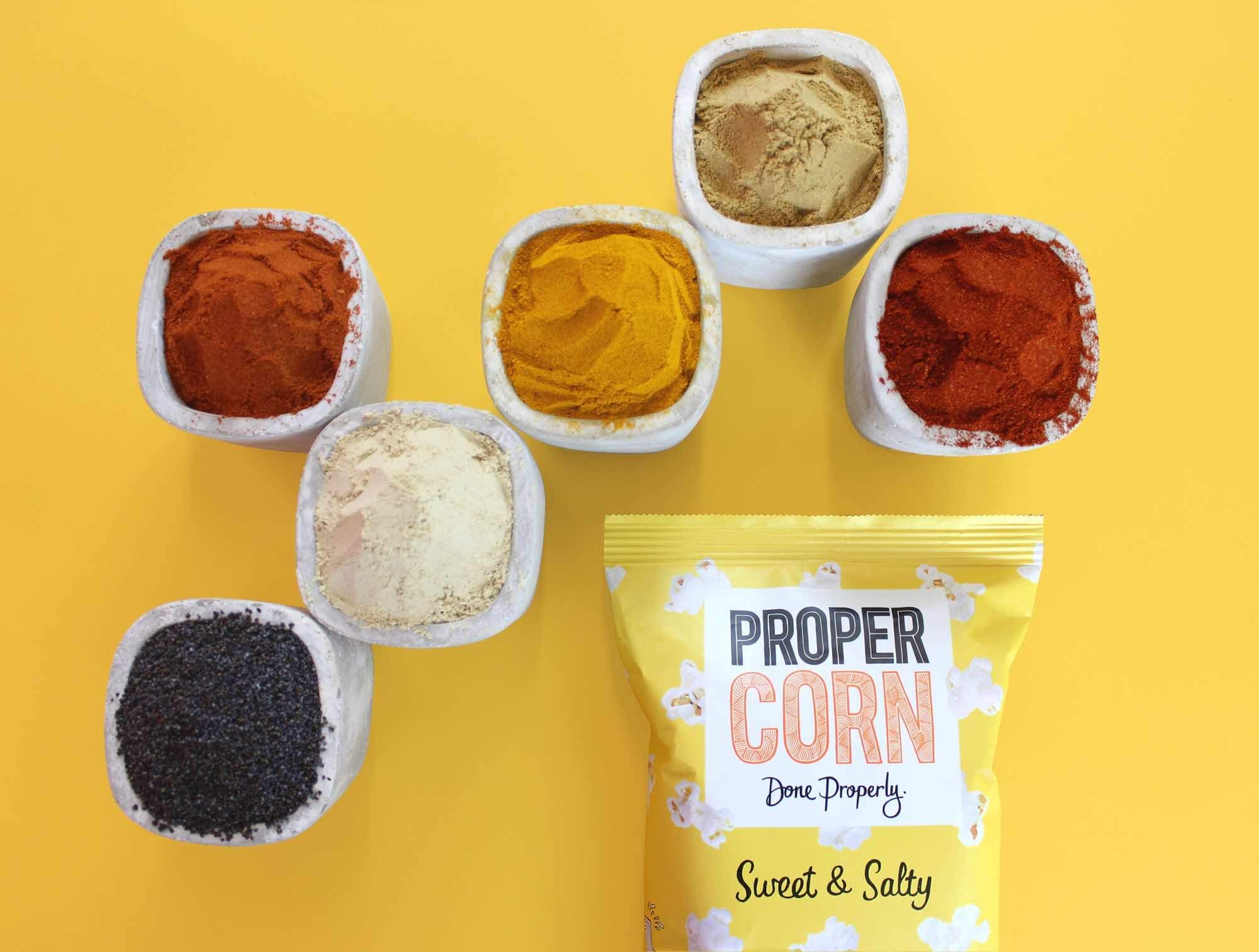 Why: Grab your map and journey through the spice shelves, before hitting the bitters and sweets of the flavour library, follow the route to the popping room, before tumbling your precious popcorn in the kitchen. Everyone will sniff, spray and sprinkle their way to their own signature seasoning, before it is pinned to the wall of pop. At the end of a month long celebration of flavour, one taste-maker will be chosen to have their Limited Edition flavour stocked nationwide in Whole Foods and be given a lifetime's supply of popcorn.
Price: Tickets are free and are available here 
Where 46-54 Great Titchfield St, W1W 7QA London
2. For a Masterclass: Laurent-Perrier x The Dorchester 
What: To celebrate Taste of London (15th-19th June), official sponsors Champagne Laurent-Perrier has partnered with The Grill at The Dorchester for a brand new and exclusive experience titled; Entertaining at Home. Hosted by Daniel Brennan of Laurent-Perrier and The Grill at The Dorchester's head chef Christophe Marleix, enjoy a one of a kind, interactive champagne experience, learning about the key characteristics of Laurent-Perrier champagnes and how to pair with an array of classic dishes ideal for entertaining at home.
Why: Following a glass of Laurent-Perrier Brut from a jeroboam, you'll be guided through four Laurent-Perrier champagnes, each with their own distinct taste and pairing quality to accompany specially chosen dishes prepared by the iconic Mayfair restaurant. Dishes will include Hansen and Lydersen salmon, The Dorchester's signature lobster chowder and organic lamb shoulder.
Price: £52 per person. Order online 
Where 53 Park Ln, London W1K 1QA
3. For a Music Performance: South Place Unplugged featuring Henry Taylour
What: English singer-songwriter Henry Taylour will perform at South Place Hotel's speakeasy Le Chiffre bar on Wednesday (15th June). Henry's stage presence, sense of humour and above all his passion have seen him perform at some of London's most iconic venues for breakthrough acts in recent months, including the Troubadour and Water Rats.
Why: Henry Taylour is an emerging English singer-songwriter from Oxfordshire whose expressive and powerful sound tells an intimate story with striking honesty. Henry takes inspiration from artists including Ben Howard, The Tallest Man on Earth, John Martyn and Bruce Springsteen to name but a few.
Price: Doors open at 6pm, performance from 7pm. Free entry.
Where: 3 South Pl, London EC2M 2AF
4. For a Dinner Party: Kipferl Kneipe and Kitchen
What: Kipferl Kneipe and Kitchen in Golborne Road, Notting Hill, is hosting a Fine Dining Event featuring a menu of mouth-watering Austrian inspired delicacies on Thursday (16th June). The menu was created and will be cooked by London based Austrian chef Franz Schinagl. Franz is the culinary genius behind the popular food van, Speckmobile.
Why: The Austrian restaurant is an amalgamation of the traditional Austrian coffeehouse and 'Heurigen' – a type of Austrian wine bar. The menu starts off with an amuse bouche, followed by watercress risotto with poached egg yolk. Main course will be herb crusted rack of spring lamb, lamb croquettes, pea puree and confit cherry tomato, with white chocolate and raspberries for dessert. 
Price: £38.00 for food only and £55.00 for food and matching Austrian wines. To book a place please call the restaurant on 020 8969 5852 or email mail@kipferl.co.uk
Where: 95 Golborne Road, London, W10 5NL
5. For a Knees up: Sipsmith Punch House
What: Sipsmith is launching a London Cup which features borage, much loved in the 1800s as a gin punch garnish. To celebrate this new herbaceous spirit, the passionate pioneers of the gin resurgence are hosting a summer-long Punch House at The House of St Barnabas, serving a wonderful selection of refreshing gin-punch cocktails, all inspired by historical recipes.
Why: The Sipsmith Punch House will be open on Sundays for 10 weeks throughout June, July and early August, offering gin-enthusiasts access to this exclusive members' club. Get down and try the all-new Sipsmith London Cup, a  a blend of the distillery's award-winning London Dry Gin with Earl Grey tea, lemon verbena and borage.
Price: Tickets cost £15 per person and includes your fist tipple on arrival as well as a potted history and peak around the club. All ticket sales will be directly given to The House of St Barnabas. Buy yours here.
Where: 1 Greek Street, Soho
6. For a Limited Edition Menu: Kurobuta x Nikka
What: Kurobuta, a restaurant which takes its inspiration from the Izakayas of Japan, and Nikka Japanese Whisky have collaborated to create a one-off limited edition menu to celebrate the release of two new single malts from the Nikka whisky distilleries. The menu launched at Kurobuta Harvey Nichols yesterday, will be available for two weeks, just in time for Father's Day weekend.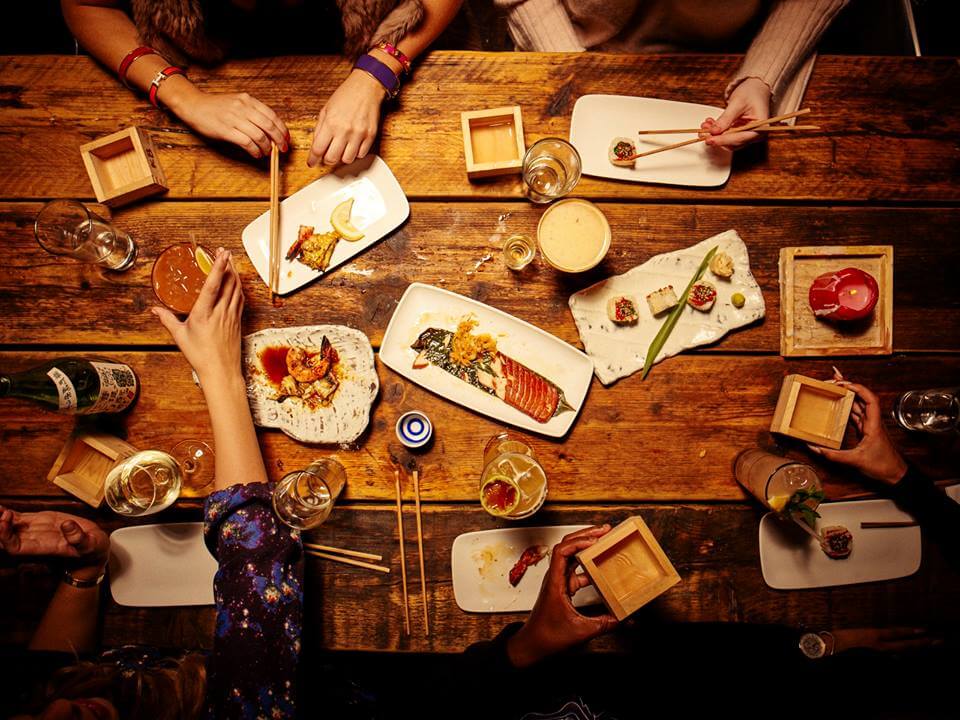 Why: Chef Scott Hallsworth has worked with Nikka Brand Ambassador Stef Holt to expertly pair a selection of Japanese dishes to a range of Nikka whiskies, including the brand's newest single malts: Yoichi and Miyagikyo. The six-course menu features whisky cocktails as well as the option to try neat whisky serves, and dishes to complement the flavours in each whisky, such as scallop sashimi, malted nasu amd Koji cream; hot smoked salmon, onion miso sauce and nashi salads; grilled unagi and foie gras with puffed soba and green apple balsamic; and confit duck with gen Mai cha broth.
Price: The menu costs £55 for six courses and the whisky matches. To book, please email harveynichols@kurobuta-london.com or call 0207 920 6443.
Where 109 – 125 Knightsbridge, London, SW1X 7RJ
7. For a DJ Set: Groove Armada x Beaver Lodge
What: Hold on to those cowboy hats, get ready to swing your partner 'round and prepare for an unforgettable evening as one of the worlds biggest electronic-dance acts, Groove Armada comes to Beaver Lodge. Tom Findlay, from the iconic electronic duo, is joining Buddy (the massive bear statue) and the gang for a special one-off night before jetting off to Ibizia.
Why: This Thursday (16th June), from 10pm till 2.30am Chelsea's hottest Cabin club will have it goin' on, Groove Armada style, with one of the top players in the music industry – who is referred to as a treasure chest of knowledge on all things rhythm and groove. Don't forget to head over to Buddy's photo booth to get some snapshots from the night.
Price: £15-£20. Tickets here 
Where: Beaver Lodge, 266 Fulham Road, Chelsea, London, SW10 9EL
8. For a Tech Talk: Urban Coterie 
What: Urban Coterie isn't just a restaurant with killer views and banging cocktails. This Thursday, they're holding a special talk – HEARTS vs MINDS: TECH vs LITERATURE taking place up in the sky above Silicon roundabout (aka Old Street).
Why: Hosted by Kirsty Allison (writer and editor of Cold Lips), the talk will explore creativity and the interplay of Technology within the creative industries with a focus on publishing and literature. Guest speakers include: Crystal Mahey-Morgan (publisher, OwnIt.London), Hercules Fisherman (CTO/CIO & CEO for various tech companies), and Jason McGlade (Photographer and founder of Freestyle magazine).
Price: £10. Tickets here 
Where: Urban Coterie, 17th floor, M by Montcalm, 151-157 City Road, EC1V 1JH
9. For Food and Films: Institute of Light
What: Newly opened, The Institute of Light is Hackney's newest collaborative space. Comprising an art-house repertory cinema, a vinyl record store, restaurant and bar, coffee shop and bookshop, IOL is a one-stop cultural hub in this burgeoning quarter of East London.  IOL have partnered with renowned Brazilian event organisers MargoCamilo, to launch Rio Boteco'– a contemporary pop-up take on the Brazilian corner shop pub.
Why: Rio Boteco's menu features traditional tapas and street food, complimented by a fusion of traditional Brazilian comfort dishes. Rio Boteco combines exotic Brazilian ingredients such as cassava, dende oil, salt cod, coconut and seafood, with a modern minimalistic take on presentation. Signature dishes include; Vaca Malandra – slow cooked short ribs with cassava gratin, and Moqueca de peixe e camarão, a fresh seafood stew with coconut and palm oil curry. The IOL's cinema will showcase a challenging cultural programme of Brazilian films, curated by Secret Cinema alumnus, Harry Ros.
Price: Rio Boteco will be open Wednesday to Sunday weekly until Sun 28 August. Cinedining tickets are £9, regular seats £6.
Where: Arch 376, 10 Helmsley Place, London
10. For a Lunchtime Talk: KERB Crates 
What: Street food pioneers KERB are once again pushing the boundaries of lunchtime as they launch KERB Crates, a series of quick-fire talks and performances exploring the question 'What is the city for?' at KERB KX throughout June.
Why: The next Crate talk is taking place this Thursday (16th June). Kicking off proceedings at 12:30pm will be Barry Smith, Professor of Philosophy and the Philosophy of Taste with his talk on the philosophy of taste and the city. Next to take to the stage will be Tom Bolton, Author of London's Lost Rivers and Vanished City – Tom's discussion will explore how cities are repositories of human experience and history. Bringing some light relief to the proceedings will be performer, singer, comedienne, Izzy Roger. At 1:20pm to finish comedian Alex Kealey will perform a show on love and the city.
Price: Free
Where: KERB King's Cross, King's Boulevard, N1C