01.02.18: Five Unmissable Events Happening in London This WeekBy Alicia Grimshaw
So long, January, you were miserable and bleak as ever. For those brave souls who decided to take up Dry January, enjoy the taste of sweet freedom at The Tate with their hip hip karaoke plus beers from Brooklyn Brewery. And if you like Yorkie pudS, Oslo in Hackney are pulling out all the stops for National Yorkshire Pudding Day (apparently it's a thing). Time to plan:
Weekend Guide: Friday 2nd February
1. For a Reopening: Winterland
What: Due to people swarming to Winterland in their droves last year, London's first thameside enchanted forest is back open for business for one month only. Neck back their delicious mulled wine and hot cocktails from the now fully licenced bar (wohooo!), and feast on a mouth-watering selection of street food treats, fondue and raclette from Jimmy's Lodge.
Why: Winterland boasts its very own enchanted forest, cosy winter lodges, riverside igloos, curling lanes, karaoke booths and a bar featuring winter warmer cocktails such as the Spiced Hot Maple Bourbon Toddy and Gin Merry Martini. Relax on fur lined sofas and tuck into Alpine-inspired grub, or show off your sporting skills on one of the curling lanes, or try your hand at a Winter Olympics favourite, neon-lit mini golf.
Price: Free entry
Where: Winterland London, Wandsworth Bridge Road, Fulham, London SW6 2TY
Weekend Guide: Saturday 3rd February
2. For a Pay Day Party: Tate Modern x Brooklyn Brewery x Hip Hop Karaoke
What: Celebrate the end of Dry January at Level 1 Bar, Tate Modern with an evening of Hip Hop Karaoke. Unleash your inner Kanye, get stuck into Tate's extensive beer list including guest beers from Brooklyn Brewery, and throw down some serious shapes on the dance floor.
Why: The UK's original Hip Hop Karaoke is a true London and national fixture and for the last decade DJ Rob Pursey, host Bobby Champagne Jr. and the HHK team have helped thousands of people live out their rap fantasies live on stage. As a special for the weekend, Tate will showcase three guest beers from top US craft brewery, Brooklyn Brewery that give a good mix of styles and flavours. From their much-loved Brooklyn Lager and winter seasonal Insulated Dark Lager to the brand new Naranjito Orange Peel Pale Ale, available for a rare tasting in the UK ahead of its official launch in autumn 2018.
Price: £15.50 for Hip Hop Karaoke and three flights of Brooklyn Brewery Beers. Tickets here.
Where: Tate Modern Terrace Bar, Level 1 Blavatnik Building
3. For a Collaborative Dinner: TT Liquor x Pao and the Gang
What: It's a new year and a new supper-club for Shoreditch's drinking emporium TT Liquor, as they join forces with Pao and the Gang to host a one-off boozy dinner on Saturday (3rdFebruary) with a focus on all things cacao.
Why: From 7.30pm until 10.30pm, prepare for a cacao explosion from Venezuelan chef Pao Carlini, who will be showcasing her creativity and passion with a 5-course banquet, all complimented with bespoke cocktails from the TT Liquor gang. The supper-club will be designed to follow the chocolate making process, starting from the fruit and seeds, through to cocoa butter and finally chocolate. This will also be reflected in the artwork of the plates, created by fellow Pao and The Gang member Lu, in which ceramic plates will be specifically tailored for the event.
Price: Tickets are priced at £55 per person and are now available here.
Where: 7B Kingsland Road, London E2 8AA
Weekend Guide: Sunday 4th February
4. For a Superbowl Screening: Red Rooster 
What: Marcus Samuelsson's Red Rooster Shoreditch is staying true to their Americana roots and screening the Super Bowl on Sunday (4th February), from 9pm-4am. Ticket price includes entry, your first beer and a portion of chicken wings (veggie and vegan alternatives will also be on offer).
Why: Kicking off from 9pm with a DJ, the restaurant will be be showing the big game at 10pm (plus that half-time show from the one and only Justin Timberlake), on a big screen, and serving up beer, cocktails, chicken wings, live music and good vibes right through until 4am.
Price: Tickets here 
Where: 45 Curtain Road, London EC2A 3PT
5. For a Yorkshire Pudding Party: Oslo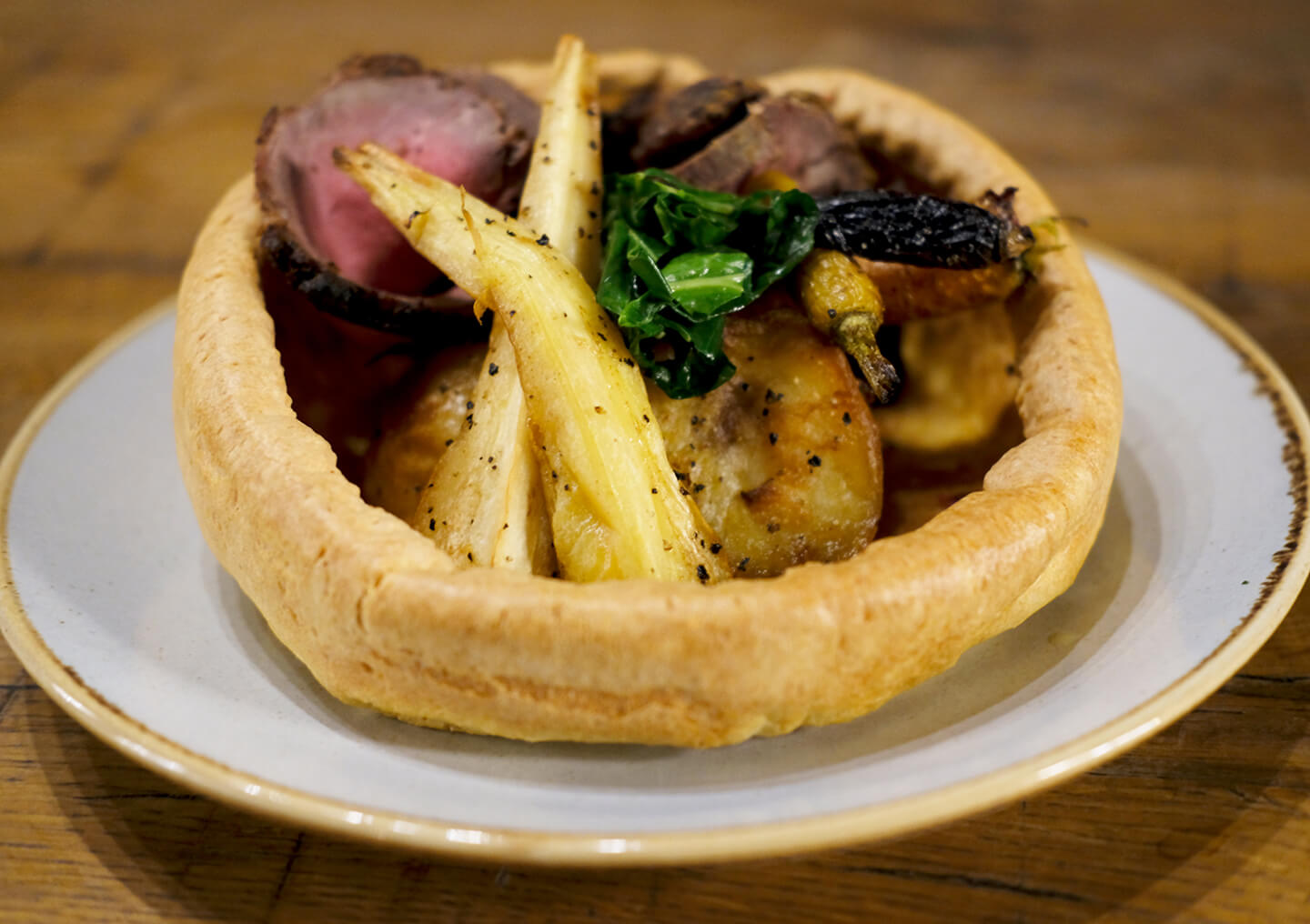 What: Since 2008, the first Sunday in February, which falls this year on the 4th, has marked a very important foodie date in the calendar: British Yorkshire Pudding Day. Paying homage to the iconic British dish, OSLO in Hackney has created special roast dinner-filled Yorkshire Pudding to mark the tenth birthday of this celebration.
Why: No-one really knows how far back the original recipe for the humble pud goes but its very safe to say that the 'dripping' or 'batter' pudding as it was formally named, has been cooked and adapted for centuries. For this special Sunday, OSLO are serving their highly rated traditional roast nestled in a giant home-made Yorkshire pudding. The special dish features British rump roast beef served with roast potatoes cooked in goose fat, parsnips, buttered spring greens, carrots and gravy – all served inside a giant home-made Yorkshire pudding.
Price: £16
Where: 1A Amhurst Rd, London E8 1LL