Monday Motivation: Vivi Cahyadi and Karolina Saviova, Founders of AltoVitaBy Francesca Brooking
Today's Monday Motivation, our weekly interview segment inspiring you to follow your dreams, we sat down with CEO and Founder Vivi Cahyadi and COO and Founder Karolina Saviova of travel tech company, AltoVita. A disrupter in the extended stay sector, AltoVita is an e-concierge service which allows travellers to maintain a lifestyle on the road. We chatted to them about the importance of travel, why wellness is becoming more than a trend and where they see AltoVita in five years:
What inspired you to start AltoVita?  
We are both frequent travellers and having lived in over 20 cities and 5 continents. We understood first-hand the challenge of maintaining our healthy lifestyle and keeping up with our workout routine when abroad. Frequent travel and expat lifestyle don't always come with perks: travellers often struggle with finding reliable temporary accommodation whilst maintaining a healthy work-life balance. 
We created AltoVita to act as an e-concierge service for frequent travellers, making it effortless for them to access the best verified alternative accommodation and in-destination services in Europe today and globally.  As an extra layer of quality control, AltoVita conducts a pre-inspection 24 hours prior to a client's arrival to ensure that the property is in perfect condition.  
Travellers can book verified accommodation and in-destination services intuitively and seamlessly depending on their personal needs within a few clicks.  The booking platform is fully automated, services can be added to an accommodation booking, or booked independently on the AltoVita website. It's like an a-la-carte menu, you choose and only pay for what you want.  AltoVita offers real-time availability, and pricing and our AltoReps support each guest from initial engagement right up until the end of their stay. 
What motivates you? 
We love what we do at AltoVita, every aspect of it, from product R&D, design, market AB testing, home & service vetting to establishing partnerships with prominent industry players around the globe.  Being able to create a thoughtful user journey and interface so that travellers browse and book homes and services within a few clicks is an inspiring journey for us.    
Our community of friends, investors, advisors and early adopters are very excited about travelling with AltoVita. We work hard to ensure that they will soon be able to travel around the world with us.
Why do you think travel is important? 
Travel is so important for many reasons. We at AltoVita know that people travel for many reasons, whether that be for leisure, adventure or business and it's important that whatever the reason for travelling, the experience is the best it can be, and allows people to still maintain the aspects of their lifestyle at home that are important to them.
People travel to experience new cultures, see new places and meet new people. Travel helps us broaden our horizons and perspectives, and gives us the opportunity to truly be immersed in other culture's history, architecture and language. 
We also travel to spend time with loved ones, friends or families and at AltoVita, we look to enhance each of these aspects through our personalised a-la-carte services. However people choose to spend their time while travelling, it's key that they can focus on what is important and have the assurance that their experience is hassle-free.
Our dedicated AltoReps are key in helping to ensure that each AltoVita experience is personalised and perfect for the user, supporting them through each stage of their journey. 
Since starting AltoVita, have you found that wellness is now a growing trend in travel? Why do you think that is?  
Wellness is no longer just a trend now.  It is sitting at the core of travellers' priority, especially when they travel for an extended period.  
According to Skift's survey of 1,300 participants and AltoVita's independent focus group, almost 80% of frequent travellers agreed that improving physical and emotional wellbeing is important, as travellers compromise their lifestyle when abroad. Unhealthy eating habits, impersonal accommodation, and lack of exercise have been flagged as main pain points. 
Wellness touches upon many areas from nutrition to exercise and comfort. Through our curated portfolio of vetted services and homes, our objective has been to incorporate mindfulness and wellbeing into the entire travel experience.
Have you read any books that inspired you recently? 
We were inspired by Silk Roads by Peter Frankopan. It is an exciting thesis showcasing how interconnected the world was even since the 2nd century BCE.  Through ideas, religion and cultures, it is refreshing to see how ancient history is still highly relevant to the origins of today's globalised world. 
Where do you see AltoVita in five years? 
We see AltoVita as the global disrupter in the extended stay sector. Our vision is to have AltoVita's intuitive platform at the heart of travellers' minds when booking for extended stays. We envisage AltoVita's Curated Content (alternative accommodation and in-destination services) funnelling through multiple marketing channels for both leisure and business travellers.  
We see AltoVita working in a collaborative global ecosystem of service providers, apartment operators, and travellers.
How do you cope with setbacks?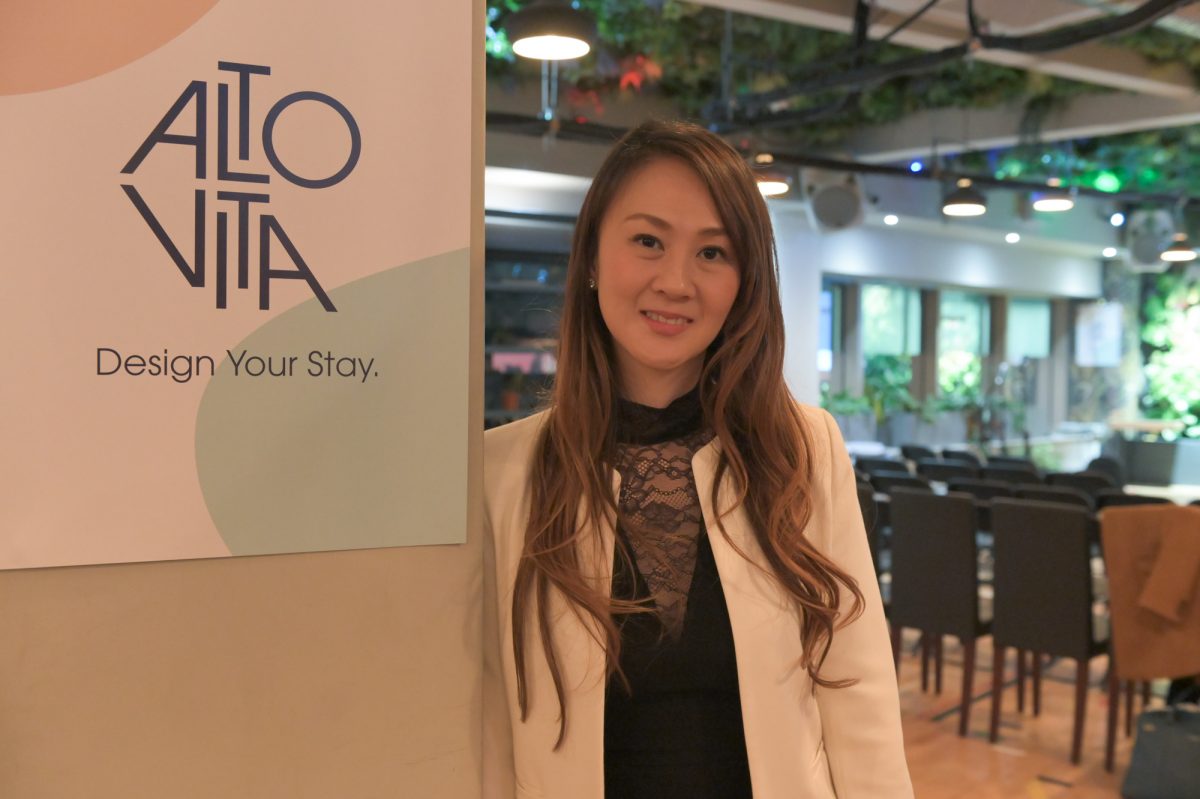 We understand that being start-up founders is not easy.  Not only do we need to be innovative, creative, and resourceful we also need to be reactive with contingency planning set in place in case of setbacks.  
We are driven as a team and proud to have our supportive community of friends, investors, advisors and users, who help us to deal with setbacks when things get tough. 
What is the most important thing you've learnt about the industry? 
AltoVita is operating at the crossroads of PropTech and TravelTech, disrupting the world's largest asset class and world's largest industry, respectively.  Real Estate has been known as an industry that is slow to adopt technology, whereas Travel is in constant flux, with new brands and disruptors coming online all of the time.  This allows us to design a business model that is financially lucrative and a product that is clever, design-led, and intuitive. 
Do you have any words of wisdom for anyone wanting to make their own business dream a reality? 
Being part of the tech ecosystem is a truly engaging and fun experience.  Our advice is to be immersed in this ecosystem sooner rather than later. Be resourceful.  The tech scene has evolved so much just in the last 5 years. There is always an efficient way to do something, from testing and management to product development.  Do your research, and decide what suits you best.