Top 10: Young Female Entrepreneurs to Watch in the UKBy Angelica Malin
Why can't every day be International Women's Day? We say it can, and it will. Thinking of starting your own business? Here at About Time, we love shining the light on ladies who are smashing it in either every industry – we've just celebrated our two year birthday and here's what we learnt. Take inspiration from these amazing females striking out in the world of business:
1. The Green Goddess: Melissa Wells
Name: Melissa Wells
Age: 26
Profession: Founder of The Green Goddess Life
The Story: Drawn from personal experience, which included a 7-year battle with an eating disorder, years of life coaching and a passion to end women's ongoing war with their bodies, ex actress now food coach and author Mel Wells launched The Green Goddess Life and Academy in January 2015 and in just 12 months has sparked 'The Goddess Revolution' which is swiftly taking over as the new 'anti-diet'. In that time Mel has helped thousands of women embrace an incredibly rewarding relationship with food, and become happier and more fulfilled than they ever thought possible by ceasing to rely on diets or follow sets of rules but instead adopt a revolutionary new way of thinking. Tackling very modern issues – including 'fitspiration' and the obsession with perfection, Mel speaks in a language that modern day women can relate to.
One to Watch: Mel's built two successful businesses in just 12 months; The Green Goddess Life and the Green Goddess Academy which continue to help 1000s of women overcome deep issues surrounding food and their bodies. Aside from these she runs UK and Bali retreats – the latest sold out in just 19 hours. Soon after launching the Green Goddess Life in 2015 Mel signed a book deal with Hay House and will publish 'The Goddess Revolution, Food and Body Freedom For Life' on 7th June this year. Mel is dedicated to empowering women and has an ever growing social online presence with 17,000 Green Goddess subscribers and almost 13,000 Instagram followers. She's heavily involved in the BBC Body Positive campaign and was invited on Radio 1 recently to discuss her ethos and has been invited to speak at Mind, Body and Spirit this year. Mel will start working heavily with B-EAT charity this year which is a charity close to her heart.
Photo Credit: Caroline White
2. The Furniture Entrepreneur: Aneeqa Khan
Name: Aneeqa Khan
Age: 28
Profession: CEO of Eporta – online business reinventing the Design Industry
The Story: Born and raised in Manchester, Aneeqa graduated from Oxford with a masters in politics, philosophy and economics. She began working for Guy Hands at the age of 21 in private equity and was the youngest hire ever. Born in the UK, she has a mixed heritage of Iran, India, Yemen and East Africa. In Jan 2014, she became strategy director and head of IPO at the UK's leading property website Zoopla leading the company to IPO achieving a £1 billion exit.
One to Watch: In 2015, Aneeqa, set up eporta born out of love of interiors and technology. Frustrated when she couldn't find different pieces online to furnish her first flat. Backers are blue chip and include Guy Hands, Robin Klein (Zoopla, Transferwise, Moo, Moneysupermarket etc), Ed Wray (Betfair), Simon Kain (Zoopla) Rohan Blacker (sofa.com) and Will Cooper (Achica). Eporta allows the interior design industry and any trade interiors buyer to connect directly with a global market place of sellers cutting down on admin. Eporta is exclusively b2b although a consumer angle will be coming soon and offers the widest possible range of high quality furniture and home furnishings to help buyers source the perfect piece.
3. The Tumeric Queen: Tanita de Ruijt
Name: Tanita de Ruijt
Profession: Founder and Creative Director at Jamu Kitchen
Age: 25
The Story: The journey began in Indonesia, where Tanita discovered jamu: an integrated system of inner and outer health on beauty. Just as india has Ayurveda and china has its traditional medicinal system, Indonesia has Jamu. Each system relies solely on the power of natural ingredients such as herbs and spices to maintain whole body health. She is passionate about the traditional foods movement, taking influences from around the world and the ethos of Asian food cultures in particular. Ultimately, Tanita wants to share her findings, and celebrate old-world culinary traditions that have sustained healthy people for centuries.
One to Watch: What started as a simple idea to introduce traditional turmeric tonic at the new market on Druid St last summer, is now available on the shelves of Selfridges, Daylesford Farm, 26 Grains, Frame, Ben's House, TIOSK, As Nature Intended and more across London. Tanita recently left her job as Brand & Digital Marketing Manager after three years at the fast growing London-based brand Rude Health to pursue her own vision. With endorsements from Lady Bamford of Daylesford as "one of their best sellers", Deliciously Ella herself as "the most delicious start to the day", and Alex Hely-Hutchinson of 26 Grains as "one of her favourite combos: savoury porridge and Jamu Turmeric Tonic."
4. The Home Lover: Claire Arnott
Name: Claire Arnott
Profession: Co-founder, Okapi Home Ltd 
Age: 28
The Story: Coming from a family of entrepreneurs, and always having worked for small businesses, an enterprise of her own was always on the cards for Claire. When her brother and her put our heads together and came up with the idea of a homeware and gift business bringing the best products from East and Southern Africa, she knew this was the one I had to run with. They have both lived and travelled across the region, so knew the potential and the opportunity, but also shared a love of interiors that inspired and told stories. Okapi Home was a way to bring together these aspects of their lives and create a business that supported economic development in Africa. They only work with small enterprises that have a clear social impact, many of which are women's co-operatives, and ensure that the partnerships they build with suppliers are lasting and fair.
One to Watch: The opportunities for small business and international trade have never been greater and she wanted to take this opportunity to create a socially conscious business that brings the best of African interiors to international markets. After testing the concept, they launched in November 2015 and have encouraged dialogue on the power of small business, the art of true craftsmanship and altering the stories and conversations. Many of their suppliers are award-winning enterprises in Africa but haven't got the air time they deserve in the global space, so Okapi Home want to use this opportunity to showcase the incredible talent out there. Okapi Home's Mango and Marble Platter was featured in Stylist's Style List in February 2016 and they hope to increase our audience over the next six months, while expanding our range and list of suppliers! 
5. The Snack Sensation: Ilana Taub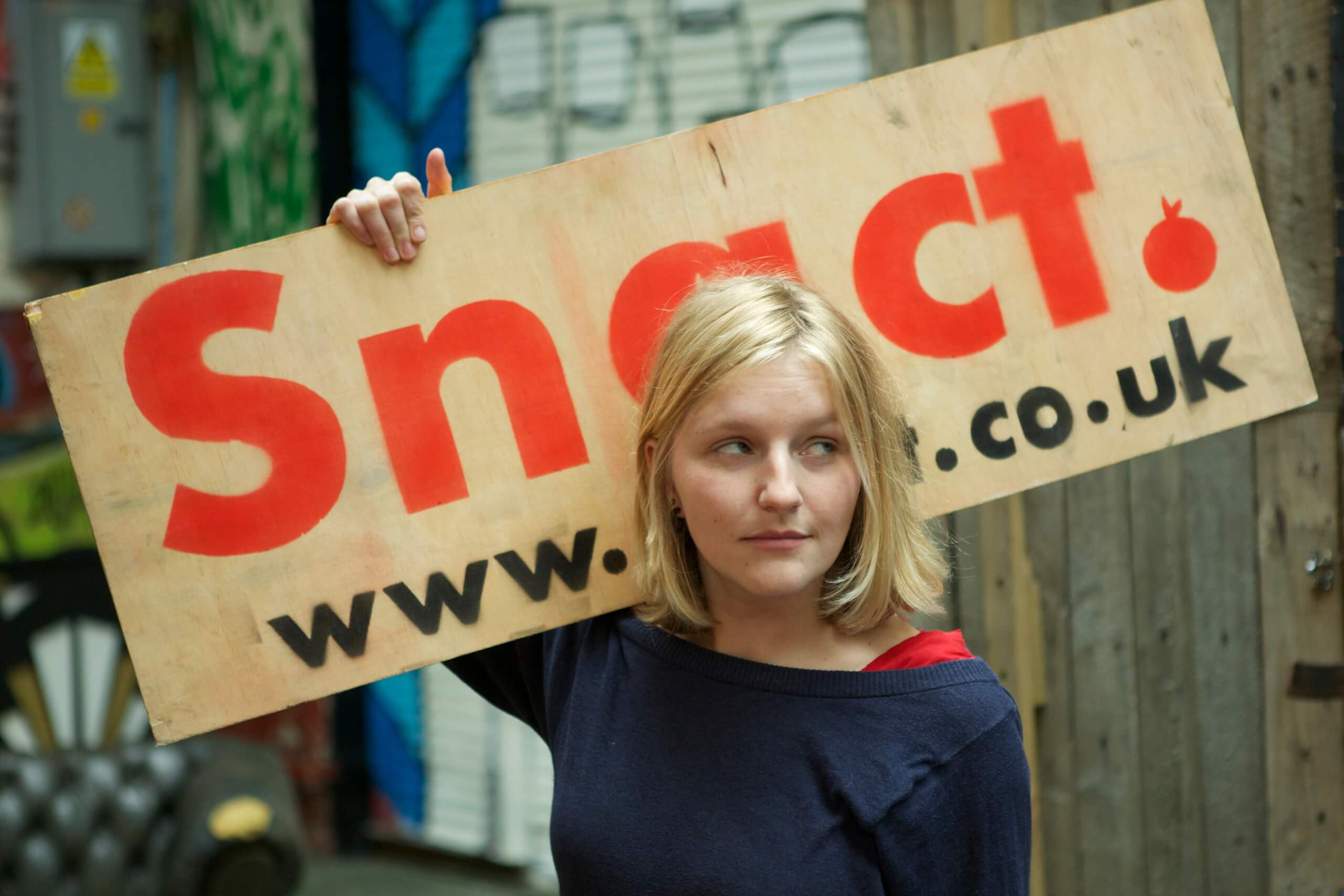 Name: Ilana Taub
Profession: Co-Founder at Snact
Age: 30
The Story: Ilana co-founded Snact with her friend Michael with the ambition of making the world a better place one bite at a time. Snact tackles the mountains of fresh produce that get wasted every year in the UK by making healthy tasty snacks using this surplus produce – produce that would be discarded for being too big, too small, too ugly or simply too abundant. Ilana and Michael started Snact by going to London's wholesale markets to collect produce that wouldn't be sold at the end of the trading day and making snacks themselves in a rented kitchen in Hackney. Two years on, Snact is an up and coming ethical snack brand found in an increasing number of outlets across the country, with big ambitions to have an even bigger environmental impact. Their first product is fruit jerky, a blended fruit snack bursting with natural flavours!
One to watch: Ilana's innovative view on how businesses can position and market themselves (she calls herself and people who follow Snact a "Snactivist") in a changing world as well as her strong drive to create positive change make her one to watch, and something she's been recognized for. As a co-founder of Snact, she was been selected to be a London Leader by the London Sustainable Development Commission and the Mayor of London – a programme which identifies and nurtures some of London's most exciting and innovative new leaders in sustainable business and communities. She's also a Director of the Brixton Pound  an internationally recognized alternative currency which aims to encourage local trade and production, and demonstrate a different kind of economy to our traditional economic models.
6. The Social Entrepreneur: Michelle Pritchard
Name: Michelle Pritchard 
Profession: Founder and Director, Find Your Spark
Age: 32
The Story: After leaving a full time job that was making her miserable, Michelle decided to become self-employed and do something that made a difference and that utilised her mentoring and listening skills.  She initially became a youth worker at Fight for Peace and then studied for a Masters in Coaching Psychology at UEL which led her to design an evidence based positive psychology coaching programme, which she delivered to a group of at-risk girls in Highbury.  After applying for the Beyond Business Programme which is sponsored by Investec and winning a 14k grant, she set up Find your Spark as a Social Enterprise in December 2014.  She have now moved to Colchester and is re-establishing Find Your Spark there.
One to Watch: Find your Spark is one of the only organisations that delivers an evidence based positive psychology coaching programme to at-risk young people. Research has found that the majority of the positive psychology coaching studies are delivered to middle class, private school educated young people.  The outcomes of the programmes include increased wellbeing, increased control of emotions and identification of purpose and meaning to people's lives. Find Your Spark won the Beyond Business grant, winning a Haberdashers grant, featuring in the UEL Alumni Now & Then Magazine, working with Rachel Kelly – the famous author of two self-help books, 'Black Rainbow' and 'Walking on Sunshine,' and being part of the Ernst & Young Accelerate programme for social Entrepreneurs.
7. The Jewellery Girls: Tansy Aspinall & Victoria Van Holthe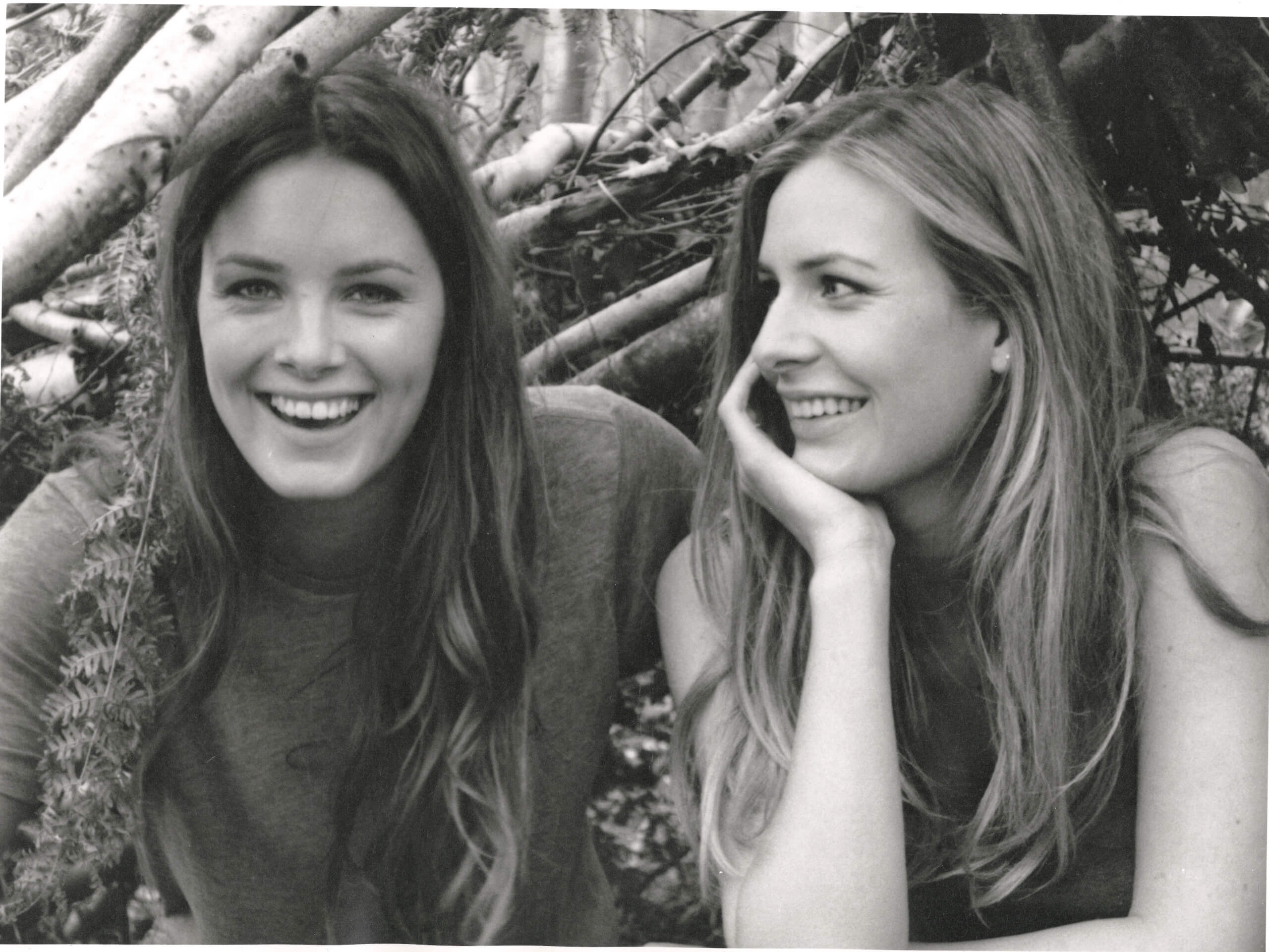 Name: Tansy Aspinall & Victoria Van Holthe
Profession: Co-founders of Tada & Toy
Age: 26
The Story: Fresh young jewellery brand, Tada & Toy, was set up by Tansy Aspinall and Victoria Van Holthe in 2014. Having met at school, when they were both 13, they always dreamed about collaborating on a jewellery brand. With backgrounds in modelling and styling, their shared interests in fashion and conservation has helped make their dream a reality. Tada & Toy's delicate, high quality, fashion-forward jewellery is perfect for everyday wear and layering. Scandinavian minimalism is a key inspiration in the design process as seen in their crisp, clean and effortless designs. An interest in conservation also plays a huge part in the Tada & Toy story – 5% of all sales and are donated to The Aspinall foundation and they also have a charity collection which donates 25% of sales to the Foundation.
One to Watch: In a very short time the Tada & Toy brand has established a very loyal fan base and their signature Star Cuff has set its own trend for adding an edge to any outfit. Now on their third collection, the Tada & Toy girls have an exciting year ahead.  This April sees the launch of their SS16 Flame Back range and their first Fine Jewellery Collection will launch later this year. This collection will take their trademark star designs and reinvent them with intricate details and pave set diamonds. The collection was shown at LFW in the Designer Showrooms and was very well received.
8. The Gaming Girl: Louise Leolin
Name: Louise Leolin
Age: 24
The Story: ​Louise founded DinoByte Labs  – a small, forward-thinking London-based indie games company, which creates games with the players as their focus. One of their greatest passions is the games industry as a whole, and they strive to make it better. With this in mind she does not just make games; she offers consultancy on different aspects of design to help others with their dreams and projects. This includes game design consultancy, user experience design and reviews, user research, and branding. Louise also does her own research, looking into what players across a variety of platforms and genres actually enjoy.
One to Watch: Her company was inspired by her time at the University of East London – writing and doing research for her dissertation. Her subject looked at female demographics and games marketing, uncovering some problematic elements within the games industry. In the UK 52% of gamers are female yet only 14% of the UK games industry is made up of women. She felt like doing something about it, and this was one of the great inspirations for starting her own company. She has only been up and running for half a year, but has already worked with clients around the world on projects from helping them create their brands, to helping them understand their user's need. We have also been developing a brand new game. It's design is backed by extensive user-testing and research, with over 5,000 respondents taking part.
9. The Currency Whizz: Marta Krupinska
Name: Marta Krupinska
Profession: Co-Founder and General Manager at Azimo
Age: 27
The Story: Originally from Poland, Marta Krupinska experienced first-hand how difficult it was to send money back home. Working in Dublin to help support her mum in Poland, she found it was cheaper to buy a plane ticket and deliver the money herself, then pay the 10%+ high street money transfer fees. In 2012, she co-founded Azimo – a digital money transfer service that was born out of a need to make it easier for hard-working people living abroad to send money to families and friends online and via mobile, tablet or PC. Over $600 billion is sent in remittance to families and friends in need all over the world. Despite digital finally overtaking cash in the UK, 90 per cent of all money transfer transactions are still done offline globally. Millions of people still queue in brick and mortar shops every month to send money abroad – paying high fees and wasting precious time. By 2020, the ratio of smartphones to bank accounts globally will be 3:1 – thus reducing the cost of each transaction and increasing access to technology can and will dramatically impact global economic equality.
One to watch: Marta is no stranger to fast-growth businesses having built and sold her first business, Travelnity, a social media website for travellers and expats, before joining the world of money transfers. Marta has recently been included in Forbes' first ever European 30 Under 30 list and is an avid champion of diversity in the fintech industry. She co-founded Azimo in 2012, which now employs 90 staff. Working closely with the CEO to scale the business, Marta is responsible for all staffing processes and decisions across the UK and Poland, where she opened Azimo's second office in late 2013. In the past two years, the company has seen 200 per cent growth, raised $30million in funding and is amongst the fastest growing fintech company in Europe.
10. The Fearless Female: Hanna Naima McCloskey
Name: Hanna Naima McCloskey
Profession: Founder and CEO of Fearless Futures
Age: 30
The Story: Hanna quit a successful career in investment banking 18 months ago, where investment banking (of all places!) re-ignited her social justice warrior. Daughter to an Algerian feminist, she has solid credentials. Recognising that gendered injustice is entrenched, normalised – and not women's fault – Hanna founded Fearless Futures by herself to put structural inequality first in the fight for equality. Fearless Futures does this through gender and leadership development programmes for girls in school and women and men in the workplace. They eschew conventional approaches and address the root causes of inequality rather than the consequences, doing so through engaging, participant-led, action-focused ways. This means all their programmes involve peer power, where participants, no matter their age, develop and run workshops for their peers and colleagues in their school or institution.
One to Watch: Over the last 17 months, Hanna has invested her life and worked full-time – solo – founding and growing Fearless Futures across both its business segments – schools and the workplace. Over this period she has grown and nurtured a cohort of 7 in-school Fearless Futures' trainers, Trailblazers, and worked with over 550 girls across London schools. Fearless Futures' school based gender and leadership programme, led by Hanna, inspired and then supported alumna, 17 year old Jessy McCabe, to notice the absence of women in the A-level Music syllabus – and then campaign Edexcel to include women. Her successful campaign sees five female composers rightfully included in the new syllabus coming out in September 2017 – a victory for a democratic education! Fearless Futures' 'grassroots' schools approach sees them partner with Salesforce this summer 2016 where FF will match Salesforce FF-trained female staff will school alumna to support them to run social change projects in their schools to amplify their impact for a gender just world.
Photo Credit: John Cassidy The Headshot Guy – www.theheadshotguy.co.uk
And one for luck…
11. The Jewellery Lover: Alyssa Smith
Name: Alyssa Smith
Age: 29
Profession: Founder and Director of Alyssa Smith Jewellery Limited
The Story: Alyssa emerged onto the jewellery scene in 2010, her company born from a lifelong passion for all things miniature. Making her first wearable pieces at the age of 4, and using a small bedroom floor as a workshop. That same bedroom floor was turned into an office after Alyssa graduated from university, and with a small investment of £500 to get started. Shortly after this, Alyssa's first best seller, the tweetie bird- inspired by social media, took the celebrity world by storm. Faces including Theo Paphitis, Suzi Perry, Caroline Flack, Jamelia and Sheridan Smith all donned one. The brand continues to grow organically, and Alyssa has now employed her first Apprentice, as well as several other Team Alyssa members, all of which are mums, and are able to fit their working hours around raising a family.
One to watch: As well as concentrating on a rapidly growing jewellery company, Alyssa is also the National Ambassador for the Federation of Small Businesses, helping advise government officials on small business issue. She recently featured in 8 part TV series 'The Money Pit' on channel DAVE, investing her own cash into fledgling entrepreneurs. Alyssa now has more than 15 business and fashion awards to her name, including Young Entrepreneur of the Year, and the Specsavers everywoman retail awards 'star of the future'.  Alyssa has secured partnership with TV presenter Suzi Perry with Motorsport themed jewellery, as well as several other large organisations. Through her Motorsport jewellery collections, she has so far raised over £10,000 for Promise Dreams children's charity, helping to grant wishes for terminally and seriously poorly children.