David Lesniak and David Muniz are the duo behind Outsider Tart, an American Bakery in Chiswick. Word spread fast when the bakery first opened with people queueing around the block to get their hand on their famous whoopie pies. We meet the chaps cooking up some of the best sweet treats in London, not before we tuck into a slice of their dreamy carrot cake.
What made you set up an American Bakery in London?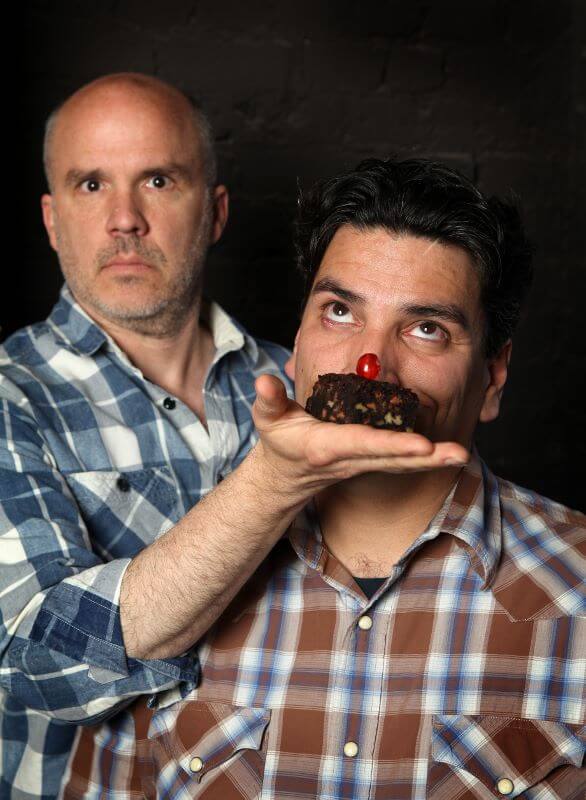 We moved over here from NYC in 2005 – I was managing a radio station and David was an architect. We loved London, but what we really missed from home was the sweet things like cupcakes, whoopies, sweet pies – they were really hard to find.
We'd always enjoyed baking and we started a stall at Richmond Farmer's Market on the weekends. It was a hobby for us. But word spread and the business grew – and now here we are nine years later, an award winning bakery and our restaurant Blue Plate. But we still enjoy doing the markets too.
Why do you think Outsider Tart has become so popular? 
I think that we're distinctive. Everything these days is so much about chains. Like us, our food has a big personality; coming here is more than just the food, it's the social experience. If you like it, it's like finding a new friend.
Why do you think people enjoy American desserts so much in the UK? 
Well, they don't have unappetizing names like Spotted Dick and they're not too pretty to eat, like French patisserie. They're a comforting indulgence, which is what dessert should be.
What's the secret to making a good cake? 
Relax and have fun. People get so uptight when baking – they're glued to the book checking that they've got every tiny detail right and they end up over mixing or doing too much. Being a little more relaxed you'll not only enjoy it more but also end up with a better cake.
What's the most popular item on your menu? 
In the bakery it's probably the cheesecakes. We do many kinds, but the turtle cheesecake (chocolate, nuts and caramel) and oreo are probably the most often requested.
In Blue Plate it's the One Eyed Monster – hoe cakes with chili, salsa, sour cream and fried egg. Blue Plate started with chilli nights on Thursdays, and they were so popular we opened the restaurant up full time. This dish is a way for customers to have our chilli morning, noon and night.
What can people expect from Outsider Tart?
I think lots of people still just see us as sweets – which we're obviously great at – but we're really passionate about our savoury side too. Food excites us, we love researching and experimenting, creating new twists on classic recipes. Saturday nights we change our menu everything month, travelling State by State through the US. This month we're celebrating BBQ, with sauces and rubs from across America. We love introducing dishes Londoners may not have come across in a typical American themed restaurant. We're something a bit different. And we guarantee a chin wag, a cold beer or a cheeky cocktail to wash it all down with.
What's your favourite British dish?
There are a couple. I've had great bangers and mash and when I visited Glasgow, I loved haggis. But probably my favourite is Lancashire Hot Pot. Delicious!
What's the perfect drink to accompany a good slice of cake?
Sweet tea – iced or warm depending on the season.
What are you favourite bakeries in London?
Princi on Wardour Street, Baker and Spice on Elizabeth Street. I also like Sweet Tooth Factory, you can find them on Facebook.
London's best coffee can be found at:
Weenie Beans at Chiswick Food Market.
London's best breakfast can be found at:
Nowadays I'm usually cooking breakfasts, but when I did get to go out I did love the pancakes at Soho Hotel. 
One of your favourite restaurants in London is: 
Whenever I go to Quo Vadis I always order the special and I always have a fantastic meal. They also have great French fries and great beer.