Ever wondered how they have sex in Portugal? Of course you have. In the spirit of summer, We Vibe has put together a World Cup inspired global sex guide for the bedroom curious. Here's a few global-inspired moves to get you in the groove…
1. Brazil: The Sideways Samba

global sex 
The samba is a lively dance that originated from Brazil; take that fiery spirit into the bedroom with this Latino position.
She: lies on her side, turned away from her partner with her legs straight out in front of her at a ninety-degree angle to her torso in an L shape.
He: lies behind her on his side in a modified spoon position to enter her, then raises his torso with his arms and places his topmost hand on the other side of her body next to her chest and turns slightly. He controls the motion as he moves in and out of her.
2. Spain: The Downward Dog

global sex
A recent survey found that the most popular sex position throughout Spain was the downward dog, a slight twist on the classic doggy style.
She: lies on her stomach, lifting her hips slightly so he can enter her.
He: props himself up with his hands in a push-up position or lie on top of her. This facedown configuration provides increased friction as he moves in and out, but she can gently grind her clitoral area against the bed as well.
3. Italy: The X Rated

global sex
Italians are known for their fast living, zooming round the city on mopeds or winding through the hills in a Ferrari. This position is no different – highly advanced and adventurous.
He: lies facing upwards on the bed.
She: gets into reverse cowgirl position, then extends her legs back toward his shoulders and relaxes her torso onto the bed between his feet. With both partners' legs forming an X-shape, start to slide up and down. Use his feet for added thrusting leverage.
4. Australia: The Deckchair

global sex
There couldn't be a sex position more suited to this country, where the sun is always shining and everyone loves to chill on the beach.
He: uses his hands to support his weight, leaning back with legs outstretched as if in a deckchair.
She: lies back on a pillow facing him and pops her feet up onto his shoulders – then moves her hips forward for penetration.
5. Greece: The Hero

global sex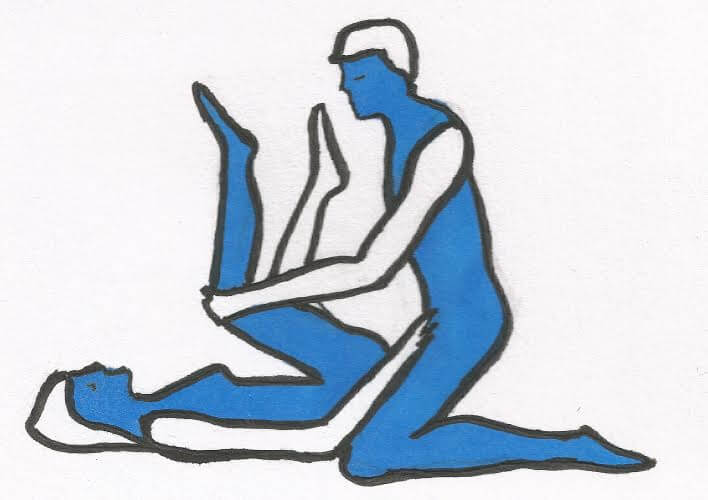 Greece is famous for its mythology full of ancient gods and heroes. If Hercules had a favourite sex position, this would be it.
She: lies on her back, pulling her knees up to her chest and extending her feet up towards the ceiling.
He: kneels down, thighs under her bum so she can rest on him as he enters her. He can use his free hands to press her thighs back towards her chest to aid penetration.
6. Japan: The Splitting Bamboo

global sex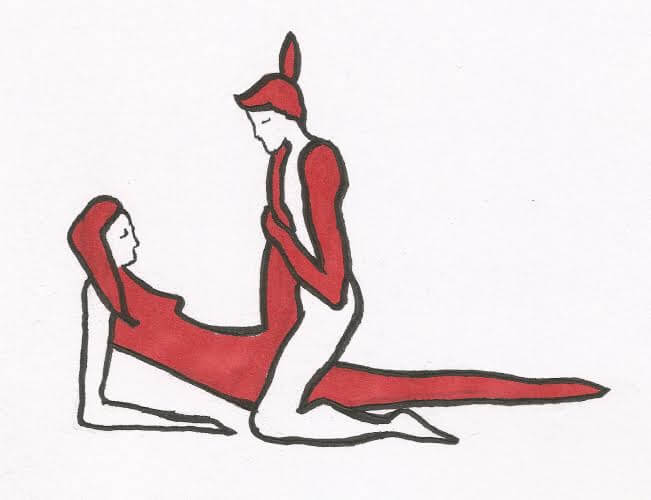 This position seemed fitting for a country with such beautiful bamboo forests…
She: puts her leg over one of his shoulders.
He: straddles her other thigh and enters her using his hands to support her elevated leg and support himself. She can use her free hands to show her clitoris a little love or stroke his penis as he moves in and out.
7. England: The Close Up

global sex
We-Vibe's recent survey revealed that 64% of Brits believed that being in a relationship means being looked after and looking after their partner. So what better sex position than a variation on spooning?
They: lie on their sides. He: spoons the woman from behind. For a twist on the traditional spooning, she wraps her legs round the outside of his.
8. France: The Seduction

global sex
To sum up the French in one word: passionate. They do, after all, have a kiss named after them.
She: starts on her knees and leans back – ankles under her bum, arms above her head.
He: kneels over her to penetrate so that his legs are straight out behind him and his weight is supported on his forearms. He can then use circular motions or thrusts to pleasure her.
9. Portugal: The Dolphin

global sex
No need to visit the famous Portuguese water parks to see dolphins – just head to the bedroom and try out this position.
She: makes a bridge by pushing her thighs and hips towards the ceiling while supporting herself on her shoulders and keeping her head and neck on the floor.
He: slots himself between her knees, penetrates her with soft movements and helps her to keep her hips off the ground.
10. Argentina: The Rocking Horse

global sex
The perfect position for a country that has been a world champion in polo since 1949.
He: sits cross-legged and leans back supporting himself with both arms behind him.
She: kneels over his lap hugging him with her thighs and lowers herself down. She can then determine the speed and depth of penetration.
11. Germany: The Bridge

global sex
This one pays homage to the Germans, who are well known for their achievements in technology and engineering.
He: bends into a bridge shape.
She: straddles him, sitting down onto his penis. Taking the weight on her feet, she then moves up and down on top of him. Don't stay like this too long or he may pass out with so much blood rushing to his head…
12. America: The Reverse Cowgirl
A country renowned for rodeos, girls in denim shorts and guys in wide-brimmed hats.
He: lies on his back.
She: lowers herself onto him, with her back to him. She can bob up and down, supporting her weight with her hands on his thighs. He can help by lifting her hips as she moves. They can both use their hands to stimulate each other's key pleasure zones for a bit of extra play too.
Illustrations by Celia Stevenson