It's back! Discover #SheStartedIt100: our definitive guide to the top 100 women to watch in the UK 2020. From arts to STEM, we're giving you the run-down of the UK's most exciting female leaders, creatives and entrepreneurs to watch this year. What's more, this International Women's Day, we're hosting #SheStartedItLIVE, our flagship 2-day festival of female empowerment, taking place on 13 & 14th March 2020. Book your ticket here. Now, meet our #SheStartedIt100 top 10 women to watch in the drinks industry:
Name: Raissa and Joyce de Haas 
Age: 29
Profession: Co-founders of Double Dutch
Their Story: After moving to the UK from the Netherlands to pursue a second Master's degree at University College London, the twins founded Double Dutch in 2015 and launched their debut mixers – 'Pomegranate & Basil' and 'Cucumber & Watermelon'. With their first products having been released to rave reviews and numerous accolades, Double Dutch has quickly become the brand to watch. Their now nine-strong range boasts tonics which are low in calories and sugar, vegan-friendly, and 100% natural using sustainably sourced organic ingredients. Joyce and Raissa have grown their London-based business to sell over half a million bottles per month to 25 countries around the world. They are stocked in high-profile locations around the UK such as Selfridges On the Roof and Nobu, as well as online via national retailers including Waitrose, Ocado and Amazon.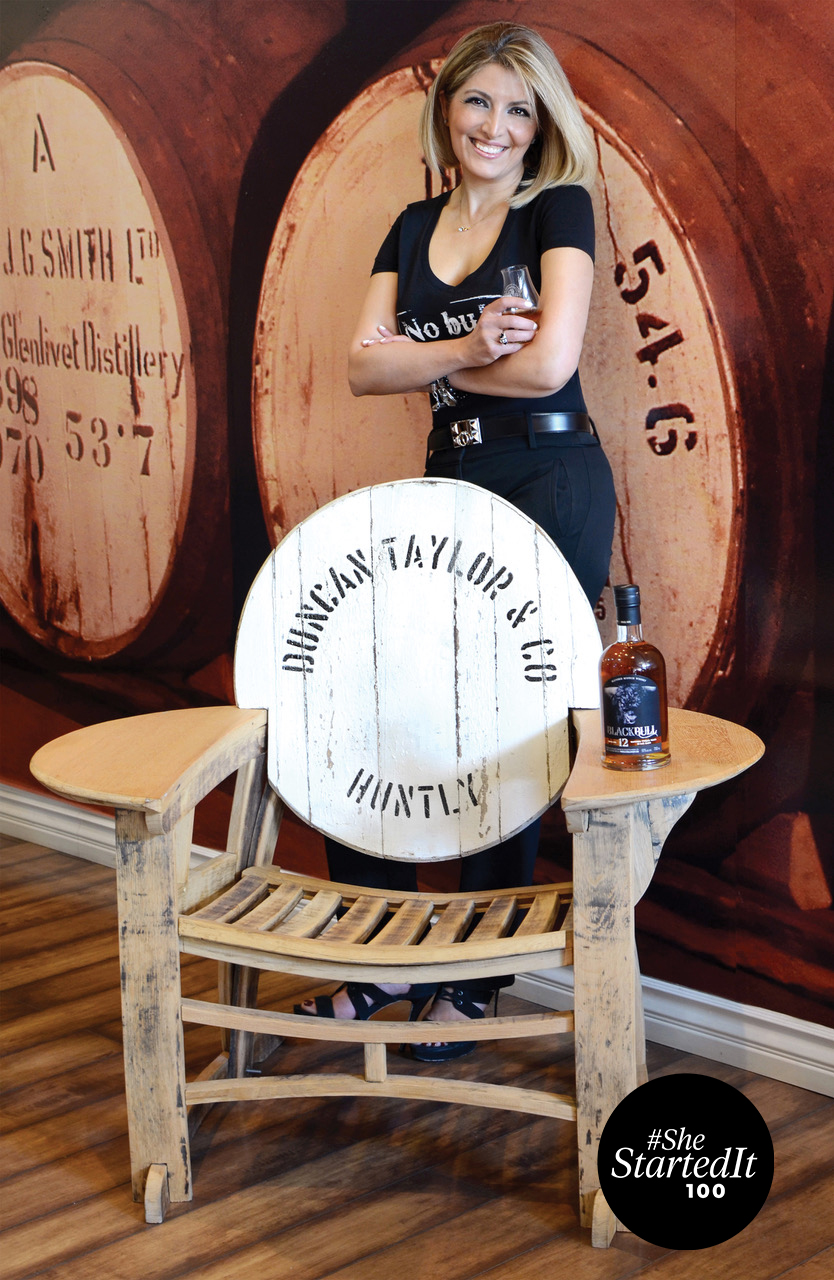 Name: Moji Shand
Age: 50
Profession: CEO of Duncan Taylor Scotch Whisky 
Her Story: Moji Shand was a criminal lawyer in LA (with 90 staff) and left it all to join a whisky company and now she is CEO of Duncan Taylor Scotch Whisky in Huntly, Aberdeenshire. The whisky company already existed but with Moji at the helm they are now having their best sales ever and are sold in over 50 countries globally. She was on a sabbatical when she did a whisky trip with a friend to Scotland and fell in love with the industry. She also set up Shand Imports to import spirits from all over the world to the USA as well as beautiful furniture made from whisky barrels.
Name: Cleo Farman
Age: 48
Profession: Female entrepreneur, owner of Diablesse
Her story: Former Marketing Manager for Richard Branson's Necker Island, Cleo discovered her love of all things rum whilst taking press trips to the Caribbean in the noughties. She launched her very own company, Farman and Son, with the ethos to bring quality, authentic rums to the British shores. After travelling around the Caribbean, Cleo then spent twelve months trying, testing and tasting many different rums to create her first two blends – Diablesse Caribbean Rum and Diablesse Clementine Spiced Caribbean Rum. Following thirteen successful years as one of Manchester's most well-known bar owners, owning Odd, Oddest, Odder and the Blue Pig, Cleo knows a thing or two about rum. She is on a mission to introduce more women to the spirit in 2020.
Name: Camille Vidal 
Age: 30
Profession: Founder and CEO of La Maison Wellness
Her Story: Camille, a former global brand ambassador for St Germain, turned mindfulness, yoga and meditation expert, launched La Maison Wellness in 2019, a destination for the mindful drinker. A fusion of Camille's wealth of experience in the drinks industry and her creative passion for living well, La Maison Wellness is a fresh, exciting multi-platform hub of mindful cocktail inspiration. Influenced by her childhood spent in the south of France, the French notion of joie de vivre is instilled throughout her work. With a focus on mindful drinking, Camille inspires people to "re-think your drink" showing that tasty doesn't have to boozy, and you can enjoy a celebratory, adult drink without compromising on taste.
Name: Ellie Webb
Age: 28
Profession: Founder of Caleño
Her Story: Caleño was founded by Ellie Webb, who was frustrated by the lack of choice in alcohol-free drinks, but inspired by the vibrant and energetic culture of her Colombian heartland. She set out to combine the sunny South America lust for life with her zesty and tropical non-alcoholic, 'free spirit'.  Just two months into her journey, Caleño has secured a nationwide listing with Sainsbury's and is available in selected independents and bars across the country. 
Name: Natasha Steele
Age: 32
Profession: Founder and Chief Juicer of Urban Cordial
Her Story: Natasha Steele is the Founder and Chief Juicer of Urban Cordial, an all-natural low sugar cordial made from British surplus fruits. After a career as an auditor, followed by a Masters in Water Science, Natasha founded Urban Cordial after being fed up of going to bars where non-alcoholic options were as exciting as an apple juice. She started by foraging for ingredients in her allotment and now saves fruit going to landfill directly from farms. To date, her company has helped save 40 tonnes of fruit. In 2019 she won "Young Hospitality of the Year". The cordials themselves have won numerous Great Taste Awards, and the branding won a Pentaward in 2019 and two Transform Awards in 2020. Her cordials are sold in independent stores and served on menus at bars and restaurants across the country.
Name: Isabelle Legeron MW
Age: 45
Profession: Founder of the RAW WINE Week and RAW WINE Fair
Her Story: Isabelle is an award-winning wine taster founder of the international series of RAW WINE fairs. An author, educator, TV host and wine consultant, Isabelle was recently featured in Fortune's list of Most Innovative Women in Food & Drink. After a classical start to her wine life, judging for a variety of organisations and magazines, she decided to help people think about what they drink and promote transparency in the wine world. This led her to create RAW WINE, the UK's largest artisan wine fair. RAW WINE London is now in its ninth year and is celebrated in Berlin, New York and L.A. The London fair welcomed over 4,000 visitors last year and counts hundreds of growers, thousands of wines, dozens of importers, distributors, restaurants, shops and bars amongst its partners.
Name: Jodie Farran
Age: 38
Profession: Co-founder Shaken Udder Milkshake
Her Stoy: Jodie set up Shaken Udder in 2004 with now-husband, Andrew Howie. It began as an event-based brand bringing fresh milkshakes to the masses at events and festivals up and down the country, before hitting the retail shelves in 2008. Sixteen years on and Shaken Udder is now one of the most talked-about premium milkshake brands in the UK, with its range of delicious dairy products sold all over the UK in over 2,500 outlets including Tesco, Sainsbury's and thousands of individual retailers throughout the UK. Jodie has always been hands-on when it comes to Shaken Udder, looking after the sales and finance side of the business, meeting buyers and overseeing the marketing strategy.
Name: Emily Lambert
Age: Early 20s
Profession: Founder of Emily's English Wines
Her Story: After training at the Ritz, founding her own company, and achieving wider recognition on the BBC's Million Pound Menu, Emily is taking the wine world by storm and promoting the very best of the English wine industry. She enlisted in the prestigious Ritz Academy Training Programme at the age of 17. After graduating three years later, she became a Sommelier at the Ritz Restaurant – the first female to do so in the restaurant's history. She then left the Ritz to found British Catering company Hansom Lambert alongside Ruth Hansom, the first woman to win Young National Chef of the Year. In 2019, Emily founded Emily's English Wines. On her Instagram and website, she shares and celebrates the English wine industry, profiling vintners, restaurants, and wines from more than 500 vineyards.
Name(s): Becky Paskin and Georgie Bell
Age(s): 36 and 31
Profession: Co-founders, OurWhisky
Her (Their) Story: Becky and Georgie are considered leading voices in the whisky industry. Between them, they have over 25 years experience talking and writing about whisky all over the world. In 2018, frustrated that whisky was still widely regarded as a 'man's drink', despite the thousands of women working in the industry and millions more drinking it, they launched OurWhisky. What began as the world's first social media campaign to challenge tired gender stereotypes has now grown into a global movement. Becky and Georgie are not only promoting the industry to represent a more diverse reflection of modern whisky drinkers, but they are also giving more women the confidence to explore the spirit for themselves. Two years on, OurWhisky has become an educational platform that communicates whisky as a drink that anyone, regardless of gender, lifestyle, ethnicity or background can enjoy.