#SheStartedIt100: Top 10 Women in the Corporate World to Watch 2019By Angelica Malin
Discover #SheStartedIt100: our definitive guide to the top 100 women to watch in the UK 2019. From media to technology, we're giving you the run-down of the UK's most exciting female leaders to watch in 2019. This September, About Time is hosting #SheStartedItLIVE: our 1-day festival dedicated to female entrepreneurship and empowerment on Saturday 14th September 2019 – book your ticket here. Now, meet our #SheStartedIt100 top 10 women in the corporate world to watch 2019:
Name: Rita Trehan
Age: 52
Profession: CEO of Dare Worldwide and business transformation expert.
Her Story: Rita's background is in business transformation and leadership, where she has advised and consulted many Fortune 500 CEOs on how to be better leaders and steer their business to success. She now has her own consultancy, is a published author and is currently writing her second book. Rita runs Dare, a global transformation consultancy delivering game-changing corporate capacity building and HR change.
Name: Anna Kuriakose
Age: 43
Profession: Chief Product Officer of TotallyMoney, Angel Investor and Non-Executive Director
Her Story: Anna joined TotallyMoney as CPO in 2017, helping transform the company into a product-led, high-growth FinTech success story. She led the team that designed and built the award-winning credit management app that has acquired over two million customers in 22 months. She has spent 22+ years building web and mobile products that saw great success. As CPO at JustGiving, she formulated the strategy that turned it into the world's largest social-giving platform. As an angel investor, Anna supports women-founding teams and tech-for-good start-ups – for example, Beam, world's first crowdfunding platform for homeless people looking to get into stable work.
Name: Jennifer Quigley-Jones
Age: 28
Profession: Founder of London-based influencer marketing agency, Digital Voices
Her Story: Digital Voices pairs YouTube influencers with brands all across the world, including Rolls-Royce and the RAF. She travels and speaks internationally to advise brands on influencer marketing strategies. Before founding Digital Voices, Jennifer worked at YouTube, advising UK creators and brands on organic growth – without spending money on ads. Prior to YouTube, she completed her Master's at Harvard University in Middle Eastern Studies, on a generous scholarship from the Kennedy Memorial Trust. She specialised in the Syrian crisis and worked with many non-profits and social enterprises, including the International Committee of the Red Cross and the United Nations.
Name: Nadya Powell
Age: 30s
Profession: Co-Founder at Utopia
Her Story: Nadya is co-founder of Utopia, a culture change business that creates more purposeful, inclusive and entrepreneurial cultures for clients. She helped sculpt Utopia's top-to-bottom approach, which has led to impactful partnerships with global brands including Coca-Cola Spotify and Google. Passionate about inclusion, Nadya also co-founded The Great British Diversity Experiment, the first social science research initiative to prove the connection between creativity and diversity; the So White Project, an initiative to reverse the lack of diversity in imagery across the globe; and Culture Social, which focuses on accelerating new models of work across big business. Under Nadya's watch, Utopia has delivered gross revenue of £680k in year two, and expects to break the £1m revenue mark in year three. So far, Utopia's biggest client, Coca Cola European Partners, decreased its gender pay gap by 17% in 2018, and has seen engagement and belonging scores increase across the business.
Photo Credit: Alice Olins
Name: Alice Olins
Age: 39
Profession: Founder of Step Up Co, public speaker, podcaster, women's career columnist at Marie Claire
Her Story: After many years as a broadcast journalist, Alice pivoted towards coaching after feeling acutely aware that the majority of women in the workplace had no access to affordable and relevant support in terms of career growth.  It was because of this that she founded Step Up Co, a business that runs cross-industry coaching courses for women, as part of her Step Up School brand. In October 2019, Alice is launching Step Up Club; an integrated digital and physical membership platform and community that will change the way women interact with career and business coaching. Step Up Club will bring together monthly leaning bundles, business hack videos, live coaching calls, mentoring circles and more to help women succeed in a way that's right for them, find the confidence to follow their dreams and create a thriving network – all with the aim of helping women feel less alone and more understood in the workplace.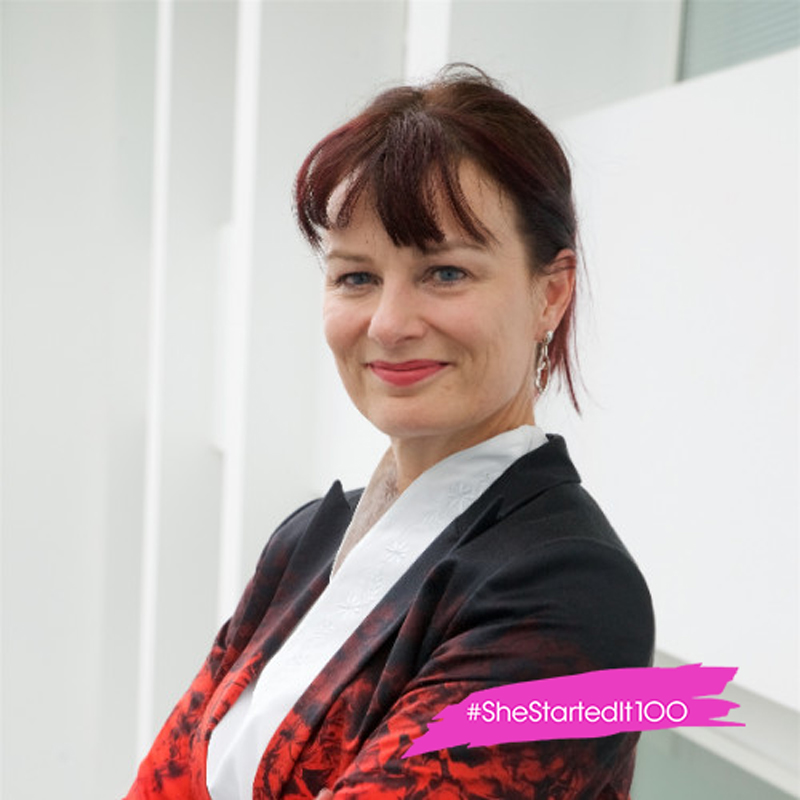 Name: Kate Beaumont
Age: 45
Profession: Innovation, Technology, and Services Director at Samsung UK & Ireland
Her Story: As the Innovation, Technology, and Services Director at Samsung UK & Ireland, Kate Kate  is one of the UK's leading women in technology, spearheading change for a business that is at an exciting juncture in its growth story. In her 4 years at Samsung, Kate has established the structural governance required to improve business performance, drive profitability and bring relevant and meaningful innovation to market. She is dynamic & results-driven with a proven track record in operational transformation. Kate is a public figure, having recently spearheaded several major announcement and device launches, namely the Galaxy Note 10+, and Galaxy S10 5G. Kate is now driving Samsung forward in the race for 5G Kate, as the technology advances and adoption increases, Kate will certainly be one to watch.
Name: Veronika Lovett
Age: 34
Profession: Co-Founder & Chief Marketing Officer at Esme Loans
Her Story: Veronika started her journey by joining the RBS Group Graduate Scheme and at 27, Veronika became a Director within the RBS group. Whilst in this position Veronika was presented with the opportunity to address the fact that there was significant growth of the peer to peer market, namely the alternative lender space. Throughout her career, Veronika has seen an increase in the number of consumers who experience dissatisfaction with traditional lending platforms and has seen an increasing interest in alternative lendering. Along with the other Esme founding members, Lucy Hasson and Richard Kerton, Veronika set up an alternative lending strategy which would maintain its own brand and utilise unique technology. With this, Veronika became the youngest founding member of Esme Loans – the digital lending platform which provides SMEs with easy, quick and secure paperless loans. With Esme gaining such momentum, Veronika took the lead on all marketing aspects of the company and also took charge of sales origination efforts and risk consideration. Esme is now considered as an industry leader in the alternative lending sector and has lent over £60million to UK businesses since its inception in 2017.
Name: Heather Baker
Age: 39
Profession: Founder and CEO of TopLine Comms and TopLine Film
Her Story Heather Baker started TopLine in 2008, aged 27, on the edge of the global financial crisis. Despite having no previous experience of running a business, TopLine became profitable in its second year and Heather later went on to buy out her two previous investors; all while studying for an MBA. After undertaking a complete company strategy change, opening a second office in South Africa and acquiring another business, TopLine is now a £2.5M business with international clients. Additionally, Heather is also an avid blogger and a previous winner of the Best Business Blog at UK's Social Media Awards.
Name: Sarah Burns
Age: 47
Profession: Founder and MD of Promotions Agency Prizeology
Her Story: Sarah is a former journalist turned promotions expert. She set up Prizeology two years ago and now turns over £1m a year and works with global clients including Absolut Vodka, Guerlain and Samsung.  Prizeology is known for creativity and promotions compliance – ensuring that big brands stay within competition rules. She's a leading light in the industry and, in recognition of her work busting scams, National Trading Standards has made her a Scambassador – a voluntary role which she does alongside running her own business, raising awareness and  giving advice to consumers on how to spot scam competitions and prize draws.
Name: Christie Day
Age: 36
Profession: Group Event Director, Women In Business Expo
Her Story: An experienced and ambitious business woman, Christie Day is the driving force behind Women in Business Expo, the first national dedicated event of its kind focused on delivering guidance, inspiration and business services to women at any stage of their career or business journey. After forging a highly successful career organising market leading events, Christie spearheaded the launch of the revolutionary Women in Business Expo with ALL women in mind, empowering attendees to confidently take the next step in their working lives, and feel comfortable juggling the work/life balance.

Inspired by these amazing entrepreneurs? Join us for #SheStartedItLIVE: our 1-day festival dedicated to female entrepreneurship and empowerment on Saturday 14th September 2019. Book your ticket here and use the code 'Angelica50' for half price tickets for About Time Magazine readers.