If you aren't familiar with Rich Woods, here's what you need to know – he's the head of spirit and cocktail development at Duck and Waffle and Sushi Samba, in 2014 he claimed first place in the UK and Ireland Bombay Sapphire's "World's Most Imaginative Bartender Competition" and his cocktails feature weird and wacky ingredients, combining out of the box ideas with the finished product a spectacle in itself. We meet the man behind London's most creative cocktails.
What's your first memory of cocktails?
I guess it would be my first bar job. Before then it was mixed drinks for me. The list was bleak – every flavour of a martini you could conceive and a couple of classics.
Why did you get into cocktail making? 
The industry touched me at an early age but it was the hospitality that drew me in, not the bar tending. I quickly moved up in positions but it wasn't until I took a job in Soho that I caught the bar bug.
What's the best cocktail you've ever had in the world?
Wow! Hard. Drinking is a sociable occasion and therefore draws on several aspects rather than just serving liquid in a glass. Who you're with and where you are sometimes serve as a greater part of this occasion. And that's without touching on the human senses of touch, sight and of course smell and taste. Some of my favourite drinks haven't actually been that good – in fact they were quite poor but where they were drank made them an experience. A piña Colada in Puerto Rico, a Daiquiri in El Floridita and a Dark n Stormy in the Triangle.
What's the most unusual cocktail you've ever tried? 
Ha. Probably one of mine. It's all about balance and making sure however far you push creativity you never stretch the imagination that far that you destroy the building blocks of flavour and the cornerstones of what a cocktail should deliver. A drink, like a dish should still taste delicious and you still want to be satisfied. I've used bone marrow, foie gras and blue cheese before. I've distilled grass, goats cheese and hay and of course Nutella and captured the aroma of the seasons and occasions by making my own aroma of sunscreen, Christmas tree and rain.
Favourite cocktail spot in London?
White Lyan.
Go-to cocktail if you're making?
Gin Martini, Daiquiri or a Dark n Stormy.
Which country does cocktails the best?
UK. London baby! That said, don't blink as there is plenty to keep your eyes peeled for.
What do cocktails represent to you?
The ability to show creativity and seasonality and allow guests to understand the nature or philosophy of your business
London's best Bloody Mary can be found at: 
Duck & Waffle. The current season's version is a vine leaf Ketel One with an Isle of Wight yellow tomato consommé – stirred like a martini. Smells just like my mum's greenhouse when I was growing up.
London's best Margarita can be found at:
You can't do better than a Marg at Pacifico.
London's best Negroni can be found at: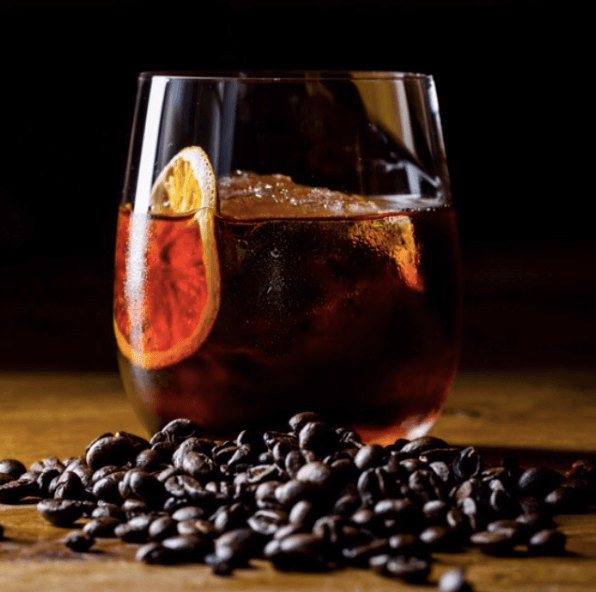 Hmmm. A bartenders staple and the new Old Fashioned. D&W again. A version has been on since day one with previous versions including a truffled dark choc version. A summer one with the aroma of fresh cut grass and the mighty Nutella Negroni (which you've not seen the last of). Currently is the Ristretto Negroni – a juxtaposed digestif-aperitif cocktail. It's a classic blend of gins, vermouths and Campari slow dripped over 24hrs through crushed coffee beans. Otherwise Cartizze in Mayfair with their vintage spirit trolley.
Photo Credits: Instagram Rich Woods