Editor's Letter: 10 Women Who Inspire Me on Social Media Every DayBy Angelica Malin
I want to be straight with you, for a second, lovely readers. Sometimes I'll meet people at dinner parties who do serious jobs, the kind that have to wear a suit to work and own sensible shoes, and when I say what I do, they always remark "wow, that sounds fun". And yes, of course, it is fun – running a digital lifestyle magazine (read: eating cake for a living) isn't a "proper job" in a way that being a doctor, or a lawyer, or an accountant, might be. I'm not saving lives, defending human rights abuses or saving companies on tax, I basically just encourage people in London to spend even more money on brunch and invest in trends like matcha lattes and weird, fusion HIIT classes. I've managed to stumble on a job that allows me to drink festive hot chocolates at the weekend in the name of "research" and occasionally I have to do things like lie in a flotation tank in Vauxhall.
But I'm proud of what I do – it's quirky, challenging, creative, the kind of career you have to do when you're young and full of energy, optimism and caffeine. And I'm proud of having built it up from scratch, one feature and follower at a time, until we've found a point where we're reaching over 75,000 people every month, in 162 countries worldwide. And, yet, there's a darker, more trying side to lifestyle, that people don't really talk about. Firstly, the very nature of social media-focused careers is that, unlike people who get to leave their job at 5pm, these kind of jobs are truly round the clock. There's no real time off when you work for yourself; you're basically running your own person brand, and not being able to switch off is a huge problem for 'creative' internet types.
Especially, in lifestyle, everything is documented and shared, meaning that little space is left for the world outside of social media – you have to make a real effort to disconnect, breathe, find happiness outside the digital arena. And you're constantly juggling – multiple income strings, wearing many hats, to make it all work.
Abandoning the 9-5 model, and working for yourself, means you choose a totally different way of living, one where your work life and your personal life become fused and it can be quite the spiral of constant pressure to update, share, stay current. It's an exhausting job, making everything look great, and having a following, no doubt, comes with a huge amount of personal pressure. And the truth is, that whenever you decide to do anything in lifestyle, anything with an online, social media focus, you put yourself out there to be publicly criticised, analysed and, at times, abused. Your own brand is everything you have, and I hugely respect anyone who chooses an online career.
It looks all glamorous, pretty and glossy, because that's the whole point of having lifestyle accounts – to give a wonderfully edited version of your life. And for that reason, people are very happy to tear down your self-confidence at a moments notice. Let's be honest, no-one wants to hear about the days that I sat in my PJs eating Cheerios for dinner, or the days where I freaked out at running my own business and my confidence was shaken. Rising above online hate takes serious guts, and I respect anyone that does a full-time "fun" job, because it's a lot more mentally challenging that most people realise.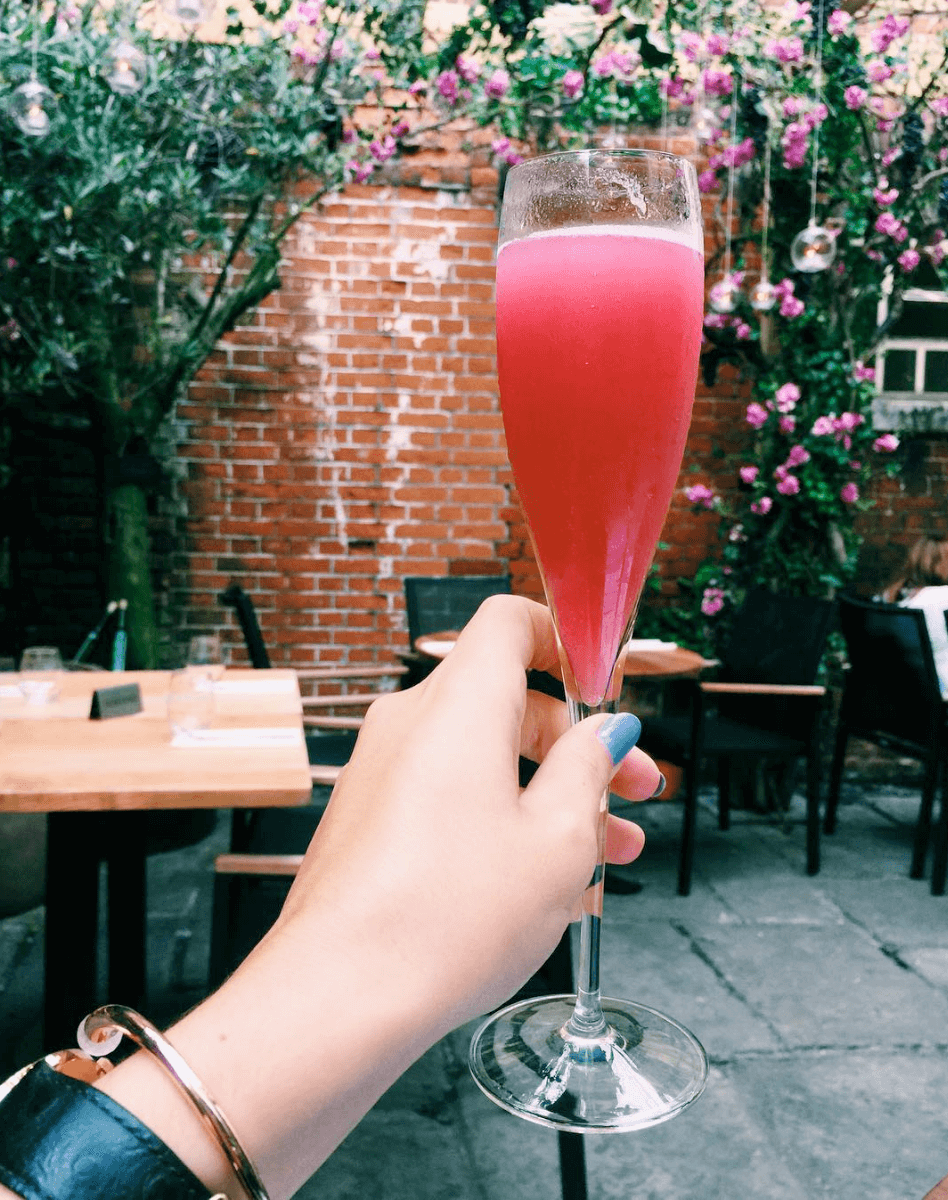 So I thought it would be nice, in the spirit of Monday Motivation, to shine a light on 10 women in the online space who truly inspire me – for their fearlessness, their ability to carve an online identity that people fall in love with, their strength of character to pursue enjoyable, creative, unusual careers in the 21st century. Find people that make you feel better about yourself, not worse, it will make all the difference:
Who: Ella Mills is a food lover and entrepreneur, behind the brand Deliciously Ella. Three times best-selling author, app creator, co-founder of the Mae Deli and she's just launched an energy ball line, too.
Why: You don't get anywhere in life, or in business, without hard graft. Ella is a true testament to that – I heard her speak last week at UN Women's event, and I was blown away by her positivity, optimism and accessible, practical business advice. More that anything, I was impressed by how humble Ella is – with three record-breaking books, impressive and delicious delis, her own product range and a company that has gone from employing 4 to 70 staff (all above the London Living Wage) in the last year, she's also incredibly humble.
A true diamond and a business person we can all learn from, Ella's message of healthy, natural living has been heard far and wide, and I feel my mornings would be very bereft without a quick check-in on her mouth-wateringly delicious granola bowls on Instagram each and every day.
Photo credit: Deliciously Ella – Instagram
Who: London-based personal trainer, fitness and travel blogger and vlogger.
Why: I had the pleasure of meeting Zanna on a press trip earlier this year, and she well and truly smashed any pre-conceptions of fitness bloggers I've ever had. Probably the least fussy foodie on the trip, I loved Zanna's quiet, balanced, healthy attitude to food and fitness – totally without any preaching, lecturing or seriously strict message, just one of general positivity and self-love. I've loved watching Zanna's career develop (holla, new book 'Strong' out soon) and am forever impressed with her honest, real approach to fitness.
Testament to the fact you can work in the fitness industry and not survive solely on chia seeds, smoothies and salmon, I love Zanna's sweet tooth and am forever drooling over her delicious brunch outings.
Photo credit: Zanna Van Djik – Instagram
Who: Style blogger, and plus size columnist for Marie Claire.
Why: Oh baby, this girl. Callie is such an amazing, positive force in this world – someone who challenges all the pre-conceptions of the fashion industry (jutting hip bones do not equal sexy), and proves that you can be fashionable, fabulous and fearless at any size.
I love Callie's bold dress sense and flair for clothes, she represents to me everything a girl should and can be – free, happy in themselves, and not scared to show off their figure. A brilliant message for us in all in total, un-adulterated self-love.
Photo credit: Callie Thorpe – Instagram
Who: Daily Telegraph columnist, freelancer, 25. Likes wine and fags. 'Supercilious, whining smug-for-no-reason millennial' – Piers Morgan.
Why: Rebecca and I go way back, so I may be biased here, but I really think she's one of the most pure, genuine voices of feminism in the 21st century at the moment. Rebecca's fearless attitude to conquering gender stereotypes, challenging the norm, fighting sexism and misogyny, both institutionally and personally, has, and never ceases to, inspire me. Rebecca isn't afraid to speak up – no matter what amount of online hate she receives for it – and she's doing a wonderful service on behalf of women everywhere, each and every day. Give her a follow and you'll know exactly what I mean.
Who: Feminist, writer, Grazia agony aunt, Headline author. Currently writing HOW TO BE A GROWN UP, out in Spring 2017.
Why: Daisy is absolutely hilarious – both online and in real life, and her tweets never cease to amuse me. A pioneer of straight, honest journalism, exploring topics such as anxiety, mental health, body image and relationships, Daisy is one person you don't want to miss on social media. Expect VERY good TV commentary, too.
Who: Fashion, travel, fitness, beauty, life blogger. Em's Cosmo Best Newcomer Winner and InStyle Magazine Top Lifestyle & Travel Winner.
Why: I love watching Em's videos and I love the no-bullshit, self-love she promotes. A honest, hard-working girl who's made a real success of full-time blogging, she's a good example to all of us that you really can make a career of blogging. Her chatty, informal videos are addictive to watch, and the kind of viewing that makes you realise that a bubbly personality and confidence can get you really far in life.
Who: A personal trainer, YouTuber and blogger. Twitter & Snapchat @carlyrowena
Why: Isn't it amazing when you find a fitness blogger who DOESN'T make you feel worse about yourself? That's exactly how I felt when I discovered Carly Rowena – an accesible, positive and encouraging force in the fitness vlogging / blogging world, who shows you that fitness is about so much more than the way you look. I love Carly's workout videos, honest, helpful vlogs and her general approach to wellness. Defintely a rising star in the fitness world.
Who: Victoria is a style, beauty and travel blogger, based in London, who writes here. She's Tweeting, Snapchatting and Youtubing: @Inthefrow.
Why: For one: anyone who can pull off silver hair with THAT much flair deserves a serious medal. I had the pleasure of meeting Victoria last year when we travelled to the Maldives together, and she really is proof that careers which look "fun" are more hard work than any others. Constant outfit changes, making videos in the baking heat, updating social media – being a fashion blogger and influencer is a round-the-clock job. I love Victoria's quirky, preppy style and her mix of designer brands along with more affordable pieces. Some of her recent brand collaborations have blown everyone away, and she constantly challenges the status quo with her fresh, professional-looking magazine-style blog and editorial style. What a gem.
Who: Mel is a the bestselling author of #TheGoddessRevolution, a health and eating psychology coach, speaker, and freedom seeker.
Why: I can honestly say Mel's book, "The Goddess Revolution", changed my life. For anyone that's ever suffered from insecurities about themselves, or anxiety around food, it's something you simply have to read – the book preaches such a beautiful, positive message of self-love and self-care, about letting go of food control, allowing yourself to eat in a mindfully, caring way, and truly connecting to what your body wants and needs. The book will help you solve emotional eating issues, and shines a light on some of the lesser talked about subjects that plague women in the 21st century. Following Mel on social media is a beautiful thing, too – she's forever posting about how to care for yourself, how to be free and her latest travels, and her Instagram posts will bring a smile to your face. Go on, have a follow.
Who: Olivia Wollenberg is the girl with the sweetest tooth making indulgent treats free from gluten, dairy and refined sugar. Her Raw Millionaire Bites are in stores now.
Why: Starting your own business is never easy, and the story of Livia's Kitchen is a beautiful one – a girl who wished to shake up the baking industry, and make sweet treats which were naturally better for you. Livia's Instagram feed is a constant source of food envy for me, with amazing photos of delicious-looking cakes, brownies, homemade granola and nut butter covered pancake stacks. Livia will inspire you with her daily bakes, along with her business vision – don't be fooled by all the sweet snaps, there's a serious business brain and entrepreneurial spirit behind it all.
All photo credits: bloggers own