About Time You Met: Urvashi Agarwal, Founder of JP's OriginalsBy Angelica Malin
Urvashi Agarwal launched JP's Originals in May 2022, amidst the covid-19 pandemic, fuelled by her passion for tea and a very close influence – her grandfather, a well-respected tea grower in India. Hand packed in the UK, all their teas come in 100% plastic-free, biodegradable pyramid bags allowing the tea leaves the room they need to infuse and give you the perfect, proper cup of tea.We chatted to Urvashi about JP's Originals' range of speciality teas, environmental practices and what's next:
Proper tea has been a staple in your life from a young age – can you talk us through your tea journey?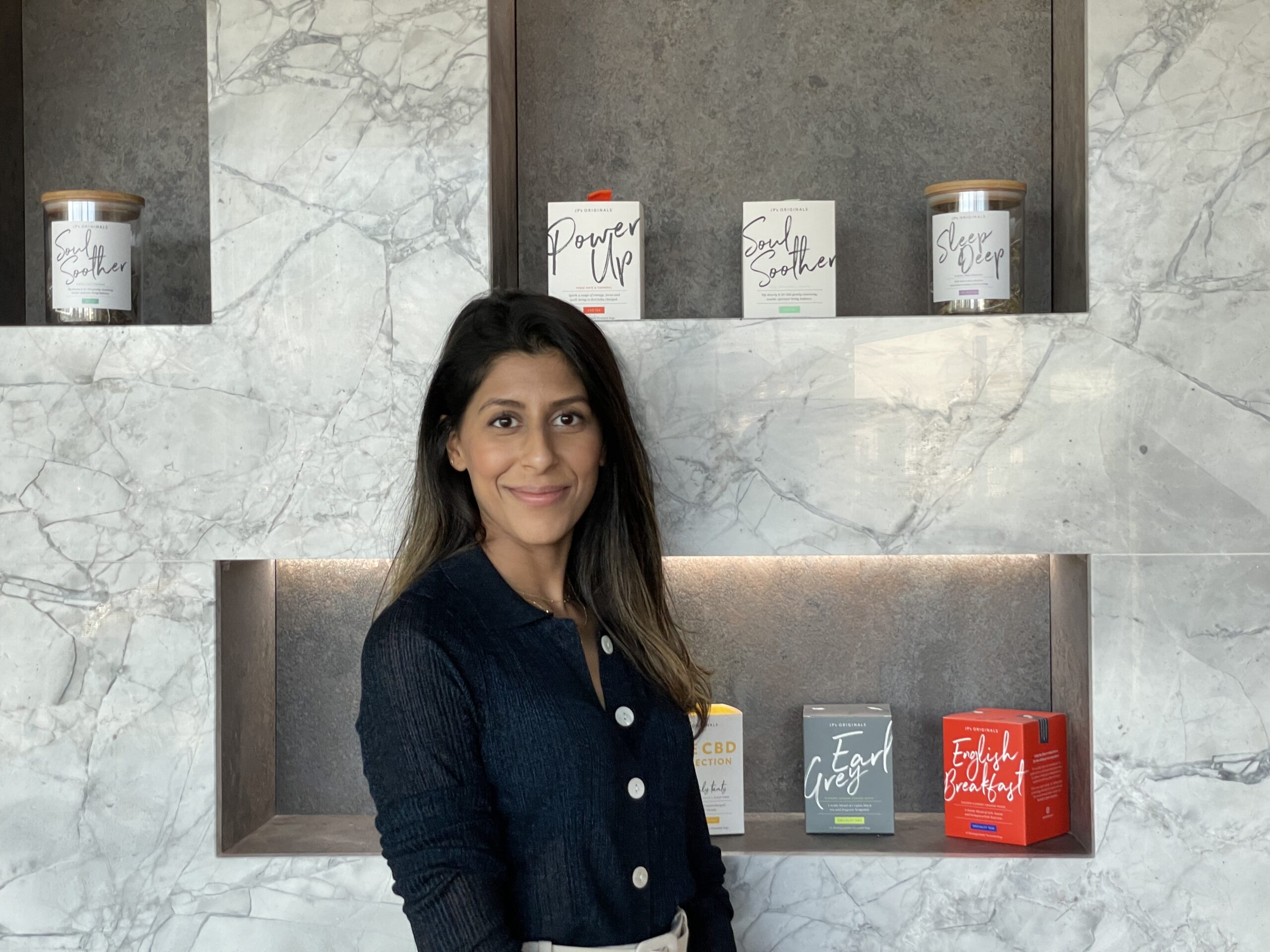 My annual visits back to my parents' hometown, Calcutta were always rich in tea. So much of our culture, not dissimilar to Brits, surrounds a cup of tea. It is customary to have a freshly brewed chai first thing in the morning, again as a mid-morning pick me up, and definitely one enjoyed with your feet up when home after a day of work. It wasn't uncommon for us as children to enjoy a weak tea, brewed with all the fresh spices, and extra milk and sugar.
Whilst enjoying the customary cup of Indian tea, made with orthodox leaves plucked fresh from my grandfather's tea estate in Assam, I couldn't find similar fragrant leaves with details on the tea estate/provenance in the UK. I was mainly a coffee and herbal infusion addict at this stage, but decided I wanted to kick the coffee and turn to tea. This is what prompted my tea education and deep dive!
Tell us about the concept of JP's Originals? 
Having come to the realisation that 6 cups of coffee a day wasn't serving me, I decided to seek tea as an alternative. Whilst doing this, I learned more about provenance, leaf grading and the differences between blends and single-estate teas. I found that most tea that I purchased was labelled either as generic black tea or as a blend. After studying at the UK Tea Academy and meeting with tea consultants in India, I decided that I wanted to bring speciality teas with leaf grading and a deeper understanding of the provenance, to tea drinkers like myself.
Coffee, wine and chocolate were amongst many of the other staples that had undergone a real reinvention, with connoisseurs specifying which roast, or grape variety or origin they preferred to enjoy. I wanted the same for tea. Why request 'a tea with milk', when you could enjoy a delicate Darjeeling from Glenburn tea estate or a malty English Breakfast made from predominantly Assam leaves?
I decided to name the brand JP's Originals as an ode to my grandfather (Mr JP) for everything he brought to the tea industry all those years ago. My mission continues to be to deliver the highest quality speciality teas and infusions, in a sustainable fashion.
What are some of the challenges when it comes to standing out amongst established tea brands?
 Educating customers on speciality teas and what sets them apart from general tea is definitely a challenge; unless we're doing a side-by-side comparison tasting, then the difference speaks for itself!  
A consumer's attitude to pricing is also interesting where tea drinkers are ready to spend £2.50 on a cup of black tea on the high street which costs roughly 3p for the tea, no barista work nor speciality ingredients. However, for the same cup of tea at home they will initially be sceptical of paying for a premium product. Pricing aside, established tea brands generally tend to have larger marketing budgets, better exposure and shelf space with retailers.
Why is sustainability so important to you and what steps have you taken to make sure your brand is environmentally friendly? 
Sustainability was one of the key points I integrated into the business's mission from day 1. When doing my research, I discovered over 95% of tea consumed from a teabag contained microplastics in some form. Ensuring all plastic was eliminated from the tea and its outer packaging, whilst guaranteeing freshness, was essential to me. Our tea pyramids are made of corn starch, and the string and tag are all bonded using ultrasonic rays.

We are proudly B Corp certified, which holds us accountable not just to be environmentally sustainable but doing business in a sustainable fashion by being better, whether it be via our employment practices, supply chain choices or consumer relations. 
How did you discover CBD? 
I suffered an unexpected health issue in 2018, which meant I had to take a range of medications including steroids and immunosuppressants. Having thoroughly researched the benefits of CBD, I decided to supplement the medication with some natural ingredients to help fight inflammation in my body and promote relaxation. It took me just over a year to develop Sleep Deep, and it is still my absolute essential when I struggle with sleep. 
Have you always been entrepreneurial? 
Entrepreneurial blood definitely runs in my family. Both sets of grandparents had incredible entrepreneurial spirit in tea and manufacturing. My father has been my greatest inspiration always providing me with the tools, confidence and knowledge to start or run my own business. Before launching JP's I had started a fashion business and worked with my father at his stone business. I still work with him within his business to this day! 
Where have you taken the brand since launch? 
Since launching in 2020, the brand has been stocked with Harrods, Whole Foods Market, Daylesford, John Bell & Croyden and many others. We have also partnered with Four Seasons Hampshire, Lanesborough Hotel Club & Spa and we have 3 more exciting hotels in the pipeline. The brand has done incredibly well, gaining international recognition with some wonderful regular clients. 5 of our products have proudly won Great Taste Awards, which definitely helps set our teas apart from some established brands. 
We continue to innovate and expand the range; whether that be particular blends or the introduction of the popular Daily Drinker refills and glass jars for the real tea enthusiast, plus the launch of our very special organic ceremonial grade Matcha Supreme.
What's next for the brand? 
I'm working on some new blends close to my heart that I am incredibly excited to share soon; We are also partnering with some prestigious hotels which will be announced shortly. And finally..going global!