As part of POD Health Week, we're going behind-the-scenes with the movers and shakers in London's healthy food scene. Every day this week, we'll be meeting some of the faces of the capital's wellness movement – today we meet two ladies, Emma and Roxy founders of SOAK Shakes & Co. – fantastic nut milks that will rock your socks off:
What made you decide to team up and start a nut milk business? 
The idea for SOAK came from a visit to Thailand. We were staying on this tiny island called Koh Yao Noi and one day during our trip, a local called Mina taught us how to make coconut milk. When we returned to London, we couldn't find fresh coconut milk anywhere so we began making our own. We then started experimenting with cashew milk, which we now use as the base for our shakes.
Nut milks have become really popular in recent years – why do you think this is? 
There has been a pivotal health trend that's motivating new habits and better choices. What we love is that this movement has shifted beyond 'the self' (of looking healthy, feeling healthy, losing weight, etc.), with more and more people becoming aware of issues like planet sustainability and conscious consuming. Taking nut milk as an example; it's not just people who are intolerant to dairy that are buying nut milk. People are choosing to move away from traditional dairy products in search of healthier, more sustainable options.
At SOAK, we're firm believers that collective food choices and food habits have the power to change the world, and we're laser focused on offering a better option.
What made you choose to use cashews over other popular nuts? 
Cashews produce a really lovely, creamy milk, which makes an ideal base for a shake. But ultimately it came down to taste for us — cashews are simply delicious! Plus, they have a much more subtle flavour than some other nuts, which means they enhance rather than overpower the flavours they're paired with. We also wanted to offer the UK market something different.
What's the secret to making a good nut milk? 
Nuts! Tasty, high quality nuts. It doesn't matter whether you're using cashews or almonds or hazelnuts or even pistachios, if your nuts don't already taste great, they won't taste any better as milk.
What can people expect from SOAK?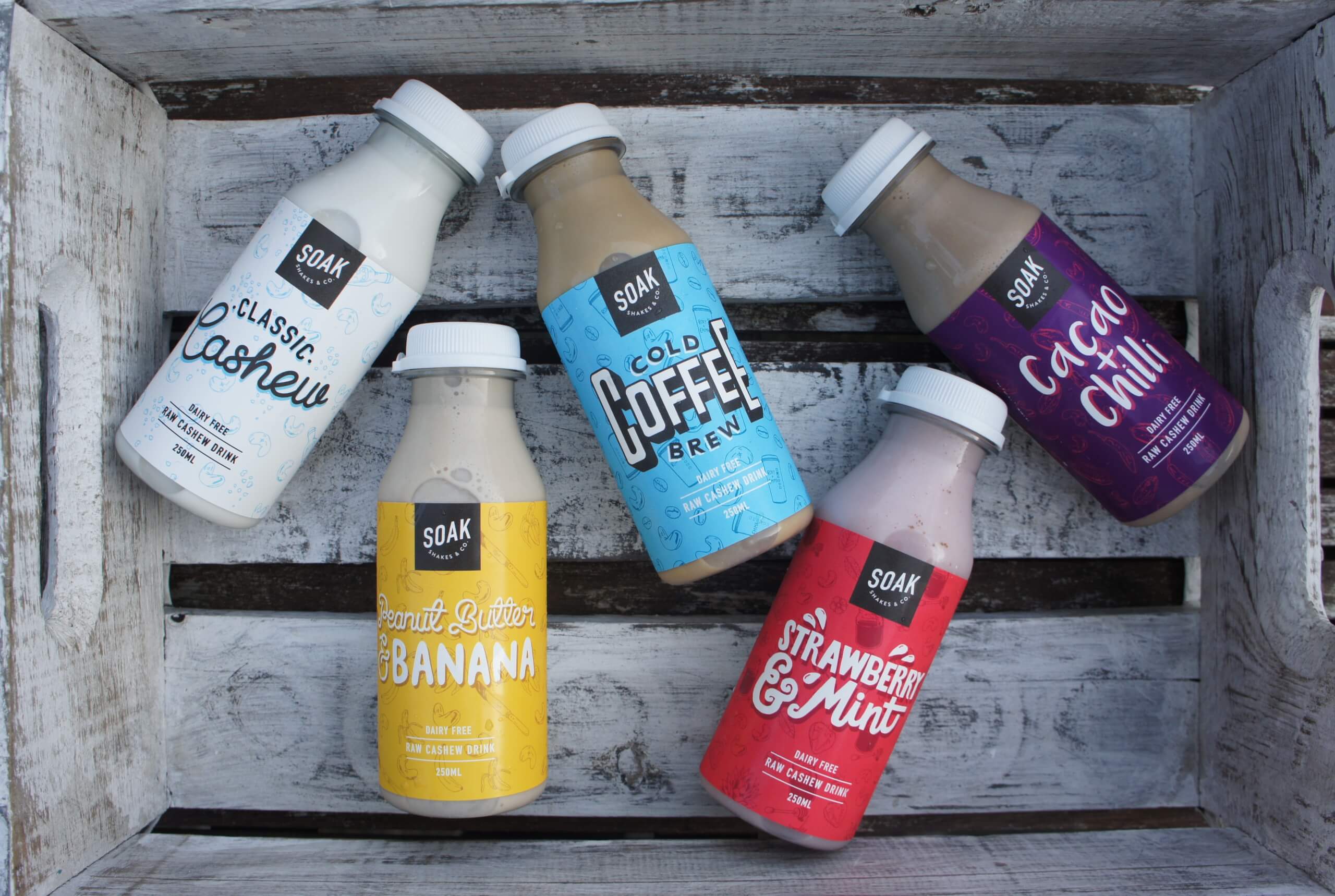 Delicious cashew shakes made from high quality, real ingredients. We're focused on working with brands, delis, offices and events who share our vision of giving people a better option. We're really pumped about making our shakes taste as amazing as possible, breaking down the barriers to purchase just because it's a dairy-free or vegan option.
You can also expect to see the difference we'll make through our social enterprise mission, #ShakeForLife. We give 10% of profits from every shake sold to support elephant and rhino conservation in Kenya. We work with the amazing Lewa Wildlife Conservancy to achieve this. We only launched on 10th September this year, so we're really only just at the beginning.
How do you differ from other nut milks on the market? 
We use organic nuts and fresh fruit, herbs and spices. You won't find any strange 'natural' fruit syrups, refined sugar, additives or preservatives in our shakes. Plus, our products are totally fresh — we don't see any sense in inactivating all those good enzymes through energy-consumptive processes like UHT or HPP.
Do you use SOAK when cooking and if so – what's the dish?
We've begun warming our Cacao  + Chilli to make a delicious alternative to regular hot chocolate. That has been going down a treat! We also use our Classic Cashew in place of canned coconut milk in curries and soups. Plus, we use the leftover cashew nut pulp from our shakes to make all manner of things, from hummus to cashew and cacao nib cookies.
Favourite smoothie if you're making?
We're really into mixing matcha with any and all kinds of tropical fruit right now.
 London's best breakfast can be found at: 
Berners Tavern for a special treat; The Breakfast Club for epic breakfasts, dairy-free shakes and gluten-free options; and Caravan for great coffee, coconut galore and mimosas!
One of your favourite restaurants in London is: 
Manna in Primrose Hill. The menu is 100% vegan and they have a great selection of red wine (always important). The nachos especiales with cashew cheese are especially divine.
Favourite juice bar in London is: 
Hmm, we're generally on the lookout for stellar coffee, with a juice or shake in hand that we've made ourselves. BUT, we've had especially good juice from the Riding House Cafe and ETHOS en route to drops around central London.