About Time You Met: Robert Thorp, Founder of Vite NaturalsBy Angelica Malin
Vite Naturals is a new, first-class, plant-based functional nutrition brand which can naturally enhance your health and vitalise your wellbeing. Founded by Robert Thorp, Vite Naturals is set to revolutionise the functional nutrition market, offering a tasty, nutritious, and effortless way to effectively supplement your diet. We chatted to Rob about changing careers, starting his own business, and appearing on Dragon's Den:
What inspired you to start Vite?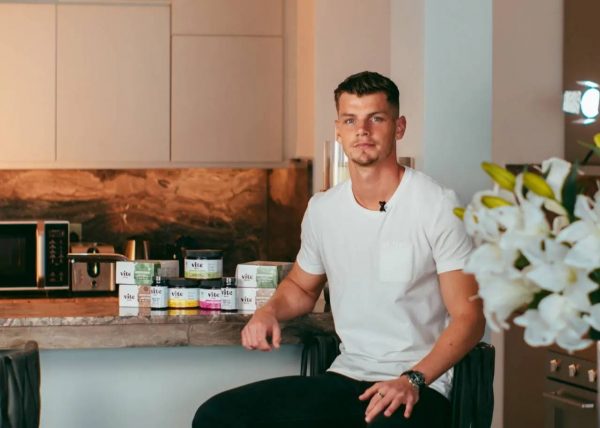 Having my own business had long been a goal of mine. Prior to starting Vite, I worked as a financial trader and having to be 'on the ball' for 16 to 18-hour days was incredibly demanding, both mentally and physically. I soon uncovered an undeniable link between nutrition and my ability to perform well at my job and through extensive research discovered Nootropics, ordering individual ingredients online.
Immediately, I noticed a drastic change by incorporating Nootropics into my daily routine and knew it was something that would hugely benefit my peers and those with busy lifestyles.  However, as most of the ingredients were sourced from the US, I was frustrated with the import duties, long delivery times and custom issues which slowed down the process of accessing natural ingredients which were benefiting me on a daily basis. As a result, I decided to leave my corporate life to fully concentrate on the goal of having my own business, and Vite Naturals was born.
What did you do before you launched Vite?
I have always wanted to be a business owner as far back as I can remember. Always having a 'side-hustle' growing up, I chose not to go to university, and set myself up for a career in financial trading to help me be in a position money-wise to start my own business as soon as possible, which for me was in my early 20's.
How long did it take you from concept to launch?
From concept to launch, starting Vite took around 12 months. Our first product, the Vite Brain capsules came about through PubMed research, identifying evidence-backed ingredients that would complement each other, and produce a result that I wanted for myself, clean, focused, and functional nutrition that really helps people to live with vitality and be the best they can be.
Vite Brain launched on Amazon in 2018 and quickly became a top-3 seller in the Nootropics category. I had already identified my aim to get these ingredients into the hands of my peers and then the mass market, so researched other form factors that would assist with this aim, which led to the launch of the Vite Brain Drink, and more recently Vite Brain Bars. Our brain range provides your brain with everything it needs for peak-performance, helping users to feel sharper, think faster and focus longer. We have specially selected each of the research-based essential nutrients like Choline, Rhodiola Rosea, Bacopa Monnieri, caffeine and L-Theanine to reduce susceptibility to distraction, promote alertness and enhance mental functioning.
Were there any bumps along the way and would you have done anything differently if you could turn back time?
There have been many bumps along the way, and like many businesses, we have experienced a lot of trial, error, and retakes with our products, especially the bars due to flavouring hurdles. Masking and mitigating the flavours of functional ingredients to create products which truly taste good proves to be very difficult and is perhaps the reason we have first-of-their kind bars.
We've spent a lot of time and energy reformatting the bars from a typical baked protein bar to a real ingredient dense raw bar, switching sources of Omega-3, Choline and Caffeine, and have even reworked the shelf life of our bars all to ensure that taste-wise our consumers have no idea the bars are packed full of functional ingredients.
There have been frustrating, troublesome days since beginning Vite, but I can honestly say I would do nothing differently. All the hurdles have got us to where we are today, on a very real mission to bring functional nutrition to the masses and as readily available as chocolate bars and energy drinks. To continue our growth, we've just launched our first Seedrs crowdfunding campaign and are looking to raise £200,000 – a target I think we will smash… so, watch this space!  
If you could give one piece of advice to someone looking to start their own business, what would it be?
To make your business a success, you need to be passionate and committed to the max. You need to be beyond brave and resilient, backing yourself and your instincts all the way. If you spot a trend, and your research checks out then stick with it, expect it to be difficult and to take time but have full faith it will come to fruition.  
What made you want to go on Dragon's Den and how did it feel to turn down the offer of investment?  
Initially, I applied to go on Dragon's Den purely to obtain some investment.  However, as the Dragons Den' process took over 12 months from application to approval, the business had grown significantly, and our goals had shifted from being investment-focused to the exposure the show provides. I was clear from the outset that I was interested in investment from Tej Lalvani (CEO of The UK's largest supplement brand), and had he have made me an offer, I would have considered it. Whilst presenting to the Dragons, I was offered investment from Tuker Suleyman, but it was an easy one to turn down. I went into the den knowing I wouldn't entertain any 'offers' on my presented deal terms from any other Dragons, largely because investment interest was significantly stronger outside of the Den.
Why is sustainability so important to you?
To me, Vite is a brand of the future and sustainability must feed into that and be one of our core principles. Sustainability and purpose are the two key attributes consumers of tomorrow crave and I too feel a sense of personal responsibility, wanting to do my bit to look after the world around us. It is our mission to give back to the planet more than we take and as such, all product packaging is recyclable in curb-side recycling, carbon emissions are offset, a tree is planted for every online order and all products are plant-based. Big steps are taken to ensure Vite Natural products can be consumed with a clean conscience as well as nourishing both the body and brain.
Who inspires you in business?
One of my biggest inspirations in business is Ben Francis, the owner of Gymshark. He is a similar age to me and from what I've seen has a similar outlook, as well as operating in a parallel industry. 
For more information on Vite Naturals, see here.